Front Doors: Styles, Materials, Costs and More
The right front door for your home depends on a multitude of factors, from the choice of materials to styles, through to security and building regulations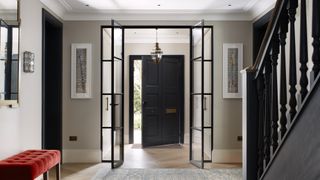 (Image credit: Matt Clayton/XUL Architecture)
Your choice of front door is an important one. Whether you're self building, renovating or just looking to upgrade an old door, it's the first impression your home makes.
But more than just affecting your home's kerb appeal, your front door is a key practical purchase. It's your property's main access point so needs to ensure that your house is secure and warm too.
With that in mind, our expert guide examines the key characteristics you need to consider, including the material choices available and what you need to know about security, thermal efficiency and door positioning.
How to Position a Front Door
Before you begin to shop for a front door, consider where the door is going to be positioned — despite their name, not all front doors lie to the front of the house.
If, for example, your new front door will be leading into an entrance hall that is lacking in natural light, consider choosing a partially glazed design or one with sidelights.
On the other hand, if your home is located on a busy road or street, a solid door will be more suitable — a fanlight above can provide light. An alternative is to choose a door with frosted glass.
Which Material is Best for a Front Door?
There are several different options when it comes to selecting a material for your new front door. Despite all the new developments in the world of front doors, timber remains the most popular material. Not only does timber look beautiful but, depending on the species you choose, can also be a budget-friendly choice.
Timber Front Doors
You can trust Homebuilding & Renovating. Our expert reviewers spend hours testing and comparing products and materials in order to help you choose the best for your home and garden. Find out more about how we test.
Do take care when selecting a timber for your front door, some of the cheaper softwoods can be prone to twisting and warping over time if not properly treated and maintained.
Any timber will need a degree of maintenance to ensure it retains its good looks.
Hardwood doors are just as likely as softwood doors to move, but a reasonable compromise for those who want something better is to choose hemlock, a durable North American softwood particularly well suited to doors
Capable of outperforming many hardwoods, heat-treated woods such as Accoya are a good option.
Laminated or engineered timbers, which consist of small sections glued together, are a far more stable choice than solid wood.
Ensure you choose a wood preservative that is recommended for your purpose.
Is PVCu a Good Material for a Front Door?
Although it is true that PVCu (sometimes written as uPVC) tends to be the cheapest material for front doors, they are not right for everyone.
Appearance-wise PVCu does struggle to match the natural beauty of wood or the contemporary appeal of some metals. Having said that, if you are willing to splash out a bit you will find that the PVCu market has come a long way in recent years, both in terms of appearance as well as performance.
Prices for basic, white PVCu front doors start from £350 (not including installation costs.)
Aluminium Front Doors
Aluminium doors are strong, durable and great for adding a sleek, contemporary or industrial look to a property.
They are also great for those concerned about warping or movement due to changes in weather as they will do neither of these things.
Steel is another good option.
On the downside, metal front doors do tend to lie at the more expensive end of the price scale, starting from at least £1,000, unfitted.
Composite Front Doors
Composite front doors were designed to give an appearance akin to timber with a performance more like aluminium. They require little in the way of maintenance and offer good thermal efficiency.
Composite doors are most commonly made from glass reinforced fibre (GRP) and they tend to be 44mm thick and have either a hard foam insulating core reinforced with steel, or a solid timber core.
On the downside, if the colour or finish has been applied to a white fibreglass skin, the door could be prone to unsightly scratches over time.
How Much do Front Doors Cost?
As with most house fixtures, the cost of a front door is dependent on the specification, material, size and quality desired.
Solid timber front doors can cost between £300 and £500, but some bespoke or high quality examples (including over-sized pivot doors and the like) can cost upwards of £2,000.
Top Tip
When narrowing down different products, try to get at least three quotes from different suppliers to see the differences in what's included and what is not in order to get an accurate cost average.
When looking at the cost of front doors, do bear in mind that the advertised costs won't usually include installation, delivery, hinges, disposal of your old door and, in some cases, VAT. And remember, front doors with side windows and panels tend to cost more to install.
If you're confident in your measuring up skills, employing a local tradesperson to fit your front door (or fitting it on a DIY basis) can save money, but runs the risk of a low standard of finish and incorrect measurements.
(MORE: The DIY Jobs You Should Leave to the Professionals)
PVCu Front Door Cost: From £300-£350
Timber front doors: From £300-£500 (engineered doors will lie
Aluminium front door: From £1,000
Composite front door: From between £750-£900
Which Front Door Style is Right for Me?
Getting the style of front door right is crucial to ensure your house has maximum kerb appeal.
For traditional-style or period homes, timber is a sympathetic choice and often complements the overall aesthetics of a property well — particularly when combined with timber windows. If your home is Georgian or Victorian, it could pay to research a good match for the period — for instance, late Georgian homes added fan lights whereas those earlier in the period completely filled the doorway with solid wood.
Combining a contemporary home with a sleek aluminium front door is a great choice as the vast array of colours provides an amazing opportunity to get a little creative. Flush doors are an increasingly popular way to achieve a sleek and polished finish for contemporary style homes.
Having said that, timber can be used for some of the most contemporary and striking front doors, whilst aluminium designs can really add some wow to an otherwise classic exterior.
Front Door Security Options
Front doors provide a barrier between outside and inside your home and as such must be secure against intruders — all whilst ensuring ease of access for the residents.
In general, front doors are fitted with two separate locks, a mortice deadlock and a night or rim latch:
The mortice deadlock sits inside the door housing and needs to be key-operated from inside and out
A night or rim latch (still referred to as a 'Yale') can be hand-operated from the inside to facilitate escape in the event of a fire but these are less secure than mortice locks as they can be forced open.
Security Standards
There is an enhanced security standard, PAS 24, which is only available on factory-built doorsets. Houses that meet the Secured by Design standard set by the police also need to meet the PAS 24 standard.
This includes subjecting the doorset to a three-minute attack using a selection of hammers, crowbars and drills.
Although it's not essential to have two separate locks, it does form part of the NHBC recommendations for new homes and as such has been widely adopted by insurance companies. The deadlock should be five lever and should ideally meet the BS3621 standard.
Other features regarded as good security in front doors include fitting a door chain and, on solid doors, a viewer.
If you want to incorporate some smart technology in your door security, then considering items such as a smart video doorbell can be a sensible move.
What Building Regulations Apply to Front Doors?
Part M of the Building Regulations in England and Wales requires homes to have an entrance with a level threshold so that wheelchair users can come in and out of the house without having to go over a step. Scotland and Northern Ireland have similar regulations in place.
However, this doesn't have to mean the threshold is at the front door, sometimes it's more convenient to use another external door instead. Renovations and extensions to existing homes do not have to comply with Part M.
Normally, a level threshold is one that has a lip of no more than 15mm. The doors themselves do not have to be altered in any way. However there is a requirement that the Part M compliant door should be at least 838mm (2'9") wide.
The frame around the door should also be Part M compliant (less than 15mm). There should also be no step either inside or outside the door.
A common way to design this is to have a ramped approach to the door.
With a reasonable amount of forethought, it's possible to create a level threshold without it being intrusive in any way.
Get the Homebuilding & Renovating Newsletter
Bring your dream home to life with expert advice, how-to guides and design inspiration, direct to your inbox.
Mark is the author of the ever-popular Housebuilder's Bible and an experienced builder. The Housebuilder's Bible is the go-to hardback for self builders; originally published in 1994, it is updated every two years with up-to-date build costs and information on planning and building regulations, and is currently in its 14th reiteration.
He has written for publications such as Homebuilding & Renovating for over three decades. An experienced self builder, his latest self build, a contemporary eco home built to Passivhaus principles, was created on a tight urban brownfield plot.