MVHR: Everything you need to know about this ventilation system, including the costs
MVHR systems are essential to the modern airtight home. Tim Pullen explains how this whole-house ventilation system works and the costs of installing mechanical ventilation with heat recovery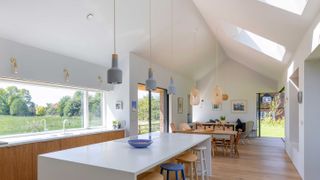 (Image credit: Jeremy Phillips)
MVHR (mechanical ventilation with heat recovery) systems have become more mainstream over recent years as we've become increasingly aware of how the indoor air quality in our homes and workplaces can impact our health and wellbeing.
Plus, as we build better insulated, more airtight homes, the need for suitably designed ventilation systems (that go beyond more traditional methods such as trickle vents and bathroom and kitchen extractors), to deliver fresh air, is even more important.
The benefits of MVHR systems can also be numerous; from helping to improve air quality for those with allergies and respiratory diseases, to reducing issues such as condensation and mould, which blight many homes.
Here, we delve into how MVHR systems work, the cost associated with installation, ongoing maintenance, and other frequently asked questions.
What is MVHR?
Home ventilation is necessary for a healthy living environment and a mechanical ventilation system may be the answer. MVHR is a centralised, whole-house system which delivers fresh air throughout the home, but also recovers heat from the home to warm incoming air. It is designed to run continuously all year round.
Different rooms in your house create different levels of heat. Your 'wet' and hotter rooms are the bathrooms and kitchen, which generate additional heat through activities such as cooking and showers; the activities that would usually encourage you to open a window or to run an extractor fan.
With a MVHR system, this warm, stale air is passed through a heat exchanger in the air handling unit (usually positioned in an insulated loft, utility or within a dedicated plant room), and the heat extracted is then used to warm the incoming fresh air. (Fresh air is drawn in from outside and first filtered.)
The pre-warmed, filtered fresh air is then delivered (moisture and cooking smell-free) into regular living areas through a ducting system with outlets in the ceilings of rooms.
How does MVHR work?
"Whole house mechanical ventilation with heat recovery consists of two independent ducted airflows, each with its own fan. The extract fan extracts the stale humid air from the wet rooms (bathrooms, kitchen, utility, etc.) and passes it over a heat exchange matrix – where it recovers around 80 per cent of the heat from the stale air – before discharging it to the outside," explains David Hilton, MVHR installer and Homebuilding energy efficiency expert.
"The second fan draws fresh air from outside, filters it to get rid of pollution and airborne allergens, then passes it over the heat exchange matrix in order to supply pre-warmed fresh air to all the living areas and bedrooms."
The ducting will tend to be 100mm to 150mm in diameter, depending on the size of the house. The warmed incoming air also needs to be insulated, to make sure the heat gets to the right place, which could increase the diameter to 250mm. Clearly ducting can't be put just anywhere and needs to be properly designed in.
"Any ducting that passes through 'cold' spaces (like a cold roof loft) will need to be insulated to optimise the efficiency of the system," adds David Hilton.
Sellers of such systems – the good ones, at least – will tell us that we need an 'airtight' house for the system to be effective. But 'airtightness' is not an absolute. It is measured on a sliding scale and there are points on that scale where a MVHR system will work and points where it will be less effective.
An effective ventilation system will be part of an overall design and it can be argued that it is an essential box to be ticked in the design of an energy-efficient house.
FIND OUT MORE ABOUT HOW MVHR WORKS IN OUR VIDEO
How is a MVHR system installed?
"When it comes to installation you have a number of options depending on system choice and duct routes," begins David Hilton. "The electrical work and commissioning need to be carried out by a qualified engineer but if you are trying to save costs the ductwork can be installed by anyone who is confident enough to follow the drawings and make a good job of the joints.
"This can often be the main contractor/site crew, or even yourself, especially in the case of branch systems as the rigid ducts may need to be built into the structure of the building as it progresses. A member of the design team will commission the system so the integrity of the work will be verified and the design liability will be signed off.
"You may also opt for a full installation package from the supplier. This could be a good option if the supplier is reasonably local, the ductwork is fairly exposed or the supplier is also doing other packages on site and is able to manage the site visits together, as this will save costs.
"In this scenario the onus of responsibility is clearly defined but you do need to make sure that the ducts are clearly detailed on the drawings (as this avoids other trades all aiming for the same space), the installation schedule dates are noted and that they really are going to do all the works," David says.
"There is a lot of ductwork to accommodate and in order to make it discreet you really want to hide it away in open web floor/ceiling joists, studwork or loft areas," he adds. As such, installation tends to be easier, cheaper and less disruptive when building a new home, as compared to retrofitting into an existing house.
Can you install a MVHR system in an existing home?
Retrofitting MVHR to older properties is possible but there are some problems: hiding the ducting within the fabric of the building is usually problematic and older properties tend to be less airtight.
Retrofitting is also more expensive than installing a MVHR system in a new build, so it could well be that the cost of overcoming the aesthetic problems and getting the building sufficiently airtight outweighs the potential benefit.
Why is the airtightness of a home important when running an MVHR system?
Building Regulations Part L, which concerns itself with the conservation of fuel and power in new builds, requires a maximum airtightness of <8m³/hr/m² at a pressure of 50 Pascals (Pa) in new homes. This is likely to drop to <5m³/hr/m² at 50Pa in the not-so-distant future.
Passivhaus is said to be the best energy efficiency building standard currently available and requires an airtightness of 0.6m³/hr/m² or less at 50Pa.
There is no question that airtightness is a key factor in achieving thermally-efficient houses. Airtightness stops heat escaping from the house and stops cold air entering (in the form of draughts).
MVHR works by extracting air from a room and replacing it with a similar volume of warmed air. If we imagine a situation where the room is very leaky, the extraction will draw in cold, outside air, outweighing the value of the warmed air being introduced. So clearly there is a level of airtightness at which MVHR will start to be effective.
That is generally accepted to be 5m³/hr/m². The more airtight the house, the more effective the MVHR system will be, and again it is generally accepted that 3m³/hr/m² level or below is necessary to see real benefits.
What are the advantages of MVHR?
There are a good number of benefits to installing an MVHR system, including:
A controlled ventilation system
Better air quality
Lower humidity and no condensation
Can be used to deliver heat throughout the house and eliminate the need for underfloor heating or radiators
Homogenous atmosphere — similar temperatures throughout the house
What are the disadvantages of MVHR?
There are also a handful of disadvantages, including:
You can't have open fires or woodburners with internal air supply unless you have a dedicated external or direct air supply
High capital cost
Achieving required levels of airtightness ideally required to make the system at its most efficient also has a cost
Another maintenance job, as filters need regular replacement
Homogenous atmosphere — we might not like similar temperatures throughout
Are they noisy?
MVHR systems can be noisy, but one factor is arguably a cost issue. Flexible ducting is cheaper but has a rippled internal surface. That increases resistance to air pressure and thereby creates noise — not a lot, but enough to notice.
Rigid ducting is more expensive but has a smooth internal surface. Even these will not be silent but the noise level is so low as to be inaudible.
"A noisy ventilation system is more often than not a result of ducting that is too small for the volume of air extracted, or poorly installed," adds David Treharne, senior engineer at Domus Ventilation.
"Where the ducting isn't the cause of sound, it can be the carrier of it. Sound can travel down the ducting from the fan, or from traffic noise or room to-room cross talk. Duct sound attenuators can be used, which effectively absorb sound over a range of audible frequencies."
Are MVHR systems efficient?
Figures of 80% to 90% will be bandied about, which sounds impressive but what those figures actually mean is more difficult to establish.
The implication is that 80% or 90% of the heat in the extracted air is transferred to the fresh, incoming air. What it does not tell us is how much heat is being extracted.
Typically (but not always) the heating system design for a new build will ignore the heat recovered by the MVHR system, mainly because the occupier has the option to turn it off. The heating system has to be designed to meet the whole heating demand, with the MVHR contribution often taken as a bonus.
How much does an MVHR system cost?
The price varies with the size and complexity of the house and the system specified. For a standard four bedroom house the system itself is likely to cost upwards of £3,000-£4,000. But the installation cost could easily double that, depending on the room layout and the difficulty of installing the ducting.
The savings in terms of the heating bill will have a direct relationship to the airtightness of the building. At 5m³/hr/m² it starts to work but heating bill savings are likely to be less than 5% per year. At 3m³/hr/m², savings could get to 20%.
"The running costs of MVHR units are difficult to accurately predict as the running load of the fans is affected by the volume of the house and the resistance of the ductwork, as well as the summer running regime," adds David Hilton.
Does MVHR require much maintenance?
"Day to day, MVHR runs in the background, meaning you don't have to do anything to it. If you're having a shower you might use the boast facility in that room to take extra moisture out of the room quicker. That aside, filters need changing at least once a year; although they can be hoovered out and reused if you wish," begins Martin McCrae, Director of Paper Igloo, who installed a PAUL Heat Recovery system in his award-winning Passivhaus home.
"The only maintenance that an MVHR unit needs is to have the filters cleaned or exchanged, depending on the type, and also to inspect the terminals for debris or cobwebs," adds David Hilton. "The external terminals may have fly gauze in them so you will need to make sure that they are kept clear."
Some installers and suppliers offer a service plan following installation, and will visit the property after a specified time period to inspect the unit and change the filters.
Are there any alternatives to MVHR?
There are a couple of alternatives to MVHR, some of which are outlined in Building Regulations Part F for new homes. Alternatives can include:
Trickle vents and extract fans are essentially the baseline standard to comply with Building Regulations. They are also a cause of draughts.
Continuous extract ventilation provides continuous, very low level extraction from kitchens and bathrooms. This needs relatively poor airtightness to work effectively.
Positive input ventilation or PIV is a single unit which typically sits in the loft — fresh air is pumped into the house, forcing stale air out of the gaps and cracks (that should be sealed to get a reasonable level of airtightness).
Passive stack ventilation uses the same principle as a chimney to draw out stale air, and trickle vents, or similar, to allow in fresh air. This is typically a natural ventilation system. Proprietary systems can also come with heat recovery. However, this is dependent on the wind to work well.
While many of the above (such as PIV) are good solutions for existing homes, where it may be cost prohibitive to install MVHR, in new (very) airtight homes, MVHR is something of a must.
Get the Homebuilding & Renovating Newsletter
Bring your dream home to life with expert advice, how-to guides and design inspiration, direct to your inbox.
Tim is an expert in sustainable building methods and energy efficiency in residential homes and writes on the subject for magazines and national newspapers. He is the author of The Sustainable Building Bible, Simply Sustainable Homes and Anaerobic Digestion - Making Biogas - Making Energy: The Earthscan Expert Guide.
His interest in renewable energy and sustainability was first inspired by visits to the Royal Festival Hall heat pump and the Edmonton heat-from-waste projects. In 1979
this initial burst of enthusiasm lead to him trying (and failing) to build a biogas digester to convert pig manure into fuel, at a Kent oast-house, his first conversion project.
Moving in 2002 to a small-holding in South Wales, providing as it did access to a wider range of natural resources, fanned his enthusiasm for sustainability. He went on to install renewable technology at the property, including biomass boiler and wind turbine.
He formally ran energy efficiency consultancy WeatherWorks and was a speaker and expert at the Homebuilding & Renovating Shows across the country.