How to Choose a Construction System
Choosing what to build your house or extension out of is a key part of the build process. Here we highlight the considerations you'll need to make before making your decision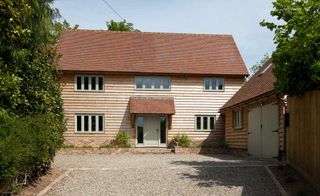 (Image credit: Jeremy Phillips)
Choosing a construction system is one of the key decisions made when building a new home or extending an existing property. The choice traditionally came down to two main options: timber frame and masonry.
However, SIPs (structural insulated panels), oak frame, ICF (insulating concrete formwork), steel frame and even natural construction materials such as straw bale and cob, are increasingly popular choices for the self builder and the extender.
Here we summarise what to consider before choosing a construction system.
Timber Frame
Timber frame construction consists of panels of timber studwork. The studwork is insulated and covered with a layer of plywood and protected by water-resistant membranes.
Timber frame homes can be built on site (known as a 'stick' build), but the UK's self build timber framing industry is based around off-site construction — the timber frame panels are prefabricated in a factory and brought to site ready to be erected.
There are two main types of timber frame — open panel construction and closed panel construction:
Open panel timber frame construction sees insulation and joinery added on site.
Closed panels are delivered to site with insulation factory fitted. The external cladding, windows and doors may be fixed, as may electrics and plumbing.
Timber Frame: What to Consider
The prefabricated panels can be erected on site in a matter of days — meaning the house can be made watertight quickly.
A timber frame can take a couple of months to manufacture.
Timber frame is a good option for the self builder hoping to project manage; the superstructure is managed by one company.
Many timber frame suppliers are experienced in working with self builders.
Choose a company with an escrow account (whereby the money is held in the account until an agreed point, and is kept separate from the company's business account)
The cost of the frame, associated design work, delivery and assembly on site is charged as a package. On the plus side, this provides cost certainty.
This construction system requires early design 'lockdown'.
Masonry Construction
Masonry (or blockwork as it's also referred), is the most common form of construction system employed in England, Wales and Northern Ireland.
In basic terms, masonry consists of an inner loadbearing skin or leaf, a cavity, and an outer skin. The inner skin provides the main structural support, while the external skin protects the structure from the elements.
The cavity fulfils a dual function: it separates the two to prevent water/moisture reaching the inner leaf, and provides a place to add insulation. The outer leaf may be built in blockwork, which can be rendered or clad in timber, or constructed in a cladding such as brick or stone.
Small builders and main contractors are accustomed to working with blockwork — meaning there is a greater choice of labour.
Materials are (typically) readily available from builders' merchants — although there has been a shortage of aerated blocks recently.
It readily lends itself to a wide variety of cladding choices.
Masonry walls offer a decent level of soundproofing without additional measures.
Flexible for last minute on site changes.
Longer build time compared with timber frame and SIPs.
Masonry is an on-site method which can be subject to human error.
The weather can impact on the build schedule too.
Achieving airtightness requires attention to detail on site.
Read more about blockwork
Insulating Concrete Formwork (ICF)
ICF consists of formwork – blocks or panels, typically of expanded or extruded polystyrene – which stack to create walls. Readymix concrete is then poured into the formwork; the formwork not only acts as a mould for the concrete, but is left in place to provide a continuous layer of insulation around the building. (Steel reinforcement is also introduced into the walls.)
While ICF is an on-site method of construction, one significant benefit is that there are fewer components. This construction system therefore lends itself to self builders who want to project manage.
"For the first-time self builder, ICF is (compared with masonry, for instance) much easier to understand; it's a simpler form of construction as it combines several steps in one," says Robin Miller of BecoWallform.
ICF provides high levels of airtightness and insulation.
It can be used to build a variety of shapes (including curved walls).
The concrete provides thermal mass.
ICF can be used to build basements and homes built into sloping sites.
There are less components involved than other on-site methods, meaning it can lend itself more readily to DIY builds and to builds where the self builder project manages.
Formwork is readily available; shortages will not impact on progress on site.
It provides a relatively quick build, which does not require crane hire.
Read more about insulated concrete formwork
Structural Insulated Panels (SIPs)
SIPs (structural insulated panels) are sometimes considered a derivative of timber frame. Similarly, SIPs is an off-site method of construction; the panels are precision cut in factory conditions and then brought to site, ready to be erected (usually with the aid of a crane) in a relatively short space of time.
A SIP is a panel consisting of a rigid foam insulating core bonded between two structural facings, typically oriented strand board (OSB). The bonding of the insulation to the facing creates a stress that allows the whole panel to withstand structural loads. This means SIPs panels can form strong wall and roof sections with little extra support required.
The watertight shell can be erected swiftly.
Achieves high levels of insulation and airtightness with relative ease.
It can be achieved with minimal wall thickness, making it a good solution for homes on narrow plots.
SIPs creates strong wall and roof sections with little support required — ideal for creating vaulted ceilings and 'room in the roof' design.
As with timber frame, it is important to choose a company that offers an escrow account.
(MORE: Get a quote for your SIPs project)
Oak Frame Construction
Modern oak frame construction is different to traditional methods of building in oak. To begin, while the frame may be hand finished, it is manufactured off site in a factory. And while the oak provides the structural frame, it is often encased or 'encapsulated' within a system such as SIPs or timber panels. This allows the extension to meet Building Regulations standards for thermal efficiency.
The combination of characterful oak frame with an energy-efficient, airtight envelope makes this a very attractive option for the self builder and extender.
What's more, the prefabrication of oak frame construction means the build can be made weathertight quickly on site.
The character and texture of oak frame is a major part of the appeal.
It can be used to create interesting architectural spaces — vaulted ceilings or glazed gables, for instance.
Douglas fir and glulam are alternatives. Plus, steel ties can be used to create contemporary interiors.
The frame is usually encapsulated within a system such as SIPs to create an energy-efficient and airtight build.
Oak will shrink and move while drying out over the first couple of years of occupation. Careful design and detailing on site can minimise subsequent remedial work.
Different oak frame manufacturers offer different levels of service.
A premium product, but there are ways of building an oak frame home on a budget.
(MORE: Get a tailored quote for your oak frame project)
Factors to consider when choosing a construction system include:
Thermal performance — all systems must meet Buildings Regulations standards, but some systems, such as SIPs, achieve high levels of airtightness more readily.
Whether you hope to project manage — timber frame and ICF builds are arguably easier to manage at superstructure stage.
Your design may dictate the construction (for instance, large expanses of glazing may make steel frame a sensible choice).
The site may be a factor in your decision, too. On narrow sites, wall thickness may be important, while builds requiring a basement, or sloping sites, may require a certain build system.
Get the Homebuilding & Renovating Newsletter
Bring your dream home to life with expert advice, how-to guides and design inspiration, direct to your inbox.
Claire is Editor in Chief of Homebuilding & Renovating website and magazine. She became Editor of Homebuilding & Renovating in 2016 and has been a member of the team for 15 years. An experienced homes journalist, her work has also appeared in titles such as Real Homes and Period Living.
She has a particular interest in green homes and sustainability, and interior design is a passion too; she has undertaken qualifications in this area.
After finishing a major renovation of a period cottage, she is now onto her next project: overhauling a 1930s property in the Shropshire countryside.