Aluminium Windows: A Buyer's Guide
By Jason Orme
Aluminium windows are a stylish, modern-day choice for those who want to add a striking finish to their home or extension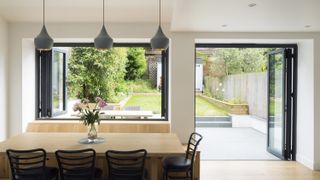 (Image credit: IDSystems / Gruff Architects / Ben Blossom Photography)
Aluminium windows are a popular choice for those taking on a self build or renovation project as they add a contemporary finish and instant kerb appeal. Plus they are virtually maintenance-free and can last up to 40 years making them a great long-term investment.
As the right window style plays a huge part in your homes overall look, it's worthwhile to spend extra time considering all the design choices available to you when specifying aluminium windows, from glazing options and frame styles to colours and finishes.
(MORE: Get a Quote for Your Aluminium Windows)
How Much Do Aluminium Windows Cost?
Aluminium windows aren't the cheapest option in the windows market but they are one of the nicest looking.
The cost of aluminium windows is naturally dependent on house size and the number of windows being replaced/installed.
Aluminium windows Vs PVCu windows
When compared to PVCu (also known as uPVC), plastic windows come out on top in terms of cost and are an estimated 20% less than aluminium.
However stretching the budget a bit could prove well worth it when build quality and finish are taken into account:
Aluminium won't warp or flex over time
They tend to last longer than plastic
They are low-maintenance
Aluminium windows Vs Timber windows
Aluminium windows tend to be, overall, more affordable than timber alternatives.
The advantages of aluminium over timber are:
Aluminium offers a more contemporary look
Aluminium suits most house styles compared to wood
If cared for properly, aluminium can last just as long as timber but without the maintenance
A happy medium can be composite frames which offer the performance of aluminium with the appearance and charm of timber. Some products can also offer different finishes inside and out to match the house design best.
Editor's Note: If you're looking for a quote for your aluminium windows, simply tell us a bit about your project in the questionnaire below and we'll match your requirements with the services and prices that our partners offer. And don't worry, only partners that match your needs will reach out to you.
Why Choose Aluminium Windows?
How energy efficient are Aluminium windows?
Aluminium windows provide fantastic insulation and keep in the warmth inside for long periods making them very energy efficient
Aluminium windows remain popular due to their slim sightlines that won't break up or look out of place against a large expanse of glazing but there are many more practical advantages to choosing aluminium frames over other materials:
Resilient to warping, corrosion and flexing
Lightweight and versatile but durable
Long lasting (up to 30-40 years)
Almost completely maintenance free
100% recyclable
Thermally efficient
(MORE: Replacement Windows)
Do I Need Planning Permission to Change to Aluminium Windows?
If you're making window openings bigger – or smaller – you may need planning permission, particularly if it may cause overlooking issues.
Generally though replacing windows falls under Permitted Development but those living in following in the following may have restrictions:
Listed buildings
Areas of Outstanding Natural Beauty
If in doubt, check with your local planning authority.
(MORE: Renovating a House)
Assessing the Quality of Aluminium Windows
There can be a huge variety in the quality of the aluminium windows themselves. Good quality companies use prime billets in the manufacture of the windows, rather than cheaper scrap metal.
Premium aluminium should have a smooth and consistent finish so watch out for pitting from when the profile has been heated during powder coating.
The die should be polished – reducing corrosion and avoiding contamination on the surface – after each extrusion run to create a high quality finish.
There are huge variations in the quality of how the window has been put together by suppliers.
For example, when it comes to composite systems – which combine two materials, usually timber on the inside and aluminium externally – ensure that the external and internal frame elements are distinct (rather than, for instance, comprising a wooden frame clad on to an aluminium skin).
When comparing products, ask from where the key elements originated and where they were actually manufactured.
Colour Options for Aluminium Windows
Aluminium windows aren't just available in grey. Many manufacturers offer frames prefinished in any RAL colour, which means greater flexibility when considering the kerb appeal.
What's more, companies tend to offer different finishes inside and out. This means while you might want a bright colour outside to a little cheer to a brick facade, paler colours can be chosen to compliment interior design on the inside, and vice versa.
That said, black, grey and anthracite reign supreme for more traditional and period homes as they can replicate slimmer traditional styles in Belgian doors and Crittall-style heritage windows.
What are Powder Coated Aluminium Windows?
Powder coated simply means spraying a polyester powder onto the aluminium to give a uniform and vibrant finish. Powder coating is typically considered to be the highest quality finish for an aluminium window as it is low-maintenance and weather resistant. Fixtures such as handles and hinges can be colour matched, too.
Although it won't produce the same flawless and uniform finish as in a factory, aluminium can be painted on a DIY basis. Make sure the aluminium is properly cleaned, sanded and primed before beginning any paint work for the best results.
What are Slimline Aluminium Windows?
What are sightlines
Sightlines are the visible parts of the window frame and the bars that hold the panes together. The slimmer the sightlines, the less windows impede on a view.
Slimline aluminium windows feature a minimalistic design, they have very thin sightlines that gives a truly stunning, glazed finish.
Modern aluminium suppliers are striving to offer the slimmest sightlines yet. However, before this snippet lures you in, do some research on what's actually available.
The renaissance of industrial-style and Crittall-style windows had seen a more design-led approach to sightlines. Delicate steel-inspired astragal bars create a contemporary and bold finish that rivals the coveted uninterrupted views to the garden.
'Flush' is the key word when choosing aluminium as the way the opening and fixed glass elements sit against each other side by side will make an impact of the slick look of the finished product.
Choosing the Right Aluminium Window Supplier
The rule of thumb is to get quotes from at least three suppliers as there will no doubt be a huge range in amounts. Make sure you compare like-for-like (locks, handles, any required pressings etc) as additional extras might sway your decision.
Remember, buying windows is more than just a pricing game: lead-in times can hugely impact your project. It's important to be aware that a cheap buy with long manufacture and delivery times can delay a schedule and impact other aspects of a build.
Lead-in times are generally dictated by the manufacturers themselves and the industry standard is around four to eight weeks. However, if you're in a pinch, Origin offers an optional 24 hour delivery promise.
Don't forget, as most systems require specialist fitting, you will need to coordinate with a local approved installation firm if the window company doesn't offer a fitting service.
What Maintenance is Required for Aluminium Windows?
Although appealing for their low-maintenance material, to get the best out of aluminium windows minimal effort will be required.
Use a non abrasive cloth and a mild detergent – like baby wash – in warm water to get any marks from frames and to dry with a soft cloth.
Occasionally, you might need to spray the hinges of your aluminium window with silicon spray to lubricate and ensure smooth functionality.
(MORE: Window Repair)
How Secure are Aluminium Windows?
Most windows and doors manufacturers aim to talk up their products' security but now, thanks to changes to Part Q of the Building Regulations in 2015 and the Secured By Design standards, there are measurable ways of ensuring your choice ticks the boxes.
New builds require accessible windows (basement, ground floor and other easily accessible windows) as part of Part Q to be made to a design that has been shown through testing to meet the security requirements of British Standards Publication PAS 24:2012.
Homebuilding & Renovating Newsletter
Get the latest news, reviews and product advice straight to your inbox.
Thank you for signing up to Homebuilding. You will receive a verification email shortly.
There was a problem. Please refresh the page and try again.