Loft Conversion Cost: The Ultimate Guide to the Key Costs
By Tim Phillips published
How much will a loft conversion cost? Find out in our in-depth guide outlining the key costs and ways to add space and value without going over budget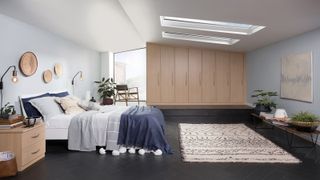 (Image credit: Sharps)
Loft conversion cost will inevitably be a priority for anyone looking to convert an unused loft into habitable space. How much will my loft conversion cost is one of the most popular home improvement questions in the current climate, and knowing how much to budget for this project will help add space and value to your home in the most cost-effective way.
With average UK property prices at an all-time high, people are understandably looking to maximise the unused space most homes. Loft conversions can be more cost-efficient than extending outwards (sacrificing outside areas) or downwards (often fraught with difficulties, not to mention extremely expensive).
Our guide to loft conversion costs covers everything from more economical design options to possible 'hidden' expenses, helping you make the most of your roof space without overpaying.
How Much Does a Loft Conversion Cost?
As a general guide, a 45m2 conversion can cost from as little as £18,000 up to around £65,000 or more. Loft conversion costs, as you might expect, will depend upon a multitude of factors, such as:
size
location
complexity of design and the type of loft conversion
and desired quality of the internal fittings and finishes.
For instance, a straightforward double bedroom design with a simple rooflight conversion at the most affordable end of the scale would cost from around £18k to £25k. By contrast, loft conversion ideas of the same size with dormer windows and an en suite would take costs into the region of £40,000.
At the highest end, where the roof is being replaced for example in a mansard conversion, you would be looking at a budget cost of around £65,000.
These guide costs cover basic design and surveying fees, Building Regulations and Building Control fees, building materials, and additional costs such as scaffolding, electricity and plumbing (for en suite inclusions) — together with basic internal floor and wall finishings, and a basic interior fit out.
Getting prices from builders and contractors is normally the best way to receive an accurate idea of total loft conversion cost. Three or four separate quotes based on a clear description and plans for your new loft conversion is ideal.
What Additional Loft Conversion Costs Do You Need to Consider?
It's not unusual for contractors' quotations to discreetly omit works such as decoration, supplying fittings and fixtures for loft conversion bathrooms, and miscellaneous design details such as Juliet balconies.
VAT sometimes isn't included in the figures, either. So, before placing too much faith in bottom line prices, make sure you're comparing like with like.
Other factors to remember are the rules and regulations around loft conversions, and especially their associated fees, which may include:
Planning permission — Not every loft conversion will require planning permission, but there are instances where obtaining it is compulsory. The application could end up costing you around £250. The final figure will depend on your local authority and where you live, e.g., a listed building, Conservation Area, National Park, or Area of Natural Beauty (AONB).
If you are able to use the 'permitted development route', obtaining a Lawful Development Certificate (LDC) is advisable. Whilst not essential, it does establish that the loft conversion is within its legal borders. They cost around £100 - £250, being half the cost of the relevant planning permission and can avoid issues on future sales.
Structural engineer — Depending on the level of structural alterations to your loft, you should expect to pay between £550 to £1900 for structural design fees, site visits and calculations.
Party walls — If you share an adjoining wall with a neighbour, then you will most certainly need a Party Wall Agreement. This is a requirement of the Party Wall Act 1996. Costs can vary depending on the professional advisers engaged, but there are Party Wall specialists who offer the complete service for fees of around £1,250.
What Factors Influence the Cost of a Loft Conversion Project?
There are numerous factors that can influence loft conversion cost. The key factors to consider include:
Method of Conversion
You should thoroughly consider the intended use of the additional loft space prior to making any application for planning permission, so you understand exactly what your budget can achieve. Once permission had been granted, if the design is changed significantly, you may need to go through the whole process again at increased cost and time delays.
Rooflight loft conversions are generally the cheapest option. A dormer conversion would be considered the mid-range option, with a full 'roof-off' (single or double hip-to-gable or mansard loft conversion) coming in at the most expensive.
Age of Existing Roof
Prior to 1965, roofs were traditionally cut, which left ample space for converting the loft. Since then, though, prefabricated 'fink' (W-shaped) trusses have been the preferred option, for faster roof construction, but these also reduce the space available for potential conversion.
Trusses can cause a problem when converting a loft, as structural support needs to be introduced to compensate for the removal of the truss and floor supports, adding cost and time to the conversion. Houses constructed prior to 1930 may pose similar issues, such as insufficient head height.
A structural engineer should always be engaged to design a solution where these problems arise. There are typically solutions for loft conversions with difficult roof constructions.
Water Tanks
Even though most houses will have long since converted to combi-boilers and other more efficient heating solutions, water tanks may still exist in the loft.
Plumbers tended to leave the existing water tanks in place, as they were often too cumbersome to remove, especially through a loft hatch. It would be an ideal opportunity to remove the tanks at a small cost when carrying out a major loft conversion.
Chimney Stacks
There may also be a redundant chimney stack to contend with. This could be very costly to remove in terms of both time and money, to gain a small amount of additional space.
The benefits of removing it need to be carefully weighed up in terms of the potential additional space against the time and cost elements.
Purpose of Conversion
Bedroom loft conversion ideas are a great idea for this space, but naturally, the addition of just bedrooms alone will not be as costly as installing a new bathroom or bedrooms with en suites. Such facilities will obviously add to the cost and timescale of the loft conversion project.
An en suite will require the extension of services such as drainage. Designing these in such a tight space will require careful planning and budgeting.
Hazardous Materials
Depending on the age of the house, you may need to budget for a survey to identify asbestos or other harmful products, which could have been used during construction. Most surveys of this nature cost around £250.
Protected Species
If you encounter bats in your loft space, then a bat survey will be required, at a cost of around £350. Migration measures may be required, which could add time and money to your budget.
What is the Cheapest Type of Loft Conversion to Undertake?
The most cost-effective method of loft conversion is a rooflight or Velux loft conversion (also referred to as an internal conversion).
Here, the loft conversion cost savings come from the simplicity of the design. At its most basic level, it can merely entail installing rooflights and reinforcing the attic floor. The rooflights can also be installed flush to the existing roof structure, preserving the characteristics and beauty of the home's façade, if that's an important factor.
Rooflight conversions have other benefits above cost savings, too, which may influence decision making. For one, they are the least disruptive, as larger structural changes to the roof aren't required.
They are also quicker to complete than other traditional loft conversion methods. The majority of the effort is concentrated on transforming the existing loft space into the desired living environment. They don't usually require planning permission, either, as rooflight windows aren't regarded as overlooking neighbouring properties.
What Type of Homes are Cheapest for Loft Conversions?
Bungalows are generally the cheapest properties to convert because most (but not all) have spacious lofts. The taller the building the greater the cost due to all the extra fire-safety work and additional lifts of scaffolding.
What is the Quickest Way to Convert a Loft?
Loft conversion cost won't necessarily be the overriding factor for everyone considering extending upward. Speed may be a critical factor, or the need for minimal disruption (particularly with more people now working from home or those with young children).
In these circumstances, a modular loft conversion may be the perfect solution. This type of conversion involves a prefabricated unit being lifted into position by crane, following its manufacture off-site and preliminary roof works being undertaken by your contractor.
The average modular loft conversion will cost around £50k, but it's worth weighing up the cost of installing one against your overall loft conversion budget.
Why Have Loft Conversion Costs Increased in 2022?
There are several factors behind the increase in the cost of loft conversions over the last 24 months.
Timber is the most used material for a typical loft conversion, and timber prices were at a record 70% high throughout most of 2021, in part due to the slowing down of the construction materials shortage experienced in the 'lockdown summer'.
Timber supply is still at a record 20-year low in 2022. There are still many other external influences affecting material prices, e.g., log export bans by some timber-producing countries, Brexit port issues, and haulage driver shortages.
Insulation is the other primary material used when converting a loft, mainly in the form of PIR Board. This is used to line the floors, walls and roof of a loft, adding thermal efficiency in the process.
Insulation is an important element to any loft conversion, as more efficient insulation equals lower energy costs, particularly relevant in the face of the current energy price increases. Unfortunately, PIR Board also increased in price by around 10% in 2021, due to the lack of MDI chemicals required to be manufacture it.
The construction industry was showing signs of recovering from the 2021 price hikes, however with rising energy prices and the impacts of the Ukraine war, they're unlikely to drop in 2022.
How Can You Reduce Loft Conversion Costs?
If your budget is tight, you should start by considering whether your space requirements can be achieved with a simple rooflight conversion, this being the most cost-effective type.
Raising a roof can also significantly increase costs. So, if you have enough standing area in your loft to create habitable space, you may be able to save money by limiting any extension ambitions and allowing your loft conversion contractor to work within your loft's current dimensions.
If you are more confident with DIY and/or project management, then you may wish to consider a 'shell loft conversion'. This is where structural works, i.e., dormer, roof timbers and floor joists, are completed by a builder, leaving an empty shell for other individual trades to be employed directly, or allowing for DIY works to commence.
Adding windows can seem like a necessity, but you may want to consider using more cost-effective solutions to bring in more natural light, such as sun tubes, which are significantly less expensive than dormer windows.
Keeping a tight rein on your budget for finishes can dramatically cut the cost of your loft conversion as well. Bathroom appliances and finishes, for example, often vary hugely in price and can add several thousands of pounds to your project.
It's essential to shop around when undertaking your loft conversion project, as the same look and quality can usually be achieved at a fraction of the price. Take advantage of seasonal sales, and remember that it's much easier to upgrade your décor in the future when budget allows, than it is to change any fixed aspects of the conversion.
Will a Loft Conversion Add Value to Your Home?
Converting your loft is often quoted as one of the simplest methods to add value to your home.
The Royal Institution of Chartered Surveyors (RICS) state that a loft conversion could add up to 25% to the value of your property. That's an uplift of around £44k on a typical £175k home.
Moving house for the purpose of gaining extra space is very costly, with the RICS also stating that the cost of a loft conversion would be a third of the cost of moving home.
Tim Phillips is an experienced senior quantity surveyor and estimator and has worked in the construction industry for over 35 years. He has worked on many varied projects in this time, for corporates, public bodies and private residential clients, managing multi-million budgets.
For the past 13 years, Tim has worked on a freelance basis, whilst managing his rental property portfolio. He has extensive experience of undertaking his own full-scale house renovations. He is also a speaker and expert at the Homebuilding & Renovating Shows.
Homebuilding & Renovating Newsletter
Get the latest news, reviews and product advice straight to your inbox.
Thank you for signing up to Homebuilding. You will receive a verification email shortly.
There was a problem. Please refresh the page and try again.