Internal Doors: Types, Costs and Style Ideas
The right internal doors can play an essential part in your home's flow and function, not to mention creating a style statement. Here's everything you need to know before you buy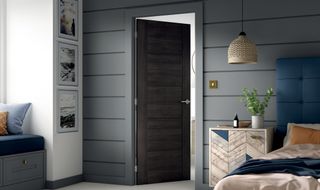 (Image credit: JB KIND)
Your internal doors will go a long way to completing the overall look and feel of your home. Their primary role is functional - they divide up spaces, let light in and prevent noise travelling around the house. But they also add an extra level of design detail too.
There is a lot to consider when it comes to choosing your internal doors such as functionality, material, finish and size so it is wise to take your time choosing the right option for your home.
If you are building your own home, it may be wise to consider installing wider door frames in key areas to futureproof your home should you require wheelchair access in the years to come.
(MORE: Lifetime Homes)
Types of Internal Doors
You can trust Homebuilding & Renovating. Our expert reviewers spend hours testing and comparing products and materials in order to help you choose the best for your home and garden. Find out more about how we test.
When shopping for internal doors, there are three key types:
Solid wood
Engineered wood core
A hollow two-skin door
The quality between all three varies, and therefore so does the price. The general rule of thumb with internal doors is the lighter the doors, the lower the price, but here's a little more information to decide which is best for you and your budget:
Solid wood core doors
Just like it says on the tin, the sections of solid wood core internal doors are made from a single piece of wood.
Generally bespoke or purpose-made
Traditional, so great for authentic renovation projects
Prone to warping or cracking over time
Typically not a classified fire door, but can have a veneer added to withstand fires for longer
Hollow two-skin doors and moulded doors
The core of these internal doors is often a honeycomb or lattice of corrugated cardboard, polystyrene foam, or thin wooden slats. The front and back of the doors are moulded MDF called 'skins.'
Have air spaces within the core
Less robust
Lighter in weight
Cheaper
Don't expand or contract
The MDF provides a perfectly glossy finish, something solid timber cannot do
Engineered timber core doors
Although these doors are solid, each component is not made of just timber. In a more modern method, multiple layers of timber are layered in different directions glued together for extra strength.
The best value for money
Less likely to twist or change shape than standard wood throughout the year
Provide better sound and thermal insulation
How Much Should I Expect to Pay for Internal Doors?
The price of internal doors varies greatly depending on three key factors: material, construction quality, and whether you're buying a single door or a doorset.
When buying on a door-only basis, expect to pay £50-£200 per door - budgeting a further £30-£40 per door for handles, latch and hinges.
For doorsets, to show how greatly prices can vary, companies such as JELD-WEN offer sets ranging between £90-£300, while the likes of Urban Front advertise doorsets starting at £1,200.
It is tempting in today's world of online shopping to buy all furnishings online. While internal door suppliers often have great online brochures and beautiful inspirational imagery, it's very important to view the doors in person before purchasing.
Generally, it is best to be cautious in cases like this as although great resources of inspiration and interior ideas, online product imagery can be deceptive, especially when the doors are on the cheaper side.
If you do end up sourcing your doors online, it is essential to inspect the doors immediately on delivery.
What is the Difference Between a Doorset and a Single Leaf Internal Door?
Doors can be purchased either on their own or as a doorset, and you would be wise to be clear with your supplier, which you are after from the outset.
Doorset:
A single source supplies each element (lining, door leaf, fixings and architrave)
Available as off-the-shelf products, in a range of standard sizes to fit new doorways or can be custom-built
Labour costs are reduced because fewer specialist skills are required
Installation is faster. However, as the entire unit is fitted in one go, the door can be damaged during a project
Single leaf:
Perfect for renovations as they can be fitted into existing linings
Other works in a project (such as plastering) won't cause damage as they can be fitted in stages
Can be better suited to older buildings with uneven doorways or floor levels
Choosing the Size and Configuration of Your Internal Doors
For internal doors to have real impact, they should be considered in two separate phases - the size and the finish.
No matter what kind of project you are working on, a decision on your doors' size and configuration should be made as early on in the architectural process as possible to ensure the correct sized openings.
A great example is pocket doors. The cassette into which they slide needs to be built into the wall itself, and it is essential to have the requirements before the walls go up. This will mean there are no disruptive alterations when it comes to fitting them.
Although there is nothing wrong with choosing doors right at the close of the project, you should consider the finish at the same time as the rest of the interior design scheme.
It is natural for your wish list of ideas to change throughout the planning and building process, but factoring in the aesthetics at the beginning of the project allows for these to develop. However, it is important to be aware that this route comes with limitations.
(MORE: Pocket Doors)
What are the Different Styles of Internal Doors?
The growing trend for open-plan living has led to the advent of internal doors that can slide or fold away to open up various living spaces on the ground floor. In contrast, doors to separate more private areas upstairs are still firmly rooted in a more traditional style.
Most homeowners want internal doors on the ground floor to be special and to bring a certain wow-factor to the overall design, while people are generally less bothered about other floors because guests don't tend to see them.
Don't underestimate the importance of planning your design scheme in advance. This doesn't just mean the colour or material finish, but you will have to decide on the door's orientation and the direction in which it opens. You will have to deal with this for the foreseeable, so it's best to get it right the first time around.
A well-planned internal door can complete a design, and with cross-directional grains, different timbers, glazed inserts, and a variety of colour options can create an instant wow factor.
Bifolding internal doors are great for spaces that want an open-plan aesthetic and the privacy of separate rooms
Pocket doors are a stylish and space-saving option that can be hidden away in the cavity of an adjacent wall
Architrave-free or flush designs are great additions to contemporary homes, while more traditional barn-style sliding tracks wouldn't look out of place in a renovated cottage
Crittall-style doors, with their black industrial-inspired bars, can update an existing home in no time, opening up spaces while providing the option for privacy
Frameless doors, although more expensive than other styles of internal doors, create a modern and seamless appearance. Made with an invisible frame and a shadow gap, these doors need to be planned in at the design stage. The wall needs to be built so the junctions between the wall and the door are perfect as they won't be hidden by an architrave
What to watch out for when choosing oversized doors
If you're renovating, the opportunity to choose over-sized doors will be limited unless you widen the structural opening. However, if you have a blank canvas and factor it into the wall construction phase, there is much more freedom
Oversized, tall doors are becoming popular. With modern houses increasingly featuring vaulted ceilings, designers and architects are starting to realise that internal door heights also need to be enhanced to maintain proportion with the room. However, going from a standard-sized door to a bespoke, oversized one will be reflected in the price. This is especially true if you're specifying a full-height 2.4m-high door, as this will require stronger hinges or pivot hinges.
Do Internal Doors Need to be Fire Doors?
Fire safety doors are usually required when the property is more than two storeys – fire doors may be required when a loft is converted, for example, to meet Building Regulations requirements – and/or if the garage is integral.
Many suppliers have noticed an uptake in converting their standard doors into fire doors. This is particularly true in more vulnerable rooms such as kitchens.
Expect to pay between 10-20% more for a fire door.
(MORE: Fire Safety Regulations)
Can I Install Internal Doors Myself?
Most standard doors can be installed on a DIY basis, but factor in the cost of all the separate components and the labour associated with installing a door leaf before ruling out a doorset.
The time it takes to install a door leaf largely depends on the type of product being installed.
The task of installing a new door where there is not an existing lining and architrave involves:
Fitting the lining and architraves
Painting them
Trimming down an oversized door to make it fit
Hanging it and then adding the door handles and latches
You may need to paint or finish the door if you've bought a primed or untreated model, too. The process can take the best part of a day. It's often more cost-effective to ask your carpenter to undertake the task for you. (Fitting a door to an existing opening will take less time.)
Doorsets, on the other hand, provide a more time-effective alternative, with arguably a superior result. The door is already pre-fixed to the lining as part of the manufacturing process, so only the architraves may need adding and cutting down to size and the handles added.
Get the Homebuilding & Renovating Newsletter
Bring your dream home to life with expert advice, how-to guides and design inspiration, direct to your inbox.
Assistant Editor Amy began working for Homebuilding & Renovating in 2018. She has an interest in sustainable building methods and always has her eye on the latest design ideas. Amy has interviewed countless self builders, renovators and extenders about their experiences for Homebuilding & Renovating magazine. She is currently renovating a mid-century home, together with her partner, on a DIY basis, and has recently fitted her own kitchen.