Driveway Design: 13 Principles to Improve Your Drive
By Pete Tonks published
Good driveway design can enhance a home. Find out what you need to consider, the rules and regs, and costs, when designing a new or improving an existing drive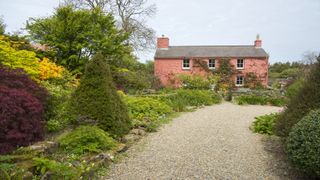 (Image credit: Getty Images)
Driveway design plays a crucial role in setting the tone for your home — a well-designed drive will help to maximise the kerb appeal of your property. Crucially your drive also needs to provide ample parking, a safe place to enter and exit the adjacent road and provide suitable access to your home.
Whether your driveway ideas involve more of an upgrade to the existing entrance or you're creating a new driveway, our in-depth guide will delve into what you need to consider, the rules and regs and how to make your new driveway design both functional and visually appealing.
1. Driveway Design: Where to Begin
Designing a new driveway and layout starts with five key elements:
Entry and exit
Parking zone
Movement zone
Visibility and pedestrian safety
Materials choices
Firstly, you should understand the highways requirements for your property — safety is the most important factor when designing a new driveway.
If your home is accessed off of a single-track lane or private cul-de-sac/close, it is often the case that you can reverse out of your driveway without contravening any highways regulations and therefore not cause a risk of accident.
However, if your property's access adjoins a public road, it is likely to be a requirement under planning permission for driveways that vehicles must enter and leave the property in forwards gear.
In other words, you need to be able to turn vehicles through 180 degrees on your land. This is known as a vehicular turning circle, the design and specification of which will be informed by national design guidelines.
You should also check your local authorities guidelines, as these do vary across the country. Local authorities will have set out within their local planning policy documents what criteria you need to meet to gain acceptance of your driveway design proposals.
You'll also likely need to apply for permission for a dropped kerb if you do not have one already.
2. Understand the Importance of Your Entry and Exit Points
As far as driveway design goes, for both entry and exit, you will either be working with your existing arrangement, and therefore perhaps it is going to remain as is, or with a new access, in which case you will be governed by your planning permission and/or site-specific constraints.
You should visualize yourself, and indeed your visitors arriving to your property. What do you want to see when you arrive home; do you have a favourite part of your home, for instance?
Try and position your entry point onto your planned driveway so as to maximise that first view of the home. You will also need to work out the vehicle journey from entry point to parking zone, then finally the pedestrian route into the home.
Do you want this to be an obvious open expanse, such as a courtyard surrounded by structured planting, or is your driveway dream a twisting, turning journey through trees, leading to a more discrete parking zone away from the home?
Either way, your entry/exit point will inform the basis of your overall driveway design.
3. Calculate How Wide Your Driveway Should Be
In every driveway design, thought needs to be given as to how many vehicles require parking space and, in addition, how much space is needed to allow turning to be accomplished successfully.
A standard minimum parking bay would be circa 2.5m wide x 5.5m long and, typically, a UK driveway will be expected to accommodate between two to four cars. For two cars, this would be a space of 5m wide x 5.5m long, and for four cars in one row, this would be a space of 10m wide by 5.5m long.
If you then assume a minimum turning circle radius of around 10.5m for a standard domestic car, as well as the parking zone, this can all add up pretty quickly, so thought needs to be given to the mechanics of this at a very early stage as, ultimately, it is likely to inform the overall project design.
Speak with the highways and/or planning department about what specific requirements you will need to adhere to.
If your scheme also incorporates garage design, the parking spaces in the garage may contribute towards your required allocation.
Again, this is worth checking, as parking spaces within garages will only go towards the required allocation if they meet the minimum standards set out within policy. Many applications get submitted where older garages are expected to meet minimum parking standards of today, when they are more often than not too small by today's standards.
4. Consider a Turning Circle on a Tight Plot
On tight plots, you can get vehicle turntables, which rotate a parked vehicle through 180 degrees, thereby removing any possible complexity around the turning criteria.
While these are a great solution to a specific problem, they can only typically accommodate one vehicle at a time and could add anything from around £10,000-£15,000 to your driveway design project budget.
5. Account for Pedestrian Safety
When entering and exiting your driveway, there will typically be requirements to ensure pedestrian safety. These are known as visibility splays.
It is important to be aware of these, as the Highways visibility splays may dictate the position of your proposed entrance and therefore your overall driveway design.
Pedestrian visibility splays are typically set at around 2m x 2m either side of the entrance for single residential projects, and these protect pedestrians using footpaths near driveway entrances.
Often with these, there will be a height restriction for hedgerows and fences adjacent to the driveway entrance to ensure a clear line of sight is retained between driver and pedestrian and vice versa.
6. Factor in Space for Day-to-Day Activities
Vehicular movement is at the centre of the whole driveway design process. However, pedestrians must also be considered.
The design overview should take into account not only how many occupants are going to be at the property, but also how you will accommodate postal and parcel deliveries. We are all using home delivery services far more frequently now, so when designing your driveway, it makes sense to think how this could also be considered.
When designing your drive, think about what other movements take place in and around this area as well. You should leave enough room for washing and/or charging an electric car at home, putting the bins out, accepting fuel deliveries if your heat source is oil or biomass, and other such activities.
7. Consider Accessibility When Designing a Driveway
With 1 in 5 of the UK population being registered as disabled (that's around 14 million people), all new build properties and some conversions will be expected to have driveway designs that minimise access issues in and out of buildings.
Building Regulations Part M requires, as a minimum, that the driveway approach be level or gently sloping, and the transfer route from parked vehicle into the property to be surfaced in material suitable for the safe use by a wheelchair user.
Ramps are allowed as part of your driveway design in respect of wheelchair users, but these will need to be a minimum of 900m wide.
For gradients of up to 1:15, ramps can be up to 10m long, and for gradients up to 1:12, they can be up to 5m long.
There are other criteria that may also be required to be met, so always work with your architect and designer on this at an early stage if you're building a new home.
8. Position Driveway Gates Away from the Road
Gates can really help to finish a driveway — and might be essential for safety and security, particularly if you live on a busy road and have a young family and/or pets.
Driveway gates should generally be set back from the road edge by a distance of typically 5-6m. This is to allow safe passage of a vehicle from the road onto the driveway crossover, to then open the gates for entry into the property without causing an obstruction on the road itself. The gates will also need to open inward (which is not always possible on sloping sites).
Ideally the material and style of your gates should complement the drive too — a timber field gate could suit a rural property with a gravel driveway, for instance, whilst metal gates might pair better with a suburban home with a more formal paved drive.
Fortunately there are plenty driveway gate ideas out there to suit most new driveways.
9. Choose Materials Which Complement the House
One of the most important aspects of driveway design will be materials. By its very nature, your driveway will be a key element both in terms of visual and proportions. You will want to use the best driveway materials that complement and enhance those incorporated into your build or conversion.
Look at the palette of materials used across the building and then select materials which are similar. For instance, if your property is a light stone, brickwork or rendered, you should avoid the use of dark tarmac or pavers because they would compete with one another.
You should also look to create a driveway which is contextually correct. For instance, if you have a rural project, your driveway is more likely to feature gravel out to soft landscaped grass edging, or perhaps timber sleepers.
However, on a suburban project, it is likely to be more appropriate to present the driveway as more formal with paved surfaces out to edging/kerb stones, brick walls and metal estate-type railings. All of these choices will create the architectural language of your driveway project.
10. Managing Surface Water is Key to Driveway Design
When selecting materials, you should also understand the importance of managing rainwater. Building Regulations and planning standards will now expect your driveway to discharge rainwater either through the integration of permeable surfacing such as gravel, permeable pavers or porous asphalt or resin, or alternatively, a specific discharge to adjacent lawn/borders, land drains, soakaways or a rainwater harvesting tank.
If your driveway project is one where you intend to pave over a current front garden, this can be done under Permitted Development (without the need for planning permission) if the surface is porous.
However, if your intended surfacing is not porous, such as non-porous tarmac, and the area is larger than 5m², you will need to apply for planning permission.
Driveways that do not form part of the front garden are not subject to the 5m² restriction and, as always, I would advise you to check with your local authority or ask your designer or architect if they have experience in this area.
11. Factor in Budget When Choosing Driveway Materials
Driveway costs will vary significantly from project to project. Gravel drives are relatively cost-effective and create with good visual return.
If you are intending to instead use pavers, bricks or blocks for your driveway, though, this will be a more expensive option. However, in the medium to long term, these will have less of a maintenance/upgrade cycle, requiring fewer expenses to restore.
Expect to pay circa £40-£50 per m2 for a gravel drive and anything from around £60-£150 per m2 for hard paved options such as pavers, bricks or blocks.
For resin bound driveways, which are relatively new in the UK, it is likely this install will require a new sub-base preparing and then the resin/aggregate pour itself. This option would be somewhere in the region of £150-£180 per m2.
12. Lighting Can Enhance a Driveway Design
As with all architecture, lighting is very important, and the driveway and parking areas are a great opportunity to set your style and tone.
There are many options around driveway lighting ideas, ranging from uplighting selective trees and shrubs that surround your driveway for an informal feel, to designing something far more regimented and planned such as equally spaced bollard lighting or drive-over lights.
Low-level lighting works really well, too, in terms of directing the driver safely along the designated vehicular route, whereas feature lighting hidden in the planting or pointing up towards the building provides a sense of theatre.
All new lighting should be specified as low-energy LED and should be on short to medium timers to ensure maximum efficiency.
You should also check if your project has any lighting restrictions in respect of bio-diversity, especially bats. Bat-friendly lighting should be in narrow spectrum light waves with no UV content, warm white bulbs with no upward directed beam, and on short to medium timers on PIR sensors.
13. Don't Forget the Landscaping
When focusing on areas for parking and paths for guests and visitors it might be easy to forget the front garden too and how this relates to the driveway design.
Small borders, lawn, shrubs and so on can all help to visually break up a new driveway scheme, and soften wide expanses of hardscaping.
Front garden driveway ideas could include adding trees or screening plants such as bamboo to lend privacy, including pots and planters in front of the house to bring colour to small driveways, and adding a rain garden to help manage surface and rain runoff.
Pete is a design expert and director of PJT Design Ltd. He has been designing self build homes for over 20 years and is a specialist in designing oak frame homes.
Homebuilding & Renovating Newsletter
Get the latest news, reviews and product advice straight to your inbox.
Thank you for signing up to Homebuilding. You will receive a verification email shortly.
There was a problem. Please refresh the page and try again.