Party Wall Agreements: When and Why Do You Need One?
By Claire Lloyd , Ian Rock published
Get your Party Wall Agreement in place, and your project underway with our complete guide to everything you need to do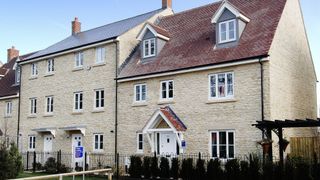 (Image credit: Getty Images)
A Party Wall Agreement is a must-have for anyone starting a project that affects an adjoining property. Even homes that are extended under Permitted Development rights will still potentially need a Party Wall Agreement.
In recent years the planning rules for extensions have been significantly relaxed. One downside to this relaxed regime is that neighbours may no longer receive notification in advance from planners alerting them to proposed extensions next door. This is where the Party Wall Act comes into play.
One reason why the Party Wall Act is such a serious issue is because poorly executed structural alterations are a common cause of cracking and movement, and have even, on occasion, been implicated in the collapse of adjoining buildings.
The Act and the agreement are in place to protect neighbouring properties when work is carried out.
When Do I Need a Party Wall Agreement?
The first step you must take before carrying out any physical construction onsite is to serve the adjoining owner(s) with a formal written notice, known as a Party Wall Agreement.
This normally needs to be actioned a couple of months before work begins (in some cases one month is sufficient, but the more notice you can provide the better).
Although this initial notice can be submitted on your behalf by appointing a solicitor or surveyor, it's often better to retain control at this preliminary stage.
The best approach is to first talk to your neighbours about your proposed extension to put their minds at rest before you or your surveyor issues the required notice.
If your neighbours are tenants or leaseholders you will also need to notify the freeholder or landlord.
Another good reason for making the initial approach yourself is that lawyers specialising in this area will generally advise adjoining owners not to give consent to a party wall notice, so that even where the neighbour is perfectly happy with your proposals they may be persuaded to act in a way that seems uncooperative.
This is because if the consenting neighbour subsequently needed to engage a surveyor to protect their position they'd have to pay the surveyor's fee (if they don't consent, the person extending has to pay).
(MORE: Find a Party Wall Surveyor)
What Kind of Projects Need a Party Wall Agreement?
Below are some of the projects you will most likely need a Party Wall Agreement before starting work:
1. Building foundations: if excavation is within a distance of 3m from the adjoining property, or where your new trench is deeper than their existing foundations.
2. Loft conversions: if you need to rest a new structural beam within the party wall when converting your loft.
3. Building an extension or a new wall: if you build right up to or astride the garden boundary wall or alter a party wall when building an extension.
4. Adding a basement: if you're digging deep foundations, are underpinning the party wall or need to cut into the party wall to insert beams.
5. Removing a chimney stack: if your chimney stack is shared with a neighbour as masonry you cut away will form part of the party wall.
How Do I Give 'Notice'?
If your project is covered by the Act, you give Notice with a letter setting out your intentions, sent to all the owners of every neighbouring property affected.
A sample letter is included within this Party Wall Act booklet.
Remember to include all the key information, including:
the date the Notice is served
the date work will start
all parties' names and addresses
a description of the proposed work
If you don't do this, your Notice will be invalid.
How Much Does a Party Wall Agreement Cost?
For a straightforward job outside London with an adjoining owner dissenting to the works, fees are likely to be in the region of £1,000-2,000 plus VAT.
Fees will depend on the nature and complexity of the work being undertaken as well as the number of adjoining owners. And it is not always the case that the person instigating the work will pay all parties' fees.
To get an accurate quote, consult a RICS accredited surveyor. It's also worth consulting them if you have had a Party Wall Notice served on you.
Is a Party Wall Notice Mandatory?
If things turn sour with your neighbour and they suspect that the work being carried out will adversely affect their home, they can seek a court injunction to stop you from continuing.
If you haven't obeyed the Act and you cause major damage to your neighbour's property, the judge can award compensation for any loss or damage resulting from the works, including legal costs.
An approved Notice is the only way to prevent this.
When Do I Give Notice?
Perhaps surprisingly, it doesn't have to be an official legal document, although it must include certain key information along with drawings and details of the work.
The precise forms you need to issue will depend on the type of work you want to carry out. You can download appropriate Party Wall Notice forms online.
Once the neighbours have been served with the notice they then have 14 days to respond on the acknowledgement form included with the original notice.
Once complete, present this, together with a copy of the Act and explanatory booklet, to your neighbour two months before starting.
Your neighbour will have 14 days to provide written approval or rejection. Let them know a template is available for both options in the explanatory booklet.
Then the following happens:
If they approve, your Notice will be valid for a year to complete work
If they reject or do not respond within 14 days, then you're deemed to be in dispute
What Happens if the Neighbours Object?
Should they disagree, or simply not bother to reply, the law deems this as non-consent and that a 'dispute' has arisen.
The Act then provides a process for the dispute to be resolved. It's important to note that the adjoining owners cannot legally prevent the proposed building work from taking place because, for example, they don't like the idea of an extension next door, since this is a planning issue.
The only situations where they can actually prevent the construction work from proceeding is where an extension needs 'special foundations' such as piles.
In this example the neighbours could refuse outright, potentially scuppering the project.
They are also allowed to refuse construction of what would become a new party wall if it's actually located on their garden boundary.
(MORE: Foundation Systems and Soil Types)
Assigning a Party Wall Surveyor
When a neighbour's consent can't be obtained the next step is normally to appoint a party wall surveyor.
You're allowed to appoint a single 'agreed surveyor' to act jointly for both property owners because legally a party wall surveyor has to act as an impartial independent expert rather than as the agent for the client who appointed them
The main concern is whether the people offering these services are sufficiently qualified and experienced. Some may not be 'proper' RICS Chartered Surveyors (anyone can call themselves a 'surveyor').
Furthermore, party wall work is a complex specialist field and only a minority of chartered surveyors carry out this work.
So search specifically for party wall surveyors, for example on Right Survey.
It's worth noting that experienced practitioners specialising in this area are often members of the quaintly named 'Pyramus and Thisbe Club'.
What Does a Party Wall Surveyor Do?
In short, party wall surveyors help mitigate risk to all parties, and ensure that projects can progress without delay.
If you correctly serve notice on your neighbours and damage occurs, any disputes over that damage will be dealt with by surveyors rather than at common law.
The Party Wall Award
If approval is impossible, then you will have to assign an 'agreed surveyor' or two surveyors to prepare a Party Wall Award.
This 'Award' covers:
the work that can be carried out
how the works will proceed
timings
measures for preventing damage
the payment of surveyors' fees
the current condition of both properties
most importantly, costs payable to the adjoining owner if damage occurs
What if There is Still a Dispute?
It goes without saying that the resulting expense, disruption, and possible contractual issues caused by having to stop work can be debilitating, hence the importance of complying with the legislation from the outset.
If your neighbour doesn't receive the required advance legal notification and then one fine day encounters builders excavating alongside their boundary they can apply for an injunction to stop work.
This can be done very quickly by lodging a claim in the County Court.
The injunction will then be served on the owner of the property being extended, ordering work on site to stop, with a date in court fixed so both sides can put their case.
Normally the errant building owner will acknowledge in court that they've failed to comply with the Party Wall Act, and must give a written undertaking that they will henceforth comply, with the retrospective appointment of party wall surveyor(s) to issue an Award.
Claire is Editor of Homebuilding & Renovating and has been a member of the team for over 13 years. An experienced homes journalist, her work has also appeared in Real Homes and Period Living magazines. She has a particular interest in green homes, and interior design is also a passion; she has undertaken qualifications in this area. Claire has recently finished her renovation project — and is now onto the next.
Homebuilding & Renovating Newsletter
Get the latest news, reviews and product advice straight to your inbox.
Thank you for signing up to Homebuilding. You will receive a verification email shortly.
There was a problem. Please refresh the page and try again.