How Much Does a Kitchen Extension Cost From Start to Finish?
By Natasha Brinsmead published
Wondering how much your kitchen extension cost is likely to end up being? Our guide will explain all so you won't get any nasty surprises when the bills come in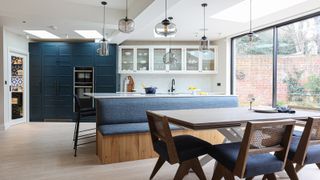 (Image credit: Wood Works Brighton)
The question of kitchen extension cost is one that will be at the forefront of your mind if you are planning on adding space to your home in the form of a new cooking and dining space.
Kitchen extensions are a hugely popular project and have been for some time. It is no surprise given the many benefits a larger kitchen can offer, from providing a relaxed space to dine in to somewhere from which to work from home.
In our guide we take a look at extension costs in general and explain the additional costs of locating a kitchen in your newly enlarged space, along with taking you through the individual stages and elements of this kind of project in order to simplify the budgeting process.
Kitchen Extension Cost Factors
Although our kitchen extension cost guide aims to give you the average prices you can expect, it is hard to give an exact figure. This is because the quotes you receive will be tailored to your individual project and your own kitchen extension ideas. The main influencing factors will be:
The size of your extension
Whether or not you require planning permission
The specification you are aiming for
The price of the kitchen itself, including items such as flooring and appliances
Your location
How much work you carry out on a DIY basis
Whether you plan on using an architect or house designer
Extension Costs Explained
First things first, let's get to the bottom of the big question: how much does an extension cost?
Although there are many variables to take into account, as explained before, there are some average figures you should bear in mind when getting started — these should help you understand the size and type of extension you will be able to afford and help you plan the right route for you.
On average, the majority of extension projects come in at approximately £1,500-£2,000/m² of new internal space. This means that a smallish 20m² kitchen could be expected to cost you between £30,000-£40,000 plus VAT at 20% and the cost of the kitchen itself.
You'll also need to factor in design fees: "For a typical £50k extension cost, architects' fees would normally equate to about 1.5%, with structural engineers and quantity surveyor (QS) fees approximately 1% and 1.5% respectively," says Quantity Surveyor Tim Phillips.
And there'll be planning fees and Building Regs fees on top: "A figure of £800 would normally be an adequate amount for a 30m2 £50k extension," advises Tim.
How Much Does a Kitchen Extension Cost?
In the case of a kitchen extension, you will also need to add in the costs for the new kitchen itself and the individual requirements a kitchen brings with it, such as the need for plumbing to bring water it and waste to take it away again. Locating a kitchen in your extension and the effect it will have on costs, is very different to simply using an extension for extra living space.
Additional items you will need to factor in include:
Cabinetry
Kitchen installation
Worktops
Flooring
Appliances and taps
Lighting
Plumbing and electrics (although some of these should be included in the above extension costs)
Tiles and splashbacks
Once you have got an understanding of how much your extension is likely to cost, you might well be left asking 'how much does a new kitchen cost?'
At the lowest end of the price scale, you should be able to pick up a flat-pack kitchen off-the-shelf for as little as £1,000, sometimes even less. Do be aware, however, that these kitchens rarely include worktops or appliances. Once all these other factors are taken into consideration, more realistic average figures for new kitchens tend to hover around the £8,000 - £10,000 mark, easily rising to £20,000+.
In order to get an idea of kitchen extension costs therefore, use the extension costs above as a guide, before adding them to these figures based on the style and size of kitchen you are planning.
You can then take a look at installation, plumbing and other associated costs, as laid out in this article, to ensure your budget remains on track.
How Much Does Kitchen Fitting Cost in a Kitchen Extension?
When it comes to fitting a kitchen, unless you plan on doing this yourself you will need to factor in the cost of professional fitting.
Your final installation costs will very much depend on the size of the space, the kitchen design you have opted for, your location and who you get in to carry out the work.
However, to get a rough idea of how much installation will add to your kitchen extension cost, the average fitting costs of a kitchen measuring around 13m2 is approx. £3,500, including the removal of the old units, the installation of new ones, worktops and appliances, plastering, tiling and decoration.
How Much Does Plumbing Work Cost For a Kitchen Extension?
Many people find that plumbing will not be included in the quotes from their builders or kitchen fitters — so don't forget to factor this in.
Plumbing for a kitchen extension is usually carried out in two stages. First fix plumbing will involving installing the pipework to connect the water supply and the waste water drainage. Your plumber should check your existing system and work out the best method for adding a new supply and waste which may entail new pipework being laid under your floor or along walls.
Second fix involves the connection of appliances and taps — plus all pipework should be given a final check for leaks.
Your plumber's quotes will depend on the scale of the project but expect to pay between £150-£250 per day.
What Other Kitchen Costs Should I Include?
Many of the above costs won't take into account essential extras that go towards creating a new kitchen — omitting them from your budget could mean nasty surprises later down the line.
Additional costs to be aware of include:
Worktops: When putting together your kitchen worktop ideas, bear in mind that choosing materials such as laminate and wood, which start at £100/m, will keep costs lower than picking quartz, granite or marble worktops which can cost as much as £500/m.
Kitchen flooring: Ceramic tiles tend to be one of the most affordable options, starting from as little as £10/m while natural stone and luxury vinyl tile will cost considerably more.
Appliances: It is difficult to put an exact figure on this as it will clearly depend on the number and specification of the items you opt for, but appliances tends to account for between 15-20% of overall new kitchen costs.
Kitchen taps: It is possible to buy basic pillar-style kitchen taps for as little as £20. Opt for a tap with all the extras, such as instant filtered or boiling water and pull out spray hoses and you could easily end up paying upwards of £400 for your new fitting.
Kitchen wall tiles: While kitchen wall tiles can be picked up for as little as £7/m2 if opting for a simple, white ceramic design, remember to factor in the services of a tiler if not doing the job yourself. Tilers charge anything between £150-£300. Don't omit to factor in the cost of adhesive, spacers and grout.
Kitchen lighting: A kitchen extension needs great lighting to work well and be a pleasure to spend time in. Downlighters are popular kitchen lighting ideas and these can be picked up for around £10 per light. You will need to bring in an electrician to fit them — in all likelihood you will have an electrician working on the extension anyway so they should include this in their quote.
Natasha is Homebuilding & Renovating's Associate Editor and has been a member of the team for over two decades. An experienced journalist and renovation expert, she has written for a number of homes titles. She has renovated a terrace and is at the end of the DIY renovation and extension of her Edwardian cottage. She is now looking for her next project.
Homebuilding & Renovating Newsletter
Get the latest news, reviews and product advice straight to your inbox.
Thank you for signing up to Homebuilding. You will receive a verification email shortly.
There was a problem. Please refresh the page and try again.