Side Extension Ideas: 8 Real Homes with Awesome Additions
By Katie Corcoran published
These 8 side extension ideas prove that extending out to the side can add style and space like no other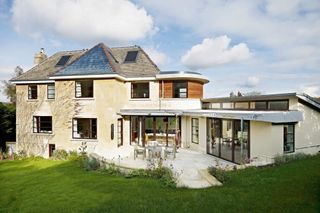 (Image credit: Simon Denison)
These side extension ideas offer inspiration for clever ways to add more space to a detached home, and go to prove that where you have multiple options for extending out, a side extension may well be your best bet.
Whether you want a single or two-storey addition extending out to the side, the available options are incredibly varied. Plus a side extension can be contrasting and bold or sympathetic and subtle — creating great kerb appeal either way.
Below are 8 stunning examples of building an extension from real projects to inspire your aims to add more space to your home.
1. A Side Extension Idea Inspired by the Original Building's Vernacular
When extending this traditional granite farmhouse in Aberdeenshire, a side extension which matches the height and pitch of the existing roof has been used for a cohesive look.
However, rather than trying to imitate the existing stonework, modern materials have been used to complement the original building, with larch cladding and a stainless roof still reflecting the rustic location of the property.
(MORE: Timber Frame Extension)
Build cost: £466,500
Location: Aberdeenshire
2. This Side Extension Idea Adds Another Storey to a Bungalow
This small, but charming 1940s bungalow in Kent has been given a dramatic makeover with a new oak-framed side extension by Border Oak. By adding a double-storey extension, the property's floor plan increases hugely.
However, a large extension could alter the dynamic of the building if not matching the existing home, but the eye catching but sympathetic oak frame design is a good fit for the original bungalow.
(MORE: How to Extend a Bungalow)
Build cost: £200,000
Location: Kent
3.A Modern Contrast Side Extension Idea for an Old Cottage
A modern glass side extension may seem like an unlikely pairing for this old cottage located in Powys. However, it goes to prove that creating a contrast between old and new is an effective way of extending period buildings.
Rather than trying to recreate the architecture of the original building, this extension highlights the transition between old and new, in a way working better to preserve the cottage's architecture by not trying to pass an extension off as part of it.
This glazed link connects the existing cottage with two once derelict barns, unifying the structures to create a family home.
(MORE: Barn Conversion Ideas)
Build cost: undisclosed
Location: Powys
4. Floor-to-Ceiling Glazing for a Side Extension
This small bungalow has been transformed by a dramatic oak frame side extension. By using floor-to-ceiling glazing, including the glazed gable, the design is stripped back in its use of extra materials, helping the new addition amalgamate with the existing house and offering reflections of the beautiful woodland surroundings.
(MORE: Bungalow Renovations)
Build cost: undisclosed
Location: Cornwall
5. An Intersecting Side Extension to a Semi-Derelict Barn
This unusual side extension idea with a pitched roof intersects the sloping roof of the original house, creating a new, unique profile. Locating the extension on this side of the house helps to add more space, without detracting form the beautiful views of the loch.
The converted lochside barn was extended to house utilities and the new volume has been clad in larch to compliment and contrast with the original stonework.
Build cost: £200,000
Location: Highlands
6. A Contemporary Side Extension Idea for a Thatched Cottage
Finding a contemporary extension style for a thatched cottage is a challenge indeed, but this project sees a highly glazed extension used effectively to double the size of this 17th-century cottage.
The use of modern white render and a huge volume of glazing helps to keep the two wings of the property separate, but without an awkward transition between the spaces.
(MORE: Radical Extensions)
Build cost: £210,000
Location: Oxfordshire
7. Adding Space to Art Deco Home with a Curved Side Extension Idea
This single-storey curved addition has been roofed in stainless steel to provide a writing room, utility room and kitchen/dining room for this Art Deco property. The curved extension has prevented the home becoming too linear in its design, instead enveloping the new patio in the garden.
Build cost: £392,000
Location: Bath
8. Matching Side Extension Idea for a Georgian Farmhouse
The homeowners of this period farmhouse have added space with a sympathetic side extension. It was a challenge to source reclaimed bricks to match the original house, but was an essential step in ensuring that the extension looked the part when complete.
(MORE: Matching Materials for an Extension)
Build cost: £60,000
Location: North Yorkshire
Do I Need Planning Permission for a Side Extension?
Many side extension ideas and designs will need carefully looking at with your architect in regards to planning permission.
In many cases, you will be able to add a side extension under Permitted Development Rights, as long as the proposed project meets certain criteria, although this may not be the case in conservation areas or areas of outstanding natural beauty.
Here's what you need to consider:
The extension cannot sit forward of the principal elevation
It should be built using similar materials
If it is within 2m of a boundary, the eaves cannot be higher than 3m and not taller than 4m otherwise
The width of the side extension must not be greater than half the width of the original dwelling
If you are looking to extend outside of this criteria, then you will need approval from the local planning department.
If in doubt, always check with your local authority before starting any building work, You can also see the planningportal.gov.uk for a full list of caveats.
Katie is an experienced journalist and has renovated two houses including a 200-year-old cottage and a 1950s semi.
Homebuilding & Renovating Newsletter
Get the latest news, reviews and product advice straight to your inbox.
Thank you for signing up to Homebuilding. You will receive a verification email shortly.
There was a problem. Please refresh the page and try again.