8 Side Extension Design Ideas
A side extension can provide much-needed space to allow your home to grow. Here are eight great design ideas to inspire your project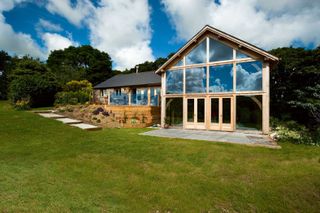 (Image credit: English Oak Buildings)
Once you have assessed whether it is worth extending your home, thoughts often turn to the type and style of extension that would work for you. Whether you want something contrasting or sympathetic, single or two-storey, extending out to the rear or the side, the available options are incredibly varied.
Here we take a look at eight great examples of extending out to the side of the original property.
(MORE: Get a tailored quote for your extension project)
Do I Need Planning Permission for a Side Extension?
In many cases, you will be able to add a side extension under your Permitted Development Rights, as long as the proposed project meets certain criteria (although this may not be the case in Conservation Areas or AONB):
the extension cannot sit forward of the principal elevation
it should be built using similar materials
if it is within 2m of a boundary, the eaves cannot be higher than 3m and not taller than 4m otherwise
the width of the side extension must not be greater than half the width of the original dwelling
(MORE: Want to extend out the back of your property? Check out these design ideas)
If you are looking to extend outside of this criteria, then you will need approval from the local planning department.
If in doubt, always check with your local authority before starting any building work, You can also see the planningportal.gov.uk for a full list of caveats.
1. Contemporary Timber Extension
A larch and stainless steel addition gives a spacious new wing to a traditional granite farmhouse.
Build cost: £466,500
Location: Aberdeenshire
2. Charming Oak Frame Addition
An oak-framed wing by Border Oak has been added to this 1940s bungalow to create annexe accommodation and add traditional charm.
Build cost: £200,000
Location: Kent
(MORE: Get a tailored quote for your own extension project)
3. Glazed Extensions to Old Cottage
An old cottage and two derelict barns have been linked by a glazed structure, unifying the structures to create a family home.
Build cost: undisclosed
Location: Powys
4. Oak Addition Revamps Tired Bungalow
A small bungalow has been transformed by a dramatic oak frame side extension, with floor-to-ceiling glazing to maximise woodland views.
Build cost: undisclosed
Location: Cornwall
5. Semi-Derelict Barn Transformed
A converted lochside barn has been extended to house utilities. It was clad in larch to compliment the original stonework.
Build cost: £200,000
Location: Highlands
(MORE: Get a tailored quote for your own extension project)
6. Contemporary Extension to Thatched Cottage
A contemporary extension with a partially glazed roof doubles the size of the original 17th-century cottage.
Build cost: £210,000
Location: Oxfordshire
7. Adding Space to Art Deco Home
This single-storey curved addition has been roofed in stainless steel to provide a writing room, utility and kitchen/dining room.
Build cost: £392,000
Location: Bath
8. Sympathetic Extension to Georgian Farmhouse
The homeowners of this period farmhouse have added space with a sympathetic side extension. It was a challenge to source reclaimed bricks to match the original house, but was an essential step in ensuring that the extension looked the part when complete.
Build cost: £60,000
Location: North Yorkshire
Need a Quote for Your Own Extension Project?
Homebuilding.co.uk partners with the UK's best extension specialists to match your requirements with their services. 
Simply answer a few questions on what you need from your extension and we'll put you in touch with a suitable partner.
How It Works
1. Enter your details below. Tell us a bit about your project and what you are looking for, and leave some contact details.
2. We search our database. We'll match your requirements with the products and services that our partners offer.
3. Partners will contact you. Don't worry about being bombarded - only the suppliers that match your requirements will contact you.
Homebuilding & Renovating Newsletter
Get the latest news, expert advice and product inspiration straight to your inbox.
Thank you for signing up to Homebuilding. You will receive a verification email shortly.
There was a problem. Please refresh the page and try again.