Bungalow Extension Ideas: 10 Ways to a Modern Home
By Amy Reeves published
Discover what is possible when adding a bungalow extension with our design ideas guide — including architects' advice and lots of before and after inspiration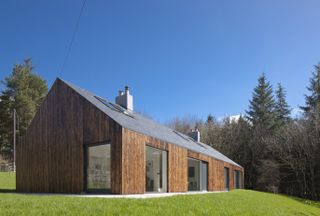 (Image credit: David Barbour)
A bungalow extension is a sound investment for those who see the potential in these often-dated single-storey homes. Bungalows suit all kinds of extension ideas as they're frequently blessed with large plots to the side and rear.
The flexible nature of bungalow layouts also lends themselves exceedingly well to downsizers, young families, those who have accessibility requirements alike.
From space-savvy loft extensions to creative contemporary additions, discover below how these types of homes can be adapted, with expert advice on potential pitfalls and benefits that can't afford to be missed when extending. Be sure to scroll through the images to see amazing before and after comparisons for added inspiration.
Before You Build a Bungalow Extension
"As with any project, the starting point must be doing your research to check that the project is viable," begins project manager Oliver Steele-Perkins.
"And that means looking at all the planning issues involved, assessing your bungalow's structural stability, judging whether the existing footprint will lend itself to a successful project, understanding the depth and shape of the existing foundations, and knowing whether the existing internal walls are load-bearing. Yes, lots to do — but all really important stuff."
"It's critical when you are looking to extend a bungalow that you consider the impact additional floor space will have on the existing house and the overall massing of the house," agrees architect Darren Bray, founder of Studio B.A.D.
"There are some design challenges to address prior to taking on this building project. For instance: how do you deal with and extend a low roofline, and how do you introduce natural light to existing rooms in a newly extended bungalow?"
1. Reorganise the Layout with a Kitchen Extension
Image 1 of 3
Image 2 of 3
Image 3 of 3
No matter the size of the extension, it's likely that the motivation behind adding on will be to reorganise the rooms to work for your lifestyle — so don't forget include the existing spaces in you designs.
This could involve knocking down internal walls as part of a bungalow renovation to create an open-plan space, as in this project, or reconsidering what existing rooms are utilised for. Bedrooms and bathrooms don't necessarily need views out to the garden, so perhaps relocation them to the front of the house to maximise potential for living spaces at the rear.
"Removing internal partitions, either partially or fully, has the potential to revolutionise how you use your living space," advises homes journalist Rebecca Foster. "Plus, it may create an opportunity to bathe light-locked rooms at the centre of the floorplan with daylight."
2. Add a Rear Extension to a Bungalow
Image 1 of 2
Image 2 of 2
Rear extension ideas can work wonderfully with bungalow plots as they generally have plenty of space.
However, that's not to mean they're without challenges; extending a low roofline can cause issues and a flat roof is often a sleeker solution.
"The most successful way in which a new flat roof can be added is as a stand-alone element, with the new roof slid under the existing eaves," advises architect Darren Bray. "The flat roof can be a simple single form with a very small parapet that drops down at the eaves junction to allow for rainwater outlets."
Planning permission restrictions meant this extended bungalow had to maintain a pitched roof to mirror the other rooflines on the street. To address this, the homeowners added a gabled roof to mask the flat boxed element.
Inside, the bungalow's floorplan at the front of the house remains much the same, but at the back many of the internal walls have been knocked through to create an open-plan living space, with views out to the garden thanks to a rear extension.
3. Choose an L- or U-shaped Layout in a Bungalow Extension
Image 1 of 2
Image 2 of 2
Rather than one long building, add an 'arm' adjacent to a bungalow to create a more dynamic design and layout. These types of layouts also create a courtyard so each room of the house can have a view of the garden.
"Extensions are typically built to be structurally independent from the host house," explains Darren Bray on a practical note. "In other words, the house and extension sit next to one another so that the extension does not require structural support from the main house. (A weathertight seal is typically created between.)"
This Japanese-inspired bungalow design was informed by the garage to the side of the existing home. Konishi Gaffney added a link extension and converted the garage to create a new open-plan kitchen, dining and living space.
4. Add Rooms in the Roof with a Dormer Extension
Image 1 of 2
Image 2 of 2
A bungalow loft conversion or dormer extension will help gain more bedrooms in a bungalow — a good idea for growing families or those with limited garden space.
To carry out works under Permitted Development new roof lines can't exceed the existing roof and any side-facing windows need to be obscure glazing and non-opening below 1.7m.
Will Dewar (director at Sketch Architects) extended this dated bungalow to suit his young family by going up. "The bungalow was detached, with a large footprint and we could double its size by going into the loft, which already had a ridge height of 2.8 metres, and adding dormers," he explains. The dormer windows were built with timber frame and provided the house with four bedrooms and two bathrooms.
Modular loft conversions are a highly-popular way of achieving an extra storey in a bungalow without weeks of on-site disturbance.
5. Bring Light Deep into a Floorplan
Image 1 of 2
Image 2 of 2
Rooflights, roof lanterns and glazed links are all great ways to introduce better natural light into spaces deeper in a floorplan during an extension.
"Incorporating large doors and windows are obvious ways of introducing daylight, but rooflights should also be considered, particularly those at the junction between the existing property and the extension — they work wonders in blurring the connection between old and new," comments Darren Bray.
Using modern bungalow ideas, the homeowners revolutionised this dated bungalow on an amazing coastal plot but installing rooflights and large expanses of glazing to make the most of the view.
6. Go Out to the Side with a Two-Storey Bungalow Extension
Image 1 of 2
Image 2 of 2
While adding a single storey might seen like the only option, double storey extensions to bungalow can look graceful given the right design and are a comparatively cost-effective way to gain much-needed extra space.
Interesting ideas for changing a bungalow design in this way can include copious amounts of glazing, adding new feature material, such as oak or exposed brick, or creating a new master suite away from the living spaces.
The new oak frame extension with glazed gable, provided by Oakwrights, repeats the shape and size of the existing home to create a sense of continuity.
7. Boost Kerb Appeal During a Bungalow Extension
Image 1 of 2
Image 2 of 2
One of the best things about remodelled bungalows is the before and after transformation.
Bungalows are full of potential, but many are as dated from the outside as they are inside, so taking steps to increase kerb appeal as a whole while extending is worth the effort.
"Consider cladding for the new addition carefully," advises Darren Bray. "There is nothing worse than trying to match existing materials like brickwork and not quite achieving a successful match. It is far better to have a natural break, either in materials or via a glazed element. Indeed, when taking on such projects, remember you are adding something of the 21th century — make sure you celebrate that fact."
The once nondescript exterior of this Scottish property has had a complete external makeover. The footprint of the bungalow has been extended at either side while a scorched larch cladding ensures the new design blends into the woodland setting.
8. Add a Second Storey to a Bungalow
Image 1 of 2
Image 2 of 2
Adding a second storey to a bungalow tends to require light-weight timber frame extension, depending on the house's existing foundations, which can come with added costs.
This bungalow was extended by not just one, but two storeys, providing a show-stopping triple-height atrium in the centre and five bedrooms, including a large master suite.
Happily, the homeowners found after a structural survey that their foundations and masonry walls were sturdy enough to allow for the extra storeys to be constructed using brick a block, saving on their bungalow extension costs.
9. Interrogate a Bungalow's Interior Design
Image 1 of 2
Image 2 of 2
Rethinking bungalow interior design when extending will help tie together the new elements, so no room in the house goes ignored in comparison to a shiny new addition.
If you're interested in particular house design ideas or styles, try to use motifs (such as interior timber cladding or the same flooring throughout) around the house.
When extending and renovating a 1960s house bungalow, the homeowner chose a fresh coastal style that unites both the ground floor and the new second storey.
The existing brown brick outside was also rendered, while the new first floor was clad in white fibre cement board. The hardwearing, low-maintenance material makes it perfect for its coastal location and completes the relaxed design.
10. Take a Fabric First Approach When Extending a Bungalow
Image 1 of 2
Image 2 of 2
Apply a fabric first approach to upgrading the insulation to a bungalow while adding an extension for a more efficient home.
Investing in the thermal envelope while adding a wrap-around extension to this unloved bungalow has transformed it into a warm family home. The existing external walls were insulated to 100mm rigid insulation, the floor was also insulated between the joists (200mm thick), and 300mm of insulation was added to the loft.
The existing windows were also upgraded to triple-glazed units.
Do You Need Planning Permission for a Bungalow Extension?
"Smaller rear and single-storey extensions can usually be done under Permitted Development rights if they are less than 8m deep (on a detached house)," says Homebuilding & Renovating's Associate Editor Natasha Brinsmead.
"There are some situations when you don't need to apply for full planning permission [under Permitted Development rights]," explains planning consultant Simon Rix of Planix. What's covered changes regularly, so it's worth checking out the latest version of the Town and Country Planning (General Permitted Development) (England) Order 2015 to see the most recent amendments."
Assistant Editor Amy began working for Homebuilding & Renovating in 2018. She has an interest in sustainable building methods and always has her eye on the latest design ideas. Amy has interviewed countless self builders, renovators and extenders about their experiences for Homebuilding & Renovating magazine. She is currently renovating a mid-century home, together with her partner, on a DIY basis, and has recently fitted her own kitchen.
Homebuilding & Renovating Newsletter
Get the latest news, reviews and product advice straight to your inbox.
Thank you for signing up to Homebuilding. You will receive a verification email shortly.
There was a problem. Please refresh the page and try again.