Insulating Windows: 10 Easy Ways to Keep Your House Warm
Insulating windows should be top of your priority list if you want to keep your house warm and cut your energy bills — we show you how to do it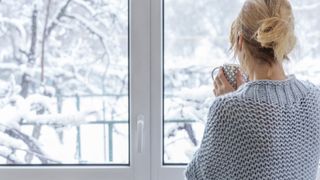 (Image credit: Getty)
Soaring energy prices and what seems like a never ending run of 'cold snaps', means insulating windows is even more important than ever right now.
Insulation and airtightness are key in helping to keep our homes warm during the colder weather, and cooler in summer. However, while some measures are relatively cost-effective and cheap to undertake (such as insulating a loft), others such as external or internal wall insulation can cost thousands.
Replacing windows with more energy-efficient versions can also be a costly task. So, finding ways to keep the heat in is imperative, particularly for those with old double glazing or single glazing.
If you are wondering how to insulate windows, then our round up of the best methods out there is here to save the day. We've got solutions for every situation and all budgets.
1. Insulating Windows With Weather Stripping
Weather seals or weather stripping is a brilliant, quick and inexpensive way of insulating windows. Costing from as little as £3 per roll, one of the most common types of draught seal is the self-adhesive foam strips (such as B&Q's Diall White Self-adhesive Draught seal) that can be purchased in coils ready to be cut to length.
Alternatives products for draught proofing windows include brush seals, spring metal and v-strips — all of which will, as the name suggests, seal up any gaps around windows to prevent cold draughts.
2. Apply Caulk
Caulk is a DIYers best friend and is a particularly effective way of insulating windows too.
Use it to seal gaps between the window frame and wall, as well as all the joins in and around the frame.
Before you begin, scrape away any peeling old paint or caulk, then use a caulking gun to neatly apply new silicone caulk.
3. Try Window Film
Window film is a really popular way to insulate windows — cheap to buy, easy to fit and effective.
Window insulation film is made from plastic and is often sold in kits that include everything you need to apply it, including tape.
To apply window film you must first ensure your window is sparkling clean, before measuring it and cutting the film to size. Manufacturer's instructions usually state that you should leave a little allowance in size around the edges. The tape is then applied around the frame ready for the film to adhere to it.
Once you are sure there are no creases or wrinkles in the film you need to apply heat to shrink it for a tight fit — this is usually done with a hairdryer.
Window film is easy to remove once you no longer need it but be aware that the tape can sometimes take paint with it (particularly from old timber window frames).
4. Fit Secondary Glazing
Secondary glazing is a popular way of insulating windows amongst those living in listed buildings and in conservation areas, where new double glazing might not be deemed acceptable. It is also cheaper than installing new double glazing.
Secondary glazing can also add a soundproofing layer, as well as reducing the chance of window condensation — it can even add a level of security.
Fitting secondary glazing usually involves adding a slimline, second window to the inside of an existing window frame.
Secondary glazing comes in many forms, with frames available in uPVC, aluminium and timber. Systems can be temporary, designed to be taken in and out as needed, or permanent. They can slide open, be permanently fixed or open like a regular casement window.
5. Replace Single Glazing
Although replacing single glazing with double glazing is not suitable for every type of property (period properties can lose some of their character, for example), it could make a huge difference to how well your home retains heat in the winter. Double glazing can also prevent overheating in the summer.
Before rushing to replace all your glass with double glazing, however, do address draughty window frames and other sources of heat loss — otherwise your double glazing costs just won't be worth it.
6. Hang Thermal Curtains or Blinds
Thermal curtains and blinds are one of the best ways to insulate windows — and providing you buy good quality products, they should also prevent rooms from overheating in the summer months.
Thermal curtains are made from at least three layers of material that work together to control the temperature of a room.
It is also possible to buy thermal blinds. These usually feature tiny honeycomb pockets or similar that trap the air to create a warm, cosy room.
7. Use Bubble Wrap as Insulation
Not a solution that everyone will jump at but an effective one nonetheless — just don't expect to be enjoying any views when you open the curtains.
Those in the know suggest misting the windows with water before taping bubble wrap (bubble side to glass) to the window.
8. Consider Draught Snakes
A draught snake or excluder is a simple and easy way to stop pesky draughts and to keep the heat in. They are simply small, long, tube-like cushions that sit on your window sill to block any gaps around your window frame.
You can also get draught snakes for under doors.
9. Apply a Low-E Coating
Low-emissivity (low-E) glazing works by absorbing energy created by heating systems inside the building and is extremely effective at preventing heat loss and lowering energy bills. However, in retrofit situations, fitting new Low-E glazing requires new windows to be installed, meaning disruption and significant costs.
An alternative is low-E window film. These products work by reflecting interior heat back into the room. Unlike window film, which tends to be stuck to the window trim or frame, low-E film is fitted directly to the glass. For larger windows this can make it tricky to install. You should also be aware that it can produce a slightly tinted effect.
10. Use Magnetic Secondary Glazing
Magnetic secondary glazing is a little different to other types. It is easily removable and held in place by magnets. The best thing about this type of secondary glazing is that it is very easy to install, low cost when compared to permanent secondary glazing and still works to insulate windows.
To install it, self-adhesive magnetic strips are attached to the window frame. A magnetic secondary glazing panel is then placed into the frame where it sits snugly.
On the downside, some of the cheaper products, made from thin plastic, can be a little flimsy, so check the quality before you buy.
Get the Homebuilding & Renovating Newsletter
Bring your dream home to life with expert advice, how-to guides and design inspiration, direct to your inbox.
Natasha is Homebuilding & Renovating's Associate Content Editor and has been a member of the team for over two decades. An experienced journalist and renovation expert, she has written for a number of homes titles. Over the years Natasha has renovated and carried out a side extension to a Victorian terrace. She is currently living in the rural Edwardian cottage she renovated and extended on a largely DIY basis, living on site for the duration of the project. She is now looking for her next project — something which is proving far harder than she thought it would be.