The 5 Best Bathroom Extractor Fans to Keep Your Air Fresh
By Jack Woodfield published
The best bathroom extractor fans are quiet, powerful, and will easily remove excess moisture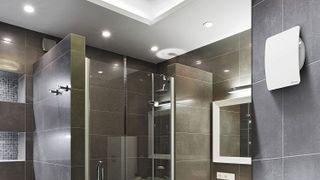 (Image credit: Amazon)
Owning one of best bathroom extractor fans will make you wonder why you didn't invest in one sooner.
Bathrooms are damp rooms, and a lot of humidity is produced when we take showers which can impact the porous nature of drywall and paint. Once the air cools, this trapped humidity turns into water and can encourage mould and fungus to grow. Not only is this not good for our health, it can cause problems such as skin irritation and allergies.
The health benefits alone can make an extractor fan a key part your bathroom design. These machines suck out the moisture that builds up in your bathroom, quickly removing harsh odours and preventing mould growth, as well as staving off rusting and paint peeling.
While an extractor fan isn't a legal requirement if your bathroom has an openable window, buying bathroom extractor fan is still a good idea. Fans come in different shapes and size too, so take a look at the best bathroom extractor fans available now to keep humidity at bay in your bathroom.
Best Bathroom Extractor Fans
1. Xpelair C4TS Axial Extractor Fan
One of the quietest on the market
Specifications
Installation:
Walls, ceilings and panels
Air extraction rate:
Up to 75 m3/h / 21 l/s
Reasons to buy
+
Super quiet
+
Sleek design
+
Easy to install
Reasons to avoid
-
Humidistat isn't the most reliable
At 16dB, the Xpelair C4TS is one of the quietest bathroom extractor fans around. You can relax in the bathroom bother-free while it's doing its thing, and it also means any family in close proximity (such as sleeping children) won't be disturbed.
It can be easily installed on a wall, ceiling or panel - it simply requires a 'twist and click' the lock it into place. And during installation, you can select from two motor speed settings - 15 litres per second (l/s) and 21 l/s, or 54 metres cubed per hour (m3/h) and 75 m3/h. The slower speed is very quiet, but takes a bit longer to demist your bathroom.
Plus, while looks aren't always everything, this is a beaut that will easily fit with most modern bathroom ideas. Sleek and smooth, the white finish will fit in with any type of bathroom decor.
The timer can be adjusted between periods of 30 seconds and 30 minutes, and the fan comes with a two-year manufacturer's guarantee.
Buy the Xpelair C4TS Extractor Fan (opens in new tab)
---
2. Envirovent SIL100T Axial Silent Extractor Fan
A powerful all-rounder, packed with features
Specifications
Installation:
Walls and ceilings
Air extraction rate:
Up to 96 m3/h / 26 l/s
Reasons to buy
+
Quiet
+
Adjustable humidity sensor
+
Run-on timer
Reasons to avoid
-
Installation could be easier
A close second place on our list, the highly stylish Envirovent SIL100T Silent Extractor Fan is another low-noise machine, releasing just 26.5 dB at 3m noise output. This is achieved through the motors being mounted on silent elastic blocks.
It comes with an adjustable humidity sensor which lets you set the relative humidity level (between 60-90%), and this will turn the fan on when required to help prevent condensation.
The fan will then continue to operate until this is achieved (it doesn't take long, circulating air at the rate of 96 m3/h), and will turn off when the moisture level drops below your set level.
Another practical feature is the run-on timer, which automatically calculates how long the fan should operate based on how long it has been running. The timer delay can be set manually for up to 30 minutes.
Buy the Envirovent SIL100T Axial Silent Extractor Fan (opens in new tab)
---
3. Manrose QF100T Quiet Axial Extractor Fan
Rich with features and comes with a 3-year guarantee
Specifications
Installation:
Walls and ceilings
Air extraction rate:
Up to 75 m3/h / 21 l/s
Reasons to buy
+
Turning vane technology
+
Energy efficient
+
Backdraught shutter
Reasons to avoid
-
Can be noisy when turned off
While not as powerful or quiet, respectively, as the top two on this list, Manrose's QF100T fan boasts performance-enhancing design credentials that make it a really excellent product.
One of these is a turning vane system which smoothly directs air in the duct and reduces resistance when there is a change of direction. This ultimately helps to deliver high output.
A backdraught shutter is included too, which prevents air flowing in the wrong direction when the fan is turned off. This is a really energy-efficient choice, with the motor consuming a maximum of 4.8W.
The fan is made from ABS thermoplastics so it's very durable - handy in busy bathrooms - and it comes with a three-year manufacturer's guarantee.
Buy the Manrose QF100T Quiet Extractor Fan (opens in new tab)
---
4. Blauberg UK TURBO-150 Extractor Fan
The best in-line extractor fan
Specifications
Air extraction rate:
Up to 560 m3/hour / 155 l/s
Reasons to buy
+
Multiple sizing options
+
Easy to install
+
High air extraction rate
It won't be winning any design awards, but if you're willing to overlook it's aesthetic quirks, the Blauberg UK Turbo-150 is a high-power extractor fan that offers good value for money.
This is an in-line fan which means it's specifically designed to fit in your ceiling when your bathroom is very far away from an external wall. It fits several different duct diameter sizes, so there should be something suitable for your home.
It can be electrically wired directly into 240V mains power with a 50W motor, and has an efficient range of mixed flow extractor fans - it can reach an impressively high air flow rate of up to 560 m3/hour. It takes roughly 30 minutes to install, including the wiring.
Buy the Blauberg UK TURBO-150 Extractor Fan (opens in new tab)
---
5. Vent-Axia Solo Plus Centrifugal Extractor Fan
The best centrifugal fan
Specifications
Installation:
Walls, ceilings and panels
Air extraction rate:
Up to 80 m3/hr / 22 l/s
Reasons to buy
+
Delay function
+
Trickle speed option
+
Two boost motor speeds
Reasons to avoid
-
Ducting not included
-
Not the most stylish
Centrifugal fans can generate more pressure than axial wall fans, and because they can extract down much longer duct runs, it makes them a great choice for bathrooms which are far away from an external wall.
The versatile Solo Plus T from Vent-Axia is our top centrifugal fan pick for a few reasons. Firstly, it offers a choice of two boost motor speeds at installation - medium (17l/s) or high (22l/s) - and you can also select an optional constant trickle speed (9l/s) so there's always some flow through the room (even when no one is in there). You can revert back to your chosen setting via a pull cord, light switch or the humidity sensor.
It also comes with a 'delay' option, which means the fan won't kick in for around five minutes after the light is turned on. If you were to have a shower, for example, then it will continue to run for 20 minutes after the light is turned off to clear the humidity.
It can be mounted on a surface or installed flush, and the impeller allows for installations with longer duct runs using 100mm ducting. It comes with a two-year manufacturer's guarantee.
Buy the Vent-Axia Solo Plus Centrifugal Extractor Fan (opens in new tab)
---
Types of Bathroom Extractor Fan
There are three basic types of bathroom extractor fan:
Axial (also known as wall fans) – the most common household extractor fan, these connect through an external wall, or in the ceiling on a very short duct run, and are generally cheaper and easier to install
Centrifugal – these are best for bathrooms far away from an external wall (over 1.5m away), and can be mounted on the wall or ceiling. They tend to generate more pressure than an axial machine
Inline – installed in your loft space, these machines sit on a length of ducting and have a much higher extraction rate, so they tends to be more expensive. They are effective options for extra-long distances of 40 metres or more to your nearest external wall.
How to Choose the Best Bathroom Extractor Fan
If you've decided that a bathroom extractor fan makes sense for your house, then look for these factors when making your choice.
Air extraction rate
This specifies how much air can be moved in a time interval. The larger bathroom you have, the higher the rate you'll need.
Most models far exceed the 15 l/s or 54 m3/hr minimum requirement in the Building Regulations, although those with higher extraction rates tend to produce more noise.
Size
Domestic extractor fans come in two sizes: 4-inch /100mm and 6-inch / 150mm.
A 4-inch model will suffice for most households, whereas 6-inch machines are appropriate for larger bathrooms (generally greater than 9m2), or those which are frequently used by larger families or households.
The size of the extractor will determine where it can be placed, and whether or not it can fit in your bathroom.
Noise
Bathroom extractor fans can be loud. So if noise is a big concern for you then try to avoid fans at 30db and under. You can also look out for fans with silent running ball bearing motors, which help to reduce noise further.
Turning on and off
Extractor fans have to be turned on to start moving air and turned off to stop, and a number of features can affect how this happens. A fan might come with a pull cord for activation, or it can be wired to turn on and off via your light switch.
Some fans with humidistats will turn on automatically when the humidity in your bathroom reaches a pre-set level (and turn off when this level falls), while others come with PIR (Passive Infra Red) sensors which operate automatically when somebody enters the room.
Timer
Fans with timer models allow it to run for a set period of time even after you've turned your shower and lights off. This helps to ensure that all steam has been extracted.
Do Bathroom Extractor Fans Need to Vent Outside?
Yes. Bathroom extractor fans remove moisture from the air, so if this air is deposited into your loft or another room then the problem is moved to another area.
Ensuring your fan exits outside your home will help you to avoid damp and mould entirely.
How we Review Extractor Fans
Here at Homebuilding.co.uk we like to get our hands dirty and trial as many products as possible, but in the instances where we aren't able to, such as with the best bathroom extractor fans, we leave no stone unturned to provide you with the crucial information you need to know before buying.
Our team is passionate about DIY and home improvement (which probably won't be a surprise) so we already have knowledge about the brands that make these extractor fans. Moreover, we have taken into account user reviews when compiling this buying guide, and gleaned key information from our sister sites such as Real Homes and Ideal Home.
There's a lot to consider to ensure you buy the best extractor fan for your bathroom, and we've scanned the pros and cons of each model in this buying guide to ensure you feel confident in choosing the right product for your home.
Jack has worked in journalism for 11 years and is the News Editor for Homebuilding & Renovating, a role he has had since 2019. He strives to break the most relevant and beneficial stories for self builders, extenders and renovators, including the latest news on the construction materials shortage and hydrogen heating. In 2021 he appeared on BBC's The World at One to discuss the government's planning reforms.
He enjoys testing new tools and gadgets, and having bought his first home in 2013, he has renovated every room and recently finished a garden renovation.
Homebuilding & Renovating Newsletter
Get the latest news, reviews and product advice straight to your inbox.
Thank you for signing up to Homebuilding. You will receive a verification email shortly.
There was a problem. Please refresh the page and try again.