20 Genius Ways to Bring the Outside In That You'll Want to Include in Your Home Design
By Amy Reeves published
Whatever the style of your house or size of project, these innovative ideas are sure to create a greater connection to a garden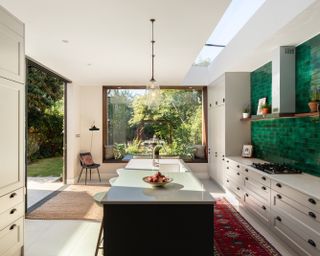 (Image credit: c/o Create Bespoke)
One of the most popular items on an extension, renovation or self-build wish-list is to increase natural light in a home while making the most of the garden. As we're spending more time than ever in our homes, maximising a connection to our surroundings is crucial for a healthy home with plenty of wow-factor.
Introducing large windows to emphasise a particular view might sound like an obvious idea, but that is just one of many different ways to embrace the great outdoors from within.
Whether you're designing a new addition to a dark terrace, renovating a period cottage or building a new light-filled modern home from scratch, make sure to incorporate these design ideas at the beginning of a project.
Take a look at the amazing projects below to get inspired by new ideas, steal clever tricks and get your own project on track.
1. Install New Patio Doors to Open Up to the Garden
After contemplating an extension into the garden, Chris Graves and Jolene Ellis (founders of interior design company Clarence & Graves (opens in new tab)) chose to make better use of the lower-ground floor of their Victorian townhouse in London.
They chose to open up the kitchen (supplied by deVOL (opens in new tab)) to the garden via a small courtyard and installed bright green Crittall patio doors to create a fresh family room as a retreat from the urban setting.
2. Add a Balcony to a Master Suite
This New England-style self-build features a stunning orangery on the ground floor which supports a large balcony leading off the master bedroom.
The homeowner says, "I used to live in Paris and always had a balcony, which is a lovely indulgence if you have the option, I have a hammock up there and even when it's colder the kids and I have hot chocolate and watch the stars."
(MORE: Building a Balcony)
3. Consider Biophilic Design When Bringing the Outside In
The Latest Self-build, Renovation and Extension Trends
Biophillic design is steadily growing in popularity as an interior buzzword of 2021. Relating to the human instinct to interact with nature and the associated health benefits.
Improving air circulation and quality, and a home connection with nature through incorporating plants, green roofs and living walls into domestic design, are all ideas.
This stunning kitchen extension brilliantly utilises natural materials like raw plywood on the in-frame bespoke cupboards and reclaimed engineered Douglas Fir flooring while new patio doors lead the eye out towards the garden.
A hanging unit above the island is now an essential feature for a new kitchen in a modern home, and it is used here to flawlessly celebrate plants which purify air indoors.
4. Use a Through-View to Bring the Outside Deep Into the Floorplan
A new courtyard garden between this original terrace house and its new extension draws the outdoors deeper into the floorplan. Through-views connect this more private, cosy area to the rest of the home with a doorway cleverly lined with timber to mirror the new extension's materials.
5. Mirror Materials Inside and Out for a Cohesive Space
Mirroring or continuing materials, such as flooring or cladding, both inside and out can create a seamless transition between the spaces.
In this oak frame home, flagstones from Clay and Rock (opens in new tab) were laid inside and out so when the bifold doors are open, the sitting room, dining area and patio feel like one big space.
6. Don't Just Think Laterally: Bring in Light from Above
We tend to think laterally when it comes to connecting with the outdoors, but embracing views and light from above us equally important.
This stunning extension's 'up and over' rooflight captures a view of the clouds and cleverly divides the open plan living, kitchen and dining space.
7. Bring Light and Nature into A Dark Cottage
Wanting to make the most of their views of the Campsie Fells but challenged by the harsh Scottish climate, the homeowners of this one dark cottage built a warm solution to a glass box extension with a folding roof that delicately mirrors the original cottage structure.
Birch ply has been used in the newly rearranged interiors to add a welcome warmth while the sliding door, triangular clerestory window and new sunken terrace lead to the gardens and beyond.
8. Add an 'Invisible' Extension for Real Indoor/Outdoor Living
During a radical scheme to amalgamate a windowless coach house into the adjoining terraced house as one family home while adding a side infill extension and dormer loft conversion, the homeowners rearranged the layout to flow towards the garden.
The almost-invisible extension (designed by Studio 30 (opens in new tab)) with copious amounts of glazing has transformed the house, but it's the attention to detail – such as the warm, natural materials and subtle, fresh colours used in the kitchen – that create the illusion of outdoor living.
9. Create A Connection to the Outdoors in a Loft Conversion
Working with no direct garden connection in a loft conversion and an unusual quadrilateral shape, Mitchell + Corti Architects (opens in new tab) designed this upside down flat to capture deliberate natural views in the built-up area.
Picture windows and irregular-shaped skylights conform to site-specific angles and bring light down into the lower floor through the stairwell while bright pops of colour are reflected around the space.
10. Bring the Outside In by Turning Your View into Artwork
Positioning windows exactingly is, in many ways, an art form, as capturing the best views from the inside will, after all, have a big impact on how the house will look from the outside. Marrying up the two is where talented architects and designers come into their own.
Framing a view works particularly well in contemporary, minimalist interiors, where vibrant views serve to inject a burst of colour and texture. When the exterior is framed from inside, the views are the only artwork you'll need on your walls.
A long window could be the perfect frame for a landmark or tree, and if you sit in rolling hills, a narrow horizontal window at head height will really draw the eye.
11. Consider Bringing the Outside In with a Courtyard Layout
Where garden views are limited, including a courtyard in the layout of a home can provide natural light to otherwise dark rooms. This self build by De Rosee Sa (opens in new tab) was designed for a narrow, deep plot and features three internal courtyards.
(MORE: Homes that embrace a courtyard layout)
12. On a Tight Plot, Bring the Outside In with an Outdoor Room
Not everyone has the gift of a generous garden so what do you do when faced with a tiny plot and a desire to connect with the outside? This small Yellow Cloud Studio (opens in new tab) extension makes the most of the space and uses matching materials (like the exposed brick) to create the illusion of an extended inside/outside room.
Choosing a similar palette of materials in the garden to those on show in the house is one way of making the immediate landscaping feel integral to the interiors — and not an afterthought.
13. Blur the Boundaries Between Indoor and Outdoor Spaces
Careful sequencing of internal and external spaces in this home creates a series of seamless transitions. Designed by Yellow Cloud Studio, the covered integral seating, wrapped in light larch cladding, is cut from the main living spaces, playing with the home's boundaries.
14. Choose an Earthy Colour Scheme to Bring the Outside In
This 1930s house has been transformed with the addition of a light-filled kitchen/diner extension. The connection to the sky via the roof lantern and the garden is carried into the earthy colour scheme in the kitchen (designed by Martin Moore (opens in new tab)).
15. A Wall of Glazing is a Great Way of Bringing the Outside In
The latest 'must-have' in modern properties is a wall of glazing which can be completely peeled back to open a room up for summer. Here, large format bifold doors by Origin blur the boundaries between the interior and the great outdoors.
Avoid the physical barrier of steps between the house and garden and instead consider a level threshold as a classic way of blurring the boundaries between inside and out.
16. Don't Forget to Bring the Outside In on the First Floor
Designing a bedroom with a balcony is a wonderful way of building in an aura of tranquillity. In this scheme, designed by William Tozer Associate (opens in new tab)s, the understated glass balcony almost appears invisible — providing uninterrupted views of the trees and landscape beyond.
17. Make in Natural Impact in Bedroom and Bathrooms
If you're looking to transform an existing home, there's a temptation to gravitate towards the back of the house when trying to create a connection with the outdoors.
Here, Mulroy Architects' design includes beautiful picture windows with slim sightlines in the bedrooms and bathrooms, meaning the influence of natural light and the views is felt throughout the house, rather than exclusively on the ground floor.
18. Bring the Outside In All Year Round
An orangery can maximise views while still providing the comfort of an indoor area; summer only lasts so long and having a space that can be used year round should be a priority. In this orangery by Westbury Garden Rooms (opens in new tab), exposed brick walls give the illusion of an outside area while the room is still very much a part of the main house.
19. Use Seamless Screening to Only Bring the Outside In When You Want
Wide expanses of glazing are a must-have for many of us, but finding a window treatment — to block out glare from the sun or to draw for privacy at night — can be a challenge; traditional dressings such as curtains can look too fussy.
This is one ingenious solution: the discreet screening system from Centor (opens in new tab) retracts completely into the doorframe when not in use. There is also an insect screen option available.
20. Bring the Outside In With a Transitional Space
A sunroom (opens in new tab) or conservatory is a traditional way of connecting a home with its garden.
Adding a loggia or veranda (opens in new tab) – which offers a covered space but is open to the elements on one or more sides – is another way of creating continuation.
Assistant Editor Amy began working for Homebuilding & Renovating in 2018. She has an interest in sustainable building methods and always has her eye on the latest design ideas. Amy has interviewed countless self builders, renovators and extenders about their experiences for Homebuilding & Renovating magazine. She is currently renovating a mid-century home, together with her partner, on a DIY basis, and has recently fitted her own kitchen.
Homebuilding & Renovating Newsletter
Get the latest news, reviews and product advice straight to your inbox.
Thank you for signing up to Homebuilding. You will receive a verification email shortly.
There was a problem. Please refresh the page and try again.