Timber Cladding: All Your Options Explained
By Natasha Brinsmead published
Timber cladding remains a very popular way of finishing a house — we explain the different timber cladding types, installation and costs you are likely to face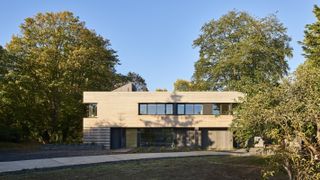 (Image credit: Jonathan Gooch)
Timber cladding has long been a popular method of finishing the exterior of a house. Where it was once the reserve of certain areas of the UK only, such as Kent, Sussex and Hampshire, these days the use of timber cladding is pretty prolific.
There are plenty of reasons to choose timber as a house cladding, but how do you
know which wood species are best to use?
In our guide, we take a look at the pros and cons of the most popular timber cladding types, along with styles of cladding and all the associated costs too.
Timber Cladding Types: Which Are Best?
One of the main choices homeowners considering timber cladding face is which wood to choose. There are many different timbers suitable for cladding, each with their own set of advantages and disadvantages.
Some are best left in their raw state to weather naturally, while others will benefit from treatment to ensure they stand the test of time and remain looking good.
Different timbers also come with different price tags and although some can appear to be cheaper, over time their low maintenance requirements can actually make them a more cost-effective option.
The main timber cladding types include:
Western red cedar
Larch
Douglas fir
Oak
Sweet chestnut
Iroko
Modified timbers
Here, we delve into the various timber cladding types in a little more detail.
Western Red Cedar Cladding
Western red cedar is among the most popular softwoods used today. Aside from its relatively knot-free, 'clean' appearance, this softwood has a natural resistance to decay and moisture absorption, meaning it can typically be installed without treatment. It's also the most stable of the softwoods, subject to little movement when installed.
If you did hope to apply a finish, its low resin content means it can be readily stained or painted. It can also be used to create a variety of profiles.
On the downside it is comparatively low in density, meaning it can be dented. Also, it is often imported, although it is, increasingly being grown here in here in the UK. It is worth checking the durability of UK grown western red cedar as it can be a little lower than that of imported.
Scottish and Scandinavian Larch Cladding
Scottish and Scandinavian larch is denser than western red cedar, making it more resilient to knocks. It's available in varying grades — the higher quality grades tend to contain fewer knots, being suitable for machined profiling, with lower grade sawn larch a cheaper option.
Larch can however lose resin once installed, making it unsuitable with some finishes, and often requires pre-drilling before installation too; so check this with your supplier.
Douglas Fir Cladding
Douglas fir is another another good softwood for cladding. It is generally sourced from Canada and the USA, although sometimes now grown in the UK.
This is a cost effective option that is strong and hardwearing. However, bear in mind that UK grown Douglas fir may require a protective coating to improve durability.
Sweet Chestnut and Oak Cladding
Temperate hardwoods, such as oak and sweet chestnut, are particularly hardy species.
"Green oak will naturally weather with age to a silver-grey colour, and it has the advantage that no further maintenance will usually be required for anywhere between 25 to 100 years; this can be significant where cladding inaccessible areas such as the gable over a lower roof," says Bill Keir of Oakwrights. "If, however, you want to keep it that initial golden colour, it will need regular and frequent treatment."
Both oak and sweet chestnut contain high tannin levels (compared with some of the softwood options) which can leach out during exposure to the elements, resulting in dark streaks. Such marks do however disappear after a couple of years of weathering. Hardwood boards also need to be pre-drilled before being installed, which can add to installation costs.
Iroko Cladding
Tropical hardwoods such as iroko are also incredibly durable, but do ensure that the products you choose are from a sustainable source.
Be sure to buy a product with a guarantee of at least 15 years. One way to help ensure quality is to opt for products endorsed under a scheme such as the TDCA-operated CladMark.
Heat Treated Timber Cladding
There is now an emerging group of thermally modified timbers such as ThermoWood, Accoya, Thor, Kebony, Keywood and PlatoWood. The latter are created by slightly different (patented) means, but the process typically involves heating lesser durable softwoods, such as pine, at high temperatures in order to remove moisture and resin and permanently enhance them.
The timber may also be injected with chemicals. The result is a very durable, stable product. Many manufacturers also promote the sustainable benefits, with thermally modified softwoods offering a good alternative to depleting tropical hardwoods.
Shou Sugi Ban is another form of heat treated timber that is charred in order to colour, waterproof and preserve the wood, as well as making it resistant to fire, rot, insects and UV effects from the sun.
Do check with the supplier whether the product will require treatment with installation.
Shakes and Shingles
Shakes and shingles are made from split logs and have an appearance more like timber tiles than boards. Although similar, shingles were originally sawn from a block, whilst shakes were split off using a chisel and mallet. Shingles tend to look neater and more precise than shakes, which give a more rustic appearance.
As a cladding material they look fantastic on both contemporary and traditional homes. Shakes are usually made from Western red cedar, giving them good durability, and can also be supplied pressure treated with preservative for enhanced protection. In some areas, shakes or shingles are made from pine.
Low Maintenance Timber Cladding
"Cedar and thermally modified timber are less likely to move and allow you to use a more delicate joint," begins Tom Barnes, managing director of Vastern Timber.
"Wood is made up of three things — cellulose, hemicellulose and lignin. When timber is heated at 210°C it reconfigures the structure of the wood and creates a mesh that prevents water entering. The hemicellulose is the part of the wood that bonds with water, and this decreases during the heating process so that the timber can't bond with water.
"As a result, the wood takes on the following properties:
It becomes hygrophobic — it resists water and won't take on any more.
Is less likely to shrink or expand.
Has increased stability and durability."
On the topic of maintenance, some timber types will require finishing in a paint or stain, and other can be left to weather naturally. However, for some, the different rates at which different elevations weather can be unsightly.
"All wood will weather and go silver over time unless it is treated, but treatment helps the upkeep of your cladding," explains Tom Barnes.
"Osmo provides a UV protection oil which will slow down the weathering process, but their clear version is less resistant to UV. The pigmented versions perform better, but change the colour of your wood.
"SiOO:X offers a product which accelerates the weathering process to turn the timber a pale silver. This means that you can 'even out' the silvering on different elevations, as they would otherwise naturally weather at different rates.
Timber Cladding: Getting the Details Right
It is crucial to get the corner details and those around windows and doors right when it comes to timber cladding, both for aesthetic purposes and to ensure moisture is not allowed to seep behind the boards.
The most common way to deal with corners is to fix a length of timber which has been cut into at the back to form a V-shape that fits over the corner. The boards then fix into this piece of timber where they meet the corner.
At windows and doors a vertical reveal should be used, protruding out slightly from the weatherboarding, which butts up to it.
At all of these details, a mastic seal should be used to prevent moisture getting in.
Timber Cladding Costs
House cladding costs vary hugely, with stone cladding being one of the most expensive options, along with zinc cladding.
When it comes to timber cladding, at the cheapest end of the market lies basic softwood boarding, coming in at around just £5-8/m². However, if left in its raw state it would deteriorate very quickly. It requires regular painting and staining and will need three coats of stain alone when it is installed.
When all this is taken into consideration, it is no longer such a cheap option, which makes those timbers that require no staining or treatment, such as Western red cedar, European larch, Douglas fir and even European oak, much more appealing.
Cedar will cost around five times the price of untreated softwood, but will last 60 years or so with little maintenance. Larch is often now used in place of cedar or other hardwoods due to its cheaper price.
The price of fibre cement boards varies, but expect to pay from around £45/m² fully installed.
Timber merchants, online stores and cladding specialists are all options when it comes to buying your timber cladding. Some claddings come pre-treated, stained or painted, whilst others are supplied ready for you to finish — the cheaper, but more time-consuming option.
Installing Timber Cladding
Timber cladding can be – and often is – fitted on a DIY basis, but if you would prefer to leave it to the professionals, then your carpenter will carry out this task. Alternatively, some of the specialists, such as Marley Eternit, offer installation services.
How timber cladding is installed will invariably have an impact on the overall aesthetic.
Laying Styles
Square edge: This type of boarding has a uniform thickness, usually between 12-18mm, whilst widths of boards vary from 125mm to 225mm. Many fibre cement boards are square edge.
Feather edge: Boards are tapered across their width. This style of board produces a rustic, rural appearance that is perfect for more traditional homes, or barn-style self-builds.
Shiplap: Shiplap has a shaped front face and profile so that the top of each board fits behind the bottom edge of the adjacent board. It gives a neat finish. Moulded PVC boards are often available in this style.
Tongue and groove: These produce a uniform look that suits contemporary houses. They have a flat face and in the absence of any overlapping, rain is kept out by the way the groove covers the tongue of the board below.
Fixing Methods for Timber Cladding
Horizontally mounted boards are preferable to vertically mounted ones as they produce greater resistance to moisture penetration. In cases where vertical weatherboarding is used, the overlap should face away from the prevailing wind.
If you're going for a style where the boards overlap, they should do so by 30mm. Boards are fixed to battens, which should measure 50mm deep and be spaced at a maximum distance of 600mm centres. Battens should be fixed to a breather membrane or vapour barrier.
When fixing the battens, start from the bottom up and leave a distance of 150mm between the bottom edge of the weatherboarding and the ground. Each board should be fixed to at least three battens to ensure stability.
Natasha is Homebuilding & Renovating's Associate Editor and has been a member of the team for over two decades. An experienced journalist and renovation expert, she has written for a number of homes titles. She has renovated a terrace and is at the end of the DIY renovation and extension of her Edwardian cottage. She is now looking for her next project.
Homebuilding & Renovating Newsletter
Get the latest news, reviews and product advice straight to your inbox.
Thank you for signing up to Homebuilding. You will receive a verification email shortly.
There was a problem. Please refresh the page and try again.