Out-There Extensions: 16 Times Homeowners Embraced Bold Ideas
By Hugh Metcalf published
Anything but boring, these extensions not only added volume to the existing properties, but also a huge amount of character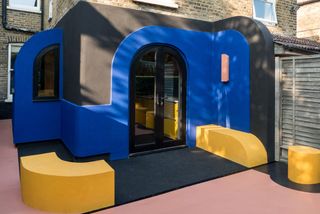 (Image credit: French + Tye / DMI Awards)
There are largely two ways to think about adding an extension to your home. First up, you could opt for a sympathetic addition — looking to match the existing architecture and materials, as though the extension had always been there.
The problem with this approach is that it can come off inauthentic — an architectural pastiche that doesn't contribute anything new to your home's design. The second path, then, is to create contrast between the old part of the house and the new extension.
This contrast can take many forms, from materials and shape to size, but often share a few visual connections to the existing home.
However, some architects and homeowners work together to build creative and unusual spaces, which mark the beginning of a bold new chapter in your home's architectural history.
We've found 16 brilliant examples to show why thinking outside of the box when it comes to extension design can result in a truly unique home.
1. Creative Curves
While modest is not the first word you'd perhaps associate with this project in south London by Alexander Owen Architecture, the actually structural intervention is quite minor, adding just a small side return extension in place of an existing lean to.
However, the curved elements and arched glazing, along with a rendered façade in bold colours, results in a real transformation to the property.
Build cost: £124,670
Location: South London
2. Eclectic Inspiration
This rear extension design by architect Mat Barnes of CAN Architects for his own home takes inspiration from a wide and eclectic range of sources, including a Disneyland rollercoaster.
The extension incorporates a two-dimensional mountain range, supporting columns to look like ranging poles and a kitchen made from recycled chopping boards and bottle tops.
Build cost: £230,000
Location: Bromley
3. Colour Clash
Office S&M's exterior treatment of this London extension uses red-pigmented concrete scalloped blocks (cladding a timber frame to compensate for the materials carbon emissions) with green Crittall-style doors and windows, and colour matched rainwater guttering.
Build cost: £200,000
Location: Haringey
4. Decorative Finishes
In creating a two-storey extension to this London Home, Studio Ben Allen took inspiration from ornate detailing of Victorian brick, recast in pigmented and patterned concrete.
Inside, a creative interior includes a vaulted, louvred ceiling and mezzanine level.
Build cost: £372,000
Location: Haringey
5. Copper and Glass
The glass in this extension is interlaid with a copper mesh, which mimics the colour of the Georgian brickwork.
Build cost: £240,000
Location: North-west London
6. Clad and Colourful
Planning constraints meant that the 1950s frontage of this home had to be retained, so the owners built this striking colourful addition to the rear to create the space they needed.
Build cost: £295,000
Location: Hampshire
7. Diligently Designed
It took three years to get planning consent for this wood clad extension in London. Carefully placed glazing allows the passage of light, whilst maintaining privacy.
Build cost: £203,590
Location: London
8. Slate Effect
Floor to ceiling glass makes this angular extension a far cry from the Victorian terrace to which it is attached, but exposed brickwork has been used throughout the interior to tie the two halves of the house together.
Build cost: undisclosed
Location: North London
9. Listed Cottage Extension
This understated, but attractive extension is connected to the Grade II listed cottage via a glazed link.
Build cost: £150,000
Location: Buckinghamshire
10. Conservation Area
Natural materials, such as the cladding, mean this large addition does not overpower the thatched cottage.
Build cost: undisclosed
Location: Devon
11. Modernist Appeal
Although this stylish build has more than doubled the size of the exisiting home, it is low elevation meaning it is discreetly hidden from view at the front of the home.
Build cost: £144,000
Location: Surrey
12. Multi-Storey Makeover
Not only have these homeowners added a rear extension to the ground and first floors, they were also able to extend the basement under permitted development rights to create a huge room that runs from the front to the back of the house.
Build cost: £646,500
Location: London
13. Colour Pop
Once an ugly bedsit, this Victorian terrace has been extended and remodelled with extensive use of rooflights, on-trend materials and a palette of white and acid hues.
Build cost: undisclosed
Location: London
14. Midas Touch
The iconic modernist inspired work of Stan Bolt wonderfully juxtaposes the original Arts & Crafts home, but it is the gold-coloured, wing-like sculpture on top that brings an element of fantasy to this home.
Build cost: £975,000
Location: Devon
15. 360° Extension
This sleek and uncluttered extension is the architectural opposite to the romantic fairytale water tower it is wrapped around.
Build cost: undisclosed
Location: Cheshire
16. Let There be Light
These homeowners replaced a dated conservatory with a beautiful light-filled room to house a new kitchen and living area.
Build cost: £280,000
Location: Greater London
Hugh is Digital Editor of homebuilding.co.uk and has worked on a range of home, design and property magazines, including Grand Designs, Essential Kitchens, Bathrooms, Bedrooms and Good Homes. Hugh has developed a passion for modern architecture and green homes, and moonlights as an interior designer, having designed and managed projects ranging from single rooms to whole house renovations and large extensions. He's currently renovating a Victorian terrace in Essex, DIYing as much of the work as possible. His current project is a kitchen renovation which involves knocking through walls and landscaping a courtyard garden.
Homebuilding & Renovating Newsletter
Get the latest news, reviews and product advice straight to your inbox.
Thank you for signing up to Homebuilding. You will receive a verification email shortly.
There was a problem. Please refresh the page and try again.