12 Radical Extension Ideas
Bold and beautiful. These 12 homeowners have all added space with a radical extension in a contrasting style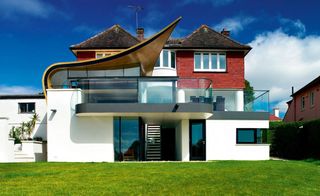 (Image credit: Nigel Rigden)
When it comes to adding an extension to your home, there are two options. You can either choose to build a sympathetic extension, matching materials and roof pitch as you go, or you can go for a design that is a complete contrast to the original property.
If you think you'd like to go down the contrasting style route, then take a look at these radical extension projects to get you thinking outside the box.
Be inspired to create your own wow-factor addition with these 12 incredible projects.
(MORE: Get a quote for your new extension)
1. Copper and Glass
The glass in this extension is interlaid with a copper mesh, which mimics the colour of the Georgian brickwork.
Build cost: £240,000
Location: North-west London
2. Clad and Colourful
Planning constraints meant that the 1950s frontage of this home had to be retained, so the owners built this striking colourful addition to the rear to create the space they needed.
Build cost: £295,000
Location: Hampshire
3. Diligently Designed
It took three years to get planning consent for this wood clad extension in London. Carefully placed glazing allows the passage of light, whilst maintaining privacy.
Build cost: £203,590
Location: London
4. Slate Effect
Floor to ceiling glass makes this angular extension a far cry from the Victorian terrace to which it is attached, but exposed brickwork has been used throughout the interior to tie the two halves of the house together.
Build cost: undisclosed
Location: North London
5. Listed Cottage Extension
This understated, but attractive extension is connected to the Grade II listed cottage via a glazed link.
Build cost: £150,000
Location: Buckinghamshire
6. Conservation Area
Natural materials, such as the cladding, mean this large addition does not overpower the thatched cottage.
Build cost: undisclosed
Location: Devon
7. Modernist Appeal 
Although this stylish build has more than doubled the size of the exisiting home, it is low elevation meaning it is discreetly hidden from view at the front of the home.
Build cost: £144,000
Location: Surrey
8. Multi-Storey Makeover
Not only have these homeowners added a rear extension to the ground and first floors, they were also able to extend the basement under permitted development rights to create a huge room that runs from the front to the back of the house.
Build cost: £646,500
Location: London
9. Colour Pop
Once an ugly bedsit, this Victorian terrace has been extended and remodelled with extensive use of rooflights, on-trend materials and a palette of white and acid hues.
Build cost: undisclosed
Location: London
10. Midas Touch
The iconic modernist inspired work of Stan Bolt wonderfully juxtaposes the original Arts & Crafts home, but it is the gold-coloured, wing-like sculpture on top that brings an element of fantasy to this home.
Build cost: £975,000
Location: Devon
11. 360° Extension
This sleek and uncluttered extension is the architectural opposite to the romantic fairytale water tower it is wrapped around.
Build cost: undisclosed
Location: Cheshire
12. Let There be Light
These homeowners replaced a dated conservatory with a beautiful light-filled room to house a new kitchen and living area.
Build cost: £280,000
Location: Greater London
Get a Quote for Your Extension Project
Homebuilding.co.uk partners with the UK's best extension specialists to match your requirements with their services. 
Simply answer a few questions on what you need from your extension and we'll put you in touch with a suitable partner.
How It Works
1. Enter your details below. Tell us a bit about your project and what you are looking for, and leave some contact details.
2. We search our database. We'll match your requirements with the products and services that our partners offer.
3. Partners will contact you. Don't worry about being bombarded - only the suppliers that match your requirements will contact you.
Homebuilding & Renovating Newsletter
Get the latest news, expert advice and product inspiration straight to your inbox.
Thank you for signing up to Homebuilding. You will receive a verification email shortly.
There was a problem. Please refresh the page and try again.