Renovating a Terraced House: How to Extend, Remodel and Update
Terraced homes are one of the most common style of house in the UK — these inspirational remodelling ideas could just transform the way you live in yours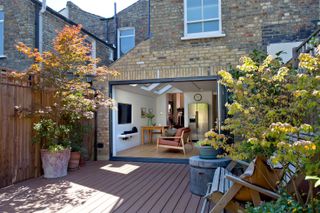 (Image credit: Fraser Marr)
Terraced homes offer a huge amount of potential, with those that have been built in the Georgian, Victorian and Edwardian eras also offering bags of character. However, small kitchens, ground floor bathrooms and a warren of separate reception rooms with little natural light don't quite suit modern lifestyles.
In this inspiration guide, we explore the potential that terraced houses hold and look and some of the best remodelling and extension ideas for this style of house. Clever design tweaks can really help transform your terraced home, opening up rooms and extending the footprint to create a home that suits how we live today.
Terraced House Extension or Remodel: How to Add Value
Before beginning a terraced house extension or remodelling project, research ceiling prices on the road. This is the maximum value of any house in a certain area and you should bear in mind that, however brilliant the end result, your house will still be a terrace, surrounded by other terraces, and this will inevitably have an effect on what it will eventually be worth.
Calculate your project cost with our free extension cost calculator
Consider which projects will add the most value. Ensure your plans overcome the most negative aspects of the original house, for example a tiny kitchen or ground floor bathroom. You are almost always onto a winner by adding well-planned bedrooms and en suites.
Sometimes there is just no scope to add an extension to a terraced house – perhaps due to restrictions on your budget, a shared rear access, listed status or just a lack of space to work with — in which case a layout remodel is the way to go.
Terraced House Extensions and the Party Wall Act
In some cases you will need to comply with the Party Wall Act. This concerns walls that you share with adjacent houses. Be aware that:
If your extension will be up to the boundary of a neighbour's property or on or up to a neighbour's wall, you will need to pay attention to the Party Wall Act
No new windows should normally be placed within 2.4m of the boundary that they face. For two storey extensions there should be no side windows at first floor level that can overlook neighbouring houses.
(MORE: Beginner's Guide to Building an Extension)
How to Update a Terraced House
While terraced houses vary in their layouts and the level of work they require, there tend to be certain updates that will make all the difference in terms of increasing your home's value and how you live in it.
Some of the top jobs to improve terraced houses include:
Adding a side-return extension to create a kitchen diner
Creating an entrance hall
Increasing natural light
Adding a downstairs WC
Converting your basement
Adding more bedrooms
Moving a bathroom upstairs
Converting your loft
How to Create a Kitchen Diner Extension on a Terraced House
Small, narrow kitchens or single-skin brickwork add-ons are very common in Edwardian and Victorian terraces. They also often adjoin an outside WC and/or coal store.
The most cost-effective way of gaining extra kitchen space in a terraced house is to knock through into these spaces to simply incorporate them into the new kitchen, although this option does not offer much scope for changing the narrow galley-style layout.
One of the most popular ways to get a bigger kitchen in a terraced house is to create a side-return extension. Generally, this adds around 1-2m to its width.
(MORE: How to get an open-plan space right)
This idea also opens up the opportunity to extend out at the rear at the same time (or perhaps incorporate those outbuildings).
Adding a side-return terraced house extension is also the ideal place to use large areas of glazing to help bring natural light into the home. Consider a glazed roof or a bank of rooflights. A clerestory window is also sometimes incorporated into the wall overlooking the neighbours, providing light but without losing privacy. (Check out these great ideas for bringing in light from above).
A swathe of bi-fold, sliding or French doors is also a popular addition to this style of extension.
Creating a Bigger Entrance Hall in a Terraced House
The majority of terraced houses will not have much of entrance hall — in fact some don't have one at all, with the front door opening directly into the living space.
There are several ways in which to overcome this.
Removing the wall that separates the hallway from the front reception room is a common solution. If you would like some form of division between the front door at the rest of your space, consider partial stud walls and glazed room dividers.
With the hallway gone, it is worth considering what the front section of the house will be used for. Accessing a kitchen dining space directly from the front door can be more preferable that walking straight into the living space.
Another way to open the hallway up is to remove the wall separating the stairwell itself from the middle reception room.
How to Add Space to a Terraced House
A great design idea to consider is to reverse the original layout of the house, relocating the kitchen to the front of the house and merging it with the middle room to create a large, light kitchen dining room.
You could then add a side-return extension to open up the former kitchen and turn this into a new living area with access out into the garden beyond.
Terraced House Extension: Will I Require Planning Permission?
There is actually a great deal you can do to a terraced house without applying for planning permission, and these works fall within your Permitted Development rights. You will not usually need to apply for planning permission for a terraced house extension if:
It is not any nearer to the highway than the nearest part of the original house, unless there would still be 20m of clear space between the house and the highway
It covers no more than 50% of the area of land around the original house, taking into account outbuildings
It will be no more than 4m in height and within 2m of the property boundary and no more than 6m deep if single storey or 3m for two a two-storey extension
The volume will not be increased by more than 10% or 50m³ (whichever is greater up to a maximum of 115m³)
The house is not listed or in a Conservation Area
Getting More Natural Light into a Terraced House
Some of the most typical terrace layouts include a front room, originally a parlour; a middle room, (often now used as a dining room) and a back room, intended as a scullery or kitchen. The nature of this layout often results in a middle room that suffers from a lack of natural light, either due to having just one small window or sometimes none at all.
There are several ways in which to rectify this problem. The easiest – and often cheapest – solution is simply to open up this middle room into the front room, creating an open plan living/dining area and allowing the middle room to be flooded with light from the often large, sometimes bay, front window.
If you are reluctant for the two rooms to become one should consider installing a sliding glass partition or archway between the two to create a more flexible arrangement. In order to get even more light into this area, take a look at the possibility of replacing the current small window in the middle room with a set of French doors leading out into the garden — adding a fanlight will draw even more light in.
If you want to take things a step further, consider merging this middle room with the kitchen. Although this option often involves a little more structural work in the form of the removal and addition of walls, not only will it provide a lighter, more open dining room, but it will also result in a larger kitchen.
How to Add a Downstairs WC
Most buyers these days expect a house to have a downstairs WC and it shouldn't be too hard to make space for one in your terraced house. When deciding on the best location for your new WC, bear in mind that the minimum practical space around standard sanitaryware in a WC is 200mm on each side and 600mm in front.
The ideal locations for new WCs are either off the utility room or a main hallway, and although the Building Regulations no longer prevent you from having a WC directly off a living room, kitchen or dining room (there must still be a door), do consider how this will work in everyday life and think about privacy — will guests really want to use a WC leading off the dining room during a dinner party?
Understairs areas and storage cupboards provide lots of scope for a new WC, as do old attached coal stores or outside loos.
Can You Convert a Basement?
Many Georgian, Victorian and Edwardian terraced houses were built with cellars, but whether or not it will be worth your time and money to convert your basement depends on a number of factors. In high-value areas, such as London, the cost of the work compared to the resultant end value of the extra space gained often makes sense.
However, terraced streets have a ceiling value and you might find that you never make back the money you spend on converting the cellar in this instance.
Although planning consent is unlikely to be required, you may be up against some technical hurdles. Most cellars in terraced houses have low ceilings, so to become extra living space, the floors will need to be excavated.
This involves expensive underpinning of shallow foundations — something that will at least double the cost of converting a cellar with sufficient headroom, seeing costs rise from around £1,000-1,350/m² to around £2,000-4,000/m². These old cellars usually suffer from damp too, and so will need to be tanked, plus light and ventilation will also need to be considered.
(MORE: Basement Design Guide)
How to Move a Bathroom Upstairs
A large number of pre-twentieth century terraces were not built with bathrooms at all — a toilet in an outbuilding and a tin tub in front of the fire were sufficient.
As a result, bathrooms were often added to these homes during the 1950s and 1960s, usually tacked on to the end of a galley kitchen extension.
There are several ways to overcome this problem — you should weigh up the costs involved with how long you plan to stay in the house and how much it will add to its end value.
Moving the bathroom upstairs may well will mean losing a bedroom. For this reason, many owners of terraced homes convert the loft or create a two storey extension in which to house another bedroom.
It is usually most convenient to use a bedroom at the back of the house for the new bathroom (or wherever is above the kitchen) as that is where the soil pipe is mostly likely to be located and connecting to existing plumbing should be easier.
It is sometimes possible to steal space from two adjoining bedrooms in order to create a small new bathroom. Bear in mind that at least 4.5m² makes for a comfortable bathroom space.
Adding More Bedrooms to a Terraced House
Adding an extra bedroom is a fantastic way to add value to a house. Avoid the temptation to simply retain or create a new ground floor bathroom in favour of having three bedrooms on the first floor — this is bound to put off potential buyers.
Unless you are planning a loft conversion, the most obvious way of gaining a new bedroom is to add a two-storey extension to the rear of the house.
Adding a two-storey extension to your terraced house is actually a very cost-effective method of gaining extra space, working out 20% cheaper to build per m² than single-storey extensions, as the cost of the groundworks and roof is effectively halved, being spread between two floors. Building a two-storey extension also means that you get more space, without having to eat into your garden area.
(MORE: Two Storey Extension Design Ideas)
Depending on how many extra bedrooms you plan on adding, consider the final bedroom-to-bathroom ratio. As a general rule there should be one bathroom for every three bedrooms, so adding a fourth bedroom may also warrant the addition of an en suite.
Loft Conversions: Is This a Possibility for You?
Before you do anything else, check that a loft conversion is actually viable. The amount of space you will have all depends on the height and pitch of the roof. You can take a look at this feature on loft conversions for difficult roof constructions if you are worried your roof will not allow a standard 'room in roof' conversion.
You need at least 2.3m of clear headroom for an area to be considered 'usable', plus you will need to take into account enough space with clear headroom for staircase access too. An architect or loft conversion specialist will give you an idea of how much space you will have and the options available. In addition, you need to think about where the stairs to this new room will go. Do you have space to reconfigure your existing staircase or to add a new one?
It is possible to adapt the roof structure to create more usable space, and any bulky water tanks can be discarded and replaced with a combination boiler in the kitchen to provide more space — but you need to weigh up how much value all this work will add, compared to what it is going to cost.
A simple conversion for storage will fall at the cheaper end of the spectrum. However, a complete conversion, including a new fixed staircase, will cost from £15,000 for a basic room-in-roof conversion, and above £20,000 for a dormer conversion (up to £45,000 if you're adding a bedroom with en suite facilities). If your conversion will involve significant roof alterations the cost will rise further. Speak to local estate agents to determine how much value a loft conversion will actually add.
(MORE: Loft Conversion Ideas)
What Does 'Right to Light' Mean?
When extending a terraced house, which, by its very nature, will be close to its neighbours, and particularly when considering a two storey extension, their 'right to light' will need to be taken into consideration. Although not specifically a planning issue, there is an ancient law dating all the way back to 1832 that still protects homeowners' right to light.
What this means is that if you decide to build something that will substantially block light from a neighbour's window, then the neighbour can take legal action against you for infringing on their right to light — providing their window has been there for at least 20 years. They could seek to have your proposed development reduced in size, or try to obtain a payment in lieu of reducing their right to light.
The right to light is not actually a material consideration in planning decisions and if the loss of light is fairly insignificant and can be compensated for financially, the court may award compensation rather than an injunction.
Get the Homebuilding & Renovating Newsletter
Bring your dream home to life with expert advice, how-to guides and design inspiration, direct to your inbox.
Natasha is Homebuilding & Renovating's Associate Content Editor and has been a member of the team for over two decades. An experienced journalist and renovation expert, she has written for a number of homes titles. Over the years Natasha has renovated and carried out a side extension to a Victorian terrace. She is currently living in the rural Edwardian cottage she renovated and extended on a largely DIY basis, living on site for the duration of the project. She is now looking for her next project — something which is proving far harder than she thought it would be.