11 Ways to Reduce the Cost of Your Extension in 2022
By Hugh Metcalf published
With labour and material prices at a high, it's never been more important to rein in the cost of your extension project. We ask the experts for their advice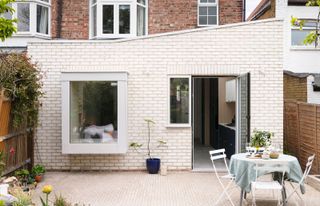 (Image credit: Ollie Hammick for Amos Goldreich Architects)
If you're planning an extension for next year, you may be approaching it with some trepidation. Stories of builds grinding to a halt during lockdown last year, alongside labour shortages and price rises for construction materials during the last year mean that it's fair to be cautious about how your budget is going to affected.
But, the likelihood is that you're building an extension because you need that extra space, and with no clear signs of the end of many of these issues, you'll need to learn to manage your costs more carefully rather than avoiding building at all.
With that in mind, we've pulled together a handful of great tips from self builders, builders, designers and architects to help you reduce the cost of your extension in 2022.
1. Stay Structure Savvy
Keeping your layout simple, and the size reasonable, can save you a lot money on an extension, especially when it comes to structural costs as sometimes these costs can increase disproportionately as the size increases.
"Long or large extensions require additional structural support, involving the use of steel beams," explains the team at Resi (opens in new tab). "The bigger your extension, the bigger these beams become, and costs can quickly start to add up, adding thousands to your budget."
2. Weigh up Moving Load-Bearing Walls
You also need to consider how you're going to open up the rest of the house to the new extension, and if knocking down internal walls or external walls are absolutely necessary.
"Structural alterations to the existing property, such as knocking down walls, is going to add a lot of labour and cost to the build," says Chris Carroll of All in One Design and Build Studio (opens in new tab). "If you can design your extension so that it uses the existing doorway into the garden to be the new doorway into your kitchen extension, you'll make huge savings on the costs of structural steels."
3. Pick the Right Build System
With labour shortages meaning less tradespeople to choose from, make sure you find someone with the right experience for your build and the system you've chosen to use. If you require a specialist, this will undoubtedly drive up the cost, and if you don't hire one, it may cost you more in the long run rectifying the resulting issues.
However, the cost efficiency of a brick and block build is hard to beat, especially for an extension. When we talk about alternative methods of construction such as structural insulated panels and ICF, it's important to look holistically at how they may have more upfront expense, but result in less time on site. Yet, this is more widely the case on larger projects where the economies of scale work out in your favour, so choosing these methods for an extension is going to widen the gap between the costs of each system.
4. Think Carefully About Where to Invest
Work out where you can spend and where you should save if you're looking to reduce the cost of your extension. There are plenty of ways to create wow-factor without busting the budget, and investing your time and money into a professional designer and architect may help you reduce your costs overall with clever, effective house extension ideas.
"One of the biggest ways to get the most out of your budget is knowing where to invest the big bucks and where to hold back," echoes the Resi team. "Design items like skylights, bifold doors, and exposed brick walls will require an investment but are less likely to decrease in value than expensive kitchen fittings."
5. Consider the Calendar
Certain periods in the calendar attract a premium in terms of labour and materials, notes All in One Design and Build Studio's Chris Carroll.
"You can expect an automatic 5% increase in material costs in December," he explains, "as trades rush to get their client's work finished for Christmas." Creating a schedule to avoid any significant purchases being required during this time can help bring down your overall expenditure.
6. Keep an Open Dialogue About Material Costs
"The pandemic caused long delays because materials were hard to get hold on," notes Amos Goldreich Architects (opens in new tab) of the construction material shortage. "The contractors [we worked with had] been very accommodating and supportive towards us and the clients throughout this process."
Ensuring the channels of communication are open between you, your project manager and your builder is the best way of avoiding excess expenditure if material costs do occur. Increases over a certain percentage won't necessarily be absorbed by your builder, but check your contract. For price increases over 5%, Chris notes, material costs will need to be renegotiated for any work he's contracted to do, as set out in the terms and conditions he supplies his clients.
7. Fake it Until you Make it
The old adage is you get what you pay for, but in some instances, you can use materials that cost significantly less to create a look that's almost as good as the real thing.
"For instance, one of the biggest trends in the kitchen has been the rise of the polished concrete floor," says the team at Resi. "But, while this is certainly stylish, having concrete poured into your home is both labour intensive and expensive. However, concrete tiles not only give you that on-trend aesthetic, but they also allow underfloor access, which will make your life easier, should repairs be needed."
8. Choose Skylights Over Glass Ceilings
Structural glass accounts for a large portion of the budget in many contemporary glazed extension ideas, however, if you're smart with how you use glass, you can get all the benefits of lots of glazing while safeguarding your contingency budget.
"Dotting your rooflights in a row is a simple design alternative for the ever popular glass ceiling," suggest the designers at Resi. "This is, again, to do with structure. As large glass features typically require structural glass, a costly material. Skylights have cheaper material options, and so can save you a lot of money. They also don't require as much structural support in the walls, like steel beams, or underpinning."
9. Plan Your Waste Strategy
"Removing waste material is a big expense when building an extension, and landfill prices have recently increased significantly," explains Chris Carroll.
Having forethought and making plans for your waste disposal strategy is important, not just for finding a budget-friendly place to dispose of any rubbish, but also ensuring it's easy and cost-effective to remove it from your house. It's especially important to look at how to get rid of rubble and other heavy, unwieldly waste materials.
"The cost of waste removal in a built-up area is going to be higher than in a remote area, just for the case of accessing the site," continues Chris. Finding the best arrangement for site access for disposal can help reduce your build costs.
10. Reduce, Re-Use, Recycle
Another way to reduce your landfill costs is the three Rs. Recycling is a great way to reduce the amount of waste your site produces, and sorting plastic, cardboard and timber from other non-recyclable waste improves your build's eco credentials too.
Before you commit something to landfill, you should also explore if it's desirable to someone else. "You'd be surprised the things on site that owner's have been able to sell on Facebook Marketplace after some gentle persuasion," says Chris.
If you live in a period property, you may also be able to sell on some types of bricks from demolition of walls. "Be mindful that if you live in a property with soft red or soft yellow bricks, you can save them and weigh them in at your local reclamation yard."
"While it won't be lifechanging money, you could get 45p a brick if they've got two good faces," says Chris.
11. Generate Your Own Party Wall Notice
There are options for creating your own Party Wall solutions with neighbours that don't require surveyors and expensive, formal Party Wall Agreements. However, this is a little more unusual and does depend on having a good pre-existing relationship with your neighbours.
While there are templates for Party Wall notices that you can serve yourself abound, there is a risk that by not opting for a professional to serve your notice for a flat fee, you might miss something essential, invalidating your notice and causing issues for your build later down the line.
Hugh is Digital Editor of homebuilding.co.uk and has worked on a range of home, design and property magazines, including Grand Designs, Essential Kitchens, Bathrooms, Bedrooms and Good Homes. Hugh has developed a passion for modern architecture and green homes, and moonlights as an interior designer, having designed and managed projects ranging from single rooms to whole house renovations and large extensions. He's currently renovating a Victorian terrace in Essex, DIYing as much of the work as possible. His current project is a kitchen renovation which involves knocking through walls and landscaping a courtyard garden.
Homebuilding & Renovating Newsletter
Get the latest news, reviews and product advice straight to your inbox.
Thank you for signing up to Homebuilding. You will receive a verification email shortly.
There was a problem. Please refresh the page and try again.