Green Roofs: Types, Costs & Installation
Perhaps the best looking aspect of an eco house, Tim Pullen explores the different types of green roof and the costs and implications involved, and Dusty Gedge explains how to get them right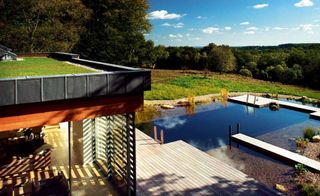 (Image credit: Nigel Rigden)
When it comes to roofing, green roofs are, without doubt, one of the more visible signals that you have built a sustainable home. There is a lot of cynicism that they don't actually serve enough 'eco purpose' to be worthwhile, but they do have some genuine benefits:
they absorb heat (from the sun)
they absorb CO2
they absorb a large proportion of the water that falls on them (up to 70%)
they provide a degree of insulation – more cooling the building in summer as opposed to staying warm in winter
critically, they replace the ecology that the building stands upon.
The benefits are now gaining increasing recognition — London now has regulations in place requiring buildings of a certain size and function to have a green roof.
Green Roof Systems
There are three basic types of green roof: intensive (thick), extensive (thin) and semi-extensive (somewhere in between).
Intensive: Consists of a thick layer of soil (50-200mm+) in which a variety of grasses, herbs, flowers and shrubs can grow. These need to be accessible gardens (for maintenance) and can even be used as a recreation space. They provide a valuable habitat for wildlife but place significant weight on the building and need substantial roof support. They offer good insulation and better water absorption than the thin types, but need a lot of care.
Extensive: Generally a shallow layer (20-100mm) of substrate planted with low-growing, stress-tolerant grasses, mosses and sedum. These lightweight systems require little maintenance. The insulation quality is relatively low and extensive systems always incorporate conventional insulation.
Semi-Extensive: Of slightly greater depth than extensive systems (100-200mm) but constructed on the same principles to allow for a greater diversity of plants. It is also relatively low-maintenance.
Installation
Green roofs need to be installed on roofs pitched at no more than 30°. The planting is just the tip of the iceberg — underneath, a moisture-retention fleece keeps water in the soil rather than letting it pool on the membrane surface; an aqua drain carries away excess water. A good membrane is nonetheless required to prevent leakage, while a vapour control layer manages the passage of internal water vapour through the roof, preventing condensation inside.
How Much Does a Green Roof Cost?
The cost will vary with the green roof system and the particular situation. As a guide, prices can vary from £50/m² for a sedum roof to £200/m² for a fully planted intensive roof — the cost of any reinforcement needed to the roof and/or wall structures is additional to this.
Is a Green Roof for Me?
A green roof is, in ecological terms, a great and simple thing to do. It replaces the ecology the new house sits upon, thereby replacing the habitat that a house takes away. Used over a whole roof, a green roof will be the single overriding design influence on the house as well as impacting on the construction, right down to the foundations.
But green roofs do not necessarily need to be applied to the whole roof, or even the house itself. If the roof is accessible, having just a section planted is visually pleasing and a step in the right direction. Alternatively, install a green roof on an existing shed or garage, or install an extensive system on a flat-roofed extension.
The right system used in the right place has no downside. So a better question, perhaps, is which green roof system is best for your project?
How to Choose a Green Roof System
Intensive systems and meadow roofs need to be designed in, as they are heavy and the supporting structure needs to be designed to carry the weight. Extensive and semi-extensive roofs are less of a problem. They offer less water retention and insulation, but are easier to install and maintain.
The thicker intensive systems are really for specialist applications — buildings that want to make that big statement about their eco credentials. Any growing medium will attract other species – that is sort of the point – and maintenance is likely to remain an issue whatever system you install, but the thinner extensive systems are generally the right choice for most domestic situations. They still need conventional insulation, and rainwater run-off will still need to be dealt with, but they offer good ecological benefits, are cheaper to install, easier to maintain and have good visual appeal. On a shed or garage they make a great talking point.
The Standards
The German FLL guidelines are followed internationally, due to the nation's dominance in the market. There are no official UK standards so ensure your installer understands and follows the FLL.
History of Green Roofs
Turf and sod roofs have been common in many cultures for hundreds, if not thousands, of years — the earliest recorded being from the 7th century BC. Yet the idea of a deliberately planted roof perhaps dates to 1950s Germany, where covering wet bitumen with 75mm of sand as a fire protection measure was common practice.
Vegetation would seed itself even in sand and that, in turn, led to the idea of deliberate planting. The technology developed fairly quickly and by the early 1970s cheap, relatively light, more effective systems were on the market. By the 1990s the market was also offering green wall systems.
How to Get Green Roofs Right
Green roof expert and trainer Dusty Gedge explains how to specify a green roof
Extensive roofs are lower maintenance that intensive ones and lighter in weight.
Green roofs which are planted and seeded tend to perform better in the long term.
Green roofs consist of a number of layers including a waterproofing layer, drainage layer, substrate and planting.
Choosing the Right Plants
The best green roofs in the long term tend to be ones that a re planted and seeded. This approach allows the roof to develop and adapt to the particular circumstances on any given green roof.
There are now UK nurseries and seed companies that can supply plants for green roofs. Small plants should be used with plug balls of around 55mm. These small plugs have plants with a small leaf area, meaning they're less susceptible to water stress and can respond better to the conditions on a green roof. Pre-grown solutions are another approach, whether sedum or wildflower blankets. For sedum blankets we would recommend at least 80mm substrate, and for wildflowers at least 150mm.
If you are going to plant a green roof, choose a wide selection of wildflowers and sedums:
Non-native alpines and bulbs such as crocus and dwarf iris can be planted too.
Many bulbous plants are adapted to suffer extreme cold and extreme heat.
Muscari is a classic plant of the Turkish mountains – they're covered in snow throughout the winter and experience the Anatolian summers – and as such, is a great option for green roofs.
Another bulbous plant that is a must is chives, which are hardy and will stay in flower even in droughts.
Autumn bulbs like cyclamen and Colchicum autumnal (meadow saffron) bring colour later in the year.
Choose native wildflowers that benefit wildlife too, such as Viper's bugloss and bird's foot trefoil.
Whether the roof in question is in sun or shade there are plenty of plants to suit either of these aspects. Many 'sunny' plants will thrive in some shade, while shaded roofs offer the potential to add a greater diversity of wildflowers.
Native herbs are also great plants for a green roof. Wild thyme is particularly resilient during droughts. Wild marjoram and basil are aromatic, giving the added benefit of a faint perfume of the Mediterranean.
The Importance of Drainage
A green roof installation consists of a number of layers, and needs to follow some basic principles (see the section on installation above). Firstly soils can potentially have a negative impact on the waterproofing layer. Therefore it is standard practice to have a protection layer on the surface of the roof; this is essentially a puncture-resistant geotextile.
Although green roofs store rainwater, there needs to be adequate drainage too to enable excess water to drain off the roof. The conventional approach is to use a plastic eggshell-style drainage layer, but there are natural alternatives. A gravel layer was traditionally used on the continent, but it is heavy and increases the load on the roof. I have recently seen a cockleshell layer being used on a number of small green roofs — cockles make a lightweight alternative to gravel.
I often dispense with with conventional drainage layer, and instead weave dry shingle river channels across the green roof to move excess rainwater to the outlet. This approach also has the added value of giving some pattern and topography to the finished green roof.
In order to stop the soils washing out, a filter sheet is installed above the drainage layer. This also needs to run up the sides of all perimeters. This later lets the water move through, but holds back the fine particles of soil.
A down pipe is also required to take the excess water away from the roof. I prefer to use rain chains, but conventional guttering can be used. Generally it is advisable to have an area of shingle around the perimeter of a green roof and around the outlet. These areas should be checked on a biannual basis to ensure that they are vegetation-free to allow water to move through the shingle and off the roof.
Home Insurance
A further point to note is insurance. A couple of years ago I received quite a few emails from homeowners with turf roofs, especially in Scotland, who had trouble with insurance. Fire risk was the primary concern for insurers.
The Government undertook fire tests for green roofs and walls and concluded that the current guidance provided by the Green Roof Code was adequate, and extensive green roofs installed following the Code would not be deemed a fire risk. Therefore it is unlikely that a green roof will lead to issues with insurance.
Homebuilding & Renovating Newsletter
Get the latest news, expert advice and product inspiration straight to your inbox.
Thank you for signing up to Homebuilding. You will receive a verification email shortly.
There was a problem. Please refresh the page and try again.