How to Build a Budget Extension
By Lucy Searle published
Looking to build a budget extension? Then follow these steps to successfully add space to your home while keeping costs down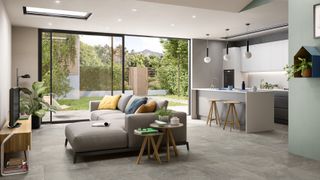 (Image credit: Porcelain Superstore Tiles)
Building a budget extension is achievable with some careful planning and clever design considerations. But keeping costs down doesn't mean you have to sacrifice style. Mixing off-the-shelf products with bespoke finishes can create a high-end look at a fraction of the price. Being savvy about where you should save and where you should splurge is key.
Follow this wallet-friendly guide to adding extra space so that you can keep your extension functional and stylish, and also within budget.
Choosing the Right Size Extension for Your Budget
Visit the Homebuilding & Renovating Show
Before you start planning your extension, work out whether the cost of building it and fitting it out is equal to – or hopefully less than – the amount it might add to your home's asking price. You can do this by talking to an experienced local estate agent.
As a general rule, the more square footage you add, the more your home's value should increase (but beware of ceiling prices in your area – it could mean that an extension does not make economical sense). However, the bigger the extension, the more it will cost.
By contrast, smaller extensions, with less square footage might give you extra space, but don't tend to be very cost-effective.
Getting the balance right by building an extension that's just a proportionate size, for a price you can afford, is a vital part of the pre-planning.
Also, if you are planning a single-storey extension, consider opting for a two storey extension instead to reduce your costs per square metre.
(MORE: How to Add Value to Your Home)
Is an Extension Cheaper Than a Conversion?
The first thing to ask yourself when thinking about a budget extension is if an extension is as cost-effective as repurposing existing space that's underused.
A seldom-used garage or loft space, for example, could be cheaper to convert and give you valuable extra living or utility space for a fraction of the cost of building an extension.
But there will be many cases where converting existing space is unfeasible and the only option, if you wish to remain at your existing home, is to extend.
How to Design a Budget Extension
If you do decide that an extension is the best solution for adding valuable space, then think about the following to keep within budget:
Stick to a simple configuration
A rectangle with a pitched roof, for example, will work out cheaper than a more complicated design.
Use simple building materials
Similarly the simpler the building materials and interior fittings are, and the easier they are to install, the more affordable the project will be overall. Consider the position of fittings inside the new extension too. If, for example, a new toilet can be sited near an existing soil stack rather than at a distance from it, you'll save on labour and material costs.
Plan in standard fittings
In order to keep costs down you may need to rule out non-standard, made-to-order doors and windows. This will almost certainly mean you opt for cast concrete sub-floors and concrete blockwork for walls, or choose rooflights over dormer windows - in doing so you will reduce your costs considerably.
Don't be lured by fashionable brands
Remember, more affordable own-brands or DIY-store products can often do the job just as well as premium brands. Dulux paint, for example, will do as good a job, if not better than expensive, trendy paints that cost twice the price, while DIY-store Metro-style tiles are indistinguishable from those of boutique brands once they're on the wall.
Keep the groundworks simple
Simplifying the groundworks will help reduce costs, too. This might mean opting to site your extension away from trees, drains, sewers or other buried services – assuming, that is, you have the space to be choosy. Plus remember to factor in the costs of building foundations and getting them right first off.
How to Save on Planning Fees When Building a Budget Extension
There are various fees associated with building an extension from party wall agreements to architects' charges and building regulation costs, but there are ways to cut back on these.
Party Walls
If your build is on or near the boundary with your neighbours, or if the work necessitates, for example, a Rolled Steel Joint being supported by the party wall, you will need to comply with the Party Wall Act.
If you have a good relationship with your neighbours, and can reassure them about the work you are planning, they may agree to sign a party wall agreement.
Doing so will save on the cost of a party wall settlement, which can cost upwards of £1,000, more if next door wants to hire their own independent surveyors – at your expense – something they're well within their rights to do.
Start by talking to your neighbours and showing them your extension drawings. Then, you need to notify them in writing eight weeks before you start; if they agree to write back to say they do not object or to fill in a waiver form, you can avoid using a party wall surveyor – and the cost this incurs.
Planning Permission
Planning fees are another cost that you can trim back on. If you or your architectural technician/architect can design an extension that falls within permitted development rights, you won't need planning permission, thus saving the associated fees.
Equally, if you ensure the design of a larger extension that falls outside permitted development will be acceptable to your local planning department before you apply for permission, you'll save on the cost of repeated applications.
You can do this simply by picking an extension design that's sympathetic to others in your local area, or by having an informal chat with your council's officers to gauge their opinion.
Building Regulations
Building regulations must be complied with and, while you can't avoid building control fees, you can ensure that your extension is compliant with both the regulations and the planning laws.
Flaunt them and the work will have to be undone and corrected at your expense. This is just one reason why it's worth hiring a good, knowledgeable team – but even then it's worth double-checking yourself.
Architect Fees
When scouting around for an architect, architectural technician, surveyor or structural engineer, ask about their track record for designing low-cost projects – then check if they can produce planning and building regulations drawings for a fixed price.
Below is a list of how to find the right people in your area:
Stick to Your Plans to Keep Extension Costs Down
Carefully planning the design of your budget extension, right down to the specification and position of the light sockets, will save you money on making costly changes later on when the build has already started.
Sticking to those design details as closely as possible will keep costs under control, as changes always incur a charge.
If you do have to alter your plans here and there, always agree the fee up front with your builder. Keep an itemised running budget and an order of works as the extension proceeds – this will help you keep track, see where you've made savings and where you've overspent.
(MORE: 15 Ways to Stay on Budget)
Keep Waste to a Minimum When Building a Budget Extension
Mistakes cost money – but you can avoid or at least minimise them by having accurate scaled plans in place before work starts. This will mean you don't over-order on materials, and it will prevent work having to be undone and redone. Measuring everything on site, rather than off your plans, can also help reduce wastage.
How to reduce waste costs:
This might be as drastic as repurposing your existing kitchen as fittings for the new utility room in a kitchen extension; or, perhaps you can refinish and re-lay old floorboards.
If you can't re-use existing materials – from door furniture to kitchen units – sell or trade them rather than letting your builders put them on a skip.
Reducing skip usage means lower skip hire costs. Really looking to trim costs? As a private householder, don't forget that you can use your council tip for free, too.
When it comes to buying items from new, looking for end-of-line materials – from tiles to kitchen units – can save a fortune; just ensure you're spot on with the order.
Another way to save is to buy reclaimed materials, including bricks and roof tiles, kitchen units and fire surrounds, from private sellers on the internet or from salvage yards. The upside? You can grab yourself some real bargains, and these individual finds are likely to add bags more character to your new extension, too.
(MORE: How to Get Rid of Rubble)
Project Manage Your Budget Extension Yourself
If you have the time – and it does take lots of it – project managing the building work yourself will save you the fee your builder will charge to cover their time, usually 15-25% of the total cost of labour and materials.
If you are project managing, or buying materials yourself, it's worth finding out where your local trades shop and try to get those wholesale/trade prices yourself.
Bulk-buying from one supplier is a good opportunity to ask for a further discount, and a reduction on delivery costs, too. Paying in cash for materials, perhaps you've found a one-off piece online that you love, allows you to negotiate a discount, too (but make sure you get a receipt).
(MORE: Project Manage Your Building Project)
Reduce Costs by Saving on VAT
If you take on self-employed tradespeople who turn over less than the VAT threshold, you won't be charged this tax, making your labour costs lower.
Bear in mind, too, that some renovation works, such as upgrading your home's insulation or building an extension on a house that's been empty for two years or more, can be done at a reduced VAT rate.
How to Find the Right Builder for Your Extension
Choosing the best builder for the job is the one thing that's going to have the biggest impact on your extension budget.
Ensuring your builder or tradespeople (and therefore, you) do not underestimate the costs your extension is going to incur is vital.
(MORE: How to Find a Builder)
The best way to avoid this is to employ competent, experienced people with good references that you can check thoroughly - remembering to ask questions about how well they stuck to the budget set, and whether cost overruns were down to situations they could have avoided.
Never pay for building work in advance; rather, agree staged payments in advance that are in line with the work completed and the materials used – and only make the payments when you have checked the work and are happy it has been completed as agreed.
This will be easier for you if you are keeping an itemised budget as mentioned above, whether or not you are project managing.
Lucy Searle is Editor-in-Chief at Homes and Gardens (opens in new tab)
An experienced homes journalist and editor, Lucy is Editor-in-Chief of Homebuilding.co.uk's sister website, RealHomes.com.
Homebuilding & Renovating Newsletter
Get the latest news, reviews and product advice straight to your inbox.
Thank you for signing up to Homebuilding. You will receive a verification email shortly.
There was a problem. Please refresh the page and try again.