5 Ways This Home was Transformed Without Planning Permission
By Amy Reeves published
Jon and Kay have pulled a dated self build out of the 70s to create a light, stylish modern home. What's more, the project was completed under Permitted Development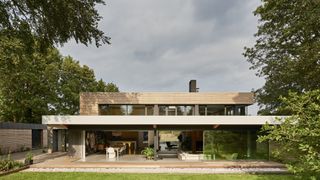 (Image credit: Jonathan Gooch)
Moving away from their life in West London was not originally Kay Surman and Jon Doughty's plan, but after taking on a renovation out of town to fund a property with more outdoor space in Chiswick, things soon changed.
The Boathouse – a 1970s modernist self build on a plot adjacent to the River Thames – soon gained Jon and Kay's affection. They couldn't bear to sell it on and decided to instead make it their home.
If you're asking yourself 'do I need planning permission to drastically transform my home?', Jon and Kay's project is full of inspiring projects that prove that you don't.
All of the work was completed under Permitted Development rights, and is bursting with innovative ideas and designs for those who are looking to renovate without gaining planning permission.
1. Extending Out Can Have a Big Impact
Image 1 of 4
Image 2 of 4
Image 3 of 4
Image 4 of 4
"The first drawings were of a wraparound extension," explains Jon, founder of Remagination, "but by the time we got to site we had changed the plan slightly due to two beautiful beech trees we couldn't bear to get rid of.
"The corner of the new space was removed, leaving the two 'arms' of the extension to the side and back of the house. All the work was done under Permitted Development because I was really interested from the start in doing it without having to make a planning application."
The using innovative rear extension ideas, the design allows for the open-plan living and dining area to join seamlessly to the garden.
"We always knew there was going to be a lot of glass added and, because of the way the building sat in the ground, it meant if we did it properly we could get the benefit of the garden being part of the house", says Jon.
"Having two corners of the lounge space as sliding patio doors and the big overhang means that even when it's raining we can have them stacked back and it feels like we're sat in the garden — it's one of my favourite things."
The garage was also knocked through and this, with the small house extension to the side, houses a new reading nook, kitchen and utility.
2. Knock Walls Down For Internal Flow
Image 1 of 5
Image 2 of 5
Image 3 of 5
Image 4 of 5
Image 5 of 5
The ground floor was extensively remodelled, with Kay and Jon knocking down internal walls to form a more cohesive flow. New gym and cinema rooms were also added.
"Inside, we knew that the lounge upstairs had to become a master suite but we wanted to keep the sunken quirkiness so we introduced this idea in the rear extension," Jon explains. "The ground floor is completely open plan, so the sunken area makes it feel a bit cosier."
3. Add a Dream Kitchen Using Bespoke Ideas
"I designed the layout of the open plan kitchen really early on, with a very long and skinny bench and a simple row of cupboards," says Jon.
"Once Kay got more involved we just adapted the design further so it worked for us it — Kay has a lot of kitchen stuff so everything had to be hidden! Now there's a big pantry and a utility accessed through a wall of cupboards. In my head the island was going to be brass but Kay loves marble."
Jon subsequently built the birch ply cabinets himself.
4. Combine an Exterior Makeover with Improving Energy Efficiency
Image 1 of 2
Image 2 of 2
An exterior makeover ensures the remodelled house looks incredibly stylish, while staying true to the house's modernist roots. Plus, the new timber cladding means the house could be made more energy efficient through extra insulation.
"Things like the timber columns at the front looked awful through modern eyes and we originally wanted to get rid of them but they created a handy void which led to a kind of exoskeleton of insulation around the entire house.
"We used 4-6inch Xtratherm external wall insulation followed by a damp-proof membrane and a modern cement board material to the ground floor. The roof had to be replaced so there's new insulation there as well — we pretty much put a giant insulated box over the house."
Using the same palette of external materials (namely new timber cladding to replace the old) meant that the couple did not require planning permission.
5. Give the Interiors a New Look
Image 1 of 2
Image 2 of 2
"The upstairs was very of its time with a spiral staircase up to a really 70s sunken lounge with shag-pile carpet. It was really cool and quite 'yucky' at the same time!" remembers Kay.
From the sunken light fittings and polished concrete flooring to the abundance of shadow gaps; working with a small team has resulted in a high-quality finish throughout.
"When you have lots of glass and open space it can feel a bit sterile but I love the cedar-clad ceiling in the lounge and out to the decking because it makes it feel homely," says Kay. "A lot of the house was already here, it just needed rethinking."
Upstairs, much of the layout remained the same, although the living room with sunken seating has been transformed into a master suite.
Assistant Editor Amy began working for Homebuilding & Renovating in 2018. She has an interest in sustainable building methods and always has her eye on the latest design ideas. Amy has interviewed countless self builders, renovators and extenders about their experiences for Homebuilding & Renovating magazine. She is currently renovating a mid-century home, together with her partner, on a DIY basis, and has recently fitted her own kitchen.
Homebuilding & Renovating Newsletter
Get the latest news, reviews and product advice straight to your inbox.
Thank you for signing up to Homebuilding. You will receive a verification email shortly.
There was a problem. Please refresh the page and try again.