12 Extension Mistakes All Homeowners Should Avoid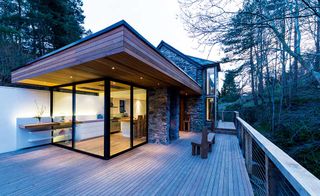 (Image credit: Jeremy Phillips)
Extending your home is a big deal. You're taking on a project to improve how you live in your home so you want to avoid as many mishaps as possible to keep costs and the building works on track.
We've pulled together some common extension pitfalls to avoid to help give your project the best chance of success.
1. Not Having a Schedule of Works
Join the Planning Hub
The Planning Hub is a new online resource that will help you understand how to get to grips with complex planning rules. Join today for access to easy-to-read guides which will provide you with key information to help you secure planning permission.
A good schedule of works is the key to a happy extension project. It means you will know what is happening when and allows you to prepare yourself for the more disruptive jobs, both mentally and from a practical perspective. If you have children or pets for example, you can plan when to make sure they're not on site for the most messy jobs, such as screeding floors or bashing down walls to connect the old with the new. Plan your extension project to avoid the stress!
2. Not Planning Around the British Weather!
Avoid tackling tasks that will leave your home exposed to the elements in the depths of winter. Being able to sit in the garden for meals or work outside can make a huge difference to how you feel about the project when space inside is dusty and messy, especially if you are renovating your home as part of your extension project.
3. Forgetting to Consider Storage
VISIT THE HOMEBUILDING & RENOVATING SHOW
Whether your extension is an addition to create a larger kitchen or it's part of a bigger remodel, thinking about where to store things as the project gets going is definitely something to consider.
If the extension is an addition then it's likely knocking down of walls will happen to join the existing with the new. At this stage there will be lots of dust and debris so consider where you can store items from the room that's being extended to avoid your belongings getting covered in dust or damaged. Do you have enough room in your home to move it? Can you store it in a garage for example? If your kitchen is being extended will it be out of action for a while? Think about where you can decamp the fridge, microwave and essentials to.
If the extension is part of a larger project, consider whether it's worth putting items from rooms that'll be off limits in storage to get them off site to give trades, and you, more space to work and live. And this brings us nicely on to the next point, living on site...
4. Underestimating What It's Like Living on a Building Site
Don't underestimate how much muck, mess, dust and debris can be involved with an extension project. It will all depend on the amount of work that's involved with the extension, but don't assume it'll be easy to live with, especially if you're adding a two-storey extension that'll impact both upstairs and downstairs.
5. Rushing the Design
If you've recently moved in and know you want to extend to create the perfect space, avoid the tendency to rush straight in. Living in a home for a while, through the seasons even, can give real insight into where changes will make the most impact and where the light falls throughout the day. Both these things will help you design an extension that improves how you live in your home and where glazing (and lighting) need to be considered for the new space and the existing rooms in your home to be lit up by natural light.
6. Not Sticking to Your Plans
And this brings us on to the next mistake to avoid - changing plans once the project has begun. If you've lived in your home for a while and understand how an extension is going to improve it, the design should, from the outset detail everything you want from it.
We do of course all change our minds but nailing the design brief, even if it takes a few iterations, will help minimise the number of changes that are made once the extension is underway. Sticking to the original plan as much as you can will avoid overspending and delays.
7. Not Having a Contingency Budget
There is nothing like a half-finished project, ground to a halt by an empty bank account, to get you down. Get fixed quotes rather than estimates (opens in new tab) where you can and try to have a contingency fund (around 10 percent) to give yourself a bit of breathing space when the unexpected crops up.
8. Not Doing Your Homework on Tradespeople
Employing skilled tradespeople who you can trust is well worth the investment to avoid unfinished or bad quality work or arguments. Do you homework and speak to a few tradespeople. Ask them questions about how they work, what insurance and warranties they have and choose tradespeople based on their previous work and trusted recommendations. Don't just opt for the cheapest quote.
9. Forgetting Bathrooms
If you are adding bedrooms, you may well need to add a bathroom, or at least a shower room. If you are having more than three bedrooms, you will need more than one bathroom — otherwise future buyers could be put off the house.
10. Getting Windows Wrong
A surefire way to ruin any project is to get the window design wrong. If you are trying to build an extension that matches the original building, then match the windows exactly. Don't think that plastic look-a-likes will suffice next to timber — they won't.
Likewise, consider the impact that the new extension will have on the existing windows and light. Making existing windows smaller to accommodate a new roof, for example, can mean things start to look out of proportion.
11. Forgetting Extension Insurance
By taking on a significant building project, like an extension, you could invalidate your existing home insurance policy. It only takes one mishap to completely derail a building project, and raise the question of who is legally, and financially, responsible.
Secure piece of mind by taking out a specialist policy (opens in new tab) for your project.
12. Missing Chances to Keep Things Running Smoothly
There is plenty you can do to ensure that each stage of your project gets completed with minimal fuss, meaning the next stage can commence without a delay, and the stress on you and your family is reduced.
Things that may seem low down in terms of priorities on your to-do list can actually make all the difference. Take the provision for toilets, for example. You might think you are ok with tradesmen using yours, but you may change your mind after weeks of having builders traipsing in and out of your already disrupted home with muddy boots and dusty clothes — making a tricky situation worse.
Some contractors will provide their own portable chemical toilets, which cost around £45 per week to hire.
Other opportunities to remember:
Regularly hiring skips will also help keep building-related rubble under control, rather than letting it pile up into huge unmanageable and unsightly mounds
Remember that tradesmen will require access to water and electrics – think about how you can make provision for that in a manner that causes the least disruption to your daily life
Make sure you are in regular communication with your builders about what is happening and, what will be happening next — especially if you are acting as project manager

(opens in new tab)

. Knowing that the electrician or plumber will be required before work can continue on an aspect of the build, or that materials are going to be needed next week, is vital if things are to keep ticking along at a good pace
Michael is HB&R's Head of Content and Product Development. Michael is also, Chair of the National Custom and Self Build Association (NaCSBA), presenter of multiple property TV shows and author of Renovating for Profit (Ebury). Michael is a regular in the seminar theatres and Advice Centre at the Homebuilding & Renovating Show.
Homebuilding & Renovating Newsletter
Get the latest news, reviews and product advice straight to your inbox.
Thank you for signing up to Homebuilding. You will receive a verification email shortly.
There was a problem. Please refresh the page and try again.