Patio Doors: Everything You Need to Know Before You Buy
By Natasha Brinsmead published
In this complete guide to patio doors we take you through everything you need to know, from how and where to buy them to the various styles available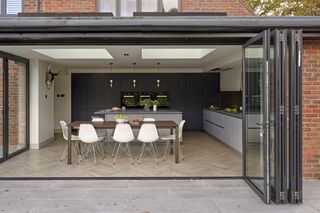 (Image credit: Brayer Design)
Patio doors, in all their many forms, are the ideal way to bring in lots of natural light, create a clear connection to the garden and to make the most of a view.
There is now more choice than ever when it comes to choosing patio doors which is great news, but can also result in the actual process of selecting the right doors quite confusing.
We help to simplify the process by taking you through the options and answering some of the most commonly asked questions.
Patio Door Types
The term 'patio doors' actually encompasses many different styles of door. Whilst they all provide access to the garden and are usually fully glazed in order to bring in natural light and provide views of outside, their design and mode of operation varies.
Bifold doors: Also known as folding sliding doors, bifold doors have seen a huge surge in popularity in recent years. The key advantages are that they allow for whole walls of glass to be opened up completely, and as they commonly run on tracks that lie flush within the floor, the lines between inside and out can be blurred.
However, they can be quite frame-heavy, meaning less glazing, and the stacked (folded) panels can provide quite an obstacle to the more modest-sized patio or kitchen (they can be specified to stack inside or out). Typical costs are £1,000 per 1m-wide panel.
Sliding Doors: Sliding doors are shaking off their 1960s associations and are a hugely popular choice in contemporary homes at the moment. They provide lots of light thanks to narrow (and in some cases, practically invisible) frames.
Other benefits sliding doors have over bi-folds include no sections to fold back, saving on space and being visually cleaner — they can even be designed as 'pocket doors' that slide away into cavities within the wall when open.
Belgium Doors: Belgium doors, also sometimes referred to as Crittal-style doors, are comprised of metal (often steel) frames. The number of panes and their configuration varies, but they are often made up of a pair of side hung doors which are combined with sidelights.
These doors suit both traditional and contemporary properties and are currently enjoying a surge in popularity, both as patio doors as well as internally.
French Doors: Although still often thought of as the reserve of traditional-style homes, French doors are actually available in plenty of designs (and materials, such as aluminium) that will also sit quite happily within a contemporary home.
Compared to bi-folds and sliding doors they tend to bring in less light given their typically smaller dimensions — although combining them with sidelights or positioning them within a run of glazing will increase the amount of light drawn in. They also sit well within an elevation that includes bi-folds or sliding doors elsewhere, and provide quick and easy access to the garden when you don't want to open up a whole run of glazing.
Patio Door Options: What's Hot?
Bi-fold doors remain a hugely popular choice but industry experts feel that things are definitely changing, with an increasing number of homeowners wanting sliding doors. The good old French door, meanwhile, is holding steady in its popularity.
"While bi-fold doors remain as popular as ever, we are also seeing a trend towards sliding doors over the last year," says Matt Higgs, sales manager and co-owner of Kloeber. "Our lift and slide aluminium sliding doors allow larger panel sizes in wider widths, giving a maximised expanse of glazing when closed. French doors remain popular for small spaces and look just as good in a contemporary home as a traditional one."
"Sliding and bi-parting designs are ideal for most homes, especially if space is limited (such as a balcony) as very little space is needed to house the door when open, and both doors give fantastic views," says Andy Trewick from Velfac. "Bi-folding doors need enough room to allow the panes to flex and fold, and to store when open. We have seen a visible change in behaviour in recent years in that customers are turning away from the bi-fold option towards sliding and bi-parting solutions."
This shift is being noticed (and led) by architects, too. "In terms of patio doors, clients want large expanses of glass and less visual interruption, so the subdivided nature of bi-folds is really being designed out," says architect Darren Bray from PAD Studio.
How to Choose Patio Doors
When choosing patio doors, one of your first concerns should be frame thickness. In short, the thicker the frames, the less light will reach your interiors — and the clumsier the overall design will look.
You will also need to take into account the operating system and material that will suit your particular needs.
"Whereas with some products price can be the main driver in your decision making, a bi-fold door has many aspects that should be considered before making a choice. It is important to look closely at a company's history, warranties and the general quality of the products. Ask about adjustment; aluminium expands and contracts with climactic change — can the system cope with this movement?" says Matt Higgs from Kloeber.
Which Material is Best for Patio Doors?
There are several options when it comes to patio door materials.
Although PVCu doors are still being specified, for most people the choice comes down to timber or aluminium.
Timber: Timber patio doors are beautiful to look at and are certainly a fantastic option for those creating a traditional-style home or adding them to a period property.
However, it is vital to choose your timber wisely. Engineered timbers are ideal as they have more dimensional stability than solid timber. Although cheaper softwood engineered products are available, some of the lower-end models can still be prone to warping over time when exposed to heat and moisture, meaning they stick in their frames or won't close.
"Timber is the most versatile, aesthetically, of all our material types as it can be painted any colour — there is also an extensive range of translucent stains. The great advantages of timber are the strength, durability and great insulating values," agrees Matt Higgs of Kloeber.
Aluminium: "The slimline styles of aluminium bi-fold doors give a contemporary appearance to a home and can also complement wooden windows in older buildings," says Peter Watkins from Centor. "While they are maintenance free, they can be difficult and expensive to repair if the finish gets damaged."
"Aluminium, being a conductor, isn't as thermally efficient as timber, but has the distinct advantage of slimmer sightlines and a powder-coated finish which will never have to be recoated — plus choosing thermally broken frames will overcome any heat loss issues," says Matt Higgs. "Aluminium bi-fold door panels can be made wider than timber doors so can sometimes be more cost-effective due to needing fewer panels," he adds.
One final option for those who really can't decide is a composite — usually consisting of an aluminium frame with a timber internal facing.
How Much Do Patio Doors Cost?
Patio doors vary wildly in what they cost, depending on style, material and size. Off-the-shelf PVC patio doors tend to be the cheapest option, whilst bespoke aluminium designs will lie at the more expensive end.
To give you a rough idea of the differences in off-the-shelf costs, here are the prices for a set of 1790mm bi-folds from one DIY warehouse.
PVC: £600
Hardwood: £1,500
Aluminium: £2,200
As a guide, budget from around £450-£500 per square metre for aluminium bi-folds and more like £600 per square metre for sliding aluminium doors.
If you want any extras, such as integrated blinds, the cost will rise. It also tends to follow that the larger the panels, the higher the cost.
Do Patio Doors Need Planning Permission?
In the majority of cases installing new patio doors, or changing old for new falls under permitted development (PD). In this case, there is no need to apply for planning permission.
However, if you live in a designated area, such as a Conservation Area or Area of Outstanding Natural Beauty then you should check with your local authority as restrictions may well apply.
In addition, if you live in a listed property, you will need to obtain listed building consent before making any changes.
How Are Patio Doors Installed?
There are a number of different ways in which patio doors are fitted and hung.
We'll begin by looking at sliding doors.
Sliding door systems: With this style of door, parallel tracks are fitted into the base and top of the opening in order to support the doors. One pane slides behind the other and the weight is taken by the floor-mounted tracks. You can choose whether the leaves of the doors are stacked internally or externally.
Pocket sliding doors: These systems are great for opening up entire walls. Panels slide into a recess in the wall. Do bear in mind that the more leaves that will be sliding into the recess, the thicker the wall will need to be.
When it comes to bi-fold doors there are also several options.
Top hung: In this case the doors are hung from a track in the top of the opening. A steel lintel ensures the weight of the door is supported. There is no track at the base of the opening — a good option if you are concerned about dirt getting trapped in a track.
Bottom rolling: Floor mounted tracks enable the doors to slide.
Is it Possible to Have a Level Threshold?
A level threshold means that the top of the floor track is at the same level as the floor and keeps the internal and external floor levels the same.
Whilst it looks striking and is useful from an access point of view, care needs to be taken to ensure the whole thing remains watertight.
It is crucial to incorporate good drainage facilities. It will also be necessary for the external floor to slope gradually away from the threshold so that water does not pool in front of the doors.
If you are concerned about a level threshold but like the look of them, consider building up the external floor level using timber decking or similar until it is level with the internal flooring, and keep a 75mm or more upstand in order to protect against any water ingress.
It is a good idea to talk over the drainage options with your supplier. Take a look too at the British Standard BS 6375-1 rating of your doors. This relates to air permeability, watertightness and wind resistance.
Who Will Fit my Patio Doors?
In most cases, patio doors are fitted as one of the last jobs on a build or renovation project in order to avoid the tracks or glazing being damaged by any other construction work.
A typical installation of standard bi-folds will take a professional team a day, although more complicated or larger systems can take two or three.
If you choose to buy your patio doors from a company specialising in doors and/or structural glazing, they will usually have their own trusted installation team.
If you have bought off-the-shelf your builder can fit your doors for you — or you might choose to do this on a DIY basis.
What Glazing Should I Choose for Patio Doors?
Glazed patio doors are usually available with either double or triple glazing. Whilst triple glazing is ideal for those concerned about the thermal efficiency of their homes or having to adhere to a particular set of Building Regulations, in many cases double-glazed high-performance patio doors can offer more than adequate levels of thermal efficiency.
Natasha is Homebuilding & Renovating's Associate Editor and has been a member of the team for over two decades. An experienced journalist and renovation expert, she has written for a number of homes titles. She has renovated a terrace and is at the end of the DIY renovation and extension of her Edwardian cottage. She is now looking for her next project.
Homebuilding & Renovating Newsletter
Get the latest news, reviews and product advice straight to your inbox.
Thank you for signing up to Homebuilding. You will receive a verification email shortly.
There was a problem. Please refresh the page and try again.