Patio Doors: Bi-fold, Sliding or French?
(…or even Belgian?) We reveal the trends and design advice for this all-important choice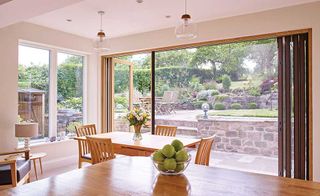 (Image credit: Centor)
The desire to 'bring the outside in' is a bit of a cliché these days, but there are few self-builders and renovators who don't want the extra light, as well as connection with a patio or garden, that glazed doors bring.
Recent years have bought more choice for those looking to specify a patio door — the bad news is that the choice can be quite confusing and have a deleterious impact on the overall house design. So how do you make the right decision? It helps first to know your options — as well as what the current thinking is.
Get a tailored quote for your patio doors.
Bifolds
Also known as folding sliding doors, bifold doors have seen a huge surge in popularity in recent years. The key advantages are that they allow for whole walls of glass to be opened up completely, and as they commonly run on tracks that lie flush within the floor, the lines between inside and out can be blurred.
However, they can be quite frame-heavy, meaning less glazing, and the stacked (folded) panels can provide quite an obstacle to the more modest-sized patio or kitchen (they can be specified to stack inside or out). Typical costs are £1,000 per 1m-wide panel.
Get a tailored quote for your bifold doors.
French Doors
Although still often thought of as the reserve of traditional-style homes, French doors are actually available in plenty of designs (and materials, such as aluminium) that will also sit quite happily within a contemporary home.
Compared to bi-folds and sliding doors they tend to bring in less light given their typically smaller dimensions — although combining them with sidelights or positioning them within a run of glazing will increase the amount of light drawn in. They also sit well within an elevation that includes bi-folds or sliding doors elsewhere, and provide quick and easy access to the garden when you don't want to open up a whole run of glazing.
Get a tailored quote for your patio doors.
Sliding Doors
Sliding doors are shaking off their 1960s associations and are a hugely popular choice in contemporary homes at the moment. They provide lots of light thanks to narrow (and in some cases, practically invisible) frames.
Other benefits sliding doors have over bi-folds include no sections to fold back, saving on space and being visually cleaner — they can even be designed as 'pocket doors' that slide away into cavities within the wall when open.
Get a tailored quote for your patio doors.
Trends in Patio Doors
Bi-fold doors remain a hugely popular choice but industry experts feel that things are definitely changing, with an increasing number of homeowners wanting sliding doors. The good old French door, meanwhile, is holding steady in its popularity.
"While bi-fold doors remain as popular as ever, we are also seeing a trend towards sliding doors over the last year," says Matt Higgs, sales manager and co-owner of Kloeber. "Our lift and slide aluminium sliding doors allow larger panel sizes in wider widths, giving a maximised expanse of glazing when closed. French doors remain popular for small spaces and look just as good in a contemporary home as a traditional one."
"Sliding and bi-parting designs are ideal for most homes, especially if space is limited (such as a balcony) as very little space is needed to house the door when open, and both doors give fantastic views," says Andy Trewick from Velfac. "Bi-folding doors need enough room to allow the panes to flex and fold, and to store when open. We have seen a visible change in behaviour in recent years in that customers are turning away from the bi-fold option towards sliding and bi-parting solutions."
This shift is being noticed (and led) by architects, too. "In terms of patio doors, clients want large expanses of glass and less visual interruption, so the subdivided nature of bi-folds is really being designed out," says architect Darren Bray from PAD Studio. "There are challenges, though. We like to design south-facing glazed façades up to around 2.9-3m. But at 3m you are limited on suppliers and the costs increase vastly."
Watch out too for Belgian doors. These panelled steel-framed glazed doors have a distinct mid-century feel and are being increasingly specified on top-end homes by some architects looking for something a bit different.
Get a tailored quote for your patio doors.
Design Tips for Patio Doors
It seems the main factor in a good design comes from the frames you choose — the thicker the frames, the less light reaching your interiors, and the clumsier the overall design will look. The operating system and material will also play a role. Choose a material with good structural stability, such as aluminium or engineered hardwood, to minimise the risk of the door warping and sticking.
"Whereas with some products price can be the main driver in your decision making, a bi-fold door has many aspects that should be considered before making a choice. It is important to look closely at a company's history, warranties and the general quality of the products. Ask about adjustment; aluminium expands and contracts with climactic change — can the system cope with this movement?" says Matt Higgs from Kloeber.
"Make sure you can create the large opening required by many door designs without the structure above transferring any weight or load on to the door when installed," warns Andy Trewick from Velfac.
"You also need a solid base, otherwise door alignment and operation may need repeated adjustment post-installation. Also consider the different threshold or bottom track options currently available; a flush track removes the step but requires a 'pocket' sunk into the base, and allowance made for water drainage, especially in exposed locations where a flush track can be vulnerable to rain and high winds. The alternative is to have a profile or cill member sitting on top of the base, which is more weathertight and easier to install."
Editor's Note: If you're looking for a quote for your patio doors, simply tell us a bit about your project in the questionnaire below and we'll match your requirements with the services and prices that our partners offer. And don't worry, only partners that match your needs will reach out to you.
Materials
Although PVCu doors are still being specified, for most people the choice comes down to timber or aluminium. Timber patio doors are beautiful to look at and are certainly a fantastic option for those creating a traditional-style home or adding them to a period property.
However, it is vital to choose your timber wisely. Engineered timbers are ideal as they have more dimensional stability than solid timber. Although cheaper softwood engineered products are available, some of the lower-end models can still be prone to warping over time when exposed to heat and moisture, meaning they stick in their frames or won't close.
Get a tailored quote for your patio doors.
"Timber is the most versatile, aesthetically, of all our material types as it can be painted any colour — there is also an extensive range of translucent stains. The great advantages of timber are the strength, durability and great insulating values," agrees Matt Higgs of Kloeber.
"The slimline styles of aluminium bi-fold doors give a contemporary appearance to a home and can also complement wooden windows in older buildings," says Peter Watkins from Centor. "While they are maintenance free, they can be difficult and expensive to repair if the finish gets damaged."
"Aluminium, being a conductor, isn't as thermally efficient as timber, but has the distinct advantage of slimmer sightlines and a powder-coated finish which will never have to be recoated — plus choosing thermally broken frames will overcome any heat loss issues," says Matt Higgs. "Aluminium bi-fold door panels can be made wider than timber doors so can sometimes be more cost-effective due to needing fewer panels," he adds.
One final option for those who really can't decide is a composite — usually consisting of an aluminium frame with a timber internal facing.
Homebuilding & Renovating Newsletter
Get the latest news, expert advice and product inspiration straight to your inbox.
Thank you for signing up to Homebuilding. You will receive a verification email shortly.
There was a problem. Please refresh the page and try again.