Replacing a Conservatory With an Extension: Your Questions Answered!
By Natasha Brinsmead published
Replacing a conservatory with an extension is a great way to add valuable living space to your home — here's what you need to know.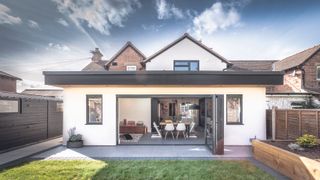 (Image credit: Mo Photo c/o Ke-design)
Replacing a conservatory with an extension is a popular home improvement job for many reasons. Owners of old conservatories often complain that the space is teeth-chatteringly cold in winter and like an unbearable sauna in the summer, meaning they hardly ever use it.
While there are undoubtedly many beautiful, high quality conservatories out there, many others now look dated, with uPVC frames that haven't stood the test of time, corrugated plastic roof panels that squeak in the sunshine and magnify the sound of raindrops.
Often conservatories become nothing more than a route to the garden or somewhere to dry washing or store unwanted bits of furniture.
For all of these reasons, either converting a conservatory into an extension or replacing it altogether with something that is far more usable and attractive it a great idea.
Here, we take answer the main questions surrounding the job so that you can begin to plan your project.
Can I Replace a Conservatory With an Extension?
Providing you check out the planning permission conditions and adhere to them and consult with an architect and/or structural engineer about the project there is usually no reason why anyone can't convert a conservatory into an extension — in fact kitchen conservatory extensions are hugely popular right now.
There are a couple of different ways to approach a conservatory conversion:
Remodel your existing layout: If your conservatory is in sound condition, sometimes all that is required is a layout rethink. Removing old French patio doors that separate the space from the main house and widening the opening, removing the raised threshold to create a level one can really integrate the space.
Renovate your existing conservatory: If you are keen to keep the conservatory or are conscious of costs, retaining your conservatory but replacing the roof, adding a new floor or similar can revitalise the space and change how you use it.
Remove your conservatory and replace it with a new one or an orangery: Some people want to ensure that whatever they replace their conservatory with still features lots of glass — a new sturdy conservatory or a beautiful timber orangery can transform the exterior of your home and add value.
Demolish the conservatory entirely and build a new extension in its place: Obviously one of the most costly and disruptive options here but the one that will ensure your living spaces are transformed and can almost guarantee an uplift in value to your house.
Do I Need Planning Permission to Replace a Conservatory With an Extension?
While in many cases it will not be necessary to get planning permission when replacing a conservatory, this will very much depend on the type of project you are carrying out.
If you are simply renovating a conservatory, say by replacing the roof, then planning permission will not usually be needed (although building regulations approval may well be).
Replacing your conservatory with a new one or an extension may also not need planning approval — it is likely to fall under your Permitted Development Rights.
However, you should always contact your local planning department to be certain.
Is Renovating a Conservatory Better Than Replacing it?
Renovating a conservatory, as opposed to knocking it down and replacing it is a route taken by many people. Not only is it a cost effective way to rejuvenate your layout, but it is less disruptive too — and unlikely to require planning permission.
The easiest way to renovate a conservatory is to retain the structure but make a few tweaks internally that can help to connect it to the main house, allowing it to become a usable extension of the living spaces.
Often, conservatories were very much 'add-ons' and it is not uncommon to find that they are accessed via the original doors that lead to the garden — often French doors or flimsy sliding doors.
In order to incorporate the conservatory space into your home it is wise to take out these old doors before widening the opening. It is important to talk through the structural implications of doing this, as ever when knocking down internal walls, as extra lintels may be required.
Once the doors have been removed and opening made bigger you should have a much better sense of flow that will allow you to reimagine your layout, perhaps extending your kitchen into the space to create an open plan kitchen diner, or spreading your living area into it.
Do consider some of the implications of doing this. You may well need to lay a new floor in the space to tie it in with your other rooms — or to replace the floor in the entire space to ensure they match and appear seamless. If the old conservatory is poorly insulated, you will also need to address the effect this might have on the comfort of the space you have opened up to it.
Will I Need New Foundations When Replacing a Conservatory?
This all depends on how deep your conservatory foundations were built in the first place and also on how you plan on converting the conservatory — as well as your soil type.
It is absolutely vital that you check the depth of the foundation system to ensure it can support your new structure — a structural engineer should be your first port of call.
If they are not adequate you will need to address this.
In order to check the depth of the foundations, a trial pit will need to be dug out' this is a hole or trench in front of the structure that will allow you to see the depth, type and width of the footings. Your structural engineer and building control officer will both need this information.
Can I Just Replace My Conservatory Roof?
There are many different ways to renovate a conservatory but one of the simplest is conservatory roof replacement. By simply removing what is often just a lightweight plastic roof and replacing it with a proper roof structure with insulation and a tiled covering, the space will not only be transformed internally, but will be far more attractive externally too.
It is a good idea to consider adding some kind of ceiling glazing, such as rooflights or a roof lantern too — this will ensure the space remains full of natural light.
Despite being pretty straightforward, you will need to consider the impact the extra weight of the new roof will have on the existing foundations of the conservatory, as well as the window frames and dwarf wall that often make up the form of a structure such as this.
The advice of a structural engineer is crucial — they will be able to calculate whether the footings and overall building are strong enough to take the added load.
If the uPVC structure that sits on top of the dwarf wall is in no state to take a new roof, you might like to consider stripping it all away and building on top of the wall, providing the footings have been declared sound. Of course this will limit you to the same dimensions as the old structure.
There is no need to replace the conservatory you have stripped off with the same type of design either — why not consider creating an oak frame conservatory or one made up of brick and render instead?
How Much Will It Cost to Renovate a Conservatory?
When converting a conservatory to an extension, costs will vary widely depending on the route you plan on taking.
A simple remodel of the layout is the cheapest option. In this case you might need to factor in the cost of removing part of an internal wall to open up the space, a new floor and rubbish removal. You might also need to factor in costs of temporary support and new lintels.
If you plan on replacing the old roof you should also include these costs (see below), along with rooflights or similar. Structural engineer fees will also add to your final costs.
How Much Does it Cost to Replace a Conservatory Roof?
Again, this is a job where costs really can fluctuate depending on the size of the conservatory, the type of construction and the type of roof you want to use as a replacement.
Replacing a conservatory roof can cost anywhere between £2,250 – £7,000. At the cheaper end of the scale lie polycarbonate replacement roofs, while glass will be the more expensive.
The shape of your roof will also play a part — a lean-to roof is the cheapest with prices rising the more complex in shape you get.
A solid roof will be more expensive than both — a new timber structure is usually required, along with insulation and tiles or roof panels — costs of between £4,000 - £6,000 are not unusual.
How Much Will It Cost to Replace a Conservatory With an Extension?
If you plan on knocking down a conservatory and rebuilding an extension in its place, your costs will be quite different.
In this case you will need to factor in rubbish removal to begin with. If you need new or deeper foundations you should also include these costs.
After that it is simply a case of asking, how much does an extension cost?
The majority of extension projects cost around £1,350-£2,250/m² of new internal space. A fairly straightforward, box-shaped, single storey extension can be expected to cost £1,350-£1,750/m².
Finally, don't forget to include professional fees, surveys, panning permission (if required), building regulations approval and insurance.
Image 1 of 2
BEFORE: This 1930s semi-detached house featured an old fashioned conservatory that was begging for replacement.
Image 2 of 2
AFTER: The house has been totally transformed thanks to a design by Yard Architects — a new single storey extension has replaced the conservatory.
Will Replacing My Conservatory With an Extension Add Value to My Home?
Providing the work is carried out to a good standard and that you get all the necessary permissions – and have the project signed off by building control – replacing an old conservatory with an extension will add value to your home.
How much value depends on the type of structure you have converted it to.
Value aside, you might also like to consider the savings you are likely to make on heating bills — old conservatories literally leak heat and by replacing one with a modern extension you will find the space far more comfortable and cost-effective.
Natasha is Homebuilding & Renovating's Associate Editor and has been a member of the team for over two decades. An experienced journalist and renovation expert, she has written for a number of homes titles. She has renovated a terrace and is at the end of the DIY renovation and extension of her Edwardian cottage. She is now looking for her next project.
Homebuilding & Renovating Newsletter
Get the latest news, reviews and product advice straight to your inbox.
Thank you for signing up to Homebuilding. You will receive a verification email shortly.
There was a problem. Please refresh the page and try again.