Orangery Costs Explained: Budget With Confidence
By Natasha Brinsmead published
Although orangery costs can vary, our guide will help you plan your project so that you stay on budget to ensure your project is a success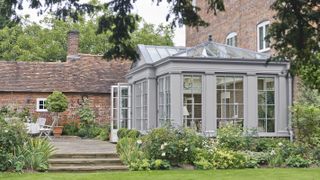 (Image credit: Vale Garden Houses)
An orangery is a really elegant way to extend your home — but orangery costs can vary hugely depending on the quality of the build and the size of the new structure.
The design and your individual requirements will also carry implications for cost, with more complex orangery ideas impacting the bottom line.
Our quick guide to orangery costs is here to give you an idea of the kind of prices you are likely to be quoted, as well as offering ways to keep costs down — and, conversely, the features that could send you over budget.
How Much Does an Orangery Cost?
While it is impossible to give an exact figure for what your new orangery will cost, there are some average costs to help you budget.
The average cost of an orangery is around £2,250/m². This includes supply and build costs, along with electrics, plastering and lighting.
Of course this will vary and could easily be lower if you choose a uPVC structure and construct it on a DIY basis. Similarly, if you choose an architect-designed orangery made from stone, with hardwood windows on all sides and an elaborate roof lantern and adorn it with columns and pediments you will be looking a costs much higher than this.
Some of the other main influencing factors include:
Construction material
Size
Number of windows
Roof type
Location
Specification
Style
'Hidden' Orangery Costs
There are some factors that can push up orangery costs, and it is important to be aware of these before you start your project to avoid any nasty surprises further down the line.
Your orangery costs could be affected by the following:
Planning permission: An orangery will often fall under Permitted Development, but if you find you have to apply for planning permission you will need to factor in fees.
Building Regulations: Don't forget Building Regulations fees — an orangery will be subject to the same Building Regs as you would expect from an extension. This may or may not be included in price provided by your installer or builder.
Design fees: If you are hiring an architect to design your new orangery, you will need to factor in their fees. That said, many people choose to use a specialist orangery company to design and build the structure.
Labour costs: If you decide to run the project yourself, as opposed to getting a quote from a specialist for the entire project, you will need to get several quotes for the build. Alternatively, some people choose to DIY build their orangery.
Foundations: An orangery will require foundations. How much foundations cost could rise if you have tricky soil conditions.
Type of glazing: If you opt for triple glazing or specialist glass, prices will rise.
Window material: uPVC windows will be cheaper than hardwood and aluminium windows.
Insulation: It is well worth paying the extra for good floor and roof insulation if you want your orangery to be comfortable all year round.
Heating: Don't forget heating. Underfloor heating is a popular option, although log burning stoves are also common in orangeries, as are radiators.
Plumbing and electrics: If you plan on creating an orangery kitchen, costs will be considerably higher as you will need to include the additional plumbing and electrical needs of this type of space.
Additional extras: Don't forget the extra essentials — lighting, switches and sockets, blinds, roof vents, flooring and decoration.
Orangery Styles: How Do They Affect Costs?
For some people, a true orangery should only ever be constructed from brick or stone. However, it is possible to buy uPVC conservatories, as well as timber structures.
At the cheapest end of the market lie uPVC orangeries, with timber next on the price scale. Stone and brick orangeries will be the most expensive option, although some bespoke hardwood structures could match them.
"A Westbury orangery will be crafted from the highest quality materials, such as Accoya timber and coated with Teknos paint. The price for a Westbury Orangery will start from £50,000, " explains James Upton, managing director of Westbury Garden Rooms. "The cost will be dependent on the size of the orangery, the number and size of roof lanterns, the number of sides of joinery as well as bespoke design elements such as fascia and pilaster mouldings."
Are Orangeries More Expensive Than Conservatories?
For those weighing up the differences of an orangery vs a conservatory, it can be good to understand the costs.
Orangeries are usually more expensive than conservatories due to the build process being more lengthy and complicated. There can also be higher design fees involved, particularly where an architect or house designed is used.
However, it is important to bear in mind that some conservatory styles, such as oak frame conservatories or contemporary aluminium structures could well match some orangery costs.
Is an Orangery Cheaper than an Extension?
Considering that orangeries are not so different from extensions in their construction (as opposed to conservatories), you can expect costs to be similar too. Our extension cost guide should give you a good idea of what to expect.
"Extensions cost on average between £1,500 per m2 and £2,500 per m2 of internal space added, while an orangery depends on the scope of the design and materials used, but an orangery is not necessarily cheaper," adds Homebuilding & Renovating Assistant Editor, Amy Reeves.
"A benefit of an orangery in terms of cost over an extension is that suppliers tend to provide an overall cost of design, materials and installation so there is less room for ambiguity throughout the process."
Does an Orangery Add Value?
In short, yes, an orangery will add value, providing it is well designed and built to a high standard. It should also be in proportion to the rest of the house. In addition, you will need to take into account the ceiling prices of houses in your area when calculating your orangery costs to ensure it is a financially worthwhile project.
Expect an uplift in value of between 5-10% — although in some areas and in the case of some very high quality designs, 15% could be achieved.
Natasha is Homebuilding & Renovating's Associate Editor and has been a member of the team for over two decades. An experienced journalist and renovation expert, she has written for a number of homes titles. She has renovated a terrace and is at the end of the DIY renovation and extension of her Edwardian cottage. She is now looking for her next project.
Homebuilding & Renovating Newsletter
Get the latest news, reviews and product advice straight to your inbox.
Thank you for signing up to Homebuilding. You will receive a verification email shortly.
There was a problem. Please refresh the page and try again.