15 Glass Box Extension Ideas: Stylish Designs for Extra Space
By Amy Reeves
These glass box extension ideas will inspire brilliant and elegant ways to connect any home to the outdoors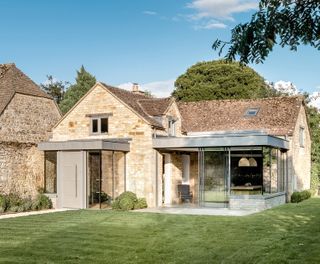 (Image credit: Design Storey)
These glass box extension ideas will introduce more natural light and space into any existing home.
Long gone are the days when a standard PVCu conservatory was the only way to achieve a connection with the outdoors, thanks to the developments in structural glazing, entire rooms can be created as solutions to dark and cramped layouts.
From big to small, cheap additions to grand expansions, the glass box extensions below provide a great stepping stone for anyone considering this contemporary project.
1. Add Glass Box Extension to a Listed House
A contemporary kitchen-dining area has been created thanks to a seamless glass box design by Eastabrook Architects (supplied by IQ Glass for £34,000) in this listed cottage.
The success of the new extension is thanks to the slim sightlines of the aluminium windows which ensure the room features uninterrupted views out, while the original stone walls of the house are retained.
2. Connecting to the Garden with a Glass Box Extension
In order to introduce indoor/outdoor living into their 1980s home, Daniel and Elizabeth McKenzie extended into their garden, utilising bifolding doors the length of the room.
A double-height atrium punctuates the new space and fills the first floor mezzanine with light. Cautious of overheating with such large amounts of glazing, the homeowners specified a solar reflective coating on their aluminium windows.
(MORE: Building an Extension)
3. Using a Glass Box Extension to Join Old and New
This glass box extension celebrates the Grade II-listed original building, seamlessly blending the structures dating from the 15th, 16th and 17th centuries with a contemporary style.
The pitched roof was designed to emphasise the circular stair turret while the use of glazing means the existing brick exterior is still visible.
4. Creating a Frameless Glass Box Porch
This stunning structural glass box porch was provided by Ion Glass, adding a wow-factor to the converted barn.
The structural beams and fins are held in place with minimal stainless steel brackets to create a deceptively simple appearance.
5. Add a Small Glass Framed Extension to Reduce Costs
Bigger is not always better — as this small glass box extension by Syte Architects goes to show.
In order to make the most of the garden views, built the structural glass box (£16,000 from Cantifix) on a brick platform, giving the project a unique look.
6. A Double-height Glass Box Extension to Increase Natural Light
In a contemporary take on a traditional bay window, Blee Halligan Architects added a double-height glass box extension to this Georgian villa.
The frameless corner glazing allows the morning light to infiltrate the previously dark and disjointed layout, while timber 'privacy fins' reduce overlooking from the neighbours.
The result means the basement to the lower ground floor is now filled with light and that the extension is a charming, modern addition in keeping with the existing house.
(MORE: Window Styles)
7. Maximise Views with a Frameless Glass Extension
While renovating their cottage in Powys and converting the derelict granary barn which sat adjacent, Amy and Bryn Jones added a large glazed link between the two buildings.
The large format sliding glass door enables the newly remodelled kitchen, dining and living spaces to make the most of the countryside views opposite.
8. Complementing an Existing House with a Glass Box Extension
When applying for planning permission to extend his Cotswolds coach house cottage, Sam Irvine found the planning department looked more favourably on a style which contrasted entirely to the old stone.
Working with Lydia Robinson and Lawrence Grigg of Design Storey, Sam was able to add not one, but two glass box extensions to the property. The first, a small, but endlessly useful porch area (complete with bespoke storage seating) and the second, a contemporary kitchen-dining space bursting with natural light.
9. Contrast Contemporary and Period Spaces with a Glass Box
In this extension, by Scott Donald Architecture, the new glass box sits strong against the imposing original Victorian building.
3.2m sliding glass door to both end of the kitchen mean the space can be open to the elements — creating the ultimate indoor-outdoor living experience.
(MORE: Bringing the Outside In)
10. Add a Bold Glass Box Extension
In order to create a spacious open plan living layout in this family home in Notting Hill, the old conservatory on the ground floor was knocked down and replaced with a glass box structure by Raven Glaze.
A steel beam across the rear has allowed the space to be completely open to the rest of the ground floor — offering a through-view straight to the garden from the front door.
The new glazed addition, complete with full-height glazing as well as a glass ceiling, allows the family to enjoy uninterrupted views of the garden.
11. Create A Minimalist Frameless Glass Box Dining Space
This project from Jeff Kahane + Associates evolved from the homeowners' desire to replace their semi-derelict conservatory with the most minimal new structure possible, creating a new dining area off the rear elevation of their Grade II-listed Georgian house.
"This new frameless take on the modern conservatory, seated on a battered stone plinth and guarded by a glass balustrade, is designed so that 73% of its sides can be folded open on warm days. Glass specialists Trombe, working with us, developed a new 180° hinge to achieve this," explains Jeff Kahane.
A slender portal frame is braced back to the rear of the building by two beams, holding eight adjustable spotlights — solving the perennial problem of how to illuminate a fully glazed space. The beams and frame are clad in mirror-polished stainless steel that, in sunlight, further helps to minimise the impact of the new space.
12. Build a Feat of Engineering with a Glass Box Extension
While many glass box extensions are built solely on the ground floor, Giles Pike Architects has achieved an impressive feat of engineering by introducing a two-storey glass addition to a 19th-century five-storey home in Fulham.
Designed to open up the living accommodation over several floors, the structural walls were removed and replaced with a network of steel beams and stub columns to support the new floor area at each level.
Full-height glazing, sliding glass and a glass roof complete with minimal framing offer uninterrupted views of the garden while bringing in plenty of light. A sleek steel balcony and external open tread staircase also connects the upper living accommodation to the garden.
13. Increase Light in an Open-plan Kitchen with A Frameless Addition
Peter and Alison Dudgeon's desire to inject light into their period property led them to approach architects AR Design Studio — well known for their work with glass. Director of the practice, Andy Ramus, designed a contemporary frameless glass extension which would open on to the rear garden to provide a flexible inside/outside space.
It is made from 12mm outer sheets of toughened glass and is supported by a structure of low-iron 'white glass' which does not give off the green tinge of thick glass, making it less prominent.
To prevent overheating in summer months, the glass is coated with solar-controlling titanium dioxide which reduces the amount of heat entering the building by 59 percent, while large glass doors provide natural ventilation.
14. A Rear Glass Box Extension
Providing additional space to a basement flat in west London, this sleek glazed extension by Granit Architecture + Interiors offers the homeowners a new light-filled kitchen diner as part of a more extensive refurbishment project.
In order to improve the quality of living to suit a modern, busy family, the existing rear extension was demolished to create a new kitchen and dining space over an increased footprint, within a frameless glazed box to maximise on daylight and allow natural light to reach other spaces within the apartment.
Sliding doors leading out to the patio also address the connection with the garden. The new addition appears as a sliver of glass against the new white rendered façade. However, due to its narrow form, it maintains the homeowners' privacy from the flats above.
15. Build a Glass Box Farmhouse Extension
Divided by a stone chimney stack to tie the extension in with the existing stone farmhouse, this glazed addition marries old with new. Designed by van Ellen + Sheryn Architects, the glass box extension houses a new open plan kitchen/living/dining space and, thanks to the full-height glazing, the homeowners now benefit from views out over the garden.
Sliding glass doors and a level threshold also promote indoor/outdoor living.
Assistant Editor Amy began working for Homebuilding & Renovating in 2018. She has an interest in sustainable building methods and always has her eye on the latest design ideas. Amy has interviewed countless self builders, renovators and extenders about their experiences for Homebuilding & Renovating magazine. She is currently renovating a mid-century home, together with her partner, on a DIY basis, and has recently fitted her own kitchen.
Homebuilding & Renovating Newsletter
Get the latest news, reviews and product advice straight to your inbox.
Thank you for signing up to Homebuilding. You will receive a verification email shortly.
There was a problem. Please refresh the page and try again.