13 Conservatory Flooring Ideas for Use Throughout the Year
By Amy Reeves published
Research the best conservatory flooring ideas with our guide to the different materials, designs and styles, with industry advice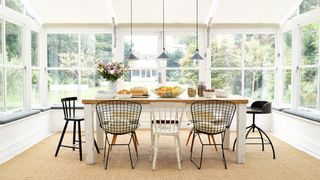 (Image credit: Sisal and Seagrass)
With the right conservatory flooring ideas, every inch of your home can be utilised and enjoyed year-round.
Memories of cold and uninviting spaces are a prominent concern when discussing conservatories, but with proper insulation and practical flooring even the most dated garden room can be upgraded into a usable family space.
Whether you're building from scratch to create the indoor-outdoor room we all crave, or are looking for conservatory ideas that will rejuvenate an existing structure, finding the right flooring will ensure the area is used appropriately.
From LVT and vinyl to carpet and real wood, we've collected some fantastic ideas and inspirational spaces to help weigh up the best flooring for a conservatory.
1. Link the Outside and In with a Wooden Conservatory Floor
With so many types of flooring to choose from, it can be hard to know where to begin. Wooden conservatory floors are a fantastic option as they can bring a sense of nature and warmth to this garden-facing room, linking together this indoor space and the great outdoors.
While there are various types of wood flooring, from real/solid wood to engineered boards, and finishes, to choose from, budget and maintenance will be the deciding factors.
As a quick rule of thumb, engineered wood flooring is more stable and often cheaper than solid wood floors. "A well-engineered timber floor will give your room a lovely warm feel and will be relatively stable if well laid," says Lisa from Vale Garden Houses. "Beware of cheap timber floors that can shrink, move or warp."
2. Go Rustic with a Classic Stone Floor
Natural stone flooring is an undoubtedly timeless choice for a conservatory and although it is known for sitting at the higher end of a budget, installing it in a small conservatory could be within reach when considering the longevity of this material.
There are many different options from which to choose, some requiring high levels of maintenance than others, but a natural stone floor can last for centuries — ideal for more permanent conservatory structures made of high-quality materials.
3. Choose LVT for Easy Maintenance
A tempting alternative to wood and stone flooring is luxury vinyl tile, commonly known as LVT flooring.
If your conservatory often has kids, pets or muddy boots travelling through it, LVT offers a fuss-free life of easy cleaning. Plus, many planks are stain, scratch and slip resistant.
With wood, stone and marble effect top layers, you can pair your flooring with favourite conservatory decor ideas.
"Being warm underfoot and compatible with underfloor heating, LVT can be an ideal solution for helping to keep your conservatory a useable space all year round," comments Stella Coyle, retail sales manager of Karndean Designflooring. "LVT is also a practical choice for busy modern homes with a hard wearing, waterproof surface that's easy to keep hygienically clean."
4. Choose a Floor that Works with Underfloor Heating
One of the most common complaints about conservatories is that they'e too cold in the winter to be functional, but if you're installing new flooring or replacing existing materials adding an underfloor heating (UFH) system and floor insulation at the same time can help to resolve this issue.
While UFH works incredibly well with hard floors such as stone or tile, engineered wood and carpet can also compatible, although you'll need to ensure the tog rating of the latter does not exceed 2.5 togs (including underlay).
5. Install Carpet in a Conservatory Sitting Room for a Soft Finish
Cosy, warm and soft underfoot, carpet is not traditionally seen in conservatories or sun rooms, but with developments in stain resistance and general resilience, there are types of carpet which are a viable option in garden-facing rooms.
In spaces such as this monochromatic conservatory, welcoming and stylish small living room ideas include using a versatile short pile carpet in a light grey to complement the whitewashed exposed brick and timber structure.
"Carpet can be a good solution in conservatories which provide additional living space rather than those which are thoroughfare to the garden. However, carpet is best avoided in conservatories in homes with children and dogs where there is no alternative means of accessing the patio and outdoor space," advises Editor of Homebuilding & Renovating, Claire Lloyd. "Opting for an in-built coir mat adjacent to patio doors could also be a good idea."
"Bear in mind that, exposed to high levels of sunlight, the colour may fade over time too, so it's perhaps better to opt for more muted colours and neutrals. On the plus side, carpet is typically more forgiving than other floor finishes on uneven subfloors."
6. Opt for a Timeless Tile in a Conservatory
"Porcelain tiles are perfect for conservatories for many reasons," begins Abbas Youssefi, of Porcelain Superstore. "The colour won't fade over time, when exposed to harsh sunlight, unlike other materials such as vinyl or carpet.
"In addition, tiles won't crack if/when the weather falls below zero and they can be used with underfloor heating, unlike some other flooring surfaces. Finally, unlike wood they won't expand or contract with changes in moisture and temperature."
7. Choose Natural Flooring in a Pared-Back Conservatory
Hardwearing and sustainable, sisal, jute and seagrass natural carpets are endlessly stylish and incredibly versatile for conservatory spaces.
While the rougher texture may be different to what we expect of a living space, as conservatories bridge the boarder between the garden and interior areas these carpet types tick many boxes.
In this timeless conservatory, the interior design takes its cues from the natural carpet as the mismatched seating adds to the relaxed at atmosphere and pared-back white-painted space. Plus, a great example of creative conservatory lighting ideas is to include low-hung pendants to create a central focus for a room that can be use day or night
8. Introduce Flooring that Works for Multiple Spaces in a Conservatory Extension
Many conservatories are separate to main living space thanks to Building Regulations requiring an external grade door to be in place. However, if you're considering replacing a conservatory with an extension to unite a sunny garden space with an open plan kitchen or dining area, consideration must be given as to what will be a suitable flooring for throughout.
Porcelain tiles are not only great for kitchens and dining spaces, but also for conservatories. "They're really durable and easy to clean, which is important if you're walking into the conservatory from the garden with muddy shoes, paws," continues Abbas Youssefi, of Porcelain Superstore.
9. Go Eco with Cork Flooring in a Conservatory
Cork is a fantastic option for those looking for a sustainable and renewable flooring for their conservatory. Not only is cork warm underfoot and durable but it also offers natural acoustic insulation — ideal for a room mostly made of glass!
Eco flooring options can often be a cost-effective one as well for smaller rooms like conservatories, with some tiles priced as low as £13/m2.
This extension in London utilised cork flooring throughout the layout which had to be sealed to keep it all clean and dry.
10. Introduce a Bold Pattern in a Modern Conservatory
"With every corner of your home telling a story, patterned or minimal borders are extremely popular for adding interest and framing a conservatory space," says Stella Coyle of Karndean.
When coordinating a conservatory refresh or new interior design, pick out one or two of the colours in the pattern to inform the overall decor, as in this contemporary-styled space.
The greens of the LVT tiles are subtly repeated in the plant wall while the black is also used for the lighting, window treatment and furniture choices.
11. Consider a Luxurious Finish with Marble Flooring
Conservatories are sometimes considered as an afterthought when it comes to the interior design of your home, but introducing a bolder sense of style can pay off.
Marble can be a valid option for a high-quality conservatory as, unlike installing it in a bathroom or kitchen, the maintenance of cleaning up spills will be naturally be lower.
This material creates a striking impression but given its high cost, this material is perhaps better suited to an orangery or for those considering sunroom ideas.
12. Continue Conservatory Flooring Choices Outside
A simple way to make your garden feel part of your conservatory and home is to combine a suitable flooring material with favourite patio ideas, for a seamless transition between inside and out.
Natural stone and porcelain tiles are great contenders for this look, but timber or wood-effect flooring could also be matched to decking.
This look works well in oak frame conservatories, as shown here — this sunroom features limestone flooring with a similar flooring, complete with anti-slip coating, used on the patio beyond.
13. Create a Versatile Space with a Rug
If you're not planning to install underfloor heating and your conservatory doesn't include a radiator that doesn't mean to have to put up with chilly floors.
Choose a practical flooring that works for your lifestyle and add in rugs come the winter or for kids/pets to wipe their feet on before stepping on to carpet.
While it may seem simple, this cost-effective solution also offers a quick way to refresh the interior.
What do I Need to Consider When Choosing Conservatory Flooring?
The function a conservatory serves will likely narrow down the options available — sitting/dining rooms, play areas and home offices all have varying needs for a floor type.
You will also need to factor in flooring into the overall conservatory cost to ensure the material you have chosen is within budget, as well as in a style you think will last for years to come — durability and longevity are key.
These factors aside, the colour and style of your flooring finish will have a big impact on the overall look of your conservatory.
"People want their conservatories to be a warm inviting space, perfect to relax with friends, so neutral, wood-effect and stone-effect designs tend to be more popular," comments Abbas Youssefi, director of Porcelain Superstore. "Perhaps these offer a more harmonious feel with outside? Lighter colours do work well too, after all who wants a dark and moody conservatory?"
"The look of natural limestone and slate continues to be a more traditional choice, but we are seeing more European oaks being used in this versatile space, agrees Stella Coyle, retail sales manager of Karndean Designflooring. "Grey toned woods are also popular for adding a modern or contemporary feel."
Does a Conservatory Floor Need Insulation?
In order to improve the efficiency of a conservatory, installing insulation above a solid sub-base and before the finishing material is a smart choice.
"One of the major downsides is how cold conservatories can become in winter. They're installed over a concrete slab which is often poorly insulated," says Abbas Youssefi, of Porcelain Superstore.
"If you're using porcelain tiles, we would highly recommend fixing insulated tile backing boards to the concrete, especially if you're using electric underfloor heating. We'd recommend using high-output electric UFH mats to compensate for any heat loss."
Other subfloors may need preparation before laying a new type of flooring, such as LVT or engineered wood.
"Traditional gluedown and loose lay LVT flooring would need to be installed on a perfectly smooth subfloor and a strong adhesive used to fully bond the floor," says Karndean's Stella Coyle. "If homeowners are looking for a speedier installation and they have a less than perfect subfloor, rigid core could be the answer with its click locking mechanism allowing the floor to be fitted over imperfect subfloors."
Assistant Editor Amy began working for Homebuilding & Renovating in 2018. She has an interest in sustainable building methods and always has her eye on the latest design ideas. Amy has interviewed countless self builders, renovators and extenders about their experiences for Homebuilding & Renovating magazine. She is currently renovating a mid-century home, together with her partner, on a DIY basis, and has recently fitted her own kitchen.
Homebuilding & Renovating Newsletter
Get the latest news, reviews and product advice straight to your inbox.
Thank you for signing up to Homebuilding. You will receive a verification email shortly.
There was a problem. Please refresh the page and try again.