Orangery Extensions: The Ideal Way to Add Space to Your Home
By Natasha Brinsmead published
The popularity of orangery extensions is on the rise — we answer all your questions about this beautiful design solution, including information on build costs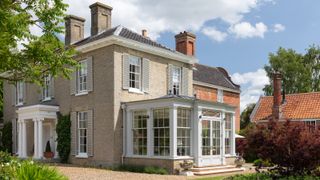 (Image credit: Vale Garden Houses)
Orangery extensions are the perfect way to add valuable extra space to your home. Full of natural light thanks to all that glazing, orangeries can be tailored to suit all kinds of needs, although tend to suit period properties particularly well.
Orangeries were originally a hugely popular feature during the 18th century in the UK, with the idea having been somewhat stolen from the Italians, who were widely using them in the 17th century.
These days, orangeries make ideal multi-functional extensions, whether used as kitchens, dining space or living rooms.
What Are Orangery Extensions?
So, just how do orangery extensions differ from more standard extensions? To answer this, we need to briefly explain what an orangery is and to understand the differences of an orangery vs conservatory.
Unlike conservatories, orangeries tend to be partially solid with more brickwork or stone, although they also feature floor-
to-ceiling or full-length windows and often a roof lantern.
Flat or mansard roofs are common features of traditional-style orangeries, as are columns, pediments and fine 
glazing bars — although there are many more orangery ideas beyond this.
Unlike stand-alone orangeries, orangery extensions are attached to the house and are accessed from the inside as well as from outside.
Do You Need Planning Permission For an Orangery?
Just as with some extensions and conservatories, it isn't always necessary to apply for planning permission in order to build an orangery extension — in many cases they will fall under your permitted development rights.
Of course, if you are adding an orangery extension to a listed building, or live in a Conservation Area or Area of Outstanding Natural Beauty, you will almost certainly have to apply for consent before building.
Even in cases where planning permission is not required, it is still a wise idea to apply for a lawful development certificate to be on the safe side.
Do Orangery Extensions Need Foundations?
It is a common question: do orangeries require foundations? The simple answer is yes. Just as other types of extensions need foundations, so too do orangeries. The foundations needed will vary depending on the soil conditions you have.
There are many factors to consider when it comes to foundation systems and soil types and it is always best to get your chosen orangery supplier, builder or a structural engineer to assess your soil conditions before steaming ahead.
How Are Orangery Extensions Built?
There are several different ways that orangeries are built but they are most commonly constructed using a combination of timber and brick. That said, rendered blockwork and stone are also sometimes used and the amount of solid walling to glazed areas varies too.
The key is to ensure that your new orangery extension enhances rather than detracts from your existing house.
How Much Does an Orangery Extension Cost?
When it comes to orangery costs, this will very much depend on the materials, size and design of orangery extension you opt for. A small uPVC structure will cost considerably less than a large stone and hardwood orangery, for example.
"'Our prices start from around £50,000 + VAT and prices largely vary due to the size of the orangery," say the experts at Westbury Garden Rooms. "The approximate average cost of a Westbury orangery is about £80,000 to £90,000, with an average size of around 45-50m2. But the total price will ultimately come down to how many sides of joinery, and various customisable options."
By using our handy extension cost guide you can get a rough idea of what to expect as orangery costs tend to be similar to extension costs.
Can You Build a Modern Orangery Extension?
Although orangeries tend to be thought of as traditional structures, there are more and more examples of modern orangery design cropping up.
These structures tend to feature more glass than solid walls and be generally lighter in form — more like glass extension designs.
The key to creating a modern orangery extension is to ensure that its form and proportions suit the building it is attached to. While it is fine to build a contemporary structure that is in complete contrast to the period property it adjoins, it should not detract from the original architecture of the building.
Beautiful Orangery Extension Ideas
We've pulled together some of our favourite orangery extension ideas to give you a boost of inspiration — from contemporary orangeries to those that will highlight all the best elements of a period property.
1. Echo The Original House in Your Orangery Design
This beautiful timber and brick orangery extension by Vale Garden Houses complements the house it is attached to perfectly thanks to matching brickwork and window details.
2. Create a Kitchen Orangery Extension
Just as kitchen conservatory extensions have increased in popularity, so too have kitchen orangeries. The bright, light-filled nature of these spaces make them an absolute pleasure to spend time in but do take time to plan out your kitchen design thoroughly to ensure you have enough solid wall space for all your units.
3. Contrast With a Contemporary Orangery Extension
Even traditional-style homes can benefit from a modern extension — in fact the contrast is often a great way to highlight the original details of an existing building.
This modern orangery extension has been put to great use as a sunny dining spot from which to enjoy clear views of the garden.
4. Use Your Orangery Extension as a Link
Orangeries make fantastic glass link extensions. Not only do they tie two separate elements of a building together beautifully but they can also become useful extra living spaces in their own right — perfect for sunny dining rooms, casual seating areas or home offices.
5. Brighten Up Dark Middle Rooms
The addition of an orangery can not only add extra space — it is also a brilliant way to draw natural light into central spaces.
Here, an orangery extension from Westbury Garden Rooms has been added along the width of this house, where it not only provides a beautiful living and dining space, but also brings light into the kitchen within.
Natasha is Homebuilding & Renovating's Associate Editor and has been a member of the team for over two decades. An experienced journalist and renovation expert, she has written for a number of homes titles. She has renovated a terrace and is at the end of the DIY renovation and extension of her Edwardian cottage. She is now looking for her next project.
Homebuilding & Renovating Newsletter
Get the latest news, reviews and product advice straight to your inbox.
Thank you for signing up to Homebuilding. You will receive a verification email shortly.
There was a problem. Please refresh the page and try again.