Garden Office Ideas to Make Working From Home a Pleasure
Great garden office ideas are key to creating a productive yet visually attractive home working set-up — our inspiring collection is all you need to get started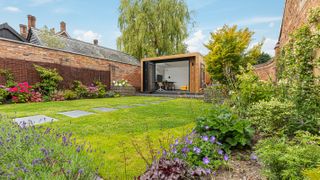 (Image credit: Green Retreats)
The search for brilliant garden office ideas is now higher than ever as an increasing number of people now work from home. If you are one of them then you have come to the right place.
Garden offices are a great solution for home workers for a number reasons. Not only do they remove the need to extend your home to create space, but they also allow you to create a clear distinction between working hours and relaxation — something that can be hard to achieve when your office is located at your kitchen table.
With the right design, garden offices can also be very flexible spaces that cater for more than just working, morphing into garden room ideas such as teenage dens, hobby rooms and even guest bedrooms, as required.
Our round-up of garden office ideas here includes something for everyone, from all-in-one style modular garden offices to architect-designed bespoke buildings. You may well find yourself enjoying overtime a bit too much with these garden office ideas.
Getting Your Garden Office Ideas Started
Before getting stuck into our stash of garden office ideas, take a little time to think about what you want from your new home office design to ensure that you choose the right solution for you — this is an investment so forward planning is essential.
Some factors to consider include:
How many people will your garden office need to accommodate at any one time?
How will you get services, such as electricity, to the building?
Is your new home office likely to require a planning application?
Who will construct it?
Will you need toilet facilities and if so, how will you get water to and from the office?
What is your budget?
How will you heat the space in winter?
Might you want it to be big enough to perform more than one function? For example, a guest room or hobby room.
1. Keep it Simple With An All-in-one Solution
If you don't want to get an architect involved in your garden office ideas, a modular all-in-one product will be ideal.
This type of garden office usually comes with all the components you need to create a stand-alone home office, such as windows, doors and even garden room lighting ideas. Many people also take on this kind of project on a DIY basis.
This example is from B&Q's range of Xtend cabins and is the Xtend 4. It comes with doors and windows, a timber base, SIPs panels (making up the structure), exterior and interior cladding for walls and ceiling, doors, windows, and roof covering — as well as full building instructions. It costs £11,050.
2. Include Space to Relax
All work and no play is never a good thing. Although you need to approach the design of your new garden office with productivity in mind, ensuring you have the right space, layout and storage to fulfil your needs, don't forget the perks of working from home either. With no commute to battle at the end of the day, why not incorporate some relaxation space into your design?
This example, from Green Retreats, features a useful covered space adjacent to the main office — the perfect spot for a hot tub.
3. Slot a Garden Office Into a Small Garden
After some small garden design ideas that take into account the need for a garden office? Even compact spaces can accommodate garden rooms — and they don't have to be bespoke or expensive either. There are now lots of small modular garden offices out there designed for this very purpose.
This smart compact design is the TGO1 from Green Retreats. It measures 4 x 2m and has a wrap-around door and window sets that are perfect for corner garden offices.
Prices start from approx. £19,495 and include professional installation, French or sliding doors, insulation, three double sockets, heating, a choice of flooring options, a melamine wall finish, internal lighting, redwood cladding, foundations, an opening lozenge window and external lighting.
4. Ensure Your Garden Office is a Multi-Purpose Space
If you have the space available, consider a garden office that is large enough to use for other activities once the working day is done, or as your needs change.
This oak frame design by Oakwrights combines a games room and den on the ground floor, with office space accessed via a spiral staircase.
5. Turn Your Home Office into a Focal Point
This is a garden office idea sure to make working from home a pleasure — everyone will want meetings to be held here.
The Oval House Garden Pod from Lime Lace can seat eight people and offers 360° uninterrupted panoramic views of your garden design provided by large clear windows. It also has comfortable seating with an adjustable centre table that can be folded from a larger dining table to a smaller coffee table. Ambient lighting is provided via ceiling LED lights.
6. Consider a Shepherd's Hut Garden Office
Not only do shepherd's huts make beautiful additions to gardens — they also make fantastic home offices.
The example shown here is from The English Shepherds Hut Company, whose huts are custom made and can be designed specifically to suit your business — they can even be constructed as a road towable units for working on the move. Offices can include full insulation, 240v electricity, windows, a stable door, shutters and lights, plus there are options for built-in features such as desks and stoves.
7. Opt For a Practical Stainless Steel Design
After something to add a little wow-factor to your landscaping scheme? Take a look at the world's first stainless steel garden room, the Cube Fx Stainless Steel Outdoor Room by Garden House Design.
It features self-supporting stainless steel frames to ensure stability and is available in four lengths and two widths, with different configuration options including windows, full length glass panels, double doors and more. It is also virtually maintenance free.
8. Make Office Meetings a Pleasure to Attend
If you have a garden big enough then why not include space for a meeting room within your garden office design. This is a great way to leave yourself free to host face-to-face catch ups and means you won't have to travel far to get together with colleagues.
Shown here is The Pinnacle Garden Room – which has a really striking forward leaning aspect – from Green Retreats, measuring 7.5m X 4m.
9. Match Your Garden Office to Your Home
Any garden building in close proximity to your house should ideally enhance its design — and while this doesn't mean it needs to match the materials used exactly, a nod to its architecture in some way is always a good thing.
This home office from Crown Pavilions has been designed to blend in well with the house it sits next to. The tone of the cladding and the grey windows match those on the main building.
10. Use Oak Frame to Build Your Garden Office
Oak framed structures exude character — and an oak frame garden office will add heaps of charm to your landscaping scheme, not to mention being a pleasure to spend time in.
This stylish, classically cosy oak frame garden office hideaway is by Border Oak. Clad in painted timber it has been designed to slot subtly into its natural setting and even features a small porch — so no need to take too much of the outside in if your garden is wet or muddy.
11. Provide a Sheltered Spot for Outdoor Working
As a garden structure, it makes sense to incorporate some kind of sheltered exterior space into your garden office design. This might take the form of a small porch area in which to leave muddy shoes, or it could be a bigger covered area in which to sit and work on warmer days. Garden screening ideas such as this mean you can work on a laptop or device without glare.
This wooden tongue and groove Rowlinson Cabin is from B&Q is a great option for those wanting to combine their garden office with a sheltered outdoor entertaining space — plus this example features some lovely garden lighting ideas in the form of the low-slung pendants.
The cabin is self-assembly, but comes supplied with all fixings and fittings. It costs £3,400.
12. Introduce a Raised Garden Office in a Sloping Garden
If you are stuck for sloping garden ideas then this one is for you. Even awkwardly-shaped and steep gardens can have a garden office providing the right design approach is taken.
In the case of sloping sites, a raised garden office formed using innovative garden steps ideas is a brilliant solution — plus it will also mean your desk has fantastic elevated views out over your landscaping scheme.
Do, however, check with your local planning authority if planning is required if you intend to place a raised garden office near your garden boundary. (Those within 2m of a boundary need to be a maximum of 2.5m high in order to fall under Permitted Development.)
13. Combine Work With Play
Designing your garden office from scratch presents you with a unique opportunity to incorporate some fun ideas into an otherwise practical space.
How's this for a garden decking idea for your outdoor office? What better motivation to get all your work done that the lure of a hot tub or deck to sit out on at the end of the working day? This design from Green Retreats features wraparound glazing to take in the view.
14. Choose a Bespoke Garden Office For Character
Having a custom made garden office, such as this timber clad design from Border Oak, means you can be sure that your new building will meet all of your needs.
This garden room not only blends well into its pretty setting, but it also incorporates a handy covered log store and mini verandah from which to admire the day's gardening efforts.
15. Don't Forget to Install a Good Heat Source
If you are going to the effort and expense of building a garden office then it makes sense to ensure that you can use it all year round — and this means good lighting, insulation and a heating source.
The Dart from Life Space Cabins features large aluminium framed windows and doors and house-standard levels of insulation.
The Dart is modular but comes in a range of sizes and you can choose between a range of different exterior claddings as well as various internal layouts, fixtures and fittings — even mezzanine sleep decks and luxury bathrooms and cosy log burning stoves are options.
Get the Homebuilding & Renovating Newsletter
Bring your dream home to life with expert advice, how-to guides and design inspiration, direct to your inbox.
Natasha is Homebuilding & Renovating's Associate Content Editor and has been a member of the team for over two decades. An experienced journalist and renovation expert, she has written for a number of homes titles. Over the years Natasha has renovated and carried out a side extension to a Victorian terrace. She is currently living in the rural Edwardian cottage she renovated and extended on a largely DIY basis, living on site for the duration of the project. She is now looking for her next project — something which is proving far harder than she thought it would be.