18 Sunroom Ideas for Year-Round Enjoyment
By Amy Reeves published
Use these sunroom ideas and expert design advice to design a comfortable and bright room that can be enjoyed in all seasons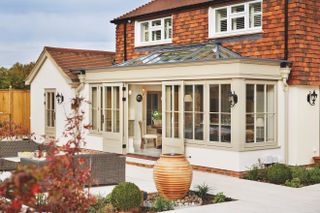 (Image credit: Westbury Garden Rooms)
Great sunroom ideas will not only look stunning, but they will also ensure this invaluable room will be practical and comfortable whatever the weather.
We've all been in an awkward conservatory that is too hot in the summer and freezing in the winter, that can only be used effectively a few weeks in the year. Done well, sunrooms can be a beautiful space to relax in the sun or as a cosy family room.
While the term sunroom can refer to a range of glazed structures, including conservatory and orangery extensions, typically a sunroom featured elevations constructed of brick, blockwork or timber, with a solid, tiled roof.
Getting the design right in a sunroom, from shape and size to the materials and furniture, is important to get right to ensure the space will enhance the home.
Essential Things to Know About Sunroom Ideas
"Sunrooms typically feature less glass than a conservatory and will often be built in similar materials to the existing house (a tiled roof is commonly carried over, for instance)," begins homes journalist Rebecca Foster. "Sunshine will be channeled in via large windows, glazed doors, rooflights, or a dramatic feature like a glazed gable."
"A sunroom will typically be more integrated into the layout of your existing home than a conventional conservatory (which, by definition, should be separated from the the house by external quality walls, doors or windows for Building Regs purposes)."
"How you'd like to use the space can help determine its position, accessibility and light," adds Virginia Murray, director of sales and marketing at Mozolowski & Murray.
1. Pay Attention to a Sunroom's Roof
Unlike conservatories ideas – with their glazed walls and roofs – which can be cold in winter and unbearably hot in the height of summer, a sunroom with a tiled or slated roof should be designed for use throughout the seasons.
It's a good idea to use the same (or similar) material on a sunroom roof as that used on the main house — this helps to ensure that the new addition ties in with the overall aesthetic of the property. That's not to say a contrast can't be a welcome addition, but the overall design of the roof pitch and material should enhance and complement the house.
Here, this Oakwrights project is topped with solid roof tiles and features traditional French doors which open out onto a sun terrace.
2. Connect to the Outside with Patio Doors
Incorporating patio doors into a sunroom completes the sense of connection with the outside space. This could be classic French door, as shown here in this sunroom designed by Vale Garden Houses, to create a flow from inside to out, or an internal glazed door to demarcate the existing house and a new addition, while still providing a view to the garden.
"There are various options if you plan to incorporate a door to separate the new and existing spaces," advises Zoe Grey, regional design consultant at Oakwrights. "Bifold doors or sliders will give you the flexibility to open up the space when you like. A French or single door can be kept in the location of an existing door or window, which means there will be minimal disruption to the existing building."
3. Use Sunroom Ideas to Keep a Design Brief on Budget
"There are various routes to explore and a lot will depend on the budget you have available," explains Rebecca Foster. "Many suppliers offer a selection of standard designs that can be tailored to match your home.
"If you already have a company in mind, they may have an in-house expert who can put together a bespoke sunroom to complement your property, working around any design/planning constraints you have. For bigger budget projects, it's also possible to engage an architect to plan the design and have it built by your chosen contractor."
Material choices will also impact the final budget. For instance, an oak frame conservatory-style sunroom like this one will naturally require more attention and expertise at the design stage than a uPVC or even aluminium structure.
4. Let the Sunroom Extension's Position Inform the Design
"If you plan to use the sunroom in the morning, positioning it on the south-east elevation will give you the best of the morning rays, while south-westerly orientated sunrooms will capture the finest sunset vistas," Rebecca Foster explains.
"Excessive solar gain and glare are key factors to think about for south-facing extensions. You can use 3D modelling to chart how much sunshine your addition will receive, depending on the time of day and year. This will help you determine whether any overhangs or shading devices will be needed to avoid overheating."
5. Consider the Pros and Cons of an Open-Plan Sunroom
While open-plan living motivates a lot of new extensions and additions, things aren't always that simple when adding a sunroom, orangery or conservatory.
Arboreta's director Alex Cole advises: "The rule of thumb for sunrooms is that you will need to tackle more Building Regulations with an open-plan layout than you would with a closed-off layout. As an open-plan layout requires you to knock through a standing wall, there are more complications structurally to consider before building can begin.
"Overcoming these regulations is a minor inconvenience when you weigh it up against the benefits of having an open-plan extension that links seamlessly with your home."
6. Combat Overheating with Blinds
As a sunroom should be suitable for use year-round; taking heating and cooling during both winter and summer months into consideration is essential. Make sure to consider things like underfloor heating or high levels of insulation.
"Glass is generally considered a poor insulator — even double and triple glazed panes can't match the thermal performance of solid walls," details Rebecca Foster. "However, the thermal performance of glazing has come on in leaps and bounds since the '80s. This means modern doors, windows and roof glazing are capable of retaining enough heat for your sunroom to be comfortable all year round."
However, cooling spaces that feature large expanses of glazing is a tough job without sacrificing all the lovely clean lines and views most of us hope to create. The roman blinds used in this sunroom designed by David Salisbury protect the space from high temperatures without spoiling the aesthetic benefits.
7. Create a Natural Flow in an Open-Plan Sunroom
If you're struggling to choose between an extension or conservatory, then a sunroom open to the rest of the interiors could be a good option — as shown in this Border Oak home.
"When approaching an open-plan layout, you want the space to flow," explains Zoe grey of Oakwrights. "If you're building an oak frame structure, design and feature placement need to be considered at the early stages. I recommend using the same flooring throughout, and pulling through other colours, textures and materials from the existing room helps, too.
"Furniture placement is key. For example, when planning a kitchen extension with an island, consider positioning it at the halfway point between the new space and the old so that it bridges the gap."
8. Choose Sunroom Materials Wisely
With a myriad of options for materials and construction, it can be easy to get overwhelmed. Generally, brick and block atop with timber or uPVC glazing is used.
However, aluminium can provide a sleek, contemporary (and strong) alternative and timber is always a characterful choice with lots of choice to accommodate taste and budget.
Here, Vale Garden Houses designed an option that fits the best of both worlds with a brick and block structure which creates a striking open-plan sunroom while the timber windows and roof lantern provide personality and charm.
9. Include Great Lighting for Late-Night usage
A good lighting scheme in every area of the home is paramount, and a sunroom is no different.
While easily forgotten in a room known for being light and sunny throughout the day, if you want to get the most use out of a garden room in the evening, good lighting is vital — use the essential knowledge of conservatory lighting ideas to help you find what will work best for your new space.
Statement pendants are often the go-to solution and can be paired with wall lights with slim sconces or downlights around a roof lantern for a well-considered lighting design.
10. Include a Glazed Gable to Maximise Views
There are few design features that will add the same wow-factor as a glazed gable. This style definitely works best with a pitched roof, and usually with an oak frame sunroom structure.
The glazed gable of this Prime Oak sunroom enhances the feeling of space and a connection to the garden. Sunrooms mostly introduce glazing through individual banks, rather than one continuous expanse of glass and this example utilises the oak frame for this purpose.
11. Choose Practical Flooring in a Sunroom
Stone or tiled types of flooring (as seen in this space by GreenRooms by Oakwrights) is not only a robust addition but is also easy to clean — essential in a room which opens up to the garden.
It can also provide thermal benefit as it pairs well with underfloor heating, keeping the chill off the room in winter, but is also good at keeping the room cool in the summer months.
12. Consider an Overhang When Designing a Sunroom
Roof overhangs are becoming increasingly popular in more contemporary designs, but they can look equally elegant in traditional styles, as this Welsh Oak Frame project goes to show.
Overhangs are ideal for reducing solar gain in summer in a heavily glazed environment, like a sunroom, and therefore help to prevent overheating.
Another bonus of including this roof design in your sunroom, is that on warm, but wet summer days, the doors can be thrown open but the interior is protected from the elements.
13. Think About Heating a Sunroom For Use in Winter
"Given the extent of glazing in your sunroom, it may be possible to rely on solar gain to heat the space," begins Rebecca Foster. "However, you'd have to make sure you were using the right glass spec so you didn't run the risk of overheating the zone.
"If you're incorporating an open-plan sunroom that is likely to become a central hub of the property (for example, a kitchen-diner) you may consider running your central heating system into the new sunroom. This solution will be more labour intensive and Building Regs approval would be required."
Other options include installing underfloor heating, electric panel heaters or a log burning stove in a separate, enclosed sunroom to provide heat on colder days as and when needed. Here, the living room has been outsourced to the sunroom, but the design means it is comfortable come rain or shine while the rest of the house layout can be repurposed for other functions.
14. Reduce Glare with Solar Glazing
Locating a sunroom on a southern elevation allows for the space to make the most of the light, as in this David Salisbury sunroom. Although be sure to consider how to prevent overheating in homes and in glazed spaces facing south.
Tan Yasin of IQ Glass advises: "A solar control coating can reduce solar gain while creating a comfortable internal environment."
Also, be aware on the need for ventilation in sunrooms. A fresh air supply will ensure the room doesn't become unbearable on a summer's day — think openable windows/doors, roof vents and trickle ventilation.
15. Build an Independent Sunroom to a Listed Building
When adding sunrooms or conservatories to listed buildings, planning permission may dictate that the new structure will have to stand independent of the existing house and can be eventually demolished without any disruption.
Oak frame works particularly well in these instances, as they can support themselves without need to tie into existing structures.
Older and listed houses also lend themselves well to more sympathetic approaches in design. This timber frame sunroom by Prime Oak incorporates similar materials to the cottage it adjoins — from the wood stain used on the external joinery to the stone roof tiles and stone plinth.
16. Sunrooms Can Also be Contemporary
Letting in light from above can be achieved in several ways, most commonly with rooflights and lanterns but also clerestory windows.
Another discreet solution which can bring light deep into the floorplan is a flush rooflight — such as this example by IQ Glass. They lend a contemporary look in more modern schemes.
"There are rooflight solutions for flat and pitched sunroom coverings, including openable, horizontal, domes or pyramid shaped," details Rebecca Foster. "There's plenty of choice in terms of opening configurations, too."
17. Take Design Cues From the Existing House
When it comes to planning a sunroom, it makes sense to use your existing house as a starting point. "Your home will influence how the extension should look," says Gareth Edmunds, director at Welsh Oak Frame. "Will the roof pitch need to match, for instance? Does the extension need to be designed below first-floor windows?"
This stunning timber frame sunroom by Prime Oak mirrors the pitch of the roof found on the existing house, while the new materials emphasise the charming Cotswolds stone.
18. Consider Who Will Build Your Sunroom
There are a whole host of sunroom, conservatory and orangery suppliers out there with different packages to suit different homes' needs.
Some companies might offer a supply-only package, for homeowners who would prefer to use their own contractors or to build a new space DIY. Although, generally, bespoke suppliers will prefer to use in-house or approved installers for their systems.
"With supply and install we still work closely with our clients' chosen contractor, providing detailed working drawings and assisting as necessary," says James Upton, managing director and designer at Westbury Garden Rooms. "They will prepare the site foundations, masonry walls, plastering, plumbing and electrics, ready for our team to arrive and install our structure."
Do Sunrooms Require Planning Permission?
"A sunroom needs to adhere to the same set of planning guidelines as any other extension, so if your design sticks to the parameters laid out by Permitted Development (PD) you may not have to apply for formal planning permission," explains Rebecca Foster.
"To be considered PD, the addition should not extend beyond the rear wall of the original house by more than 8m for a detached house or 6m for a semi-detached or terraced house. The structure should be no taller than either the roof of the existing property or 4m, whichever is less. For a full list of guidelines, check the Planning Portal.
"Remember, PD rights won't apply if you live in a conservation area, so it's always worth touching base with your local council before charging ahead. For peace of mind, you can apply for a Lawful Development Certificate."
How Much Will it Cost to Add a Sunroom?
"While a conservatory could come in as low as £5,000, you should budget a minimum of £10,000 for a frame-only sunroom package," advises Rebecca Foster. "Off-the-shelf, PVCu designs sit at this lower end of the range. For premium framing materials, such as oak or Accoya, expect to pay between £30,000 and £50,000."
"For a bespoke structure from our product range, you'd need to invest £30,000 and above" says Richard Bennett from Room Outside. This would cover the design, planning, project management, foundations and construction.
"If you have an existing sunroom, you may be able to reduce costs by refurbishing the old structure, using the original foundations and the base, and replacing the frames and glass or adding a new roof," Richard adds.
Assistant Editor Amy began working for Homebuilding & Renovating in 2018. She has an interest in sustainable building methods and always has her eye on the latest design ideas. Amy has interviewed countless self builders, renovators and extenders about their experiences for Homebuilding & Renovating magazine. She is currently renovating a mid-century home, together with her partner, on a DIY basis, and has recently fitted her own kitchen.
Homebuilding & Renovating Newsletter
Get the latest news, reviews and product advice straight to your inbox.
Thank you for signing up to Homebuilding. You will receive a verification email shortly.
There was a problem. Please refresh the page and try again.