14 Stunning Sunroom Ideas for Year-Round Enjoyment
By Amy Reeves
Don't be left out in the cold; create a warm and inviting room suitable for all seasons with these wonderful examples of sunrooms well done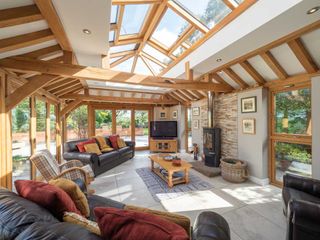 (Image credit: Prime Oak)
Finding that a conservatory is too hot in summer and too cold in winter can be a frustrating discovery, meaning that you can only use that space comfortably at certain times of the year.
A sunroom is different from a conservatory in that it is not a fully glazed structure — it often features elevations constructed of brick, blockwork or timber, meaning it can be a better solution for those looking for year-round comfort.
Here are 14 examples of great sunrooms and what makes them so special.
(MORE: How to Add a Sunroom)
1. Consider the Roof When Designing Your Sunroom
Unlike conservatories – with their glazed walls and roofs – which can be cold in winter and unbearably hot in the height of summer, a sunroom with a tiled or slated roof (as in this example by Arboreta) is designed to be used whatever the weather. An overhang also provides shade from the high summer sun.
(MORE: How to prevent overheating in your home)
2. Sunrooms Can Offer Year-round Use
As a sunroom should be suitable for use year-round; taking heating and cooling during both winter and summer months into consideration is essential. Make sure to consider things like underfloor heating, high levels of insulation and perhaps a woodburning stove, as in this Prime Oak addition.
3. Add Blinds to Create Shade in Your Sunroom When You Need It
Cooling spaces that feature large expanses of glazing is a tough job without sacrificing all the lovely clean lines and views most of us hope to create. The roman blinds used in this sunroom designed by David Salisbury protect the space from high temperatures without spoiling the aesthetic benefits.
4. Should the Sunroom be Open Plan?
Arboreta's director Alex Cole advises: "The rule of thumb for sunrooms is that you will need to tackle more Building Regulations with an open-plan layout than you would with a closed-off layout. As an open-plan layout requires you to knock through a standing wall, there are more complications structurally to consider before building can begin.
Overcoming these regulations is a minor inconvenience when you weigh it up against the benefits of having an open-plan extension that links seamlessly with your home."
5. Linking the Sunroom to the Main House
This sunroom by IQ Glass features a glass link that connects it to the main house creating one continuous space between the two rooms.
6. Choose Practical Flooring for Your Sunroom
A stone or tiled floor (as seen in this space by GreenRooms by Oakwrights) is not only a robust addition but is also easy to clean — essential in a room which opens up to the garden. It can also provide thermal benefit as it pairs well with underfloor heating, keeping the chill off the room in winter, but is also good at keeping the room cool in the summer months.
7. Choose the Right Artificial Lighting for Your Sunroom
A good lighting scheme is paramount. Here, in this contemporary-style sunroom by Westbury Garden Rooms, a characterful collection of pendant lights hang from the central points of the roof structure, with downlights illuminating the perimeter of the room.
(MORE: Clever Lighting Design Ideas)
8. Add Your Sunroom on a South Facing Elevation to Make the Most of the Sun
Locating a sunroom on a southern elevation allows for the space to make the most of the light, as in this David Salisbury sunroom. Although be sure to consider overheating in glazed spaces facing south. Tan Yasin of IQ Glass advises: "A solar control coating can reduce solar gain while creating a comfortable internal environment."
9. Maximise Light and Views with a Double-Height Sunroom
Who says sunrooms need to be single storey? This double-height space luxuriates in natural light and offers a beautiful in-between zone before venturing out into the garden. Large swathes of glazing feature in this aluminium sunroom by Apropos.
10. Opt for a Sympathetic Design for a Listed Building
Older and listed houses lend themselves well to more sympathetic approaches in design. This timber frame sunroom by Prime Oak incorporates similar materials to the cottage it adjoins — from the wood stain used on the external joinery to the stone roof tiles and stone plinth.
11. Bring in Light from Above in Your Sunroom
Letting in light from above can be achieved in several ways, most commonly with rooflights and lanterns but also clerestory windows. Another discreet solution which can bring light deep into the floorplan is a flush rooflight — such as this example by IQ Glass.
(MORE: Bright Ideas for Bringing in Light from Above)
12. Choose the Right Doors to Link Your Sunroom to the Garden
Incorporating patio or sliding doors into a sunroom completes the sense of connection with the outside space. As sunrooms function as a place between the home and the great outdoors, using characterful patio doors, as here by Vale Garden Rooms, helps draw the eye out towards the garden.
13. Achieve a Contemporary Look with an Aluminium Frame
Aluminium-framed sunrooms can complement period properties and modern homes alike. This Solarlux structure completes the contemporary design of this home.
14. Maximise Light in Your Sunroom with a Glazed Gable
The glazed gable of this Prime Oak sunroom enhances the feeling of space and a connection to the garden. Sunrooms mostly introduce glazing through individual banks, rather than one continuous expanse of glass and this example utilises the oak frame for this purpose. Note too how the pitch of the roof takes its cue from that of the main house.
(MORE: How to Bring the Outside In)
Homebuilding & Renovating Newsletter
Get the latest news, reviews and product advice straight to your inbox.
Thank you for signing up to Homebuilding. You will receive a verification email shortly.
There was a problem. Please refresh the page and try again.