Orangery vs Conservatory: How to Choose a Sun-Filled Space
By Amy Reeves published
Weigh up the differences and benefits of an orangery vs conservatory with this quick guide comparing the two for a light and bright space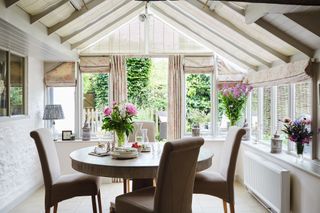 (Image credit: Brent Darby Photography)
Orangery vs conservatory — it's an important comparison to draw when looking to add a spot of extra space, one that is bathed in light, to your home.
Both can be a delightful way of extending a floorplan and increasing the connection between your home and the garden, but there are pros and cons to each.
While conservatories have a poor reputation as spaces that are either too hot in the summer or too cold in the winter, modern conservatory ideas and design make them a viable competitor to orangeries — especially when costs and timescales are taken into account.
Here, we explain the difference between these two types of glazed extensions and have gathered together the benefits and drawbacks of both, so you can make an informed decision that is right for your home and lifestyle.
Orangery vs Conservatory: What is the Difference?
"There are a few key differences between a conservatory and an orangery, particularly regarding the roof, that set these various types of glazed extension apart," explains homes journalist Rebecca Foster. "For conservatories, at last two-thirds of a room's roof needs to be made from glass or translucent plastic, and a minimum of 50% of the wall will have to be translucent, too.
"Orangeries, on the other hand, generally feature a flat or mansard roof with a glazed lantern to bring natural light in. An orangery usually features large windows rather than full glazed walls."
How Do You Choose Between an Orangery or Conservatory?
"Whether to add a conservatory or orangery to your home will depend very much on the architectural style and detail of your home," advises Lisa Morton, director at Vale Garden Houses.
Conservatories tend to add a more contemporary style, with their all-glass designs, while orangeries, although able to be built in a modern fashion, are generally added to more period homes.
Ultimately, the decision will come down to following considerations:
What function the room will provide
If you have a limited timescale for the new space to be completed within
If you're willing to apply for planning permission
How far your budget will stretch
Where the new structure will be positioned
Glass box extension inspiration and sunroom ideas are also helpful when searching for the best route towards a sunny living space.
Which is Cheaper: An Orangery or Conservatory?
"The cost of both depends on the level of detail you put into each design and build," comments Lisa Morton, director at Vale Garden Houses.
PVCu conservatory costs tend to sit at the lower end of the price bracket due to lower-quality materials and off-the-shelf design.
However, some higher end designs, such as oak frame conservatories, will cost more for the increase in quality and attention to detail.
Orangeries require a more involved build process so generally incur a higher fee from the outset. Plus, many higher-end options provide a bespoke service to replicate a particular house style.
Is an Orangery Better Than a Conservatory?
If adding a more permanent space is a priority for you and you have the budget to accommodate, then an orangery will more than likely be the best choice.
Orangeries, by their design, offer different qualities to conservatories that makes them a more long-lasting feature and one that will typically add as much value to a house as an extension.
As they tend to have brick pillars and even full walls, together with solid roofs, they are generally better insulated than conservatories. This makes them helpful if the new space will serve as a new home office or smaller living room. And, means they can generally be used all year, unlike conservatories.
"A building with a higher level of masonry will also be easier to maintain as there will be less decorating to do over a period of years," adds Lisa Morton.
Generally, orangeries fall under Permitted Development as they're classed as a small extension, but it is always best to check with your local planning department before breaking ground. It may help, therefore, to assess the differences between an extension or conservatory before making a decision.
An orangery structure can also be designed to complement the existing house with similar features or architectural motifs. As a result, they tend to suit traditional homes which don't want to lose a certain charm or unique design.
What are the Benefits of a Conservatory vs an Orangery?
Not only are conservatories often cheaper than orangeries, they're also far easier to install. Plus, by their nature, they're usually exempt from Building Regulations and planning permission (where restrictions and regulations have been met).
A quick construction with minimal disruption is also largely appealing for homeowners looking for a new sunny space, fast.
The majority-glass designs can also be quite appealing for those looking for a contrast to the existing house's style. What's more, the latest conservatory interior ideas will help to shake the reputation of an uninviting space.
Orangery vs Conservatory: Which Will Suit My Home?
The benefits of conservatories are apparent, particularly regarding cost and build time, however, fluctuations in temperature mean the space is unpleasant to use in summer or winter months. The insulative properties of an orangery have the upper hand here, often meaning an orangery can be used throughout every season.
"Generally, a building with a higher proportion of glass will less efficient at regulating heat, as the amount of glass surface area will be the greatest contributor to solar gain and heat loss," adds Lisa Morton.
Some homes might not suit a conservatory as well, especially when overlooking is an issue, or where cheaper models will negatively impact the exterior appeal.
Orangeries, on the other hand, also have their downsides. Not just more expensive, but the spaces might require planning permission and are often associated with disruptive build processes. The same is true if you're considering replacing a conservatory with an extension.
Assistant Editor Amy began working for Homebuilding & Renovating in 2018. She has an interest in sustainable building methods and always has her eye on the latest design ideas. Amy has interviewed countless self builders, renovators and extenders about their experiences for Homebuilding & Renovating magazine. She is currently renovating a mid-century home, together with her partner, on a DIY basis, and has recently fitted her own kitchen.
Homebuilding & Renovating Newsletter
Get the latest news, reviews and product advice straight to your inbox.
Thank you for signing up to Homebuilding. You will receive a verification email shortly.
There was a problem. Please refresh the page and try again.