Designing a Conservatory: An Essential Guide
By Rebecca Foster published
Designing a conservatory is a great way to create a valuable addition to a home — find out how with advice on cost, materials and build routes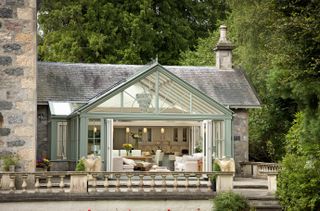 (Image credit: Mozolowski & Murray)
The very idea of what designing a conservatory involves has evolved in recent years. Once upon a time, they were an incredibly popular option for those looking to extend their homes, yet shoddy PVCu structures meant that they were spaces that were too hot in summer, too cold in winter and prone to leaks, drips and condensation.
The new generation of conservatories ideas are anything but downmarket, with refreshed designs in both modern and traditional styles boosting your home's kerb appeal, while advances in glass, better ventilation and smarter home heating all help to keep the internal temperature in check.
With this in mind, we're created the ultimate refresher course in conservatory design — from choosing the best materials on the market to the essential practical advice you need to know when positioning, building and living in your new conservatory.
Designing a Conservatory: Where to Start
Before beginning a conservatory design, it is best to establish what it actually is. Oftentimes they get confused with similar glazed garden room and this can cause issues when it comes to planning permission and building regulations.
A conservatory is defined as a space where at least two thirds of the roof is made from glass and at least half the wall area is made from glass or translucent plastic. Other glazed extension options include orangeries, sunrooms and garden rooms.
Orangeries provide a popular alternative when it comes to light-filled additions. This type of addition usually features a flat roof with a glazed lantern to let sunshine flow in. Rather than glazed walls, orangeries usually feature large windows for garden views.
Sunrooms and garden rooms usually features a solid, tiled roof, potentially with rooflights, allowing sunlight to stream in from above. Large spans of glazing (in the form of floor-to ceiling windows or glazed doors) create the all-important link with the garden.
They differences are subtle but worth you while knowing the differences before getting too far down the design line.
How Do You Design a Conservatory?
To achieve a functional, modern conservatory fit for use all year round you will need to consider the following.
Size
Cost
Orientation
Exterior style
Material
Construction
Heating
Interiors
We go into each area in-depth below with industry expert and design advice.
What is a Good Size for a Conservatory?
To some extent, the size of your conservatory depends on whether you want to build it under Permitted Development. If you're keen to complete your project without having to apply for full planning consent, the size of the structure will need to adhere to the stipulations laid out above.
"Finding the happy balance between what suits your lifestyle and the needs of the property can be a problem when it comes to deciding the size of a new addition," says Lisa Morton, director at Vale Garden Houses. "You may have ideas for a grand and spacious new glazed room, but a modest house would not fit an oversized conservatory, and similarly a larger property will require a more substantial structure to maintain the correct balance."
A full set of stipulations can be found at planningportal.co.uk, but the main rules are as follows:
Single-storey rear extensions should not extend further than 4m from the original dwelling for a detached house, 3m for a semi-detached/terraced house
Single-storey extensions should not exceed 4m in height
The sunroom/orangery/conservatory should cover no more than half the land around the original dwelling
Always consult your local authority if you are unsure — you can obtain a Lawful Development Certificate for peace of mind. If your glazed extension exceeds any of the parameters laid out above, you'll have to submit an application for full planning permission.
Building Regulations will come into play, too. To be considered exempt from some of the more complex regulations, a conservatory needs to be 30m2 or smaller (otherwise the normal regs apply).
Conservatories and orangeries are considered separate structures from the main home. For that reason, a lot of the requirements in terms of Building Regulations aren't as strict. However, to be considered exempt from the usual rules, your addition should fall into a certain set of criteria:
It should be at least 2m from any boundary and have an internal area less than 30m2
It should have its own independent heating system with separate controls
It should be separated from the original house by external walls, windows and/or doors
Saying that, you will need Building Control approval to form a new structural opening between the existing house and the new conservatory.
What is the Average Cost of a Conservatory?
Key factors likely to affect the cost of your conservatory are the size of the structure, frame material and the amount of glass included in the design. "Like with everything, you get what you pay for and it's worth the higher investment to get a bespoke structure that's tailored to your needs," says Richard Bennett from Room Outside.
"For a bespoke structure from our range, you would need to invest £30,000+. This would cover a complete turnkey approach, where we'd handle the design, planning, project management, foundations and the build itself."
A lean-to uPVC structure sits at the lower end of the conservatory cost spectrum and could be achieved for around £5,000. More complex structures, such as Victorian, Edwardian, L-, P- and T-shape conservatories are more likely to cost between £10,000 and £15,000 (in PVCu).
For oak frame conservatories, expect to cost to be somewhere between £30,000 and £40,000. "A realistic cost for a 20m2 oak frame conservatory would be £2,500 per m2 (+VAT)," says James Underwood, a regional design consultant at Oakwrights. "This will deliver an above average build. It's worth bearing in mind, too, that this average cost will fall with larger builds as the computer design and CNC machining costs are spread over a larger footprint."
For more information on choosing the right materials for your conservatory see below.
Position and Orientation: What is the Best Direction for a Conservatory to Face?
The obvious position for your sunroom is at the back of the property so it can act as a transitional zone that links the house and garden. However, a glazed zone positioned to the side or front of your house could provide a dramatic addition, albeit subject to different planning rules.
"For some properties, it's not so obvious where the new room should be placed," says Lisa from Vale Garden Houses. "A conservatory can create a stunning feature on an otherwise unattractive aspect of the house, perhaps embellishing a plain and featureless wall or replacing unattractive outbuildings."
A south-facing conservatory will, of course, get the best of the sun. However, it's also the most likely to overheat in the summer, so some form of overhang may be required to provide shading. A sunroom facing south east will enjoy the best of the morning rays, while a structure that faces south west will take in sunset views – it all depends on how you plan to use the space.
Think about how the new conservatory will link to the existing floorplan, too — you don't want to risk creating a disjointed zone that's cut off everything else. To establish a seamless transition between the glazed area and the rest of the house, you could consider an open-plan layout (note that this arrangement would, however, mean your project would be subject to full Building Regs sign-off).
Incorporating glazed screens rather than solid doors, might be another route to ensuring your conservatory feels connected to the rest of the ground floor.
Styles of Conservatory Designs
The first decision comes down to whether you want to build a conservatory that harmonises with the existing style of the house, or something that contrasts completely.
A traditional Victorian conservatory typically features a ridged glazed roof and multi-faceted walls that open up panoramic views of the garden. Edwardian structures, on the other hand, generally come with a rectangular base and some will incorporate glazed gable ends, too.
A lean-to conservatory is another option, whereby the longest side of the conservatory is connected to the house via single pitched roof. This arrangement is handy if the structure needs to fit into a corner. Depending on the design constraints that arise as a result of the size/shape of your existing house, P- ,L-, T- and U-shaped conservatories are also common.
Another option for a glazed addition is to look at orangery extensions.
"This type of structure is designed with luxury in mind," says Gareth from Welsh Oak Frame. "It originated in Italy in the 17th century to house tropical plants and fruits. Later, this opulent addition to a grand home was considered a sign of wealth and status. The showpiece is the glorious multi-glazed roof lantern that projects out of the building to draw in natural light. It can sit on a mansard or flat roof."
Unsure which design if right for you? Take a look at our guide to orangery vs conservatory extensions.
Choose the Right Material for a Conservatory
Today's PVCu conservatories are a far cry from the sweltering/chilly structures you might remember from the '80s and '90s. "A PVCu conservatory has the potential to last for decades, as it's very sturdy and strong," says Steve Rawding, sales and marketing director at SEH BAC. Minimal upkeep is required, as the material doesn't need to be re-varnished or re-painted to maintain its exterior finish.
Robust, durable and sustainable, timber is another option. Softwoods like larch and Douglas fir can be used, or hardwoods like oak. While it might require a bit more upkeep than plastic, the innate character of wood is difficult for any other material to match. Plus, it's a natural insulator, which means it'll help to keep heat inside the building envelope.
Aluminium is a popular choice for contemporary schemes. Lightweight and innately strong, this metal allows for impressive spans of glazing with narrow sightlines in between. Aluminium will also wear well over time and can be recycled at the end of its useful life.
Choose the Right Glass for Your Conservatory Design
If a low-maintenance home is your goal, look into the possibilities for incorporating self-cleaning glass. Typically, the pane features a surface coating of titanium oxide that means when raindrops fall onto the glass, they spread out to form a single sheet rather than droplet patterns.
"Your designer will advise on the best type of glazing, depending on the size, position, location and use of your new room," says Virginia Murray director of sales and marketing from Mozolowski & Murray. "You might like to consider an anti-sun tinted or reduced glare glass if your conservatory will be an all-year-round sunny spot, or if you're using a section of the space as an office or TV room."
Other glazing options might include obscured glass for privacy, acoustic glass or toughened glass. Bear in mind, up-speccing to include these kinds of products will add to the overall cost of your conservatory. "They can cost up to 25% more than standard glass," says Steve from SEH BAC.
Design and Construction: Can I Build a Conservatory Myself?
It's possible to erect some conservatory kits yourself, too — though this is a job for the more competent DIYer.
Some kits – especially those that come with heavier components, such as oak frame – will need a minimum of two people on site to lift and assemble the larger pieces of the kit.
More typically, a company will design and install your conservatory. However, some suppliers don't have their own team of fitters. If that's the case, then you can either use someone from their approved list of installers or your own builder.
If your supplier doesn't install conservatories directly, then ask if they have a list of recommended installers you can choose from. "A conservatory installed to high construction standards and using high performance components should be provided with a 10-year warranty," says Steve from SEH BAC.
Heat a Conservatory for Year-round Use
Heating a conservatory is essential to ensure your conservatory benefits from a pleasant internal environment all year round (not too cold in the winter, or too hot in the summer). As a result it will need to be carefully designed, positioned and specified at the design stage.
Ensure the glass spec is up to standard (double glazed at a minimum) to prevent too much heat from leaking out via the building fabric. Solid elements should also be considered, such as the insulating a conservatory roof (if you're building an orangery or garden room). Plinth walls and the floor should also be well-insulated.
Underfloor heating is a clever space-saving option when it comes to warming the conservatory — though it will need to run separately from your main central heating system to comply with the Building Regs for conservatories.
Alternatively, electric panel heaters could be used. If the glazing is specified properly, solar gain can be used to heat the space.
Prevent Overheating During Summer Months
A fresh flow of air is essential to avoid the risk of your conservatory overheating.
"Any conservatory needs to incorporate adequate ventilation in the form of opening side windows and roof vents," says Lisa Morton from Vale Garden Houses. "This will help achieve a good through draft to expel hot air. Low E-glass and tinted glass will also help the problem but beware of some tinted glass that will dull the light — even in winter, when you need it most."
Conservatory roof blinds are also a useful, but cost-effective way to create shade in a conservatory.
Designing the Interiors: How Do You Make a Conservatory Look Modern?
While a conservatory is predominantly glass, make the most of the structural elements of the space to express your style. Think about conservatory interior ideas the same you would any other room; introduce colour and texture through blinds and other visual elements, such as exposed brick or a statement door.
Conservatory lighting plans will make the space practical in the evenings, but tailor the design to the function. For instance, a dining room conservatory would be best suited to a mood-setting pendant light, while a home office needs good task lighting on duller days.
Adding conservatory flooring ideas to your design will also be pivotal in the success of the room:
Real stone can be used to stunning aesthetic effect, especially if you plan to match it with similar tiles that have been used in the existing house or garden. Stone also works well with underfloor heating.
"Ceramic tiles are a stable choice, too, with little ongoing maintenance required," says Lisa from Vale Garden Houses. "A well-engineered timber floor will give your room a lovely warm feel and will be relatively stable if well laid. Beware of cheap timber floors that can shrink, move or warp."
Carpet is another option, though if you are using underfloor heating, ensure the combined value of the carpet and the underlay isn't too high, otherwise the warmth won't come through effectively. A high-quality linoleum product is another option if you're working to a tight budget.
Window Treatments for Conservatories
Incorporating conservatory blind ideas can be a good idea, both for privacy and to provide shade on sunny days. If overheating is an issue, solar reflective roller blinds can be installed to help alleviate the effects of the sun's rays.
Other design options include pleated fabric, Roman blinds or slatted Venetian designs. How you want to operate the blinds is also an important choice. If you don't want to fiddle around with pull cords or rods, automated blinds might be the best solution.
What are the Pros and Cons of a Conservatory?
As well as boosting your home's floor space, a well-designed conservatory could add to the property's overall value. "Extending with a garden room is also a great opportunity to introduce more light," says Gareth Edmunds, director at Welsh Oak Frame.
Whether you opt to build a full glass extension, orangery or a garden room, an attractive addition could inject your home with extra kerb appeal.
On the downside, you'll need to factor in the heat loss associated with having a large glazed structure attached to your house. Though manufacturing advances in the past two decades mean conservatories perform a lot better in terms of heat loss than they did in the '80s and '90s, glass will never match the thermal performance of solid walls. Clever design can help you offset some of the heat loss if the extension is positioned to make the most of solar gain.
Can you Knock Through into a Conservatory?
You can't knock through into a conservatory without adhering to rules for regulation extensions. If your glazed addition doesn't fall into the definition of what a conservatory is (for example, if you decided to integrate it with the rest of the floorplan as part of an open-plan layout), it will be considered a regular extension and therefore need to adhere to the regular rules.
If this is not the case, you may want to consider replacing a conservatory with an extension.
Should I Choose a Conservatory or an Extension?
When it comes to choosing between an extension or conservatory, think about what best suits your house. A lot depends on the style of your existing house, how you want to use the new space and the budget you have available.
"If you're looking to provide a seamless transition between your home and garden, then a conservatory is a great way to bring the outdoors in," says Steve Rawding, of SEH BAC. "A modern conservatory offers the flexibility to use a space for many purposes, so if you want a new office, dining space or additional living room, it could be perfect."
How you plan to link the new zone to the existing floorplan is a key factor. For a separate room that can be closed off to be used when required, a conservatory is ideal. However, if you plan on establishing a seamless open-plan layout, building an extension with lots of glazing might be the better fit.
If you're working with a tight budget, an off-the-shelf conservatory is also likely to come in cheaper than an extension — though, of course, overall costs will depend on the level of spec you go for.
How Long Does a Conservatory Last?
Thanks to advances in materials and manufacturing, modern conservatories will not only be more comfortable year-round than 20th-century additions, but they'll last longer, too.
"If the structure is built by a specialist company that takes full responsibility for the manufacturing and installation process, there shouldn't be any issues," says Virginia Murray from Mozolowski & Murray. "Issues such as misting between double glazed units will only occur if a product has been poorly manufactured or fitted."
Before parting with any cash, double check what kind of warranty your conservatory comes with. Opting for a supply and fit package from your chosen company is a smart move, as you'll only have one point of contact to deal with in case anything goes wrong.
There are a few key maintenance jobs you can do yourself to lengthen your conservatory's lifespan, too. "For timber, simply wash it with clean warm water and leave it to try.
Apply another coat of microporous sealant on a regular basis to protect the frames from harsh weather," says Steve from SEH BAC. "For effective drainage, clear the debris and leaves from the gutter. Purchasing a gutter guard to keep debris and leaves out permanently is a good idea."
Does a Conservatory Add Value?
Providing it is well-designed, well-built and well-ventilated, a conservatory can potentially add value to your home. Savills estimates that a garden room will add between 8% and 10% to the overall value of a property in London, and between 5% and 10% in other areas of the country.
To get maximum value for money, it's important that the design of your conservatory complements the original house. It should be built from high quality, long-lasting materials.
It might offer flexibility, too — for example, a space that functions as a home office during the day and transforms into an elegant dining area in the evening.
How to Clean Conservatory Glass
A standard glass cleaner should be suitable for the inner panes of your conservatory, unless otherwise stated by your supplier. Don't forget to wipe down the frames with a clean cloth, too.
"Outside, windows usually have more dirt and stains, so start by rinsing the windows with a hose, then fill a bucket with clean, cool water and a non-silicon-based cleaning solution," says Steve from SEH BAC.
"Using a soft microfibre cloth, go over the surface of the window, rinse thoroughly with the hose and then wipe the window dry using a clean, rubber-bladed squeegee."
The surface of your conservatory should be cleaned at least once a year.
How Can I Make Sure my Conservatory is Secure?
Check that all the windows and doors have an effective locking system — look out for products that come with Secured By Design accreditation.
To give the security an extra boost, consider installing laminated safety glass on the inside pane of the sealed windows. "You can also increase security by making sure your glass roof is made from ultra-secure toughened glass," says Steve from SEH BAC.
Can I Replace the Roof on an Existing Conservatory?
If you already have a conservatory, it may be more cost effective to update and repair the existing structure than build a new one from scratch. If the roof is leaking or starting to look dated, a new covering may be all that's needed to breathe new life into the addition. Plus, if the existing polycarbonate roof means that your conservatory is too hot in the summer but too cold in the winter, upgrading the roof could result in a space you're able to use all year round.
(MORE: Conservatory Roof Replacement)
If you plan to replace the existing roof with a solid alternative, the work is covered by Building Regulations, which means you will need to submit a building control application and have the work monitored by a building inspector.
Using a lightweight roofing solution (such as moulded resin sheets or lightweight tiles) means that you might get away with not having to carry out too much in the way of additional reinforcements to the existing foundations. If your conservatory has PVCu windows, some steel reinforcements will likely be needed in the main supporting frame. If that's not an option, you may need to install new windows or a new supporting framework.
Rebecca is an experienced homes and interiors writer with a passion for Victorian architecture. Her dream is to extend an 1800s house
Homebuilding & Renovating Newsletter
Get the latest news, reviews and product advice straight to your inbox.
Thank you for signing up to Homebuilding. You will receive a verification email shortly.
There was a problem. Please refresh the page and try again.