20 Genius Conservatory Ideas to Suit Every Home
By Katie Corcoran , Amy Reeves
Expand your living space with these modern conservatory ideas that will create a natural link between home and garden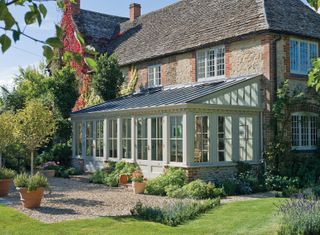 (Image credit: Vale Garden Rooms)
Our round-up of conservatory ideas will help you create a beautiful room with a view that seamlessly extends into the garden.
Adding a conservatory to your home will not only boost your living space but allow you to enjoy your garden all year round.
First, it's important to distinguish between conservatories, sunrooms, orangeries and glazed extensions. Conservatories need to have at least two thirds of the room's roof and a minimum of 50% the walls made of glass to fall into this category.
Orangeries (of which are there some ideas below) generally feature a flat or mansard roof with a glazed lantern for extra light while sunrooms often have a solid roof and large panels of glazing. These distinctions are important regarding building regulations, but the ideas associated can be generally carried from project to project.
Depending on your style of home and your budget, these multi-purpose glazed extensions are available in a range of configurations, from off-the-shelf options to fully bespoke designs.
1. Let Great Conservatory Ideas Create a Connection with the Garden
One of the biggest draws of adding a new conservatory or upgrading an existing one is the instant link it forms between the main house and the outdoor spaces.
A mid-way sanctuary, conservatories offer the best of both worlds and modern advancements in glazing and insulation means they are suitable for use all year-round.
Here, matching indoor and outdoor porcelain flooring tiles means that when the patio doors are opened, the boundaries are blurred and the space feels beautifully light and open.
(MORE: Ways to Bring the Outside In)
2. Even Small Conservatories Can be Impactful
Light is the best way to open up a small space, which is why compact conservatories often appear more spacious than they are and can sometimes work better than building an extension.
Small designs work well with terraced homes and cottages, but it is best to give them a purpose as a destination. They make the perfect light-filled hobby room, a spot for reading or even to house a home office design.
(MORE: Small House Extension Ideas)
3. Consider Adding an Orangery for some Elegant Extra Space
Classic orangeries tend to be sympathetic to the existing property, blending in with the look and feel of your home.
What is an Orangery?
An orangery is a more substantial building that has less glass and more structured walls. They tend to have a solid roof with a large glazed roof lantern in the centre.
Look at including colours and materials that complement, and pay attention to the overall design and roof style.
"Where possible utilise matching building materials for the base works — reclaim or handmade bricks, stone, flint facings and render, all need to be appropriate to the building and the area in which you reside," says Lisa Morton Director at Vale Garden Houses.
(MORE: Matching Materials for an Extension)
4. Opt for a Warming Pop of Colour in a New Conservatory
Manufacturers can add colour to your conservatory frame to match your existing home, or to create a striking contrast. Natural shades and muted greens are a popular choice for period properties, while grey and white tend to be better suited to modern houses.
"If you're looking to add colour into your conservatory, PVCu or timber are now widely available in an array of colours and finishes and can even be made with wood grain details. With the option of choosing a dual colour combination, homeowners are allowed to add colour into their conservatories in a variety of ways," says Ryan Schofield, Managing Director from Thames Valley Window Company.
5. A Modern Glazed Extension Should Ooze Contemporary Style
Today's contemporary glass box extension ideas have a minimalist finish with floor-to-ceiling glass walls which look stunning from every angle.
Often square or rectangular, modern lean-to conservatories and glass extensions feature bifold doors and roof lanterns to create a space that basks in natural light and fully unites the home and the garden.
6. Make the Roof a Feature in Your Conservatory Idea
Gothic and Victorian style conservatories often have a steeply pitched roof and ornate detailing. Choosing this style is an effective way to add an eye-catching design feature that suits period properties.
(MORE: Conservatory Roof Replacement)
7. Create a Beautiful Library in a Glazed Space
This sunroom masterfully adds a pop of colour and personality with a full-height bookcase full of personal items and books. A similar effect can be produced in a conservatory with freestanding units or a characterful shelving display.
(MORE: Sunroom Ideas)
8. Create Instant Wow-factor with a Large Glazed Kitchen Extension
A large glazed extension is perfect for creating a multipurpose living space.
Ideal for a light and airy kitchen, adding a kitchen conservatory extension will open up your house to create a social space, with garden views. Perfect for cooking and entertaining.
9. Materials for a New Conservatory
There are various benefits to the different types of materials with which to construct a conservatory or glazed space including:
Aluminium: strong, yet slim structure
Hardwoods like oak or Accoya: characterful but potentially costly
Softwoods like larch and Douglas fir: charming but require maintenance
PVCu: Cost-effective but not as long-lasting
(MORE: Oak Frame Conservatory Ideas)
10. A Lean-to Conservatory Idea is an Affordable Option
The most popular conservatory idea is a lean-to conservatory with a single, angular sloping roof. Often referred to as a modern-day garden room, it is a simple and affordable design that can be adapted to suit both period properties and modern homes.
Do I Need Planning Permission for a Conservatory?
Most conservatories can be built under Permitted Development with the same rules that apply for a single-storey extension.
"Lean-to structures are simpler in style than traditional conservatory designs, with large expanses of glass that make the most of outside views. These structures also pair perfectly with bifold and sliding doors and suit nearly every home," says Ryan Schofield, Managing Director, Thames Valley Window Company.
11. Finish a Conservatory with Beautiful Patio Doors
When designing a new conservatory, a delightful decision to make it which type of patio doors you are wanting to include.
Sliding and bifold doors are ideal for contemporary styles that need to be pulled back for a seamless inside/outside environment while traditional French or Belgian offer a charm to match period properties.
12. Consider Adding a Heat Source to a Conservatory
Whether it's underfloor heating, a radiators, or log burning stoves, adding a source to stay warm in the winter is a great idea for all glazed structures.
This is especially important to rooms designed to be used in the evenings, such as a living or dining room.
13. Avoid Overheating in the Summer
With such large amounts of glazing magnifying the sunshine, it's no wonder old conservatories were unusable for two-thirds of the year. However, taking this into consideration when designing or upgrading a conservatory is essential for a modern space.
Looking for glazing which has a special coating is one way to combat overheating, while retrofitting solar control window films is a cost-effective option for existing spaces.
14. Good Lighting Will Create Evening Ambiance
Although conservatories and orangeries will be flooded with natural light during the day, they can become dark and uninviting at night, so it pays to consider your artificial lighting design.
Well placed, dimmable, wall lights will catch the light and twinkle against the glass
The addition of softer table lights will create a relaxing, warm glow
Built-in, discreet spotlights can add directional lighting along walls and are especially suited to orangeries and glazed extensions
LED strip floor lighting is also a good choice along any steps or split level areas
Light your garden with outdoor lights to create something that glows beyond the glass
(MORE: Garden Lighting Ideas)
15. Add a Dining Room in a Conservatory
Come rain or shine, experience the joys of eating outside with getting soggy by using a conservatory as a dining room.
Elegant and effortlessly stylish, this modern dining room feels light and bright for a morning brunch, while the wired pendant light means the space is ready for dazzling on an evening with guests.
(MORE: Dining Room Ideas)
16. Blinds Will Keep Your Conservatory Cool
To make the most of your conservatory, you will want to focus on adding blinds or window films to create shade, as well as privacy.
Electric blinds are a great way to cover a glass ceiling area that is hard to reach but can become expensive as there will be a lot of glass to cover. You can however get handy tools to help you manually open roof blinds to keep costs down.
17. Add a Touch of Elegance to Your Home with Traditional Conservatory Ideas
For something architecturally striking, an Edwardian-style conservatory often has a square shape and large glass panels, which gives a timeless yet stylish look.
Victorian-style conservatories, on the other hand, are elegant and spacious and feature a rounded bay frontage that allows for panoramic views of the garden.
18. Deciding Where to Put a New Conservatory
Think about how and when a new conservatory will be used before deciding on its location. A south-east direction will make the most of morning rays while south-westerly orientations will capture sunset views.
19. Create a Seamless Link Between Your Conservatory and the Garden
Clever flooring and bifold doors can create a seamless transition from inside to out.
Look for indoor and outdoor tiles in a similar colour and with an anti-slip finish.
By using the same flooring for your conservatory and patio you will create the illusion of space, as well as a functional entertaining area with added wow factor.
Embrace the Benefits to Wellbeing a Conservatory can Offer
Awareness of how our houses can affect our wellbeing has been steadily growing in recent years. From a healthier home air environment to spaces which spark a sense of relaxation, there are many ways in which home design can impact our lives beyond the obvious.
Consider adding greenery to a conservatory, creating an oasis away from a home office, or introducing the theory of daylighting into the design.
(MORE: Building a Healthy Home)
Homebuilding & Renovating Newsletter
Get the latest news, reviews and product advice straight to your inbox.
Thank you for signing up to Homebuilding. You will receive a verification email shortly.
There was a problem. Please refresh the page and try again.