Conservatory Roof Blinds: A Buyer's Guide
By Natasha Brinsmead published
The right conservatory roof blinds could be essential if you want to enjoy your conservatory throughout the seasons. Here we explore the options and costs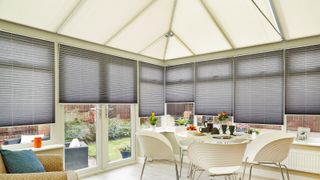 (Image credit: Hillarys)
There are lots of reasons why people choose to fit conservatory roof blinds, but choosing the right style, size and material can be tricky.
If you are looking for ways to provide shade and privacy in your conservatory, our guide to choosing conservatory roof blinds is here to ensure the design you end up with is right for you and your individual needs. This key conservatory idea can bring the added benefit of providing solar shading in the summer months, and helping to keep in the warmth in the winter.
In this guide we cover everything from what conservatory roof blinds cost to the different methods of operation — as well as the alternative options.
Do I Need Conservatory Roof Blinds?
If you have a conservatory or sunroom then the chances are, if you are to enjoy it all year round, you will need some form of shading for all that glazing. A large amount of the light entering a conservatory streams in from above so, unless you have a conservatory with a solid roof, this will be something you need to address.
There are several ways in which you can manage the amount of light coming in from your conservatory roof, but conservatory roof blinds are one of the best. Their benefits include:
Temperature control: Conservatories are notorious for overheating in summer and being akin to a refrigerator in the winter. Conservatory roof blinds can work as an insulating layer during the colder months and as a shade when the sun comes out, helping to prevent overheating in homes.
Management of light levels: Temperature aside, when the sun is blazing, the brightness levels in a conservatory can become a little intense, leaving you squinting while you try to relax, read or work. Strategically placed roof blinds are ideal to prevent this.
UV damage prevention: Strong UV rays can result in faded furniture and may even affect conservatory flooring. Certain types of conservatory roof blinds can protect your interiors from UV damage while still allowing a pleasant amount of light through.
Glare reduction: If you plan on positioning a TV in your conservatory, or are likely to use a laptop or any other device with a screen in the space, roof blinds will help to ensure you are not constantly struggling with annoying glare.
Privacy: If you have neighbours, consider the fact that a glazed space such as a conservatory can easily be overlooked — roof blinds will ensure you don't feel like anyone is peering in at you while you relax.
Adding a visual warmth: The right type of conservatory roof blinds will ensure your room doesn't feel too cold or sterile, softening the space and adding to your interior design scheme. They can also add a level of noise reduction.
Do Conservatory Roof Blinds Work?
Providing you choose the right conservatory roof blinds for your needs then they should deliver on a practical level.
If you want them to provide shading from the sun or prevent glare, then you must ensure your windows are properly measured to ensure a good fit — you may well need to buy custom-made roof blinds if you cannot find off-the-shelf blinds in the right size. It is also advisable to get them fitted by a specialist.
If you are investing in roof blinds to keep a space from overheating or becoming too cold, you will need to look for products specifically designed for the job.
Some roof blinds are available with a honeycomb-type construction, designed to provide an extra level of insulation to retain heat, while others come with the option of a reflective solar lining to keep heat out.
Types of Conservatory Roof Blinds
Just as with regular blinds, styles of conservatory roof blinds vary. The most common types are:
Pleated roof blinds: These are one of the most popular styles of conservatory roof blinds, being visually attractive as well as practical. They are often made to measure, shaped to fit into complex forms and narrow corners. When open they tuck neatly out of the way and can be operated manually or automatically.
Conservatory roof roller blinds: Roof roller blinds offer a very subtle way to provide shade, with a sleek, unfussy look. However, it is important to discuss your needs with your supplier — they will usually need to be custom made to ensure a good fit.
Thermal roof blinds: Many styles of roof blinds are available with additional thermal qualities and sun protection coatings.
Conservatory roof sail blinds: This type of roof blind looks very striking, is easy to fit and offers good shading providing good positioning is considered. They are also often designed to be easily taken down for cleaning. On the downside, they will not fully block light and can't offer the same kind of thermal protection as other types of blind.
Perfect fit roof blinds: Also known as 'no-drill blinds' these come fixed into a frame, ready to clip directly into the frame of your window. They are usually only suitable for uPVC conservatories and don't always suit complex roof configurations.
Pinoleum roof blinds: These are visually attractive. Made from narrow stripes of pine, they offer good natural insulation and shading, while still allowing light through. Used alone (with no lining) they will only offer medium privacy levels.
How Do Conservatory Roof Blinds Work?
Just as with standard blinds, conservatory roof blinds can be operated in a number of ways.
Manual roof blinds can be operated by handles, locking them exactly where you leave them. Other manual blinds are operated with a cord or chain. Some require the use of a rod if the roof is just out of reach areas.
If it is ease of operation you are after, remote control blinds are ideal. Systems can be mains or battery powered and some allow you to operate each blind individually — which can be more useful than those that only allow you to open and close all the blinds at once.
If you want to take things to the next level, you could consider having your blinds connected to your smart home system, allowing control from a smartphone or tablet.
Electric blinds can also be set on timers, while some systems come with temperature and light sensors.
Are DIY Conservatory Roof Blinds Available?
If you want DIY conservatory roof blinds in order to cut down on installation costs, you should take a look at perfect fit blinds or sail blinds.
In the case of perfect fit, or 'no-drill' blinds, you order them in the size you need. They are then delivered ready to clip into place. It is vital that you measure your roof windows accurately.
Sail shade blinds are also simple to fit on a DIY basis. They are usually delivered after you have submitted your required measurements. They can then be attached using either adhesive strips, tie-bar fixings or clips.
How Much do Conservatory Roof Blinds Cost?
Conservatory roof blind costs will very much vary depending on the style you opt for, whether you buy standard sizes or require for a bespoke option, the operating system you choose and who you get to fit them. Optional extras, such as solar protection, will also add to your final costs.
Conservatory roof blind prices are often higher than regular blinds and this is something to take into account when working out how much a conservatory will cost you overall. This is because they are often made to measure and designed to fit into complex roof shapes. They are also made using parts and fabrics designed to withstand high light and UV levels.
Blinds that can be fitted on a DIY basis can save on labour costs but won't always be cheaper to purchase. Pleated, pinoleum and roller conservatory roof blinds all tend to start from around between £900 - £1,000 for a 3.3m x 2.8m lean-to style conservatory, although this price can easily rise to rise to more than £4,000. Obviously the bigger the structure and the more complex the roof structure, the higher the price.
Conservatory sail shades tend to be a cost-effective option, although once again, this will very much depend on how many you require and the quality of the fabric you opt for.
What is The Alternative to Conservatory Roof Blinds?
If you are looking for an alternative to conservatory roof blinds – perhaps due to cost, or the fact that your blinds might not fit in with your conservatory interior ideas – you have several options.
The first if to opt for a conservatory with a solid roof as opposed to a fully glazed structure. Solid roof conservatories do still often feature ceiling glazing though, so some thought will still need to be given to how your will control the levels of light from above.
For those with existing conservatories, a conservatory roof replacement might be the answer.
Another option is window film. These products come in various forms, from those that prevent too much heat from entering the space to films that prevent glare and harmful UV rays. Depending on the finish or pattern you opt for, window film can also provide privacy. It also costs less than blinds.
Specialist glass can also help here — although this may well cost more than blinds. Tinted glass and switchable or smart glass are all great options.
Natasha is Homebuilding & Renovating's Associate Editor and has been a member of the team for over two decades. An experienced journalist and renovation expert, she has written for a number of homes titles. She has renovated a terrace and is at the end of the DIY renovation and extension of her Edwardian cottage. She is now looking for her next project.
Homebuilding & Renovating Newsletter
Get the latest news, reviews and product advice straight to your inbox.
Thank you for signing up to Homebuilding. You will receive a verification email shortly.
There was a problem. Please refresh the page and try again.