Loft Conversion Bathrooms: 14 Genius Ideas to Make Them Work
By Rebecca Foster published
A loft conversion bathroom is a brilliant addition to your home when extending upwards. Get the design right with the help of these inspiring real life spaces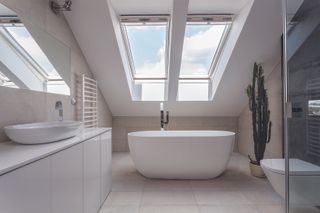 (Image credit: BC Designs)
Loft conversion bathrooms are tricky to make the most of — they're often small and may have to factor in sloping ceilings, depending on the type of loft conversion you've opted for.
However, despite their limitations, a bathroom in a loft conversion can be super effective design-wise. With such a wide range of bathroom fittings available these days, it's not hard to find quality fixtures for a compact space, while its position at the top of your house lends itself well to bringing huge amounts of natural light into the space.
Take a look at these 14 real spaces to garner inspiration for your loft conversion project — there's plenty of lessons to be learned from these clever bathrooms!
1. Create Privacy in Your Loft Conversion Bathroom with These Clever Windows
This loft conversion bathroom is flooded with sunshine thanks to two minimal frameless windows and a rooflight overhead. Switchable smart glass has been used for the windows to provide instant privacy when required.
The switchable glass laminate contains liquid crystal polymers between two panes of glass connected to an electric current, which allows the windows to instantly swap between translucent/transparent. This loft conversion was carried out by A2studio.
2. Make Use of the Eaves in Your Loft Conversion for Bathroom Storage
Though this 1930s property already had a habitable loft when it was purchased, the owners were keen to re-jig the space to better suit their needs. Econoloft added a small cottage dormer to the front of the house, including three Velux windows, to add an additional bedroom and bathroom.
Every inch of space has been used effectively, with smaller fittings and shelves in the eaves to make the most of every nook and cranny
3. Add More Space for Your Bathroom with a Loft Extension
This rear mansard loft conversion was carried out by the team at Econoloft. The project has created a new main bedroom with an ensuite and Juliet balcony, with all the work completed under Permitted Development rights. The bathroom has been kitted out in a fresh, modern style with a double shower enclosure and bidet.
(MORE: Types of Loft Conversion Explained)
4. Small Loft Conversion? Use a Pocket Door in the Bathroom
This loft extension by Edward McCann Architecture has established a new bedroom, bathroom and walk-in wardrobe on the top floor of the house. Clever design was essential to make the most of the tight footprint.
A pocket door that slides back into the wall has been employed to save on precious inches, doing away with the need to allow space for a door to swing outwards onto the landing or open inwards into the bathroom
5. Opt for a Light and Airy Bathroom Scheme in a Loft Conversion
Metro wall tiles with black grouting give this loft ensuite by Ash Island Lofts a sleek, urban edge. Gold fittings inject the compact space with a luxe feel and complement the handcrafted bulkhead oval wall lights from Industville. The lights are available in a brass, black or gunmetal finish
6. Seek Out a Compact Tub for a Small Loft Conversion Bathroom
The Tubby Tore freestanding bath from Albion Baths was chosen for this loft conversion bathroom, as it's a compact solution that still allows for a focal feature. Mitchell + Corti Architects utilized the space between the protruding chimney stack and the rear wall to create a niche with built-in shelves. The corner mirror was chosen to enhance the sense of brightness and space
7. Locate the Shower Where the Loft Conversion Ceiling is Highest
For the design team at Ripples, the main challenge for this bathroom revolved around creating a bright and practical zone in a space with sloping walls and a low ceiling.
The walk-in shower is positioned where the ceiling height is greatest to make the most of the limited space, with made-to-measure glass screens forming the enclosure. The large mirror opposite the Velux window helps to bounce natural light around the room.
8. Create a 'Broken-Plan' Bathroom in Your Loft Conversion
This double fronted period property in North London came with a large roof space that was originally just used for storage. North Architects Studio helped the owners transform the under-utilized area into a stunning bedroom suite with views across the nature park to the rear of the house.
To help preserve the feeling of spaciousness, a half partition has been used to separate the bedroom and ensuite, with a curtain that can be pulled across for privacy. This allows for the fully glazed rear façade to take centre stage and maximise the leafy views.
(MORE: Ensuite Ideas)
9. Design a Wet Room Bathroom for a Loft Conversion
Inspired by 1950s design, the owners of this South London property infused the house with a new lease of life by carrying out a full refurbishment, rear extension and loft conversion.
As a professional architect, John Proctor of Proctor + Shaw Architects (proctorandshaw.com) planned the design for the loft bedroom suite himself. The timber ceilings and beams provide a warm, tactile finish overhead, establishing a gorgeous contrast to the Terazzo tiles that have been used on the floor, walls and countertop. The minimal use of materials help reduces the visual clutter, while a tiled shower floor reduces the need for a separate shower tray.
Aluminium framed floor-to-ceiling glazing was provided by Velfac.
10. Specify Large Format Bathroom Tiles in a Compact Loft Conversion
This spacious loft conversion bathroom has been kitted out with Stucco porcelain tiles from Stone & Ceramic Warehouse. Choosing large format tiles for a loft conversion bathroom where space is limited (the wall tiles here measure 60cm x 120cm, the floor tiles are 60cm x 60cm) is a smart move, as there are fewer grout lines on show to create a minimal, uncluttered finish.
11. Locate Your Bath Under the Eaves
This light-filled bathroom was created as part of a mansard loft conversion, carried out by Simply Loft. The design for the space was carefully put together by the homeowner, before being kitted out by Simply Loft. The freestanding bath beneath the eaves adds a luxurious flourish.
12. Add a Roof Light During Your Loft Conversion for a Lighter, Brighter Bathroom
This loft conversion bathroom is flooded with natural light thanks to the Velux window above the bath. A conservation roof window was chosen to complement the period charm of the Edwardian property. Keen to create a tasteful blend of traditional and modern elements, homeowners Katherine and Antony chose patterned tiles for the floor, with a Crittall-style shower screen to bring a contemporary, industrial edge
13. Position the Bathroom Essentials Under the Eaves
This design for this monochrome loft conversion bathroom was put together by The Gentleman Architect. A stud wall has been built out under the eaves to house the plumbing for a wall hung WC and basin — clever positioning as the WC doesn't require much head height to use, while the basin area is offered a more head room thanks to large roof glazing.
14. Choose a Minimalist Bathroom Style for a Small Loft Conversion
West Architecture designed these two zinc box extensions to sit atop two late 20th century houses in East London. The additions have allowed for a new bedroom, shower and WC on the top floor.
A minimalist approach was taken towards the interior fit-out. The shower room has been lined with terrazzo sheets and features a bespoke terrazzo vanity unit. This smooth surface material contracts from the Douglas fir plywood that has been used on all floor and wall surfaces in the bedroom.
Rebecca is an experienced homes and interiors writer with a passion for Victorian architecture. Her dream is to extend an 1800s house
Homebuilding & Renovating Newsletter
Get the latest news, reviews and product advice straight to your inbox.
Thank you for signing up to Homebuilding. You will receive a verification email shortly.
There was a problem. Please refresh the page and try again.