Aluminium Bifold Doors: Pros and Cons
Aluminium bifold doors look great and perform brilliantly — we look at how they compare to other types of bifold doors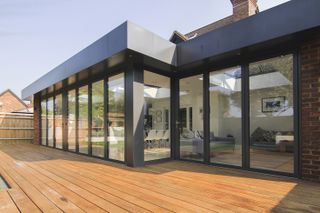 (Image credit: Thames Valley Window Co.)
Aluminium bifold doors are now a hugely popular choice with all kinds of homeowner, from self builders and renovators to those extending — and, given the numerous advantages of this type of patio door, it is easy to see why.
From aesthetics to energy efficiency, aluminium bifold doors are a great option and within this article we discuss how they compare to bifolds made from other materials, such as timber and PVCu, along with aluminium bifold costs and the glazing options too.
For a full rundown of all your bifold door options read our Ultimate Guide to Bifold Doors.
Why Choose Aluminium Bifold Doors?
There is a variety of reasons why aluminium bifold doors are a great choice in all in all kinds of settings.
Despite often being thought of as only suitable for contemporary style houses and extensions, they can actually suit all kinds of house style thanks to the wide range of colours and finishes they are available in — plus very often a contemporary contrast in an otherwise traditional style property is no bad thing.
The main advantages of aluminium bifold doors are:
They come in a massive range of sizes. Incredibly wide panel sizes are made possible thanks to the strong, lightweight properties of aluminium
The stability they offer — they will not warp, twist or rot as they age
The range of colours and finishes they are available in, including woodgrain
Their low maintenance requirements
They require no preparation before being fitted in terms of priming or painting
Providing they are constructed with a thermal break, they offer fantastic thermal efficiency
They can be constructed with very slim sightlines
As aluminium is strong they are very secure, provided they are fitted with a good locking system
Aluminium Bifold Doors vs. Timber Bifolds
Wooden bifold doors remain a popular option too. They offer plenty of character and warmth to a home and are a common choice with those renovating older properties as they tie in well with original timber windows and doors elsewhere.
It is wise to opt for engineered timber bifold doors as opposed to solid wood as these have a greater tendency to warp and twist.
Unlike aluminium bifold doors, wooden versions do require a little maintenance in order to retain their good looks — painted versions may need a fresh coat from time to time, while oiling, staining and sanding can be require for unpainted versions too.
When it comes to the cost of wooden bifold doors, what you pay will depend largely on the type of timber you opt for. Softwood will be cheaper than hardwood but is more likely to suffer from movement and will need more upkeep.
Engineered timber bifold doors cost around the same as aluminium, depending on the specification you opt for.
Aluminium Bifolds vs. PVCu Bifold Doors
It is fair to say that PVCi bifold doors have come on in leaps and bounds in recent years, thanks to developments in the way they are manufactured. What this has meant is that they are now available in a greater range of styles and colours and with slimmer sightlines than they had before too.
One of the main reasons people choose PVCu bifold doors tends to be the fact that they are normally cheaper than both aluminium bifold doors as well as timber. They are also a low maintenance option.
On the downside, some of the cheaper doors on the market have been known to suffer from colour fade over time and they can also lack the longevity enjoyed by aluminium bifolds.
Despite the progress, it is still rare for PVCu bifold doors to match the slim sightlines offered by aluminium.
What Sizes do Aluminium Bifold Doors Come In?
The sizes of aluminium bifold doors will be chosen to tie in with the size of the aperture you are filling, as well as the configuration of doors you are opting for.
Aluminium bifold doors come in a massive range of standard sizes but can also be custom made to suit any individual requirements. Due to the lightweight nature of aluminium, aluminium bifolds are usually available with larger panel widths than PVCu and timber.
The standard heights of bifold are 2090mm or 2100mm but of course this will vary from supplier to supplier.
When it comes to bespoke bifold doors, you could go up to 1200mm per panel and 3500mm high — this means vast openings are possible when having runs made up of six or more panels.
How Much do Aluminium Bifold Doors Cost?
There is no getting away from it — aluminium bi-fold doors are never going to be considered a budget option. Compared to PVCu they are easily the more expensive of the two and they can also be pricier than many timber versions.
However, that said, they come with many advantages that make their higher cost understandable and many of these initial costs are offset over time.
They require no maintenance costs and come with longer guarantees than many other types of bifold — plus, thanks to their brilliant thermal properties you could also find your heating bills lowered.
You could expect to pay around £1,900 for a 2-panel 1.8m set of aluminium bifolds.
Are Aluminium Bifold Doors Energy Efficient?
When looking at how thermally efficient bifold doors are, it is the U-Value that you need to pay attention to. The lower the U-Value of a door, the better.
Building regulations state that new replacement doors must have a maximum U-Value of 1.8W/m2k.
Although the glazing you choose will also have an effect on how thermally efficient your new bifold doors are, the frame material will also have a huge impact. Aluminium doors used to be thought of as being less thermally efficient than timber but that is no longer the case.
These days aluminium bifolds are fitted with thermal breaks. A thermal break is made of a non-conductive material and this sits between the inner and outer frames to reduce the transfer of thermal energy. Aluminium bifolds fitted with triple glazing can achieve U-values of around 0.9W/m2K.
Are Aluminium Bifold Doors Secure?
Any homeowner will want to ensure that, when fitting large openings into their homes, they are going to offer maximum security.
When buying new bifold doors bear in mind that all new doors must conform to PAS 24:2016 security standards as a minimum. It is also wise to seek out doors that have been manufactured to meet the Secured by Design Standard.
Ideally you want to opt for doors that come fitted with a multi-point locking system.
Get the Homebuilding & Renovating Newsletter
Bring your dream home to life with expert advice, how-to guides and design inspiration, direct to your inbox.
Natasha is Homebuilding & Renovating's Associate Content Editor and has been a member of the team for over two decades. An experienced journalist and renovation expert, she has written for a number of homes titles. Over the years Natasha has renovated and carried out a side extension to a Victorian terrace. She is currently living in the rural Edwardian cottage she renovated and extended on a largely DIY basis, living on site for the duration of the project. She is now looking for her next project — something which is proving far harder than she thought it would be.