Sliding Patio Doors: How to Choose, Install and Buy
By Natasha Brinsmead published
Sliding patio doors are perfect for creating a seamless link between inside and out — our guide explains how to make the right choice for your home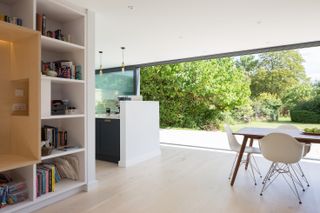 (Image credit: ID Systems)
Sliding patio doors, along with bifold doors, have to be amongst the most popular of all features for self builds, extension projects and renovations these days.
Sliding patio doors come with so many benefits, from their ability to blur the boundary between inside and out to the huge amounts of natural light they can pull in, as well as the way they seem to make spaces feel more spacious.
Advantages of Sliding Patio Doors
The popularity of sliding patio doors is not hard to justify — there are so many advantages.
What's more, the advantages of sliding patio doors are not limited to one particular style of house. This is a feature that suits contemporary and traditional homes alike, thanks to the enormous choice of sliding door materials and designs.
This choice also means that sliding patio doors can be enjoyed by homeowners working with all kinds of budgets for their projects.
Some of the main advantages of sliding patio doors are:
Large expanses of glass possible: Sliding patio doors allow for huge glazed apertures to be created — adding plenty of wow factor but also flooding interiors with light and maximising views.
Unbroken views: Sliding patio doors are now available with slimmer sightlines than ever before meaning less frame to get in the way of your enjoyment of your views.
Heighten the relationship between inside and out: Not only do sliding doors allow you to view your garden better when inside, but when opened up they make the garden feel like an extension of your interior spaces, particularly when installed with a level running track.
Energy efficiency: New developments mean that sliding patio doors are now more energy efficient than ever before — although this will largely depend on the material and glazing you choose.
Good space saving option: Unlike French doors and bifold doors, sliding patio doors require no outswing space and do not stack up against the wall.
Wide range of materials: Aluminium sliding doors, timber, PVCu and composite are all options.
Widely available: Sliding patio door suppliers are not hard to find and you can buy off-the-shelf in standard sizes or order bespoke. Aim to buy from a supplier whose work you can see or who comes recommended to you.
Sliding Patio Doors vs. Bifold Doors
When it comes to sliding patio doors vs. bifold doors, there are several factors to take into account.
Sliding patio doors have the edge on bifold doors when it comes to their sightlines which can be slimmer. This means that there is less frame to get in the way of views of outside — plus they can draw in a little more natural light. They also require no stacking space when open and come in very large panel sizes.
Bifold doors are a good option for those who want to be able to completely open up their spaces as they can slide right back up against the walls when required, concertina style — although arguably the same can be done with sliding doors if pocket doors are chosen.
Bifolds are also preferred by some thanks to the way in which they can easily be configured to incorporate an access door — an easy way to transition between inside and out without having to open up all the doors. Bifolds can also be a little more affordable, depending on the style and material you are opting for.
Sliding Patio Doors vs. French Doors
French doors are a classic choice for those after a patio door to complement a more traditional style of home. They are often affordable, simple to fit and can be installed in conjunction with sidelights to either side to increase the glazed area.
On the downside, unlike sliding patio doors, they require outswing space and have a raised threshold.
What Material is Best for Sliding Patio Doors?
Sliding patio doors come in several different materials. Each sliding door material has its own pros and cons.
Aluminium Sliding Patio Doors
These are one of the best options for anyone after a sleek, contemporary finish to their home — plus they come with a whole host of other benefits too.
Pros
Low maintenance
Slim sightlines
Excellent thermal properties
Suit a range of house styles
Glazed areas can be made larger than most other materials
Lightweight
Eco friendly thanks to being recyclable
Good longevity
Extensive choice of colours and finishes available
Secure
Cons:
Expensive
Don't always suit period properties
Wooden Sliding Patio Doors
A fantastic choice for both traditional and contemporary homes, opting for engineered timber sliding patio doors is often wiser than choosing solid wood, which can be prone to movement.
Pros:
Add warmth and character
Good choice of timbers and finishes available
Sustainable (providing you choose those made from timber from FSC certified forests)
Good insulative properties — energy efficient
Wide choice of styles makes them suitable for all types of property
Lower maintenance than they previously were thanks to new paint systems available from many suppliers
Cons:
Thicker sightlines than aluminium required
Solid timber can be prone to movement
Some maintenance required to keep them looking fresh
Composite Sliding Patio Doors
Many people view composite sliding patio doors as the perfect compromise between timber and aluminium. They offer a low-maintenance aluminium exterior frame, combined with a warm and characterful interior.
Do be sure to buy from a reputable supplier as some of the cheaper composites used to be prone to loud creaking noises during warmer months.
PVCu Sliding Patio Doors
PVCu sliding doors are the cheapest option and are low maintenance too. However, many people feel they fall down on visual appeal — with chunkier sightlines and more limited colour options being amongst the negative points.
What is a Thermal Break?
When choosing sliding patio doors you will probably see the term 'thermal break' used. A thermal break is used to avoid cold bridging (where warm air from outside comes into contact with the cold surface of the door frame) causing condensation. This used to be a particular issue with aluminium patio doors or composite sliding doors as aluminium is a conductor of heat, rather than an insulator.
For this reason, good quality sliding patio doors with aluminium in their construction should feature a thermal break. This is a material with low thermal conductivity, positioned to separate the interior and exterior sides of the frames to prevent or reduce the conduction of thermal energy.
Slimline Sliding Patio Doors
Sliding patio doors are favoured by many because of the slim sightlines they are associated with. A sightline is basically the non-glass section of the door — or the thickness of the two frames where panels meet. The thinner the sightlines, the more glass.
Aluminium sliding patio doors offer incredibly slim sightlines — 20mm is now quite possible.
Sliding Patio Door Sizes
Sliding patio door sizes vary hugely depending on your supplier, the material you opt for and, of course, your personal preference — not everyone wants a wall of sliding doors that seems to go on forever.
The good news is that there is a sliding door size to suit all — with designs available for openings as small as 900mm wide right up to those to fit openings spanning a massive 24m. You will need to discuss your exact requirements with your architect and your supplier as in order for the doors to work well, structural considerations will need to be adhered to.
Sliding Patio Door Configurations
When it comes to choosing a configuration for your sliding doors you will need to take into account the size of the opening you are fitting them into and how you want to use your new patio doors.
Sliding doors can be configured in lots of different ways — from a single panel up to eight or more. Depending on the number of panels you opt for and the design of your home, they can all slide in the same direction, or away from one another in the case of double sliding doors or away from a corner to open up a house completely.
Sliding patio doors can also be installed to slide along a wall, or even into a pocket in the wall. There will also usually be one or two fixed panels within a sliding door configuration too.
How Do Sliding Patio Doors Work?
Sliding patio doors are operated by sliding them along a 'running gear'. A running gear lies at the bottom of the doors and runs along the door track in the ground.
There are several different track options for sliding doors. The most common choice is between a double or triple track. Double tracks suit door configurations consisting of two sets of doors, while triple tracks are recommended for three or more doors (this can be a combination of fixed and sliding doors).
Tracks can be sunk into the floor for a flush look that also provides easy access.
Lift and slide doors differ slightly in their operation. The doors sit directly into the track. A handle rotates to lift the door up out of the track onto its rollers before allowing it to slide effortlessly.
What Maintenance Do Sliding Patio Doors Need?
The maintenance required when it comes to sliding doors largely depends on the material you opt for.
In the case of timber sliding patio doors, the maintenance required will vary according to how your particular doors come supplied. With any luck, you will have chosen doors that come primed and finished, ready to be installed. Depending on the paint finish or stain you choose, timber doors may require periodic maintenance if they have begun to flake or become chipped.
Aluminium and composite sliding patio doors require very little maintenance — a wipe down with a mild soap solution should be all that is required.
In all cases, it pays to check that the tracks and seals remain clear and free from dirt and debris at all times.
How Much Do Sliding Patio Doors Cost?
Sliding patio door costs vary hugely, with influencing factors including material, size, configuration and suppliers, as well as the security options and door hardware you have selected. Whether or not you choose double or triple glazing will also have an impact on your final costs and in some cases, the colour and finish will have an effect too.
Sliding patio doors do tend to be more expensive than bifold doors and French doors. As a very rough guide, it is advisable to budget from around £600 per square metre for aluminium sliding doors.
Should I Choose Double or Triple Glazing for Sliding Patio Doors?
Whether or not you choose double or triple glazing for your sliding patio doors will come down to your budget, the type of house you are fitting them to and your individual requirements.
While triple glazing can increase the energy efficiency of sliding doors by up to 50%, it also costs more than double glazing. For those living in old houses with relatively low insulation levels and inferior air tightness, it often makes little sense to fit triple glazing.
On the other hand, if you are self building and aiming to construct a highly energy efficient home, with fantastically low heating bills or are reaching to achieve Passivhaus standards, then triple glazing will be well worth it.
Natasha is Homebuilding & Renovating's Associate Editor and has been a member of the team for over two decades. An experienced journalist and renovation expert, she has written for a number of homes titles. She has renovated a terrace and is at the end of the DIY renovation and extension of her Edwardian cottage. She is now looking for her next project.
Homebuilding & Renovating Newsletter
Get the latest news, reviews and product advice straight to your inbox.
Thank you for signing up to Homebuilding. You will receive a verification email shortly.
There was a problem. Please refresh the page and try again.