Modern Living Room Ideas: 20 Design Essentials for Cosy Snug
Use our modern living room ideas with expert advice from design authorities to create a comfortable, stylish space for every occasion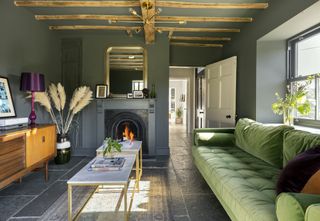 (Image credit: Jeremy Phillips)
With so many different modern living room ideas out there it can be hard to know where to start when planning your own snug, cinema room or seating area.
Creating a smart plan for a welcoming and usable space requires more than might be initially anticipated — flooring, lighting and layout all need consideration before you even begin to talk about what's on the walls and soft furnishings.
So, we've selected our essential design rules for planning a new living room (that can also be applied while updating an old one). Below you'll find out what makes a successful modern living room and how to recreate your favourite styles with beautiful room inspiration and sage advice from seasoned design professionals.
How to Decorate with Modern Living Room Ideas
The key to a good living room is to ensure each step of the design is considered. The following will all need consideration:
the size of the room
the living room layout
lighting
storage and built-in features
wall coverings
and furniture.
After that, it's time to let your inspiration go wild with brilliant living room paint ideas. "Start with your colour palette, textures and patterns," advises Rebecca Drury, co-Founder of MissPrint. "Your living room needs to function practically as well as aesthetically so make sure your colours and design choices reflect this.
"We would always recommend creating a moodboard with your chosen colours, fabrics and patterns, this will help you whittle down your choices. From wallpaper to paint and soft furnishings, just make sure the room is ticking all your boxes and will work as a whole, and don't forget to make sure it reflects you and your personality."
1. Plan a Modern Living Room Layout to Suit Your Lifestyle
"Consider how you use the room. Is it just for relaxation? Do you like to entertain? Does it double as an office? Confirm this before you start choosing furniture and decor," advises Ann Marie Cousins of AMC Design.
"For example, if you want to enjoy films then comfort if key so opt for a sofa that can seat every member your household, but not so big that you can't easily manoeuvre around it. Keep enough free flowing space around your furniture otherwise it can feel smaller and overcrowded.
"If your children use the living room as a play area, incorporate durable materials that can be easily cleaned and stand the test of time! If you work from your living room, create a primary working space within the room design so it is functional, rather than just sitting at the coffee table."
This family living room is perfect for getting cosy to watch TV and entertain guests but the piano and children's workspace area means that it is also flexible for the whole family.
2. Jump Into the Modern Revival of the Sunken Lounge
While some may have less pleasant memories of sunken lounges during the 70s, they're making a come back as a way to visually break up spaces in large open-plan rooms.
This extended 70s home featured an original sunken lounge in the first floor bedrooms, so when Jon Doughty (founder of Remagination) renovated and extended it, he introduced the idea in the newly expanded ground floor.
"We wanted to keep the sunken quirkiness so we put it in the rear extension. Because downstairs in completely open plan, having the sunken area makes it a bit cosier, almost like a snug," he says.
3. Create Pockets of Cosiness in Large Spaces
In barns, new extensions and larger self builds, some homeowners find it tricky to establish characterful or cosy spaces with vaulted ceilings or large open plan layouts.
In this charming barn conversion, the living room is positioned on a mezzanine level. The homeowners have created welcoming space which feels comforting by using plush furniture, centred around a woodburning stove.
"Think about where your larger key pieces of furniture will sit within the room, so arranging them will depend on the size of the room," explains Juliette Thomas, founder and director of Juliettes Interiors. "To start, opt for a large, eye-catching rug to sit in the centre of the room and position your furniture around it. Gathering furniture around a central point like this will give the feeling of space. Don't push your furniture up against the walls as this can make the room feel enclosed."
4. Create a Modern Cinema Room
Design a cosy snug that can double as a cinema room for family film nights. When it comes to creating a home cinema acoustics, soundproofing and the great debate between TV vs a projector will all need consideration.
"Light plays a major role in how effective a cinema room is as ideally you are looking for complete darkness for optimum viewing quality," adds Sam Tamlyn, managing director at California Shutters.
While Sam suggests using shutters – "For a cinema room, opt for solid shutters as they are made up of one solid panel for a near on blackout effect" – soft textiles (like curtains or blinds) work best at sound dampening. Soft furnishing will aid too; while hard surfaces allow sound to bounce around the room, disrupting the experience.
5. Zone a Contemporary Open-Plan Living Space
Open plan is one of the most popular house layouts, but many homeowners still want a way to shut away the noise of the kitchen to create a more relaxed environment.
Here, oversized doors (2.7m-high) have been installed on tracks recessed into the ceiling. They slide into 'pockets' within adjacent walls when not in use.
The homeowner and designer Richard Smith, of Vint & Smith, says: "Because this is a family home, we didn't want a completely open-plan space; the doors provide flexibility to close off the living room."
A similar idea could be incorporated if your existing sitting room leads off from the kitchen. Pocket doors can be installed on a DIY basis and achieve 'opening up' effect for smaller snugs.
6. Use Lighting to Set a Cosy Mood
Living room lighting ideas require careful planning — afterall, lighting not only plays a practical role but an aesthetic one too
"Lighting is a key element in a living room as it can really effect our emotional response to the space," begins Ian Cameron, creative director of Empty State. "In a living room especially, ambience is vital as it is a space not only to relax but to entertain so make sure to layer your lighting.
"Suspend a wonderful centrepiece from the ceiling, such as a striking pendant light, to create a focal point and pair it with decorative and detailed lighting such as wall lights or table lamps. The amount of light you need will depend on how much natural light the room has."
This deep blue living room has been positioned adjacent to the open-plan kitchen space so it can still take advantage of the natural light pouring in from the sliding doors. The central modern chandelier can provide plenty of artificial light while making a statement, while two floor lamps help to layer to cosy ambiance.
7. Design a Multi-Functional Modern Living Room
We demand more from our homes than ever before, and that doesn't look like this will change anytime soon. However, sitting on the sofa or kneeling by the coffee table isn't the same as working properly at a desk, so if your living room will double up as somewhere to work, be clear about the demands at the design stage and incorporate solutions as required.
Here, a semi-glazed partition creates a division between the living space and home office design, so while the spaces feel connected (and light is allowed to flow through the rooms uninterrupted), workers can turn off the computer and relax in the space next door.
Other smart options can include built-in or freestanding units which have bifolding or pocket doors that can be closed once work is done.
8. Colour Drench for a Modern, Stylish Space
Painting the walls, ceilings, shelving and carpentry all in the same colour is a style that suits large and small living room ideas alike. "Colour drenching and colour blocking are big trends this year, from bedrooms to bathrooms and living spaces," says Sam Tamlyn.
"Colour drench schemes are unconventional yet exude creativity and interior flair," agrees MissPrint's Rebecca Drury. "The trend is usually recognised for its cohesive colour palette where the walls and furnishings are all in colour coordination with each other. Paint is commonly used for this style, however, wallpaper can be a livelier option adding visual interest to the trend."
This period living room has been stunningly renovated using contemporary colours and styles to create an effective hybrid between the two. Flagstone flooring and exposed beams provide a certain character, while mid-century furniture and modern ceiling lighting ideas for living rooms ground the snug in the present.
To recreate this style, first find out how to paint a room properly, to avoid unsightly blemishes and a unprofessional finish.
9. Design a Modern, Light Sunroom Living Space
While we tend to use living rooms to watch TV and settle down in of an evening, consider also creating a sitting room dedicated to the day-time. This style works best in open-plan spaces where a dedicated snug can be created elsewhere in the house.
Sunrooms ideas are perfect for this, with their views towards the garden. They're perfect for having a cup of tea while catching up with a friends, and can be styled as an adult-only zone where the space is kept neutral, tidy and calm.
This idyllic sitting area is positioned just away from the open plan kitchen and dining area with a woodburning stove so it can be used whatever the weather.
10. Put a Modern Spin on Period Features
If you're hoping to modernise an existing living room, try to retain as many special features as you can, even if they don't comply with modern style rules.
Some of the most successful living rooms apply modern stylings to period features to create a unique and inviting space.
For instance, painting coving, wall panelling ideas and architraves the same colour as the walls – or better still a contrasting, darker colour – is a fantastic trend, as displayed here.
11. Consider Flooring for Modern Living Rooms
"It is important to marry the function of the room with the right flooring choice," advises Greg Elliott, head of technical at Havwoods. "Lighter coloured flooring usually requires more upkeep, whereas darker or more varied colours are best in a high foot traffic areas.
"When designing a living room, wooden floor gives flexibility to a space over a long period of time and can be 'freshened up' and changed in colour if needed over time with a new interior scheme."
More traditional living rooms flooring ideas tend to use carpet to create the cosy and warm environment we are all looking to achieve, but more contemporary spaces combine 'hard' surfaces like wood, LVT and even stone with rugs to strike a balance between comfort and style.
"Tiled flooring isn't always a popular living room choice but where ease of maintenance is considered, they are one of the most practical options," adds Amanda Telford, marketing manager of CTD Tiles.
"If the usual tiled floor look isn't for you, then opt for a tile that has a wood effect – these will add warmth to your space but are also extremely practical, offering you the best of both worlds. Alternatively, opt for a patterned tile with a plain tile border, this will create the illusion of a central rug and draw the eye, perfect for a living space."
12. Position a Living Room to Take Advantage of Views
When designing a modern living room in a self build or extension, turn what you expect of a living room on its head with an upside down layout.
By positioning a living room on the first floor, rather than the traditional ground floor, frequently used spaces can capitalise on views instead of bedrooms and bathrooms.
13. Keep a Modern Living Space Minimal with Good Storage
As is essential in every room, include dedicated built in storage ideas into your living room design. Living rooms tend to attract all sorts of clutter, from books and DVDs to board games and blankets.
"Storage, storage, storage! Whether it's books, paperwork or children's toys, the living rooms tends to be the place in the home where miscellaneous items are hidden away," says Ann Marie Cousins.
"There are a number of ways to create storage in a small living room. Opt for statement furniture such as a sideboard, TV unit or coffee table with storage built in, and make sure to utilise any nooks and crannies that are available to you. Alcoves either side of a chimney are a great example, or in a bay window, built in a window seat with storage space underneath."
"The best way to maximise storage is to have hidden storage, either built in or through dual purpose furniture," adds Rob Ellis, head of design at Dwell. "There are lots of clever furniture options that can incorporate storage in a living room, such as a coffee table or bench. Storing objects that are commonly found in a living room like books, laptops, board games or extra throws can help maximise the feeling of space, especially in a small living room as it minimises the look of clutter."
14. Consider Sustainable Finishes in a Modern Living Room
Sustainability and waste are on the minds of home improvers more than ever before. Utilising natural and recyclable materials (like eco flooring) is a great way to reduce to impact of updating a modern living room.
"Living rooms are often spaces in which we spend most of our time, so it is important to choose a material which is durable, robust, easy to maintain and comfortable underfoot," advises James Scully, founder of Recork.
"Natural material flooring like cork is a great choice for a living room — not only is it functional, but it introduces an organic design elements into the home. If your home is an older building, make sure the flooring you choose is a good insulator or can support underfloor heating. Cork flooring has exceptional insulation properties including thermal and acoustic."
15. Make a Living Room in a Loft Conversion
Take your living room design to another level with a loft conversion. This could free up room for an extra bedroom downstairs, or simply create a separate area for older children to relax in away from grown up spaces.
This living room also doubles as a guest room with a comfortable sofa bed — definitely a great option for those who have visitors coming but no space in which to put them.
Up in the loft guests will feel as though they have more privacy than if the living/guest room was on the ground floor and, if your conversion includes one, has access to its own bathroom.
16. Experiment with Contemporary Living Room Wall Coverings
Internal timber cladding is a great way to quickly modernise an existing living room — especially one where the walls are a tad dented or damaged.
Adding cladding can also be a clever idea for those who are looking to create a room dedicated to watching TV and films as acoustic panelling can be bought.
17. Create Modern Character With Open Shelving
While neat built-in storage is great for keeping mess in it's place, living rooms look best when there is a certain amount of personality on show.
"To organise a cluttered living room, sort the items into categories; favourite items to display, items that are used every day (such as remote controls, laptops) and others which can be put away that are rarely needed," says Dwell's Rob Ellis.
"Consider packing away the objects that you don't need on display into cupboards, display your favourite pieces like books, vases or photographs on a beautiful bookshelf or freestanding shelves, that also offer easy accessibility, and for everyday items, manage them into zones such as a tray on a coffee table for a remote control."
18. Create a Central Focus Using a Fireplace or Stove
A fireplace or logburning stove can create a cosy focal point even in the most contemporary living rooms.
"When designing a living space, your heating elements needs to be planned during the design process so why not incorporate a wood burning or multi fuel stove into your living room," suggests Jon Butterworth, director at Arada Stoves.
"As gas and electric costs continue to rise, wood burning stoves are generally more cost-effective than other fuels — with wood either being free or purchasable at a low cost. Depending on the size of the room, a wood burner can be the main source of heat, plus they look good too."
Use fireplace ideas to revamp an existing feature, or to help you design a new one.
19. Inject a Bit of Nature and Embrace Biophilic Design
Bring nature into the home using specific design treatments which connect with the outside, or remind users of the great outdoors.
"Our need to connect with nature isn't going away so I'm seeing an incredible array of beautiful botanical and biophilic design wallpaper on the rise," says AMC Design's Ann Marie Cousins. "This could be anything from wildlife-inspired designs to traditional floral prints."
In this stunning modern living room, timber ceiling cladding ideas echo the views of woodland seen through the picture window. The result is natural and welcoming — like a modern take on a rustic cabin.
20. Don't Forget Modern Window Treatments
"Dressing your windows is an essential part of the design process and will depend on a few key factors; understanding what direction your living room windows face and how much privacy you need," advises California Shutters' Sam Tamlyn.
"If they face north, east or west, the room will tend to be on the darker side, whereas if south facing, it will be flooded with natural light during most of the day. Tier-on-tier shutters are a great addition to a living room, especially for larger windows. You can close the bottom tier for privacy, while keeping the top tier open for sunlight, or you can close them together shutting the light out completely."
For rooms with bifolding or sliding doors, look into integrated blinds for a seamless finish.
How Can I Make My Living Room Modern and Stylish?
The key to making a living room look modern is creating a timeless backdrop for things that you don't want to swap out too often, like flooring, lighting and windows.
From there, furniture and storage can follow trends but be sure they can either be updated in the future or will withstand the test of time (such as antiques).
How Do You Make a Modern Living Room Look Nice on a Budget?
Refreshing a living room with a coat of paint will never go amiss when updating a living room on a budget. Often, many of our existing spaces just need a new perspective, so rearranging furniture and lighting can create entirely new environments quickly and cheaply.
"One aspect of home improvement that can instantly elevate the look and feeling of a living room is plantation shutters," says California Shutters' managing director Sam Tamlyn. "Opt for made to measure, self-install shutters as an affordable way to update your windows or patio doors without breaking the bank. Not only are they within budget and look great, but they are durable, versatile (especially tier-on-tier shutters) and are suited to almost any design scheme."
How Can I Make my Small Living Room Beautiful?
"When living room space is restricted, homeowners will often make the mistake of thinking they can't go bold for fear of it making the room feel smaller or too enclosed," explains Rebecca Drury, co-Founder of MissPrint.
"However, done correctly, injecting character and personality into a small living room can bring the space to life and make more of an impact. Don't restrict colour and pattern due to space, embrace bold walls in a way that coordinates effortlessly with the rest of the room and make a feature out of the living room.
"Vibrant patterns throughout across the walls and furnishings will allow you to evoke some self-expression and interior flair, leaving you with a small living room that has a big impact."
"Incorporating a mirror is a great design technique to make a room feel bigger," adds Abbie Ireland, director at Patrick Ireland Frames. "Generally, a great location is close to a window so that you can optimise the room's natural light, or alternatively, face a feature like a pendant light to reflect light around the room. Opt for something textured to create more interest and depth to the space."
Get the Homebuilding & Renovating Newsletter
Bring your dream home to life with expert advice, how-to guides and design inspiration, direct to your inbox.
Assistant Editor Amy began working for Homebuilding & Renovating in 2018. She has an interest in sustainable building methods and always has her eye on the latest design ideas. Amy has interviewed countless self builders, renovators and extenders about their experiences for Homebuilding & Renovating magazine. She is currently renovating a mid-century home, together with her partner, on a DIY basis, and has recently fitted her own kitchen.