Loft Conversion Stairs: How to Comply with Regulations and Get the Design Right
By Ian Rock , Rebecca Foster
Your loft conversion stairs need to look good as well as comply with Building Regulations. Here's what you should consider in order to get the design spot on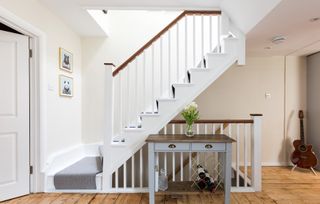 (Image credit: Simply Loft)
Poorly-designed loft conversion stairs are among the most common reasons why loft conversions fail Building Control inspections. If such problems aren't spotted until late in the day, it can spell disaster because major structural alterations may be needed with potentially crippling financial implications.
To ensure that loft conversion stairs comply with Building Regulations, it's essential to address the following points at the design stage.
Do You Have Sufficient Headroom for Your Loft Conversion Stairs?
Ensuring that there's the right amount of headroom above your loft conversion stairs is of fundamental importance, as it can be virtually impossible to rectify matters retrospectively.
It obviously helps a great deal if accurate dimensions are clearly marked on the working drawings so that problems can be spotted early on. This should go a long way to avoiding the nightmare scenario where lack of headroom only gets flagged up at the 11th hour - when a disgruntled homeowner complains they have to duck to get into their new accommodation!
(MORE: Is my Loft Suitable for Conversion?)
How Much Headroom Do You Need?
In most cases, Building Regulations stipulate a minimum of 2m clear headroom along the entire length. Because of the associated risks of falling and injury, the Building Regulations are pretty rigorous with stairs, stipulating minimum dimensions for handrails, balusters, steps (goings, risers and winders), and the maximum pitch.
However, when it comes to loft stairs, the rules are more relaxed, allowing for the fact that awkward sloping ceilings often need to be accommodated. Here the minimum headroom on the low-ceiling side can be as shallow as 1.8m rising to 1.9m in the centre of the staircase width and 2m on the inner side.
Whilst this is a real help, it can still sometimes be a tall order to make it all fit where space is tight.
What Can I Do if I Have Insufficient Headroom for my Loft Conversion Stairs?
The main challenge when designing loft conversion stairs is that there always seems to be an inconvenient roof slope just at the point where you want them to enter the loft.
Where restricted headroom is an insurmountable problem, it may necessitate switching to 'Plan B' - moving the stairs to a more central location under the roof's highest point.
The trouble is, if the staircase now pops up just where the double bed was meant to go, it could easily wreck your carefully devised plans for the new living space.
It may also complicate matters on the floor below if an existing bedroom needs to be partitioned to make space for the new stairs rather than placing them directly above the main staircase (usually the most space-efficient solution).
(MORE: Loft Conversions For Difficult Roof Constructions)
Experienced designers know that the optimum solution is often a modified 'Plan A' - where additional headroom over the stairs is created by:
Extending the roof with a new dormer window
In marginal cases, installing a small roof window that adds an extra 100mm or so of headroom might just do the trick
At the other extreme, hipped roofs sometimes require drastic surgery to break free from their low roof slopes on all sides by converting hips to more spacious gables.
It's important to note however, that any alterations to the external profile of the roof must be factored in at the design stage, otherwise construction work may need to stop on-site while a new planning application is made, with no guarantee of success.
Designing Your Loft Conversion Stairs
New loft conversion stairs generally work best where they're designed to match the existing main stairs, ideally appearing indistinguishable from those in the original house. This doesn't mean they have to be configured as a straight flight, however.
To circumvent awkward obstacles like chimney breasts and low roofs, loft stairs are often designed to change direction with one or more L-shaped quarter turns, either with landings or tapered steps (known as winders).
Make Sure Your Loft Conversion Stairs Meet Fire Regulations
But whatever style your new loft stairs ultimately take, they will need to comply with fire regulations.
In most loft conversions, the stairs form part of the 'escape corridor' and need to have a minimum of 30 minutes protection from fire. This can normally be achieved if they are located within a fire-protected zone or by lining with fire-rated plasterboard with a skim plaster finish.
A fire-rated lobby is also usually required, with a suitable fire-door located either at the top or bottom of the new loft stairs. Also, where an existing bedroom is partitioned to accommodate the new stairwell, the walls also need to provide a minimum of 30 minutes fire resistance.
(MORE: Fire Safety Regulations)
Look Out for Space-saving Options Where Space is Tight
Where space is very tight, and conventional stairs simply can't be made to work, the Building Regulations provide a certain amount of flexibility. Building Control has discretion in these matters, so it's important to hammer out the details at the design stage.
There are a number of potential options where it may be possible to use special compact loft conversion stairs, such as:
Alternating tread stairs are designed with each paddle-shaped tread projecting in turn – similar to nautical stairs in small yachts
Fixed ladder stairs combine the flexibility of a ladder with the stability of conventional stairs, with a typical incline of 60%. Retractable ladders are not acceptable
Spiral stairs can add a sense of style, saving space and volume with a vertical 'tunnel' stairwell
(MORE: Loft Conversion Costs)
Homebuilding & Renovating Newsletter
Get the latest news, reviews and product advice straight to your inbox.
Thank you for signing up to Homebuilding. You will receive a verification email shortly.
There was a problem. Please refresh the page and try again.