Metal Cladding: Types, Ideas and Costs
By Natasha Brinsmead published
Metal cladding is a stylish and exciting way to finish the exterior of a house — we explain the different types and what they could bring to your home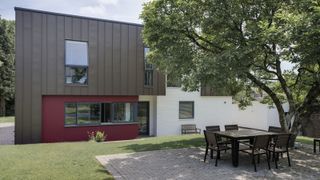 (Image credit: van Ellen + Sheryn)
Whether you are self building, renovating or extending, metal cladding is a great way to ensure your home has a highly individual, eye-catching, appearance.
Metal is still seen by many as a relatively unusual material to use for house cladding yet it is actually a practical option as well as being suitable not just for contemporary homes, but for traditional and more rustic style properties too.
In this guide to metal cladding, we explain the main options you will find available, the best ways to use them, as well as providing you with likely costs and some handy installation tips.
Types of Metal Cladding
As with timber cladding, there are a number of different metal cladding types available to homeowners these days, although for most people, the choice comes down to four main materials:
Steel
Aluminium
Zinc
Copper
All of these materials are available in various formats, from corrugated sheeting to composite products, which are supplied pre-formed, incorporating insulation.
Steel Cladding
Steel cladding has a lot going for it. Firstly, it tends to be the cheapest type of metal cladding.
Secondly, it affords excellent design possibilities — it can span long distances in one run and has a good life expectancy of at least 35 years (although some products will last up to 80 years), thanks to steel's resistance to both corrosion and water damage.
It is also possible to achieve a variety of visual finishes using steel cladding as there are a range of surface treatments it can be supplied in — although one of the most common is for it to be 'hot-dip' galvanised using a zinc alloy. In addition, it also comes in various colours and with some very striking surface finishes.
On the downside, despite steel's impressive longevity, it is not quite as durable as the other types of metal cladding.
Corten Steel
Corten steel is also known as 'weathering steel' or as its branded trademark, COR-TEN, is currently a very popular material for exterior cladding.
It doesn't require any painting as it is corrosion resistant. 'Cor' refers to the metals corrosion resistance, wile the 'ten' indicates its tensile strength.
Over time, the steel gains a warm, rusty' surface finish.
Aluminium Cladding
Aluminium is a very popular material when it comes to metal cladding — being lightweight and malleable. This makes it very easy to work with and reduces any concerns regarding placing heavy loads on the structure of the building or its foundations — great for those retrofitting.
Aluminium house cladding comes in a range of finishes and colours and has an expected lifespan of at least 40 years, during which time its surface will oxidise to produce a durable layer that will protect it from corrosion.
Zinc Cladding
Zinc is a beautiful cladding material that is also highly practical. It is easy to work with thanks to its malleable properties, meaning it can be manipulated into a range of shapes and forms, from flowing curves to crisp angles.
Appearance-wise, zinc starts off with an eye-catching silver finish, gradually weathering to a grey that is more like lead. That said, it is also available in a pre-weathered finish for those after a less shiny initial look.
Zinc cladding is extremely durable and has an expected lifespan of up to 60 years — it is the ideal option for homes near the sea thanks to its hardwearing nature.
On the downside, it is a more expensive option that steel or aluminium cladding — although its longevity reflects this.
This material can also be used on roofs, and some contemporary self builds have combined zinc roofs with zinc-clad walls to stunning effect.
Copper Cladding
Copper lies at the very top of the price scale. But that is really its only downfall.
Copper house cladding is ideal for all kinds of house styles, and offers a warm finish that will weather beautifully over time, from bright and bronze through to brown and blueish greens.
It is very malleable, meaning it can be moulded into many different forms — plus the newest innovations in copper cladding have seen some very visually exciting results, such as delicate patterns and mesh sheets.
Finally, this is the most durable of all the options, with a lifespan of 100+ years.
How is Metal Cladding Installed?
It is not just the material you'll need to consider when choosing metal cladding — there are a number of different ways it can be supplied and fitted too. Each type has its own requirements and some systems are more suitable for certain applications than others.
The main ways metal cladding is supplied are:
Composite metal cladding: This type of cladding comes complete with a foam insulation core that sits between the inner and outer layers. Composite cladding comes with either a profiled or flush face. It is usually delivered to site as ready-to-fit panels that can be screwed or secret fixed into place — although professional installation is still recommended.
Standing seam: This is a visually distinctive type of metal cladding. Joints are clipped together so as to create a projecting seam. It comes as either pre-insulated panels or as sheets that are formed on site before being attached to a substrate, such as plywood. The beauty of this system lies in the design flexibility it affords, allowing for curves and long, unbroken expanses to be created.
Built-up sheeting cladding: This is a good system for both traditional and contemporary-style houses — although it has a profiled finish which won't suit everyone. This type of cladding is assembled on-site and it is important to get a professional to fit it as the success of the system very much hinges on perfect installation. It is made up of an outer facing sheet which is supported on brackets. Insulation will also be added (often in the form of mineral wool), along with an internal liner to provide an airtight finish. Built-up sheeting cladding can also be used with structural trays which remove the need for a separate liner and are ideal where long spans are being clad. The sheets can be fixed in a number of patterns and curved versions are also an option.
Cassette cladding: These are another product that are delivered ready-to-fit — much like composite cladding. Cassette cladding comes complete with insulation and liners and has interlocking joints, meaning quick installation times are possible.
Rainscreen cladding: As with other types of external cladding, metal cladding can be supplied as a rainscreen. This means that the the outer face is non-load-bearing. Although there is a layer of insulation, a ventilated cavity separates the facing from this layer to ensure moisture can drain away. This means condensation is prevented, making it a popular option with those retrofitting cladding when renovating.
How Much Does Metal Cladding Cost?
The cost of metal cladding very much depends on the material you opt for, as well as your installer and the system you have chosen.
Steel and aluminium cladding are both cheaper than zinc and copper, with prices starting from approx. £35/m2 — not including installation.
Zinc costs more, and copper cladding lies at the very top end of the price scale.
Homeowners and designers sometimes offset costs by combining metal cladding with another cladding material, or choose to clad less prominent elevations in a material such as house render.
On the plus side though, metal cladding requires little in the way of maintenance — usually a simple hose down to wash the surface is all that is required.
Natasha is Homebuilding & Renovating's Associate Editor and has been a member of the team for over two decades. An experienced journalist and renovation expert, she has written for a number of homes titles. She has renovated a terrace and is at the end of the DIY renovation and extension of her Edwardian cottage. She is now looking for her next project.
Homebuilding & Renovating Newsletter
Get the latest news, reviews and product advice straight to your inbox.
Thank you for signing up to Homebuilding. You will receive a verification email shortly.
There was a problem. Please refresh the page and try again.