Types of Loft Conversion Explained: Extend Upwards in Style
By Michael Holmes , Natasha Brinsmead published
There are many different types of loft conversion — but which is right for your home? Our guide explains the main types and typical costs for each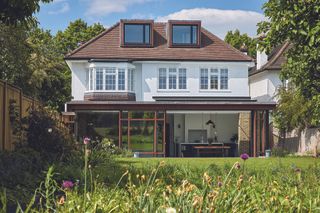 (Image credit: Chris Snook)
Understanding the different types of loft conversion available to you will ensure you make the right design choice for your own project.
Let's begin by outlining the various types of loft conversion out there:
Rooflight loft conversion
Single dormer loft conversion
Full dormer loft conversion
Hip-to-gable loft conversion
Mansard loft conversion
Modular loft conversion
L-shaped loft conversion
Bungalow loft conversion
Which type of loft conversion is best for you will largely depend on the style of property you live in and your budget. You will also need to take into account your existing roof structure, along with any planning restrictions that may come into play in your area.
What you plan on using the loft for should also play a part in the type of conversion you opt for.
1. Rooflight Loft Conversion
A rooflight loft conversion is one of the simplest – and also the cheapest when it loft conversion costs – you can carry out and is perfect for smaller spaces, perhaps where only one extra bedroom or a new home office is required. The existing loft space is simply retained but rooflights are added.
In addition, the existing floor may need to be reinforced and, of course, stairs added. Electrics and plumbing, along with insulation, too.
Average cost: £35,000 - £40,000 (fully fitted out)
2. Dormer Loft Conversions
Dormer loft conversions are one of the most popular types of loft conversion and so are usually on of the first loft conversion ideas that spring to mind.
They project out vertically from the slope of the roof and use standard windows as opposed to rooflights. They are good where the pitch angle is high, as the useful floor area can be increased.
There are various variations out there:
Single dormer loft conversion: These are very similar to a rooflight loft conversion — a new dormer adds useful head height. Sometimes French doors are included and a small balcony.
Double or full-width dormer loft conversions: These are often flat-roofed and span the entire width of the building. Sometimes they incorporate full-height glazing and some very contemporary cladding materials.
Flat-roofed dormer loft conversion: This type of loft conversion adds lots of useable internal space and is cost-effective. It is particularly well-suited to terraced homes with a lack of loft space.
Gabled dormer loft conversion: These tend to be more aesthetically pleasing than their flat-roofed counterparts. Gabled (or pitched) dormers can be located at the rear and side of the house, with full-height glazing. They tend to be more expensive than flat-roofed dormer conversions.
The average cost of a dormer loft conversion ranges from £40,000 - £45,000.
3. L-shaped Loft Conversions
L-shaped loft conversions are the perfect solution for properties that have previously been extended at the rear.
They consist of an L-shaped dormer, the larger end of which extends out from the main roof — the two sections of dormer meet in a corner.
This type of loft conversion is ideal if you want to use your loft conversion for a bedroom with separate bathroom and include good storage space too.
The cost of an L-shaped loft conversion will vary depending on its size and specification, but average costs of between £45,000 - £60,000 can be expected.
4. Hip-to-Gable Loft Conversion
In a hip-to-gable loft conversion, the hipped, slanted section at the side of your roof is extended and becomes a vertical wall (gable end) that is built up to the same height as the ridge. This is then given a standard pitched roof that creates a space internally with full headroom. The vertical wall also allows for standard window openings.
This type of loft conversion is ideal for semi-detached houses (such as 1930s house renovations), although they can also be used on detached properties and bungalows.
For maximum space, consider combining a hip to gable loft conversion with a dormer conversion.
The cost of a hip-to-gable loft conversion averages at from £35,000 up to £70,000.
5. Mansard Loft Conversion
A mansard loft conversion can pretty much add a whole additional storey to your home. It involves replacing the sloping roof structure with a wall that is almost vertical — typically 72 degrees. The final roof is flat. The majority of mansard loft conversions run from one gable wall to another — so the full width of a house.
If you are questioning 'is my loft suitable for conversion' due to low head height at the eaves or a lack of space, a mansard loft conversion could address these issues. This type of loft conversion is also suitable for all kinds of houses, including terraced. However, it is one of the most complex, therefore, expensive loft conversions to undertake.
Mansard loft conversions can be be added at either the front or rear of a house — although it is also possible to have a double mansard roof at the front and rear of a house.
Mansard loft conversions cost from £45,000 but can easily rise to upwards of £80,000.
6. Modular Loft Conversion
Modular loft conversions are also known as pre-fab loft conversions. They basically come ready-made, constructed off-site, often with a steel frame. Once the roof of the house has been removed, the modular loft conversion is delivered to site and craned into position.
This is a quick and easy way to convert your loft. There are also specialist modular loft companies out there who will aid with the planning permission process. In addition, it is possible to specify one complete with windows, doors, electrics and bathrooms.
When it comes to what a modular loft conversion costs, the prices are fairly high, as you might expect — although it pays to bear in mind that this will depend on what your chosen package includes.
Costs of at least £80,000 + VAT can be expected.
7. Bungalow Loft Conversion
Bungalow loft conversions are increasingly popular and there are many different designs to consider.
The simplest, and cheapest, option is to use a good size existing loft space, simply adding rooflights and floor reinforcement. However, the addition of dormers will increase the useable space too.
It is not uncommon for new owners of bungalows in need of modernisation to remove the entire existing roof structure before adding a second storey to a bungalow, typically using timber or steel frame to create the new floor.
Costs for simple bungalow loft conversions start at around £25,000, while one that involves the entire roof being rebuilt could cost from £65,000 upwards.
Michael is HB&R's Head of Content and Product Development. Michael is also, Chair of the National Custom and Self Build Association (NaCSBA), presenter of multiple property TV shows and author of Renovating for Profit (Ebury). Michael is a regular in the seminar theatres and Advice Centre at the Homebuilding & Renovating Show.
Homebuilding & Renovating Newsletter
Get the latest news, reviews and product advice straight to your inbox.
Thank you for signing up to Homebuilding. You will receive a verification email shortly.
There was a problem. Please refresh the page and try again.