Types of Loft Conversion Explained
We explain the different types of loft conversion so you can see which is the right option for your home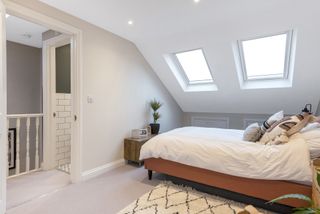 (Image credit: Simply Loft)
Understanding the types of loft conversion available will be crucial in making the right design choice for your own loft conversion project. 
A lot will depend on your property, whether it is detached, semi-detached or a terrace, as well as the style of the existing roof, as that will dictate the type of loft conversion you need and how much additional head height you require to create a usable space. 
(MORE: Get a quote for your loft conversion project)
Rooflight Loft Conversion
This type of loft conversion is the cheapest and simplest to execute and is ideal for smaller spaces, perhaps where only one extra bedroom or an office is required. The existing lost space is kept as it is and rooflights are added.
In addition, the existing floor will need to be reinforced and, of course, stairs added. Electrics and plumbing, along with insulation, will be needed if the space is to be classed as useable.
Average cost: £35,000 - £40,000 (fully fitted out)
Dormer Loft Conversion
This type of loft conversion is as the above, but with the addition of dormer windows. This will increase the usable floorspace and can be used to add head height which gives you more options when it comes to placement of the stairs.
Dormer loft conversions are good where the pitch angle is high, as the useful floor area can be increased.
Average cost: from £40,000 - £45,000 
Hip-to-Gable Loft Conversion
In a hip-to-gable loft conversion, the hipped, slanted section of the roof is converted to become a vertical wall (gable end). This is then given a standard pitched roof that creates a space internally with full headroom. The vertical wall also allows for standard window openings.
For maximum space, consider combining a hip to gable loft conversion with a dormer conversion.
Average cost: from £35,000 but up to £70,000
Mansard Loft Conversion
A mansard loft conversion can pretty much add a whole additional storey to your home. It involves changing a sloping roof structure resulting in a wall that is almost vertical — typically 72 degrees. The final roof is flat. The majority of mansard loft conversions run from one gable wall to another.
It is also possible to have a double mansard roof — at the front and rear of the house.
Average cost: from £45,000 but easily upwards of £80,000  
Get Bespoke Advice for Your Chosen Type of Loft Conversion
Homebuilding.co.uk partners with the UK's best loft conversion specialists to match your requirements with their services. 
Simply answer a few questions on what you need from your loft conversion and we'll put you in touch with a suitable partner.
How It Works
1. Enter your details below. Tell us a bit about your project and what you are looking for, and leave some contact details.
2. We search our database. We'll match your requirements with the products and services that our partners offer.
3. Partners will contact you. Don't worry about being bombarded - only the suppliers that match your requirements will contact you.
Homebuilding & Renovating Newsletter
Get the latest news, reviews and product advice straight to your inbox.
Thank you for signing up to Homebuilding. You will receive a verification email shortly.
There was a problem. Please refresh the page and try again.