How to Create Kerb Appeal: 11 Golden Rules
Our top tips on how to ensure your home has kerb appeal are a must-read if you want to give the best possible first impression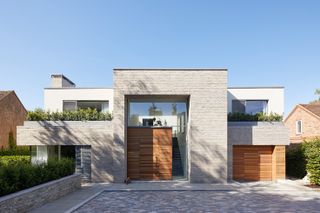 (Image credit: Urban Front)
Never underestimate the importance of kerb appeal — the appearance of the front of your house not only sets the tone for everything that lies beyond the front door, but also affects how you, visitors and prospective buyers view the house.
A recent study found that 68% of house-hunters would offer more money for a home with 'kerb appeal', showing just how crucial external appearance is.
But just how do you go about designing a home that is universally aesthetically pleasing ? Our top tips on how to create kerb appeal incorporate advice from top architects and designers in order to ensure your new house has maximum visual appeal.
What is Kerb Appeal?
The term kerb appeal refers to the attractiveness of the external appearance of a house. It can also be used to describe the way a house looks when viewed from the street or road that it sits on.
Very often kerb appeal is also a way of describing how appealing a house is, visually, to prospective buyers.
1. Note Neighbouring Properties
If your new home is to be set between, next-to or in close proximity to other properties, it is worth noting their proportions when it comes to developing a design for your own house.
"Responding to the context of a site does not mean that you have to copy the dwelling next door," says architect David Nossiter of David Nossiter Architects. "However, when elevational elements align across buildings, such as eaves heights, roof ridges, cill, window and door heights, generally a more satisfying and unifying composition results."
There is nothing to say that the style, materials or even overall design have to mimic those used on surrounding dwellings, but a nod to the vernacular in general will often help a house settle well into its setting.
2. Provide Shelter For Visitors
One key element of great kerb appeal is making your house seem welcoming to guests — and, of course, to you when you return home.
There are plenty of ways you can do this but one of the best is to ensure that the space around your front door can provide shelter from the elements or somewhere to perch.
"The fronts of our houses are our public face, so please make them welcoming to the street," says David Nossiter. "Consider a planter with perhaps a place to rest and somewhere for callers to shelter from the rain when waiting at your front door."
A porch or verandha is the perfect way to give your house a welcoming approach — and will also double up as somewhere to store outdoor shoes and firewood. Even a small canopy can add another dimension to an otherwise flat façade.
(MORE: Porch Ideas: Add character with a welcoming entrance)
3. Buy The Best House Cladding You Can Afford
Your choice of house cladding will define the look of your house just as much as its shape, style and the type of windows you choose. It has the power to highlight certain details, make the house seem bigger and break up a blank façade.
As such a prominent part of a house's design, be sure not to scrimp on the cladding you buy — it needs to look high quality and be able to withstand the test of time if you want it to do your home justice.
"Use elevational materials that provide immediate reassurance of architectural quality, either through their innate properties (local stone, say) or from well executed detailing. Ideally both," advises Martin Hall of Hall + Bednarczyk
Architects
4. Use Permeable Driveway Materials
The driveway tends to form the approach to a house and, as well as playing an important practical role in providing a way of keeping your vehicles off the roadside, can also play a part in boosting the visual appeal of a property.
In terms of its design, try to find driveway ideas that don't mean cars have to pull up directly in front of the front door or a main window as this can make entrance to the property awkward and also block light or views. You also want to ensure that cars do not have to be parked in such a way as to block a clear route to the front door.
When it comes to choosing the best driveway materials, consider not only their colour and how well they will sit with the materials you are using on your house, but also how they will perform.
"Simple hard wearing finishes can be made to sing by thinking carefully about the edges," advises David Nossiter. "Use permeable surface materials too so that surface water can drain away." A driveway covered in puddles will do nothing for the kerb appeal of your house.
5. Hide Bins From View
While we are on the subject of driveways, consider bin storage carefully. A selection of dustbins littering the front of your house is the antithesis of good kerb appeal.
If you are unable to store them around the back of your property, build in sturdy, attractive bin stores to hide them instead.
Architect David Nossiter agrees: "Don't forget about refuse storage facilities. As recycling and green waste has become more important, provisions required for refuse disposal has become more extensive. Now more than ever dedicated refuse storage facilities make sense."
6. Design a Clear Pathway to The Front Door
"Not only does your pathway take your guests on a journey to your home, it is also a view that you see every single day," says Clare Higgins, Product Manager at window and door specialists REHAU.
A clear pathway that makes this journey easy is important, but so is the way it looks. A good front garden idea focuses on the way that the concludes at your front door, how this frames the house and how it draws the eye towards the point at which the transition between inside and out occurs.
Choose a material that will remain non-slip in all weathers, make sure it is edged properly and take into consideration how the colours in the pathway materials will sit alongside your cladding choices and window frame colours.
7. Get The Windows Spot On
Your choice of windows, along with their position on the façade of the house is a crucial element of kerb appeal.
"Specify good quality windows," says Martin Hall. "Use them wisely in terms of design, size and quantity — too much glass and you'll feel uncomfortably on show to every delivery driver dropping off a parcel, too little and you risk presenting a rather unwelcoming frontage."
According to Clare Higgins, badly chosen or damaged windows are a huge deterrent for potential buyers too.
"Sixty one per cent of Brits can be put off a property at first sight if they see damaged windows," she says. "Although some properties may benefit from maintaining original features, updating windows in a considerate way can enhance the overall look of a property – without impacting its heritage."
The way windows are fitted into the wall can also play a part in the kerb appeal of a house — recessing them slightly can add character and dimension to an otherwise very flat façade. Play around with shapes too — windows don't have to be standard rectangles. Sometimes, long, vertical windows work better, for example.
(MORE: What you Need to Know About Window Repair)
8. Rainwater Goods Make a Huge Difference
As with so many aspects of good house design – both inside and out – the devil is in the detail.
Overlook even small design elements, such as window and door furniture, edging materials for driveways and flowerbeds and rainwater goods and you risk ruining the kerb appeal of your home.
"Go for high quality rainwater goods," says Martin Hall. "Classy metal gutters and downpipes cost relatively little within the total build cost but speak volumes about the care that has gone into a property. Even if it's sometimes subconscious, people really do notice."
Think about where they will be positioned too — if they are to be in an obvious spot, consider turning them into a feature — rain chains can work well on contemporary homes and cast iron rainwater goods add a sturdy, well-made feel too.
Think of the front of your house as its public face and splash out on higher quality materials here, perhaps saving money elsewhere where products won't be as visible.
(MORE: A Quick Guide to Rainwater Harvesting)
9. Front Door Design is Key
Front doors are the point at which you step into the comfort of your home and as such need to speak volumes about what you can expect beyond the threshold. A scruffy, cheap front door is not doing its job at all, so take your time researching the right front door idea.
In addition, front door style needs to be carefully matched to the proportions and materials used elsewhere.
An oversized aluminium front door can make a huge design statement when fitted to a contemporary home, while gargantuan proportions and industrial style materials will do nothing to enhance a cottage- or Georgian-style property.
"Ensure you choose an option that is in keeping with the design of the rest of your home, however, don't be afraid to experiment with finishes," says Clare Higgins. "Opting for a colour option that complements your windows will create a consistent aesthetic, with an oak-effect offering timeless appeal that will last the seasons. However, it's also a great chance to go for a contrasting or more daring look, such as that reflects your personality and offers a standout feature for your frontage."
10. Give Consideration to Colour
Consider the colours used for each element of the façade of your house and how they all work together. You should take into account everything from the shade of your cladding materials, your window frames, front door colour and even the hue of your roof coverings.
Don't forget to factor in the shade of your driveway materials and the type of boundaries you are using.
Think about how colours will weather over time and aim to use shades that complement one another.
"When it comes to selecting colours, opt for complementary shades that will work together, including a neutral tone for dominant areas such as rendering or masonry, then accent colours for doors," advises Clare Higgins.
"Don't underestimate the impact of the colour of your door on the overall look of the property, says Ryan Schofield, Managing Director of Thames Valley Window Company. "The wrong colour can devalue the property or reduce its appeal. In the long run it is best to choose a timeless design if you want to add value, rather than go for a bright on-trend hue. Neutral shades of grey and soft sage greens work well in rural settings as they reflect their natural surroundings, with greys and blacks working well in urban areas."
11. Factor in Foliage
Even houses with small front gardens – or none at all – can enjoy fantastic kerb appeal if the right planting scheme is used.
Consider not only how boundaries can be softened with the use of a good planting scheme but also how doorways can be framed with artfully positioned climbers and pots.
Houses that face a road can really benefit from natural screening too, be that in the form of shrubs or a lightweight timber built structure.
Get the Homebuilding & Renovating Newsletter
Bring your dream home to life with expert advice, how-to guides and design inspiration, direct to your inbox.
Natasha is Homebuilding & Renovating's Associate Content Editor and has been a member of the team for over two decades. An experienced journalist and renovation expert, she has written for a number of homes titles. Over the years Natasha has renovated and carried out a side extension to a Victorian terrace. She is currently living in the rural Edwardian cottage she renovated and extended on a largely DIY basis, living on site for the duration of the project. She is now looking for her next project — something which is proving far harder than she thought it would be.