Home Office Design: How to Create a Functional and Stylish Workspace
By Michelle Guy published
Our practical home office design know-how will help you create the perfect spot to work whatever space you have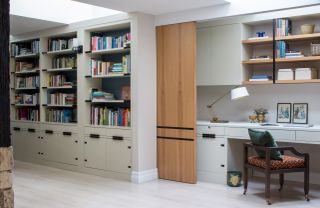 (Image credit: Roselind Wilson Design)
When it comes to home office design, there is a lot to consider. If you are undertaking a self build, you have an excellent opportunity to detail the perfect home office from the outset, giving you scope to really think about lighting, electrics, the tech and soundproofing.
If you're not building from scratch, there are still many solutions to help you create a stylish and functional home office design in your existing home, especially if you're renovating a house or building an extension.
Here's what you need to consider to create a home office design that's comfortable, practical and inspiring — to make working from home achievable whatever space you have.
If you are looking for inspiration, check out these brilliant home office design ideas.
Finding a Dedicated Space for Your Home Office Design
Before you start planning the design of your home office, consider your typical working day:
Are you on the phone a lot?
Do you need a lot of storage so you can access equipment or documents easily?
Do you write and need peace and quiet? And think about who you share your home with, too.
Once you've pondered the questions above, you'll have a better idea of where you might be able to or where you'll want to put a home office.
If you are building a new home or remodelling then consider where you're going to site a home office at the design stage.
For example:
Avoid positioning a home office above the kitchen or living room - they tend to be the places the rest of the house congregates so there'll be more sound drifting into the office, which is something you'll want to try and avoid.
Think, too about access, especially if your job involves visitors. Are you happy for them to walk through the house? Perhaps a loft conversion wouldn't be the right move.
If you are going to undertake a garage conversion you could have a side door entrance for separate access, or site your home office in a downstairs room at the front of the house.
Consider how close to a toilet and the kitchen you are.
If you can afford to dedicate a room as an office, but it needs to be upstairs, try and set it up away from your main bedroom to keep work separate.
Consider Lighting in Your Home Office Design
Once you've considered the location of your new home office, think about the lighting design.
If it's too bright for most of the day then it can be an unpleasant place to work and of course there's the potential of screen glare so you'll want to invest in appropriate window treatments to adjust the light throughout the day.
Vertical or venetian blinds are a good choice to let some light filter through. Double blinds (or double rollers) have a black out blind and a translucent blind that can work separately, which means you can roll down the latter to reduce how bright it is but still let in light, and keep the view.
Good artificial lighting is key too
"Avoid harsh shadows on the desk area by using two or more low glare LED downlights to cross light the work space," advises Luke Thomas, design director of John Cullen Lighting. "Ensure fittings are positioned so that you're not working in your own shadow i.e. don't position fittings behind the desk. Select a wide beam lamp for any downlights and maybe a lens to soften the light and reduce glare."
Linear LED strips can add an interesting effect to bookshelves and joinery creating depth and interest in the room.
Integrate Broadband into Your Home Office Design
First off, test your broadband speeds. You can use a speedtest.net app. Stand next to your router and see what the speeds are and then run the speed test again when you're in your office. "The actual speed your router connects to the internet at ranges from, say, 5Mbps to 500Mbps and typically you would want 25Mbps or better.
If you're at the lower end of this range, you are likely to suffer and limiting the number of devices that talk to the internet at any point in time will help a lot. If you're at the higher end of the speeds then, while you have plenty of internet bandwidth, there may be other limiting factors," says Nicolai Landschultz, managing director of CEDIA member company, IndigoZest.
How to Get the Fastest Connection
"Take every step to make sure you have the fastest connection to your router," explains Rob Sutherland, managing director of CEDIA member company, Inspired Dwellings. The closer your devices are to the router the better.
"A general rule is that if you double the distance between the router and device, speed decreases by one-third of its original strength. Objects, such as metal or water, can also act as a signal block. Wireless booster, repeaters and wired connections will all help," says Rob.
"A direct wired connection between your router and devices via an Ethernet (RJ45) cable will always be faster." As such, for self-builders, or those taking on major remodelling projects, it can pay to consider including a wired infrastructure throughout your new home from the outset, or at least prioritise the inclusion of ethernet cabling to key rooms, such as the living room and office.
Ethernet Home Plugs
The good news for other is that you don't have to go through the upheaval of installing CAT 6 wires — ethernet home plugs can, for example, be used to extend your broadband connection into your home office. Most ethernet home plugs now come with wireless capabilities too, which means that you can have a wireless network in your office for your phone, laptop, printer and iPad, for example.
Wiring a Garden Office
If you have a garden office then a wireless repeater (also known as a wifi extender) could be an option. Introduce the wireless repeater (which plugs into your mains and relays a wireless signal) half way between the home office and the router at a point where the signal is still strong — put it as close to the garden as you can get; in your kitchen for example. The repeater then repeats the strong wireless signal into the garden office.
Think about Electrics in Your Home Office Design
It's amazing how much of the tech you have will need plugging in or charging at some point so bear this in mind if your home office is going to be in an already functioning room with a TV, games console, lamps etc already using sockets.
If you're self-building or remodelling then you might want to think about sockets and where you want your desk when planning your home office design.
Adding new sockets to an existing circuit would require a Minor Works certificate to certify that the work has been carried out and tested to the BS7671 (IEE wiring regulations) standards.
If the electrical work involves a new circuit (i.e. you're building an extension that would put too much strain on one circuit) or a new consumer unit (if you're renovating and rewiring a property), or if the work is carried out in a new dwelling, then you'd need an Electrical installation certificate.
(MORE: Electrics - The Basics)
Incorporate Comfortable Furniture in Your Home Office Design
When it comes to home office design, it's important to pick the right chair, desk and screen even, to make sure you're working comfortably and minimising back problems and repetitive strain injury, for example.
There are a range of adjustable, ergonomic products and pieces of furniture out there, designed to support your back, posture and general well-being. Pick the best you can for your budget.
If you are looking for a new monitor, for example, you can find a 24-inch model for as little as £100, but for around £500 you can buy an eye-care monitor – by makers such as Ben Q, and others – that have low blue light filters, reduce screen glare based on the ambient lighting in the room or claim to eliminate flickering.
Heating Your Home Office
Building a new home fortunately provides an unrivalled opportunity to create a well-insulated home, and perhaps one too with underfloor heating, meaning draughts and coldspots are minimised or eliminated; good news when working from home.
For renovators, creating a comfortable environment in which to work may be a little more difficult, but there are simple solutions which can aid in a home office.
Smart Heating
When it comes to heating, installing smart radiator valves so that you can control which rooms you heat at anyone time can be worthwhile.
You plug a dashboard into the mains and attach valves, that work wirelessly (via a radio signal), to the radiators. You can set different temperatures in rooms so they effectively become 'zones' and you can set the times they come on and go off, which means you don't have to have the heating on in every room if you don't need to. It's a relatively simple DIY job — you replace your old radiator valve with a smart one and just wait for the radiators to calibrate. There's often smart apps available for control, too.
And simple solutions work well, too. If there's a draught, add draught excluder tape to windows and a draught excluder by the door — it'll all make a difference.
Soundproof Your Home Office
If you're converting or building a new home, then you'll be referencing Part E of the Building Regs when it comes to soundproofing, which will be a plus when it comes to home office design.
"Given our fondness for timber frame and lightweight block walls for thermal insulation, the inner leaf of a cavity wall is an easy route for flanking transmission to bypass a sound-resistant wall or floor," says Paul Hymers, building control officer. "Overcoming it in timber frame homes usually means double lining the walls with heavier plasterboards internally. The same process can also be needed for the super light blocks used on inner leaves."
(MORE: Soundproofing and noise control)
Soundproofing Costs
If you want to soundproof an existing home then, according to trade comparison site HaMuch, it can cost between £1,700-£2,000 to get an average room of 16m2 soundproofed. Acoustic sealant is a good option if you need to block up gaps in windows and doors and costs around £15.
If you've the space and budget then adding a garden room can be a good solution — a retreat away from it all. And there's always the option of buying some good quality headphones!
(MORE: How to Design a Smart Home)
Michelle is Homebuilding & Renovating's Deputy Editor. With an editorial career spanning more than 18 years, Michelle spent time working on educational magazines and websites until her career took an exciting turn into the world of homes and interiors. Working on sister titles Real Homes and Period Living, she then joined the Homebuilding team in November 2018. She's just completed her second kitchen renovation project, armed with an ever-growing knowledge of homebuilding advice and design inspiration. She's just about to embark on another bathroom refurb project.
Homebuilding & Renovating Newsletter
Get the latest news, reviews and product advice straight to your inbox.
Thank you for signing up to Homebuilding. You will receive a verification email shortly.
There was a problem. Please refresh the page and try again.