23 Wall Panelling Ideas: Modern and Traditional Styles to Try
By Hugh Metcalf , Natasha Brinsmead published
From contemporary to classic, these wall panelling ideas go to prove there's a style out there for every kind of home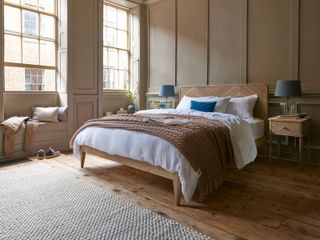 (Image credit: Loaf)
Wall panelling ideas are particularly popular at the moment, especially for those looking to add some character and charm to plain walls.
One of its many qualities is that installing wall panelling isn't actually as disruptive as you might think, and often it's well within the capabilities of a competent DIYer. MDF panelling styles, which can later be painted, are particularly common and forgiving to use. They can simply be stuck onto an existing wall with adhesive and you've got a brilliant wall panelling idea created within minutes.
However, this isn't the only option. From contemporary cladding to hardwood panels, there's something for every home, no matter the style, era and budget.
Take a look at our selection of the 23 best wall panelling ideas to stoke the fires of your inspiration.
How to Create These Wall Panelling Ideas
DIY wall panelling is a big trend right now, and many of these wall panelling ideas you'll be able to recreate yourself at home if you have the right tools, or if you get MDF pre-cut for you at a DIY store or timber yard.
If not, look into using a carpenter to create your wall panelling idea — most will have some experience of this type of project, but if not, it's largely a super quick and simple task in comparison to, say, building a bespoke built-in cupboard.
1. Install Acoustic Panelling for Better Soundproofing
This wall panelling from Nature Wall doesn't only just look good, it has a special acoustic felt backing that has Class A-rated sound absorption. Maybe you've got noisy neighbours, or you want to create a zen space for a home office, the soundproofing applications are pretty much endless.
This panelling can also be used on the ceiling, so can help muffle noise from upstairs in the house, perfect if you've got squeaky floorboards to contend with. To install, you only need to glue these panels to the wall or fix with screws through the felt, making it super easy for even an amateur DIYer to do.
2. Create New England Style Wall Panelling
Simple wood cladding, fitted in horizontal strips and painted a fresh white is the ideal way to create an airy New England style feel in the home. This style of cladding, sometimes called shiplap, is super popular in the US, especially in coastal towns, for its fresh, nautical vibe.
Combine it with pale wood floors and painted joinery details elsewhere for a cohesive look.
3. Use Narrow Strip Cladding for a Contemporary Look
Contemporary fluted panelling is one of the biggest interior trends in recent years, with both retailers designing new panelling styles and DIYers creating the look at home.
Whether you choose to painted MDF or timber for slatted panelling, the cutting involved in this type of wall panelling idea is quite intensive, as you'll need lots of thin strips. For natural timber, you'll need to use adhesive to apply these to the wall, but with mdf, you can pin them with a nail gun before filling the holes and painting.
4. Create a Hidden Door in Your Wall Panelling
This clever wall panelling idea is a clever way to disguise a door in your space. This could be for some hidden storage, or how about for an ensuite bathroom? In this instance, it's been used as an under stair storage idea, with the panelled wall covering over the awkward nook under the stairs.
For this project, build out a stud wall and door first, before affixing your panelling. The panelling strips will add some extra weight to the door, so using adjustable hinges will help you keep your lines straight on the panelling once it's finished.
5. Showcase the Beauty of Natural Timber in Your Panelling
Though it's a bit more pricey than using MDF, you can't beat internal timber cladding as a form of panelling. It brings instance warmth and richness to your space, and brings a connection with natural materials that's an important part of biophilic design.
For a highly contemporary finish, opt for a rich toned timber such as walnut or a very pale timber, such as ash. Narrow strips of timber fitted either horizontally or vertically, with tiny spaces between ensure a super sleek end result.
6. Choose Shaker Style Wall Panelling for Classic Appeal
Shaker style wall panelling is a classic design that adds a sense of depth and interest to walls. It's best suited to period homes where it may have naturally been found, but Shaker panelling has become a modern design staple and has also been adopted as a way to bring some character to new builds.
As they're so popular, Shaker style wall panels can often be bought in kits and packs, meaning you don't have to do too much maths and get the timber cut yourself. You can try any sort of proportion of panelling for your room, from simple squares to this interesting set-up used in a small bathroom.
7. Use Pegs to Create Hanging Storage for your Panelling
This simple addition to Shaker panelling adds hanging storage, which can be super useful in rooms like a utility room or guest bedroom, or used for decoration, as in this cute nursery design.
These Shaker pegs are really easy to install. You can buy screw-in Shaker pegs from Amazon, which you can simply screw in by hand.
8. Choose Reclaimed Wood for Instant Character
The rustic weathered vertical wall cladding used in this bathroom creates a warm backdrop for the back-to-wall bath as well as providing a handy shelf for toiletries.
Sourcing reclaimed wood is a great idea for panelling, not only might it be cheaper than new timber, but it's good for the planet and means you can embrace the natural patina of the timber in your space.
9. Use Wall Panelling to Create a Useful Shelf
This narrow timber strip wall panelling not only creates a modern, fresh feel in this living space, but it also plays a handy practical role.
Wall panelling comes in particularly useful when you want to create built-in features, such as storage cupboards or shelving, allowing you to easily cover a simple timber framework.
Here, the shelf provides a useful spot to display artwork behind the sofa.
10. Use Half Panelling in a Hallway
Hallways are the areas prone to getting bumped and knocked, messing up your paintwork and requiring regular repainting. Panelling can be a great hallway idea for solving this, especially when used halfway up the wall where the majority of the scuffs occur.
Not only does it protect the walls, but panelling can be painted in a hardier finish such as an eggshell or satin, which will fair better and be easier to clean.
11. Go For Coastal Vibes With Weathered Boards
Recreate a beachside feel in your home all year-round by using your wall panelling to conjure up a seaside mood.
Opt for slightly weather-beaten timber with a rustic finish — think fishing boats and huts and aim for a slightly imperfect look for a coastal house.
If you are worried about the whole thing looking a little too shabby, limit the panelling to just a small section of the room and make a feature of it to draw the eye.
12. Create Harmony in the Bedroom
Wall panelling is a great way to pull an interiors scheme together and this bedroom is a brilliant example of that.
The number of configurations and styles means that you can select one to reflect items of furniture used elsewhere in the room for a smart, harmonious and cohesive look.
Here, the simple panelled frame of the bed is mirrored on the walls — as well as the floors. The muted pink wall behind serves to add warmth and another dimension.
13. Fake It With Wallpaper
Still after new wall panelling ideas but wary of fitting it yourself? You could always opt to cheat your way to wall panelling if you want an easy shortcut to the look. This Amethyst Panelling wallpaper from Mineheart is inspired by Georgian architectural details and is pretty convincing.
14. Create a Feature With Wall Panelling
Wall panelling doesn't have to be used around a whole room to be effective. Whether you want a feature wall, to add it to alcoves or as a fireplace idea, or even just to create an interesting design on one wall as in this example.
Here, a small strip of wall panelling has been used to make a feature of the mirror, helping to ground it in the space and drawing the eye.
15. Try Wall Panelling for Dining Rooms
Wall panelling suits dining rooms particularly well, where its warmth adds a welcoming convivial touch. Paint it in a soft muted tone, such as the powdery grey shade shown here, for a relaxing atmosphere.
Panelling is also a clever choice in a small dining room where you often find that pulling chairs in and out can damage walls and paintwork. Choosing a hardy paint, as you would in your hallway, will help keep your space looking fresher for longer.
16. Mix it up With This Geometric Panelling
For an easy wall panelling idea that is perfect for more contemporary, modern interior schemes, consider creating a geometrical pattern.
Simple battens attached to the wall in a symmetrical geometric design and then painted give you this slightly more out of the ordinary panelling design that's sure to give your space the wow-factor.
17. Get Creative With Paint
Combine panelling with some clever paint ideas and the world is your oyster. In this design, Dulux paint has been used to create a crisp painted line through this panelling, adding a contemporary twist to this traditional look.
You could also paint the insides of Shaker panels a different colour for a dramatic, colourful look.
18. Embrace Pale and Interesting
Sometimes simple is best. Muted shades and subtle yet effective tongue-and-groove wall panelling in this living room create a relaxing yet super stylish space.
Tongue-and-groove panelling is easy to fit and can be bought unpainted to finish off on a DIY basis — a cost effective and quick way to update or finish off your home.
19. Use Panelling in a Bathroom
Wall panelling ideas are particularly useful when it comes to bathroom design. Not only will wall panelling add warmth and character but it can also have a practical role too.
If you want to build in pipework, for example, you can cover your boxing in with wall panelling — a neat and stylish way to finish off your bathroom and add a handy storage ledge at the same time.
Many people are now opting for wood cladding as an alternative to tiles — on walls and bath panels alike. If you choose to do this, be sure to check the wood you use is suitable for use in wet areas, or select a sealant that will protect it from moisture. Moisture-resistant MDF works well too.
20. Create Panelling Using Mouldings
Making panelling with beading is a cost-effective way to add interest to your walls, as this generally costs much less than whole sheets of MDF and is much easier to cut at home.
It also lends itself to creating large panels, which are a great way to highlight the proportions of a room — and not only does this wall panelling style add drama, but it can make ceilings feel higher too, making it a great small living room idea.
In this living room, larger panels have been combined with a different, shorter set of panels in order to ensure the room remains cosy and that the furniture isn't dwarfed by the walls.
21. Mix and Match Panelling Styles
For extra interest, why not mix and match panelling styles across a room? This bedroom feature Shaker style panelling on the walls behind the bed, with beaded details under the window.
This offers you versatility to use panelling in spaces where it might otherwise look awkward. Shaker panelling is better for large expanses of wall, but becomes a bit trickier when used in small gaps. Embracing a few types of panelling, but uniting them in the same wall colour, can solve this problem easily.
22. Paint Panelling in Gloss for a Luxurious Feel
This wall panelling has been painted in a deep forest green in either a gloss or satin finish that reflects light into the room. This glossy finish gives the room traditional charm, as well as providing a more durable finish than a flat matt emulsion or eggshell.
When it comes to choosing between satin vs gloss for your panelling, it's personal preference. Satin is a subtler sheen, while gloss is super shiny, but both will work to create period panelling.
Here's it's the perfect pairing with the antique-style leather armchairs – while the bed nestles into the alcove created by constructing built-in wardrobes either side with panelled fronts.
23. Choose Ornamental Panels for Extra Character
These beautifully ornate wall panels from Orac Decor are a particularly interesting way to add character, especially to a period home. These panels can just be affixed using adhesive and painted the same colour as the wall, adding a sense of original features to a space that may have been completed stripped of its historic charm.
Orac Decor's panels come in lots of varieties, including more decorative modern styles.
What Material is Best For Wall Panelling?
Those after wall panelling ideas should be aware that there are lots of different materials for wall panelling. Whilst timber is the traditional option, many people opt for MDF wall panelling these days — is it cost effective, easy to paint and doesn't tend to warp or twist.
If you plan on using MDF in a room with high levels of moisture (such as the bathroom) be sure to opt for moisture resistant MDF.
It is also possible to buy tiles that mimic the look of wood panels or cladding.
Hugh is Digital Editor of homebuilding.co.uk and has worked on a range of home, design and property magazines, including Grand Designs, Essential Kitchens, Bathrooms, Bedrooms and Good Homes. Hugh has developed a passion for modern architecture and green homes, and moonlights as an interior designer, having designed and managed projects ranging from single rooms to whole house renovations and large extensions. He's currently renovating a Victorian terrace in Essex, DIYing as much of the work as possible. His current project is a kitchen renovation which involves knocking through walls and landscaping a courtyard garden.
Homebuilding & Renovating Newsletter
Get the latest news, reviews and product advice straight to your inbox.
Thank you for signing up to Homebuilding. You will receive a verification email shortly.
There was a problem. Please refresh the page and try again.