Wall Panelling Ideas: 15 Achievable Schemes for Any Home
After great wall panelling ideas? Wall panelling is back and has had a makeover since the days when dark, heavily varnished finishes were all the rage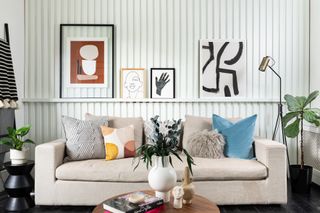 (Image credit: Interior Fox)
If you are after some brilliant wall panelling ideas then you are probably not alone. Wall panelling, in all its various styles, has shot up the list of must-have features in recent years and suits all types of homes, from super contemporary to country classic.
Even better, fitting wall panelling is usually simple and shouldn't be too disruptive. It is also a feature that suits all budgets, with simple painted softwoods or MDF lying at the cheaper end of the market and solid hardwoods at the upper end of the scale.
Our wall panelling ideas are perfect when renovating a house too. Not only can wall panelling be matched to suit the architectural era the house was constructed in, but is also a great way to cover up damaged or uneven walls.
In contemporary rooms, you might wish to opt for something subtle and sleek, such as tongue-and-groove wall panelling, painted either in crisp white or fresh grey — or a bold and bright shade.
Here, we showcase some of the most inspirational and beautiful wall panelling ideas we've come across — everything you need to set your interior refresh in motion.
1. Create a Decadent Feel With a Glamorous Wall Panelling Idea
If you are after wall panelling ideas to add a touch of glamour to your bedroom then look no further. The opulent four poster bed and enormous original sash window in this grand master suite was crying out for an equally luxurious wall finish.
The wall panelling has been painted a deep forest green – the perfect pairing with the antique-style leather armchairs – while the bed nestles into the alcove created by constructing built-in wardrobes either side.
(MORE: Master Bedroom Ideas)
2. Go For a Rustic Feel in the Bathroom
The rustic weathered vertical wall cladding used in this bathroom creates a warm backdrop for the back-to-wall bath as well as providing a handy shelf for toiletries.
Many people are now opting for wood cladding as an alternative to tiles — on walls and bath panels alike. If you choose to do this, be sure to check the wood you use is suitable for use in wet areas, or select a sealant that will protect it from moisture. Moisture-resistant MDF works well too.
3. New England Style Wall Panelling Ideas
Simple wood cladding, fitted vertically and painted a fresh white is the ideal way to create an airy New England style feel in the home.
Combine it with pale wood floors and painted joinery details elsewhere for a cohesive look.
4. Use Narrow Strip Cladding for a Contemporary Look
If you want contemporary wall panelling ideas take a look at this. Not only will the type of timber you select for your wall cladding have an effect on the finished look of your scheme, but so too will the way it is fitted and its configuration.
For a highly contemporary finish, opt for a rich toned timber such as walnut or a very pale timber, such as ash. Narrow strips of timber fitted either horizontally or vertically, with tiny spaces between ensure a super sleek end result.
(MORE: Internal Timber Cladding)
5. Shaker Style Wall Panelling Idea For Classic Appeal
This beautiful Shaker kitchen is made all the better by the carefully selected Shaker-style wall panelling that graces the walls. This is a great wall panelling idea to steal as by tying the wall covering in with the units the whole space feels full of character and warmth — something that can be lacking in some larger, open plan layouts.
(MORE: Open Plan Kitchen Ideas)
6. Use Wall Panelling to Create a Useful Shelf
This narrow timber strip wall panelling not only creates a modern, fresh feel in this living space, but it also plays a handy practical role.
Wall panelling comes in particularly useful when you want to create built-in features, such as storage cupboards or shelving, allowing you to easily cover a simple timber framework.
Here, the shelf provides a useful spot to display artwork behind the sofa.
7. Use a Simple Grid Pattern Panelling
While wall panelling comes in hundreds of designs to suit any era or style of home, you can't go wrong with a simple grid pattern, as shown here.
Not only does it have the power to make a room seem larger than it is and ceilings appear higher, but it is also happy to take a backseat to other features in the room, allowing them to shine.
Here, the panelling acts as the perfect backdrop for the wall art, while the pale pink shade sits well with the metallic shelves and side lamp.
8. Go For Coastal Vibes With Weathered Boards
Recreate a beachside feel in your home all year-round by using your wall panelling to conjure up a seaside mood.
Opt for slightly weather beaten timber with a rustic finish — think fishing boats and huts and aim for a slightly imperfect look.
If you are worried about the whole thing looking a little too shabby, limit the panelling to just a small section of the room and make a feature of it to draw the eye.
9. Create Harmony in the Bedroom
Wall panelling is a great way to pull an interiors scheme together and this bedroom is a brilliant example of that.
The number of configurations and styles means that you can select one to reflect items of furniture used elsewhere in the room for a smart, harmonious and cohesive look.
Here, the simple panelled frame of the bed is mirrored on the walls — as well as the floors. The muted pink wall behind serves to add warmth and another dimension.
10. Fake It With Wallpaper
Still after new wall panelling ideas but wary of fitting it yourself? You could always opt to cheat your way to wall panelling if you want an easy shortcut to the look. This Amethyst Panelling wallpaper from Mineheart is inspired by Georgian architectural details and is pretty convincing.
11. Wall Panelling Ideas for Dining Rooms
Wall panelling suits dining rooms particularly well, where its warmth adds a welcoming convivial touch. Paint it in a soft muted tone, such as the powdery grey shade shown here, for a relaxing atmosphere.
12. Geometrical Contemporary Wall Panelling Idea
For an easy wall panelling idea that is perfect for more contemporary, modern interior schemes, consider creating a geometrical pattern.
Simple battens attached to the wall in a symmetrical geometric design can be painted to mimic the look of wall panelling for a funky, fresh look.
13. Embrace Pale and Interesting
Sometimes simple is best. Muted shades and subtle yet effective tongue-and-groove wall panelling in this living room create a relaxing yet super stylish space.
Tongue-and-groove panelling is easy to fit and can be bought unpainted to finish off on a DIY basis — a cost effective and quick way to update or finish off your home.
14. Go For Glamour in the Bathroom
Wall panelling ideas are particularly useful when it comes to bathroom design. Not only will wall panelling add warmth and character but it can also have a practical role too.
If you want to build in pipework, for example, you can cover your boxing in with wall panelling — a neat and stylish way to finish off your bathroom and add a handy storage ledge at the same time.
Here, the wall panelling that the bath has been butted up to has been painted a deep forest green (the perfect paring for copper and brass) — all the plumbing for the taps is concealed neatly behind it.
15. Go Large and Be Bold
Using wall panelling with large panels is a great way to highlight the proportions of a room — not only does this wall panelling style add drama, but it can make ceilings feel higher too.
In this living room, larger panels have been combined with a different, shorter set of panels in order to ensure the room remains cosy and that the furniture isn't dwarfed by the walls.
What Material is Best For Wall Panelling?
Those after wall panelling ideas should be aware that there are lots of different materials for wall panelling. Whilst timber is the traditional option, many people opt for MDF wall panelling these days — is it cost effective, easy to paint and doesn't tend to warp or twist.
If you plan on using MDF in a room with high levels of moisture (such as the bathroom) be sure to opt for moisture resistant MDF.
It is also possible to buy tiles that mimic the look of wood panels or cladding.
Natasha is Homebuilding & Renovating's Associate Editor and has been a member of the team for over two decades. An experienced journalist and renovation expert, she has written for a number of homes titles. She has renovated a terrace and is at the end of the DIY renovation and extension of her Edwardian cottage. She is now looking for her next project.
Homebuilding & Renovating Newsletter
Get the latest news, reviews and product advice straight to your inbox.
Thank you for signing up to Homebuilding. You will receive a verification email shortly.
There was a problem. Please refresh the page and try again.