18 Bedroom Lighting Ideas to Create a Calm, Restful Space
By Natasha Brinsmead published
These bedroom lighting ideas are here to provide you with all the vision you need to create a stylish space for your slumber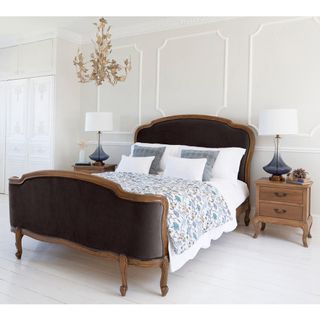 (Image credit: The French Bedroom Co.)
Great bedroom lighting ideas are absolutely key when it comes to creating a room that encourages a sense of relaxation and serenity. Get your bedroom lighting wrong and you could well end up with a space that feels cold or sterile.
Whether you are after master bedroom ideas, want ways of illuminating a child's bedroom or are thinking about creating a new guest bedroom, our collection of bedroom lighting ideas is sure to provide plenty of inspiration.
Never underestimate the important of good lighting design and the effect it can have on how you feel about a space. Not only does bedroom lighting have the power to relax, but it can also be used invigorate you as they day begins. It can also be used to zone various spaces in the room if you require the space to multitask.
1. Keep it Classic With Your Bedroom Lighting Ideas
Fresh, unobtrusive and classic in their design, glass lamps and light fittings are perfect for bedrooms.
This is a bedroom lighting idea that can be used in many ways — from glass wall lights to shimmering glass pendant lights. Or, of course, as is shown here, as a handy bedside lamp. This design is the Flute Lamp from Loaf.
2. Statement Bedroom Lighting
A bold bedroom lighting idea which really lets the fittings take centre stage. Rather than focusing on just one statement piece, why not combine several stand-out light fittings to draw the eye to various spots in the room, as has been done here.
This scheme uses a selection of lights from DelightFULL, including their Galliano wall lamp. Its minimalist style would fit in with any interior scheme and the way the light is beamed across the wall creates real drama.
3. A Softer Industrial Look
While the industrial look is a popular one in the world of interiors right now, it can be a little harsh and edgy for bedrooms.
Take a softer approach and introduce industrial hints through your light fittings — the exposed bulb of the side lamp in this space is a good example, as is the Sigmund 2 Tier Mesh Pendant Shade In Matt Black from Iconic Lights.
4. A Luxury Look
This bedroom lighting idea is one of full-on glamour. Choose a glimmering oversized central pendant light and combine it with with a pair of striking wall lights either side of the bed for maximum impact.
The opulent mid-century modern brass pendant here is the Brubeck chandelier from DelightFULL and was inspired by American jazz pianist Dave Brubeck.
5. The Disappearing Reading Light
A good reading light is essential in the bedroom — it should be easy to operate from your bed and, if you are sharing your bedroom with anyone, you want one on either side of the bed to avoid arguments over leaving the light on too long.
This sleek little light is the Digit Led recessed reading light, designed by the British company Astro, in a bronze finish.

This wall lamp can be turned 180° and, when you are not using it, it disappears into the wall to become almost invisible. The lamp is available from Nedgis.

6. Set Your Overhead Light Off-Centre
There is absolutely no rule to say that a pendant light has to be hung centrally — in fact in the bedroom it can often make more sense to hang it to one side of the bed as opposed to directly over it, where it can shine a rather harsh light over the sleeping zone.
Here, the beautiful Autumn Leaves Pendant Light from The French Bedroom Co. draws the eye to the vintage style chair. If you want to operate a pendant light without getting out from under your covers, remember to ask your electrician to fit a switch within easy reach of the bed, as well as by the door to the room.
7. A Dreamy Children's Bedroom Lighting Idea
Looking like something straight out of a fairytale, these Cloud Lamps from Circu, are the ideal way to light this brilliant children's bedroom.
Kids' rooms are the perfect place to let your imagination run wild, so do consider fitting lights with a whimsical feel.
8. Keep it Classic With a Pair of Bedside Lamps
It might not be a new idea, but using a pair of matching bedside lamps on either side of the bed is a popular bedroom lighting idea for good reason.
Allowing bed companions to decide when it is time for lights out on their side, a pair of side lamps also creates a nice orderly and calm feel in the space.
It need not be a boring look either if you choose eye-catching lamps such as these APACHE Table Lights from Brabbu.
9. Get The London Look
Conjure up a sense of city chic by choosing bedroom lighting in shades such as black and gold, and use fittings that can be angled to create maximum impact and illumination exactly where you want it. Directional lighting is a particularly good idea in bedrooms, allowing you to avoid it shining in your eyes when reading and also to point it away from any windows with great night time views.
The Amy Lamps in this bedroom, from DelightFULL, were inspired by Amy Winehouse. The glossy black lamp shade bears a resemblance to Amy's legendary hair and the small gold powder paint detail is reminiscent of her golden earring.
10. Bedroom Lighting for Sloping Ceilings
Bedrooms in loft conversions or those with sloping ceilings can be tricky places to light. There are several options — you could fit recessed downlighters into the ceiling, providing they are adjustable. Alternatively, use hanging pendants, as has been done here.
The Bertie Glass Coloured Mid Pendant Light Cluster from Glow Lighting is ideal for this purpose, while the selection of colours make it easy to pair them with the rest of your bedroom decoration scheme.
11. Match Bold Bedroom Wallpaper With Your Lights
Forget the old myth that a bold wallpaper means playing it safe elsewhere in your decoration choices. Pairing busy patterns and zingy wall colours with bright statement wall lights actually works really well.
To be successful, pick out one colour used elsewhere in your room and use it for your light fittings — and keep the shape and form of your light simple.
The C.Lamp from Nedgis, designed by Petra Lilja for the Swedish Ninja house, adds a cheerfulness to the space and can be positioned at any angle you wish — it also comes in colours other than the citrus yellow hue shown here.
12. Art Deco Bedroom Lights
This beautifully sophisticated bedroom scheme has some wonderfully Art Deco lines and elements going on.
From the elegant blue and orange colour scheme and opulent padded headboard, to the geometric pattern of the rug — this is a highly stylised space.
The polished spherical wall lamps positioned to either side of the bed are the perfect partners for this scheme, which also features furniture from PullCast.
13. The Perfect Bedroom Window Treatment
Don't forget to consider your natural light sources when designing a bedroom lighting scheme. While it is undoubtedly lovely to have large windows and a space that is flooded with sunlight, there are times when you need privacy as well as a way to keep the room dark.
One of the best window treatments for bedrooms is shutters — they look fresh and elegant, allow you to control the amount of light entering a space and can be folded away, right back to the wall, when not in use.
The TS Shutter Bay Bedroom in Vanilla Burst, by Thomas Sanderson, can be custom made to your exact requirements.
14. Keep Your Bedside Table Clutter Free
In small bedrooms, where there isn't much space either side of the bed for large bedside tables and lamps, it makes much more sense to fit wall lamps.
These can either be operated by a pull cord or integral switch, and others can be fitted to be operated via two separate switches — one by the bed and another by the door.
Shown here is the Fold wall light from Astro, available at Nedgis.
15. Use Layered Lighting in The Bedroom
Using layers of light, all from different sources and with a distinct purpose, is a good idea in every space within your home, but in bedrooms it is particularly useful.
Lighting can be separated into different 'types' including task lighting and general. In the bedroom, you need a combination of these various types - you may need light for reading, dressing, applying make-up and all of this would fall under the duty of task lighting. Then there is general lighting, for every day illumination — pendant lights and downlighters are good examples.
Accent lighting is used to highlight features and to create moods — picture lights and hidden LEDs are great for this.
This master bedroom, with its hotel chic design scheme, features a good range of different light sources, all from DelightFULL.
16. Keep It Simple and Serene
If you would prefer a more laid back, unfussy look in your bedroom, or are after an easy and inexpensive way to light the space – perhaps in a guest bedroom – a pair of stylish yet simple bedside lamps is all you need.
The Flute table lamps shown here, from Loaf, feature dusky pink shades that complement the rest of the rustic bedroom scheme perfectly.
16. Create a Natural Bedroom Look
Take the time to think about the materials you use in your bedroom design, as well as its layout.
If you want to create a fresh, pared-back feel – ideal in a relaxing space – focus on using natural materials, such as linen, wood and wicker.
The Grass XS pendant light by Jette Scheibe for the Forestier brand available at Nedgis takes its inspiration from the art of basketry and from the shades of varied landscapes.
17. Swap Bedside Lamps For Pendants
There is no reason why your bedside lights have to come in the form of table lamps — or wall lights for that matter.
Why not consider hanging two pendant lights, low down, either side of the bed instead? This will keep your bedside tables clutter free as well as making a stylish statement.
Original BTC's Brompton Size 3 Pendants are ideal for the job.
18. An Updated Classic Scheme
Strong symmetrical lines? Check. Sturdy four-poster bed? Check. Traditional bedroom scheme? Nope. Classic style has endured for good reason — it is pleasing to the eye, ideal for conjuring up a soothing feel and easy to pair with bolder accessories.
Fixing bedroom lighting in a symmetrical layout is a brilliant idea — but by using contemporary, exciting fittings, there is no reason it should feel conformist.
This scheme, from The French Bedroom Co. is the perfect example of classic meets contemporary.
Natasha is Homebuilding & Renovating's Associate Editor and has been a member of the team for over two decades. An experienced journalist and renovation expert, she has written for a number of homes titles. She has renovated a terrace and is at the end of the DIY renovation and extension of her Edwardian cottage. She is now looking for her next project.
Homebuilding & Renovating Newsletter
Get the latest news, reviews and product advice straight to your inbox.
Thank you for signing up to Homebuilding. You will receive a verification email shortly.
There was a problem. Please refresh the page and try again.