Loft Storage Ideas to Make the Best of Even the Most Awkward Space
By Sarah Handley published
Looking for loft storage ideas? Whether you just use your loft for storage or you're thinking about converting the space into a room, these ideas will maximise your storage capacity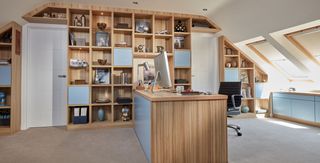 (Image credit: Neville Johnson)
When it comes to loft storage ideas, it is important to carefully consider how the sloping ceilings and odd angles of a loft space will impact your choice of storage solution.
When it comes to loft conversions, while they a great way to make better use of existing space, it can be tricky to furnish in a way that is functional, practical, and looks good.
More so than other rooms, you will need to pay particular attention to furniture placement to ensure there is sufficient head height to comfortably move around. This can mean that awkward slopes and alcoves are woefully underused, but these spaces can make great locations for creative loft storage ideas.
From bespoke and built-in solutions to dual purpose furniture, these loft storage ideas will ensure every inch of space is used effectively.
1. Incorporating Bespoke Built-in Furniture is a Perfect Loft Storage Idea
Using standard furniture, especially wardrobes, in your loft conversion can leave you with lots of wasted space. Make the most of every inch by opting for made-to-measure designs that will not only look great, but maximise the storage capacity.
As well as bespoke wardrobe solutions that work well with angled ceilings, you can also build storage into the eaves. Consider sliding doors if you want to keep the storage space unobtrusive.
Speak to your designer about opportunities for built-in storage early in the design stage so that it can be planned in effectively.
(MORE: Built-in Storage Ideas)
2. An Affordable Alternative to Built-in Furniture
While bespoke, made-to-measure furniture is a worthwhile investment, there are more cost-effective solutions available for those on a tight budget.
Freestanding units, like this one from IKEA, work well under sloping ceilings and can offer various types of storage - hanging space, drawers and shelves - all in one.
3. A Loft Storage Idea Fit for Work
If you've converted your loft into a home office, adequate storage is essential to keep your workspace clear and organised.
Devote an entire wall to storing your essentials - a mix of open and closed storage is a great idea.
Opting for a bespoke design that includes a desk and eaves storage keeps the scheme both cohesive and stylish.
4. Configure Floating Shelves to Turn Your Loft Storage into a Feature Wall
If devoting a whole wall to storage is more than you need, then utilising floating shelves is a great solution that is not only practical, but can also create a stylish feature wall.
It's best to use this type of storage to show off pictures, books or collectibles, rather than more practical items like clothes, to keep it looking neat.
5. Make Your Bed Double Up as Concealed Storage
If you will use your converted loft as a bedroom, then it makes sense for your bed to do some of the storage work for you.
You can buy plastic storage drawers on wheels that can be slotted beneath a bed frame which is a cost-effective option. But to keep the storage completely hidden, opt for a bed with built-in storage.
Ottoman beds and storage beds both offer plentiful storage space and are great solutions for compact rooms.
6. Be Smart About Your Freestanding Furniture
Dual-purpose freestanding furniture is ideal for a converted loft. Benches, seats and beds with integrated storage make really efficient use of the space and are a great way to avoid clutter.
As an alternative to built-in eaves storage, low-height units are perfect for lofts as they can sit neatly beneath a sloping ceiling.
7. Don't Forget to Incorporate Loft Storage Ideas into an En Suite
Whether you've created a master suite in your loft or have added a bathroom to compensate for an extra bedroom, then it makes sense to add some clever storage solutions in there too.
Vanity units and mirrored bathroom cabinets keep the space practical and stylish, while offering ample storage for toiletries.
8. A Super Space-saving Loft Storage Idea
Corner units and shelves will allow you to make use of every inch of space in your loft and can be a space-saving alternative to a dressing or side table.
9. Just Want to Use Your Loft for Storage?
If your loft is a storage zone only, then it pays to keep it organised. If you haven't already boarded your loft, follow this handy DIY guide on how to board a loft to ensure that you can store items safely and securely.
Stackable boxes are key to ensuring that your items are stored in a safe and stable manner. Clear or translucent boxes are a good idea so you can easily see what is inside each box without having to open them first. Clearly (and accurately) labelling the boxes is another option.
Measure the dimensions of your loft hatch before buying the boxes to make sure you can actually get them into the loft.
Depending on how much available space you have in your loft, you may also be able to fit a shelving unit in there, but do remember this will need to be assembled in the loft.
Sarah is Web Editor of homebuilding.co.uk. She began her career more than a decade ago, working on the editorial team of Public Sector Building magazine, before joining the wider Homebuilding & Renovating team as Social Media Editor in 2012. Since purchasing her first house in 2015, Sarah has been adding to the ever-increasing list of home improvements she needs to make; including extending over the garage, resurfacing the driveway, replacing existing flooring and revamping the kitchen. Fortunately, in her eight years on Team Homebuilding, including three as web editor, she is not short on design inspiration or top tips to tackle or project manage these tasks herself.
Homebuilding & Renovating Newsletter
Get the latest news, reviews and product advice straight to your inbox.
Thank you for signing up to Homebuilding. You will receive a verification email shortly.
There was a problem. Please refresh the page and try again.