Terraced House Loft Conversions: 12 Things to Consider Before you Begin
By Hugh Metcalf published
Considering a terraced house loft conversion to expand your home's space? Here's what you need to think about before you start your project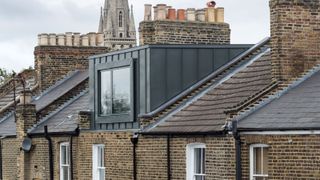 (Image credit: Ben Blossom c/o Gruff Architects)
Terraced house loft conversions are a great way to add an extra room to properties with limited space, no matter what reason you're converting the loft for.
While many of the considerations are common for loft conversions for all kinds of houses, a terraced house does throw up some specific challenges. However, in general, terraced house loft conversions shouldn't be too difficult.
We've asked the experts for their top advice, the design essentials you need to know and best practice for terraced house loft conversions so that you can enter the process armed with all the information you need.
Can you Convert a Loft in a Terraced House?
Terraced houses loft conversions are actually very common and in many cases, terraced houses loft conversions are easier than many other kinds of houses.
"The reason terraced houses are easier to convert is due to the fact they share a party wall on both sides, which on most occasions is structural," explains Robert Wood, Managing Director of Simply Loft, part of the Simply Construction Group. "We can easily re-structure the space allowing it to be opened up safely with minimal work. In short the structural design for terraced homes is simple."
Terraced houses, often built before the 1960s, tend to have steeper roof pitch too, meaning that they have large lofts with suitable headroom for a loft conversion.
However, bear in mind that in order to meet Building Regulations, a terraced house requires a sufficient escape route. "Today, the primary means of getting out of a burning three-storey property (ie. a 2 storey house with a loft conversion) must normally be via an 'escape corridor' that leads down to a final exit door to the street or garden," explains chartered surveyor Ian Rock. You may be required to erect a new partition wall in your front room if you don't already have an entrance hall and landing.
1. Consider Where Your Loft Stairs Will be Located Early on
The best case scenario for locating stairs in a terraced loft conversion is directly above the existing staircase from the floor below. "We always try and make the new stairs look like they have always been there i.e. match the existing. In short we want the loft stairs to just feel part of the original home," says Simply Loft's Robert Wood.
However, there are other options for loft conversion stairs that will work for a terraced house. A new loft staircase at a right angle to the existing staircase might be possible even in a narrow terraced house when using an alternative loft staircase, such as alternating tread stairs or fixed ladder stairs. You can also include turns in loft stairs to ensure that they emerge where head height is appropriate and meets Building Regulations requirements.
2. You'll Need to Serve Party Wall Notices on Both Sides
There aren't many projects that require you to have Party Wall notices with both neighbours, but this will be a necessity for a terraced house loft conversion under the Party Wall Act, as this will usually involve structural changes to shared walls in the loft.
3. Assess What's in Your Loft Already
Loft spaces in older houses, which terraced houses often are, may have some remnants of previous uses you'll need to contend with before you can convert your space. Water tanks are common to find in a loft for homes without a combi boiler to heat the home, but even if your home now has a combi boiler, you may find that the existing water tank and pipework has been left in the loft.
This is because it's extra work to dismantle and remove when your only access is a small loft hatch. Unfortunately, that burden falls on you now that you're looking to convert your loft.
4. What are you Going to use Your Loft Conversion for?
There are so many brilliant loft conversion ideas that suit terraced houses, and it's worth considering the specific use before choosing a type of loft conversion. If, for example, you're looking to create a bedroom, is there room for a loft conversion bathroom too? This is an important consideration when increasing the scale of your house to ensure it can cope with the demands of extra people in your house.
If you're considering a loft conversion for something like a home office, this may have an effect on the design of the space. In a home office, which is used during daylight hours, ensuring there's plenty of natural light is even more important to ensure a productive, inspiring space, than a bedroom would be, which is used less during daytime.
Also consider how your loft conversion can be used for storage. Loft storage ideas can be built-into the eaves of your attic space.
5. Do you Need Planning Permission for a Terrace House Loft Conversion?
Loft conversions to terraced houses will often fall under Permitted Development and so won't require planning permission. However, there are some requirements that your project will need to meet in order to qualify for PD rights.
For terraced houses, the loft conversion cannot add more than 40 cubic metres to your property, for example, while it also cannot exceed the height of the existing roof. There's also a caveat under which you cannot extend beyond the roof's existing slope on its principal elevation.
Needless to say, PD rights also don't apply to homes in Conservation Areas or Areas of Outstanding Natural Beauty.
6. Terrace House Loft Conversions can be Relatively Simple
As terraced houses often have steeply pitched roofs, you may be able to opt for one of the simplest, cheapest type of loft conversions — a rooflight loft conversion.
This doesn't require any external construction work, as would be for a dormer to raise the roof height to meet requirements, and simply requires the loft space to be insulated properly, boarded out, rooflights installed and stairs constructed.
However, it's worth bearing in mind that when it comes to loft conversions, it's the quality of the space that's more important than the quantity. You want to create a space that's comfortable to use and with a rooflight loft conversion, you need to be sure you're not sacrificing making a usable and useful space simply because of the cost benefits.
7. Rear Dormers are a Great Way to Extend Your Loft Space
Rear dormers are an extremely popular type of loft conversion for terraced houses as they increase the amount of floorspace with useful headroom in your new space. A dormer also means you can incorporate vertical windows, creating a view out over the garden.
Dormer windows will help make bedroom loft conversion ideas more spacious, and may even free up room to include an en suite bathroom in your loft design.
8. Or Choose a Rear and L-Shaped Loft Conversion
Rear and L-sections are a great choice for terraced houses if the property has an out rigger section," explains Simply Loft's Robert Wood. "On period terrace homes, there is normally a section of the house at the back that sticks out where the kitchen is on the ground floor."
Creating an L-shaped loft conversion extensions can greatly increase the amount of space a terraced house offers,
9. Mansard Loft Conversions are Also an Option
For even more usable space from your project, investigate a mansard loft conversion. This type of loft conversion basically adds a whole extra storey to your house, running from one gale wall to the other. "A mansard loft conversion involves changing a sloping roof structure resulting in a wall that is almost vertical, typically 72 degrees," explains Michael Holmes, Chair of NaCSBA (opens in new tab) and Homebuilding.co.uk's head of content. "However, the final roof is flat."
10. What About End of Terrace Loft Conversions?
In general, end of terrace houses are suitable for the same loft conversions as mid-terrace houses, however, sometimes these properties can have slightly different roof structures. " If the end terraced house has a hipped roof (slope on the front, side and rear), we will do a hip to gable loft conversion," says Robert Wood, "and then add a rear dormer and L-section dormer."
11. How Much Will a Terrace House Loft Conversion Cost?
The basis of a cheap loft conversion is a good amount of height and a generous floorplan that doesn't require too many internal re-arrangements for your loft stairs. Terraced houses are likely to offer the former, but not always the latter; however, it depends completely on your individual home. Gable end houses are generally cheaper to convert too.
A basic loft conversion is likely to cost from around £18,000 to £25,000 for a straightforward double bedroom design in a terraced house, says Michael Holmes.
12. Will a Terrace House Loft Conversion Add Value?
Loft conversions to terraced houses tend to offer a better return on investment than many other kinds of houses. That's because often terraced houses are in more tightly packed urban environments, where space is at a premium, especially houses in city's such as London, to which a loft conversion could add as much as £200,000 in some areas, according to RESI (opens in new tab).
Loft conversions to detached houses, in comparison, may provide a poorer return on investment, as space is less of a premium and there may be more defined price ceiling for these kinds of properties, especially in rural areas.
Hugh is Digital Editor of homebuilding.co.uk and has worked on a range of home, design and property magazines, including Grand Designs, Essential Kitchens, Bathrooms, Bedrooms and Good Homes. Hugh has developed a passion for modern architecture and green homes, and moonlights as an interior designer, having designed and managed projects ranging from single rooms to whole house renovations and large extensions. He's currently renovating a Victorian terrace in Essex, DIYing as much of the work as possible. His current project is a kitchen renovation which involves knocking through walls and landscaping a courtyard garden.
Homebuilding & Renovating Newsletter
Get the latest news, reviews and product advice straight to your inbox.
Thank you for signing up to Homebuilding. You will receive a verification email shortly.
There was a problem. Please refresh the page and try again.