Designing a Kitchen Island: How to Create a Central Kitchen Feature
By Natasha Brinsmead published
Designing a kitchen island need not be a complicated affair — especially not when armed with our complete how-to guide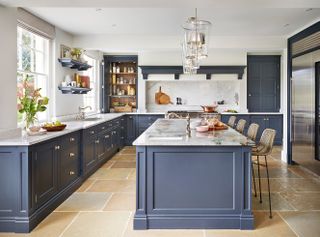 (Image credit: Martin Moore)
Designing a kitchen island is a task best approached only when you have a good idea of your kitchen design as a whole, know the size of the space you will be working with, exactly what you want from your kitchen in terms of how you will use it, what your budget is and the overall look you are aiming for.
Features such as windows and rooflights also need to be taken into account as this will affect the orientation of the new kitchen island.
Kitchen island design is definitely not a job you can leave until the last minute — do this and you could end up with an island that is out of proportion to the space, in the way and, without the adequate electrics and plumbing to serve any appliances you want to fit into the unit.
For the ultimate in inspiration check out our great kitchen island ideas.
Think About Use When Designing a Kitchen Island
When designing a kitchen island, the very first thing you should think about is exactly what you plan on using it for.
Questions to consider include:
Do you want it to provide space for casual dining?
Will you want island seating?
Will you be fitting appliances into the island, such as a hob, sink, under-counter fridge, wine cooler or dishwasher?
Will you want to use any smaller appliances, such as a stand mixer or toaster here?
The answers to these questions will help you begin designing kitchen island that will be perfectly tailored to your needs. It will help you to form a brief for your kitchen designer or supplier and allow you to inform anyone working on your kitchen project, such as electricians and plumbers, of the jobs you will need them to carry out in advance of the island being fitted.
Do bear in mind that if you plan on using your kitchen island for washing up or cooking, there is likely to be a certain amount of kitchen clutter on view — washing up drying, pots and pans waiting to go in the dishwasher and such. If this is a concern, consider a raised section to one side of the island that could hide the mess and provide a spot for people to perch.
Size is Crucial When it Comes to Kitchen Island Design
The size of kitchen island you choose should be based both on the overall size of your kitchen as well as what you want it to use it for. The shape of your kitchen also needs to be taken into account, along with the layout of the space, particularly if it is an open plan area incorporating dining and living spaces.
Although there is no 'standard' size for a kitchen island, the average island tends to be around 1,000mm x 2,000mm. Experts advise that you don't go any smaller than 1,000mm x 1,0000mm.
It is also useful to bear in mind that it is possible to go too big with a kitchen island. A maximum width of 2,200 is wise if you want to avoid wasted space in the middle of the worktop, although if you plan on having a 'sociable side' and a 'working side' to your island you might want to rethink this.
Finally, if you want your kitchen island work surface to be made from one piece of worktop material then check the maximum sizes you chosen material is available in so you can avoid joins.
The amount of storage you want to incorporate into your island will also be a factor when it comes to island size. Wide, deep drawers work really well, as do lots of shelves. Check the sizes of the storage units you want, along with the depths of the appliances you want to ensure your island can accommodate them all.
Don't Neglect Clearance Space Around the Island
When thinking about size, it is crucial that you bear in mind the recommended clearance spaces around kitchen islands.
If you are asking, 'is my kitchen big enough for a kitchen island?' then it might be useful to know that a minimum width of 3,500mm is recommended for kitchens to be fitted with an island.
The following guidelines are useful:
You should aim for at least 1,000mm between your island (the edge of the worktop if it is wider than the cupboards) and any adjacent runs of units
There is no maximum clearance space between islands and unit runs but any wider than 1,500mm can feel impractical
Fitted or Freestanding: Which is Best?
Although both fitted kitchen islands and portable, or freestanding, kitchen islands are both great options, they both offer quite different things.
A freestanding kitchen island, particularly a portable one, perhaps on wheels, is a great option for those who are short on space. They make it possible to have a kitchen island when necessary, for example on a day-to-day basis when preparing doors, but can be moved out of the way when sociable events require more floor space.
Some freestanding kitchen islands are permanent features, however. Mixing freestanding kitchen islands and units with fixed makes for a nice mix-and-match feel.
Fitted kitchen islands tend to be the more practical option for those wanting a more custom approach, or who want appliances to be fitted into their island.
Should I Include a Hob in the Design?
Kitchen islands make great central workstations when fitted with hobs, sinks and other appliances.
However, if you plan on having a kitchen island with a hob there are a couple of things to bear in mind.
Firstly, make sure the worktop material you opt for can withstand cooking spills and heat.
Secondly, consider extraction. You will need a good extractor in order to remove steam and cooking smells generated by using your hob. Some people choose to fix an extractor into their ceiling so that it lies flush, while other opt for a freestanding, extractor located directly above the hob — some of these are really eye-catching and become features in their own right.
If you plan on fitting an extractor into the ceiling, bear in mind that this could involve building in a false ceiling to take the extractor unit.
Alternatively, you could consider a downdraught extractor. These lie flush with the worktops and suck odours and steam down into ducts that run either behind the units or, in the case of islands, within the floor, to outside.
Getting Electrics and Water to Your Kitchen Island
If you plan on fitting appliances and/or a sink into your kitchen island you will need electrics and and water supply, as well as a waste pipe, fitted.
While this isn't usually an issue, make sure you inform your builders, plumber and electrician, along with your kitchen fitter if you are using one, well in advance of your plans.
Choosing a Kitchen Island Shape
The kitchen island shape you choose should be based on the size of your room, as well as any other shapes you might like to mirror elsewhere in the space.
Curved kitchen islands work well where space is a little tight, allowing for a better flow of traffic, as well as visually drawing the eye away from the proportions of the area — there are also no corners to bash yourself so can be useful for those with children.
Long, narrow rectangular kitchen islands are a brilliant option for creating a galley kitchen set up, maximising the worktop space you will have available without encroaching on space elsewhere that you might want to use for dining.
If space is very limited you could consider an island peninsular, sometimes also called a breakfast bar. Rather than being freestanding, as with a kitchen island, a peninsular is attached at one end to the units or the wall and is open on three sides. They are a useful way of separating a kitchen and dining space and can still incorporate shelving on one side, with seating on the other.
Worktop Options for a Kitchen Island
You should choose your kitchen island work surface based on what you plan on using it for. If, for example, you want to fit a hob or sink into your island, a stain- and heat-proof material will be best — it should also be able to handle spills well. A composite or a sealed stone, such as granite, would be a good choice.
If you like the look of timber worktops but are worried about how practical they are, it might be best to reserve them for one end of your island, where people will be eating for example, or where food prep will be carried out.
Porous stones, such as marble and sandstone, are also best avoided in food preparation areas as they stain easily.
Should Seating Become Part of the Design?
If you plan on incorporating seating into your kitchen island, you should consider the worktop overhang you will require for people to sit comfortably.
A minimum worktop overhang of 20cm is recommended, with the standard being 25cm. However, for most people a 30cm of knee space works best for an average-sized adult. If you plan on an overhang of more than 30cm, you will need brackets to support the worktop.
When it comes to calculating how many people you will be able to seat at your kitchen island, work on the basis that 60cm per person usually results in a comfortable space between people — although you could go down to 50cm if you don't mind a bit of a squeeze or if children are likely to be sitting at the island.
Although most people opt for high chairs or stools to provide kitchen island seating, others opt for a split level kitchen island, with a lower, table height section at one end providing a more comfortable, defined dining area.
Lighting a Kitchen Island
You will need to think about how you want to light your kitchen island. This decision, like so many involved in designing a kitchen island, should be based on what you will use it for.
If it is to be a very practical space, from which to cook and prepare food, directional overhead lighting, such as track lighting or recessed adjustable spotlight, are a great option. If, on the other hand, the kitchen island is primarily for gathering around as a family or for serving up food or drinks, then a run of low-hung pendants is a great way to create a cosy, welcoming glow.
Some people also choose to fit their island with hidden LED strip lighting, beneath the work surface or just under the base. This can really highlight its design and turn it into the focal point of the room.
How to Keep Costs Under Control
If you want a kitchen island but are worried your budget won't stretch to one there are several options you could consider.
It tends to be cheaper to go freestanding. Some of the most beautiful kitchen designs feature kitchen islands that have been fashioned from reclaimed or upcycled butcher's blocks or work benches.
Another simple and cost effective way to get a kitchen island is to buy off-the-shelf kitchen base units (aim for a minimum of two) and position them centrally. You might opt for a configuration of four — two of which could be open fronted, and top the whole lot off with a smart worktop for a DIY approach.
Natasha is Homebuilding & Renovating's Associate Editor and has been a member of the team for over two decades. An experienced journalist and renovation expert, she has written for a number of homes titles. She has renovated a terrace and is at the end of the DIY renovation and extension of her Edwardian cottage. She is now looking for her next project.
Homebuilding & Renovating Newsletter
Get the latest news, reviews and product advice straight to your inbox.
Thank you for signing up to Homebuilding. You will receive a verification email shortly.
There was a problem. Please refresh the page and try again.