Pantry Ideas: From Walk-in Larders to Pantry Cupboards
By Natasha Brinsmead published
These clever pantry ideas will make searching for extra kitchen storage space a thing of the past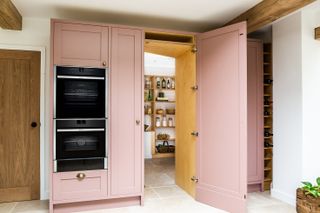 (Image credit: Wood Works Brighton)
If you're after stylish pantry ideas that will turn crammed cupboards and overflowing drawers into a distant memory then you've come to exactly the right place. Pantry ideas now form a major part of kitchen design and here we showcase some of the best and most practical pantry ideas out there to ensure that you have all the space you need for everything, from dried goods to kitchen equipment.
Also known as walk-in larders, pantries were once a feature no home could do without, offering somewhere cool and away from bright sunlight to store both fresh and dried goods in the absence of modern refrigeration methods. They also reflected the way we used to eat far more seasonally than we do these days, allowing people to tuck away fruit and vegetables, as well as cured meats, for when food was scarce or harder to come by in the colder months.
Of course these days we can supermarket shop until we drop — which is possibly why the pantry has once again become a must-have feature, allowing us to stockpile all those 'necessities' neatly out of the way. They are also particularly popular with owners of more rural properties, where food deliveries are still not offered and a trip to the shops means a lengthy car journey.
Plus, there is just something undeniably comforting in knowing you have a well-stocked pantry should there be a hefty snowfall, or, imagine this if you can, sudden shortage of food on the supermarket shelves.
How to Design a Pantry
Before getting stuck into our kitchen pantry ideas, first take time to consider the golden rules of pantry design. You don't want your beautiful new space to become a dumping ground with no order — somewhere for all those obscure spices to smugly pass their use by dates unnoticed.
To ensure your pantry is über-organised and practical too, follow these top pantry design tips:
Keep it cool. Pantries and heating are not friends. This should be a cool space, so no radiators or underfloor heating.
Location is everything. Ideally you want your pantry to have one or two external walls to ensure good ventilation is possible and that it remains cool. It should also be near the kitchen and, if possible, the front door where you unload shopping.
Use durable, easy-to-clean materials. Floors, shelves and work surfaces need to be easy to wipe down.
Consider built-in joinery. This will make the most of your pantry space, however small.
Best Pantry Ideas
This collection of our best pantry ideas should be used to help develop you pantry design plan and is here no matter how much space you have available and what your budget is. We have everything, from how to keep the space easy to use to sneaky ways to fit in a pantry even when you didn't think you could.
1. Floor to Ceiling Pantry
Whether you have a small pantry or a more roomy set up, it makes sense to ensure that you are using every last inch of space if you want to get the very most out of it.
Don't just look around the room for storage options — look up too. Fit shelves that go right up to the ceiling and use hanging racks too in order to give a home to all those lesser used pots and pans. This is where steps and sliding ladders come in useful.
Bespoke kitchen joinery is the way to go when it comes to utilising all your wall space.
2. Include Work Surface Space
Any self-respecting walk-in pantry needs some work surface space if you want to unleash its full potential. Not only will it provide a useful resting spot for jars and the like while you select goods, but, if you choose the right worktop material, it could also be the perfect food prep spot.
Materials such as marble and certain stone-based composites remain cool to the touch and are the best kitchen worktops on which to roll out pastry and dough.
3. Pantry Doors With Glass
Glass pantry doors are massively popular right now. Not only are pantry doors with glass a practical way to ensure this usually dark space can benefit from a little natural light, but they also make a real design statement.
Glass pantry doors also allow you to add to your kitchen design scheme — either mirroring your units, colours and tiles within your pantry or by displaying your favourite dishes or glassware — safely out of the way of the kitchen hustle and bustle.
If you are worried about revealing a less than organised pantry to guests you might be welcoming into your kitchen, consider using a frosted glass finish to your doors instead.
4. Pantry Lighting Ideas
Pantry lighting is crucial if you want your new larder space to be useable and stylish. You will need to position lights so that you can see everything you have on your shelves and in cupboards too — particularly in pantries with no windows.
(MORE: Kitchen Lighting Ideas)
If you plan on having a pantry with glass doors, it is nice to include a few lights for ambience too — undershelf light and spots can really give the space a nice glow in the evening as well as showing off any lovely dishes or glasses you might choose to store in there.
5. Pantry Storage Ideas
Kitchen storage ideas are a really important element of pantry design — they mean that not only will you be making the most of the space but you will also find it a cinch to find everything you are looking for.
Glass storage jars make a lot of sense when it comes to immediately identifying what is being stored where — and if you label them then all the better.
Elsewhere, wooden crates, hessian sacks and hanging racks are also all great options.
(MORE: Kitchen Storage Ideas)
6. Practical Pantry Flooring Ideas
Pantry flooring ideas are really important as, above all else, a pantry needs to be a highly practical space. The flooring you choose should therefore be easy to clean, durable and cool to the touch.
Natural stone flooring (sealed properly), porcelain and ceramic are all good options.
(MORE: Kitchen Flooring Ideas)
7. Pantry With Sliding Doors
A pantry with sliding doors makes perfect sense in every style and size of kitchen, saving space and adding a stylish finish.
If you are designing your new kitchen from scratch you might like to consider pocket doors that disappear into the walls entirely, or perhaps those aiming for a more classic look would find barn-style sliding doors more fitting.
A popular look at present is for glazed sliding doors, particularly those with a slightly industrial finish achieved by using metal frames.
8. Pantry Cupboards are a Great Idea for Smaller Spaces
Struggling to find space to spare for a pantry? A larder cupboard is a great compromise. Pantry cupboards come in many guises and sizes, from those designed to provide storage only to designs housing lighting, electrics, pull out worksurfaces and all kinds of appliances. The best part? When you are done, you can close all that clutter neatly away.
9. Zone Your Pantry
Whatever size pantry you are creating, zoning it is a great idea. In large pantries it means less hunting around for what you are after, while in small pantries it keeps things nicely organised.
Aim to keep dried goods together and think about which food and drink items will most benefit from fresh air and a cold wall.
Pots, pans and crockery won't mind being located on an internal wall, while fine wines will prefer to be away from any bright light or heat sources.
10. Don't Forget Sockets
If you plan on housing kitchen appliances within your pantry then don't forget to design in sockets — and don't go scrimping on the quantity either.
Think about those bulky appliances you could keep out of the way in your pantry — stand mixers, coffee machines and microwaves are all popular pantry appliances.
11. Use Every Inch of Your Kitchen for a Pantry
When thinking about your new kitchen design, take a long hard look at the shape of your room. While those with small kitchens might not have the space to spare to dedicate an an entire room to a pantry, they may well find they are staring the solution in the face.
Often alcoves, strangely-shaped rooms and dingy corners end up making brilliant walk-in pantries so do talk to whoever is designing your kitchen about utilising them.
Bi-fold doors, sliding and pocket doors all work well in smaller spaces.
(MORE: Small Kitchen Ideas)
Natasha is Homebuilding & Renovating's Associate Editor and has been a member of the team for over two decades. An experienced journalist and renovation expert, she has written for a number of homes titles. She has renovated a terrace and is at the end of the DIY renovation and extension of her Edwardian cottage. She is now looking for her next project.
Homebuilding & Renovating Newsletter
Get the latest news, reviews and product advice straight to your inbox.
Thank you for signing up to Homebuilding. You will receive a verification email shortly.
There was a problem. Please refresh the page and try again.