Kitchen Wall Tile Ideas For All Spaces and Budgets
By Natasha Brinsmead published
Our collection of 15 beautiful kitchen wall tile ideas will give you all the inspiration you need to finish off your kitchen project in style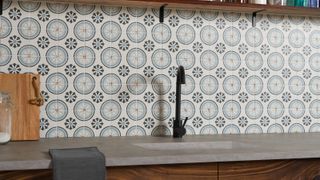 (Image credit: Walls and Floors)
Kitchen wall tile ideas should be right at the top of your priority list when planning and installing a new kitchen — not only do they have the power to transform the look and style of a space, but they also play an important practical role when it comes to protecting your walls.
Tiling is the most popular kitchen splashback idea and for good reason. There are kitchen wall tile ideas for all design schemes and all budgets, so whether you are dreaming of a traditional farmhouse kitchen or a super sleek contemporary kitchen design you will find plenty of choice.
In our round-up of brilliant kitchen wall tile ideas we have something for everyone.
1. Chevron Kitchen Wall Tile Ideas Add Drama
When it comes to kitchen design it is important to tailor your ideas to suit your particular space, as opposed to simply copying a look you have spotted in a magazine or someone else's house.
Chevron wall tiles work well in all kinds of kitchen but are particularly useful when it comes to drawing attention to a specific area or creating a little 'wow' factor. Chevron kitchen tiles are also perfect for anyone after striking splashback where they can inject some visual interest without overwhelming the entire room.
Here, deep and glossy Poitiers Indigo tiles from CTD Tiles add a touch of drama to the crisp white design and offset the brass tap brilliantly.
2. Escape With Mediterranean-Style Tiles
Conjure up a fresh seaside vibe in the kitchen by using blue and white kitchen wall tiles in breezy patterns.
While you don't want your kitchen to feel crowded by the visually busy form of the tiles, an idea that works really well is to use the same tiles on a portion of the wall as you do on the floor, as has been done here, using Sintra Patterned Tiles from Tile Mountain.
3. Create Colour Block Walls with Tiles
If you are looking for small kitchen ideas then this one is for you. Splitting up the wall visually by using tiles in contrasting colours will distract the eye from the more compact proportions of the space.
Tricks of the eye aside, colour blocking using tiles will also ensure your kitchen is currently bang on trend — plus it is ideal for the less decisive homeowners out there, making it possible to choose more than one tile for the same space.
This gorgeous small farmhouse kitchen features Original Style's Artworks Brilliant White Half Tiles combined with their Aqua Source Half Tiles.
4. Stone Kitchen Wall Tiles Lend Texture
Natural stone wall tiles have a classic beauty that is unlikely to date. Not only is it a practical option, being hardwearing (when properly installed and sealed), but stone also adds a wonderfully organic feel.
If you want an updated version of stone wall tiles – or something that will sit in contrast to your stone flooring – consider split face tiles rather than the more common honed version. These tiles are made from strips of natural stone, cut to different sizes and thicknesses to create a pleasing textured finish.
These Sparkle White Split Face Mosaic Tiles are from Tile Mountain.
5. Create an Industrial Look with Brick-Effect Wall Tiles
Keen to create some industrial chic in your kitchen? If so, then exposed brickwork is something of a must. However, what do you do if you are lacking this essential feature? Fake it of course.
These porcelain wall tiles, from Walls and Floors, are simple to lay yet instantly lend a rustic appearance to the walls.
6. Add a Touch of Luxury with Metallic Wall Tiles
Metallic finishes are one of the biggest kitchen trends of 2022. From kitchen taps and unit handles to appliances, warm metallics in shades of copper and bronze are the perfect foil for the blues and greens that are also enjoying such popularity in the kitchen presently.
These striking Copper Leaf decorative tiles from Original Style, feature a layer of foil encased in glass.
7. Create Texture With Terrazzo Tiles
Quirky and full of character, terrazzo tiles are reminiscent of Mediterranean homes and add lots of texture and individuality to kitchens.
If this is a look that appeals to you, aim to keep your kitchen units nice and simple in their form and style to ensure the overall space doesn't become too visually busy.
These terrazzo tiles from Tile Mountain are actually made from porcelain, making them durable and easy to maintain.
8. Stay On Trend With Green Kitchen Wall Tiles
Green kitchens are much sought after right now, but if you don't fancy green units, why not consider wall tiles in this nature-inspired shade instead?
Green wall tiles work particularly well with brass and copper kitchen taps. If you are considering wooden kitchen ideas, green tiles will sit very well alongside most timber finishes.
These glossy tiles are Walls and Floors' Hope Olive Gloss Brick Effect Wall Tiles.
9. Go Small with Mosaics
Tiny mosaic tiles have long been a popular choice, but how about adding a touch of disco fever by opting for metallic mosaic tiles?
This is an idea to keep to small areas of the kitchen only, perhaps as a splashback. Original Style's Silver Link Mosaics are made up of small circular tiles in a mixture of convex and concave positions to create a reflective surface.
10. Embrace Highly Patterned Wall Tiles
Using boldly patterned kitchen wall tiles, laid randomly, gives an instant hit of character and interest.
If you have a larger family kitchen or are perhaps building a kitchen extension, then you could throw caution to the wind and create a brazen interior scheme by using patterned tiles on both the walls and floors.
If, on the other hand, you kitchen is more on the compact side, choose one or the other.
These Moroccan Mix Hexagon Patterned Tiles from Porcelain Superstore come in a random mix of geometric, spiral and arabesque designs.
11. Use a Contrasting Grout Colour
A popular idea amongst those carrying out kitchen makeovers on a budget is to really make their kitchen tiles pop by picking a grout in a contrasting shade.
This is an idea that can work well with simple black or white kitchen tiles as well as designs in other shades. As well as adding visual interest, choosing coloured grout over white is also practical as it is less likely to show up discolouration or grime over time.
12. Diamond Wall Tiles Are Forever
Diamond patterns never seem to go out of fashion — and for good reason.
This is a pattern that, when used for wall tiles, can make walls look higher and so is perfect in period homes with low ceilings.
If you set diamond tiles at a 45 degree angle, the width of a space appears to be stretched too.
These zingy blue and white tiles look great set behind the open kitchen shelving from Wood Works Brighton.
13. Embrace Art Deco With Fan-Shaped Tiles
Fan shaped tiles are perfect for anyone looking to inject a little Art Deco style into their kitchen interiors. The curved form of this idea makes a refreshing change from the more commonly seen rectangles and hexagons.
Fan wall tiles look brilliant in bold shades — deep emerald green and navy lends an intriguing Oriental feel, while fresh teals and pearly whites create a coastal vibe.
Porcelain Superstore's Corsica Fan Ceramic Tiles were Inspired by the glittering bays of the Mediterranean.
14. Keep it Simple with Monochrome Wall Tiles
Monochrome wall tiles are easy to live with and suit a range of kitchen styles. However, if it is modern kitchen ideas that you are after, then black really is the new white.
If you decide to opt for black kitchen tiles, ensure you invest in the best kitchen lighting for the space to avoid the room becoming overly moody and dark.
The Rhian Black Gloss Tiles shown here are from Walls and Floors.
15. Hexagons Remain Hot Stuff
Geometric wall tiles might have been popular for some time now but they show no signs of going anywhere.
Geometric tiles can work in pretty much any space, but are a great idea for small kitchens in particular, where their neat, pleasingly uniform appearance can really work to make a room seem bigger than it is.
These Ocean Emerald Ceramic Tiles from Walls and Floors combine two kitchen trends in one — hexagons and deep, forest green.
Or.... How About Kitchen Wallpaper Instead?
Still searching for wall covering ideas? You might just decide that kitchen tiles are not the right option for you — in which case, how about kitchen wallpaper as an alternative?
Forget fears about the practicalities of using wallpaper in a steamy, moist space — there are now several ranges of revolutionary wallpapers which are not only easy to apply, but also completely water and fireproof so are even usable behind your hob and sink.
The dreamy Designer Kitchen Splashback Wallpaper shown here is from Lime Lace and is shown in the Flower & Marble design.

Natasha is Homebuilding & Renovating's Associate Editor and has been a member of the team for over two decades. An experienced journalist and renovation expert, she has written for a number of homes titles. She has renovated a terrace and is at the end of the DIY renovation and extension of her Edwardian cottage. She is now looking for her next project.
Homebuilding & Renovating Newsletter
Get the latest news, reviews and product advice straight to your inbox.
Thank you for signing up to Homebuilding. You will receive a verification email shortly.
There was a problem. Please refresh the page and try again.